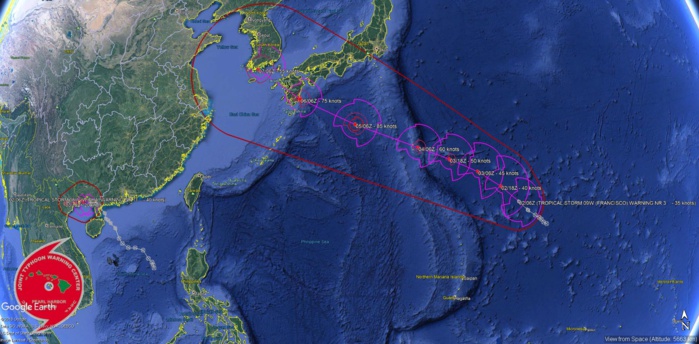 Météo974
M974World
WESTERN NORTH PACIFIC
Location: 21.5°N 108.9°E
Maximum Winds: 40 kt ( 75km/h)
Gusts: 50 kt ( 95km/h)
Minimum Central Pressure: 992 mb
WDPN31 PGTW 020900
MSGID/GENADMIN/JOINT TYPHOON WRNCEN PEARL HARBOR HI//
SUBJ/PROGNOSTIC REASONING FOR TROPICAL STORM 08W (WIPHA)
WARNING NR 11//
RMKS/
1. FOR METEOROLOGISTS.
2. 6 HOUR SUMMARY AND ANALYSIS.
TROPICAL STORM (TS) 08W (WIPHA), LOCATED APPROXIMATELY 170 NM
EAST OF HANOI, VIETNAM, HAS TRACKED NORTHWESTWARD AT 04 KNOTS
OVER THE PAST SIX HOURS. ANIMATED MULTISPECTRAL SATELLITE IMAGERY
AND RADAR IMAGERY DEPICT A CONSOLIDATING LOW-LEVEL CIRCULATION WITH
IMPROVED DEEP CONVECTIVE BANDING WRAPPING INTO A WELL-DEFINED
CENTER. A 020613Z AMSR2 89GHZ IMAGE DEPICTS A COMPACT CORE WITH AN
OBLONG MICROWAVE EYE FEATURE, WHICH SUPPORTS THE INITIAL POSITION
WITH GOOD CONFIDENCE. BASED ON THE IMPROVED CONVECTIVE STRUCTURE,
THE INITIAL INTENSITY IS ASSESSED AT 40 KNOTS, HEDGED ABOVE THE
PGTW/RJTD SUBJECTIVE DVORAK INTENSITY ESTIMATES OF T2.0 (30 KNOTS).
UPPER-LEVEL ANALYSIS INDICATES A MARGINALLY FAVORABLE ENVIRONMENT
WITH MODERATE VERTICAL WIND SHEAR AND FAIR OUTFLOW. TS 08W HAS
TRACKED SOMEWHAT ERRATICALLY BUT APPEARS TO BE SLOWLY TRACKING
WESTWARD OVER THE PAST TWO HOURS UNDER THE STEERING INFLUENCE OF THE
LOW-LEVEL SUBTROPICAL RIDGE POSITIONED TO THE NORTH.
3. FORECAST REASONING.
A. THERE HAS BEEN NO SIGNIFICANT CHANGE TO THE FORECAST
PHILOSOPHY SINCE THE PREVIOUS PROGNOSTIC REASONING MESSAGE, HOWEVER,
THE FORECAST DURATION HAS BEEN CUT TO 36 HOURS.
B. TS 08W IS FORECAST TO GRADUALLY ACCELERATE WEST-SOUTHWESTWARD
THROUGH THE FORECAST PERIOD ALONG THE COAST OF CHINA AND VIETNAM.
THE SYSTEM SHOULD MAKE LANDFALL OVER NORTHEAST VIETNAM NEAR TAU 24
AND IS EXPECTED TO DISSIPATE BY TAU 36. DYNAMIC MODEL GUIDANCE
REMAINS IN FAIR AGREEMENT WITH UNCERTAINTY IN THE EXACT TRACK, WHICH
COULD AFFECT THE INTENSITY FORECAST. THE SYSTEM IS FORECAST TO
MAINTAIN AT 40 KNOTS THROUGH TAU 12 BUT SHOULD WEAKEN STEADILY AS IT
SKIRTS THE COAST AND TRACKS FURTHER INLAND. OVERALL, THERE IS
MODERATE CONFIDENCE IN THE JTWC FORECAST TRACK.//
NNNN
--------------------------------------------------------------------------------------------------------------------
TS FRANCISCO (09W)
Location: 20.9°N 151.9°E
Maximum Winds: 35 kt ( 65km/h)
Gusts: 45 kt ( 85km/h)
Minimum Central Pressure: 995 mb
WDPN32 PGTW 020900
MSGID/GENADMIN/JOINT TYPHOON WRNCEN PEARL HARBOR HI//
SUBJ/PROGNOSTIC REASONING FOR TROPICAL STORM 09W (FRANCISCO)
WARNING NR 03//
RMKS/
1. FOR METEOROLOGISTS.
2. 6 HOUR SUMMARY AND ANALYSIS.
TROPICAL STORM (TS) 09W (FRANCISCO), LOCATED APPROXIMATELY
631 NM EAST-SOUTHEAST OF IWO TO, HAS TRACKED NORTHWESTWARD AT 12
KNOTS OVER THE PAST SIX HOURS. ANIMATED MULTISPECTRAL SATELLITE
IMAGERY DEPICTS A PARTIALLY-EXPOSED LOW-LEVEL CIRCULATION CENTER
(LLCC) POSITIONED ALONG THE SOUTHWEST EDGE OF A SYMMETRIC AREA OF
DEEP CONVECTION. A 020546Z SSMIS 91GHZ IMAGE ALSO INDICATES A WELL-
DEFINED LLCC WITH FRAGMENTED CONVECTIVE BANDING WRAPPING BROADLY
INTO THE EASTERN QUADRANT OF THE SYSTEM. OVERALL, THERE IS GOOD
CONFIDENCE IN THE INITIAL POSITION. THE INITIAL INTENSITY REMAINS
ASSESSED AT 35 KNOTS BASED ON RECENT ASCAT DATA. UPPER-LEVEL
ANALYSIS REVEALS A MARGINALLY-FAVORABLE ENVIRONMENT DUE TO THE
PROXIMITY OF A TUTT CELL POSITIONED JUST TO THE WEST, WHICH IS
ENHANCING POLEWARD OUTFLOW BUT ALSO SHEARING THE CORE CONVECTION
OVER THE NORTHERN SEMICIRCLE OF THE SYSTEM. TS 09W IS TRACKING
NORTHWESTWARD ALONG THE SOUTHWEST PERIPHERY OF A DEEP-LAYERED
SUBTROPICAL RIDGE ENTRENCHED TO THE NORTH AND NORTHEAST.
3. FORECAST REASONING.
A. THERE IS NO CHANGE TO THE FORECAST PHILOSOPHY SINCE THE
PREVIOUS PROGNOSTIC REASONING MESSAGE.
B. TS 09W IS FORECAST TO TRACK NORTHWESTWARD TO WEST-
NORTHWESTWARD THROUGH TAU 72 UNDER THE STEERING INFLUENCE OF THE
AFOREMENTIONED STR. DYNAMIC MODEL GUIDANCE IS IN FAIR AGREEMENT WITH
A 205NM SPREAD IN SOLUTIONS AT TAU 72. TS 09W SHOULD INTENSIFY
SLOWLY THROUGH TAU 36 DUE TO PERSISTENT SOUTHERLY FLOW ASSOCIATED
WITH THE TUTT CELL, HOWEVER, THE TUTT CELL IS EXPECTED TO WEAKEN AND
TRACK WESTWARD, WHICH WILL ALLOW THE SYSTEM TO INTENSIFY AT A FASTER
RATE FROM TAU 36 TO TAU 72 WITH A PEAK INTENSITY OF 85 KNOTS
FORECAST AT TAU 72.
C. BEYOND TAU 72, TS 09W WILL CONTINUE TRACKING NORTHWESTWARD TO
WEST-NORTHWESTWARD OVER KYUSHU AND SOUTH KOREA ALONG THE NORTHWEST
PERIPHERY OF THE STR. WITH THE EXCEPTION OF NAVGEM AND GFS, WHICH
RECURVE THE SYSTEM ERRONEOUSLY INTO A STRONG STR, THE DYNAMIC MODEL
GUIDANCE REMAINS IN FAIR AGREEMENT, THEREFORE, THERE IS MODERATE
OVERALL CONFIDENCE IN THE JTWC FORECAST TRACK. THE SYSTEM WILL
WEAKEN SIGNIFICANTLY AS IT APPROACHES AND CROSSES KYUSHU DUE TO THE
INCREASED FRICTIONAL EFFECTS.//
NNNN
-------------------------------------------------------------------------------------------------------------------------
INVEST 94W
Location: 15.0°N 133.0°E
Maximum Winds: 20 kt
Minimum Central Pressure: 1001 mb
ABPW10 PGTW 020600
1. WESTERN NORTH PACIFIC AREA (180 TO MALAY PENINSULA):
B. TROPICAL DISTURBANCE SUMMARY:
(1) THE AREA OF CONVECTION (INVEST 94W) PREVIOUSLY LOCATED
NEAR 13.9N 132.9E, IS NOW LOCATED NEAR 15.0N 133.0E, APPROXIMATELY
743 NM SOUTH-SOUTHEAST OF KADENA AB, OKINAWA, JAPAN. INVEST 94W IS
ASSESSED AS A MONSOON DEPRESSION WITH A 750NM DIAMETER AND MODERATE
VWS. RECENT ASCAT IMAGERY DEPICTS A VERY LARGE CYCLONIC CIRCULATION
WITH A BROAD CORE OF PREDOMINANTLY WEAK (10-20 KNOT) WINDS WITH
STRONG, CONVERGENT WESTERLY WINDS (30-35 KNOTS) OVER THE SOUTHWEST
PERIPHERY FUELING ISOLATED POCKETS OF DEEP CONVECTION. TOTAL
PRECIPITABLE WATER IMAGERY PORTRAYS MULTIPLE LOW LEVEL CIRCULATION
CENTERS ROTATING CYCLONICALLY ALONG THE PERIPHERY OF THE SYSTEM. A
020043Z AMSU 89GHZ MICROWAVE IMAGE SHOWS DISORGANIZED DEEP
CONVECTION SHEARED OVER THE SOUTHWEST AND NORTHEAST QUADRANTS WITH
NO EVIDENCE OF SIGNIFICANT BANDING. SSTS REMAIN FAVORABLE FOR
DEVELOPMENT AT 27-28C. GLOBAL MODELS ARE IN AGREEMENT THAT 94W WILL
TRACK NORTHWARD WITH SLOW DEVELOPMENT. MAXIMUM SUSTAINED SURFACE
WINDS ARE ESTIMATED AT 15 TO 20 KNOTS. MINIMUM SEA LEVEL PRESSURE IS
ESTIMATED TO BE NEAR 1002 MB. THE POTENTIAL FOR THE DEVELOPMENT OF A
SIGNIFICANT TROPICAL CYCLONE WITHIN THE NEXT 24 HOURS REMAINS MEDIUM.
(2) NO OTHER SUSPECT AREAS.