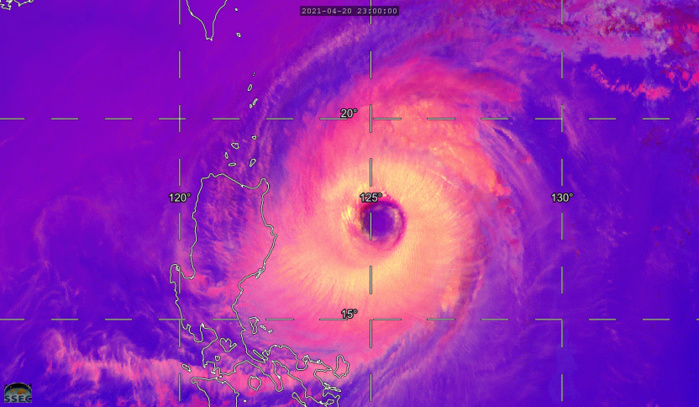 02W(SURIGAE). 21/0230UTC. 3H30 LOOP.
2021 APR 21 0230UTC #WESTERNNORTHPACIFIC
TY #02W #SURIGAE
WARNING 31
As of 00:00 UTC Apr 21, 2021:
Location: 17.4°N 125.2°E
Maximum Winds: 120 kt (220km/h)
Gusts: 145 kt ( 270km/h)
Minimum Central Pressure: 935 mb
CATEGORY US: 4
LOCATED AT 21/00UTC 545 KM NORTHEAST OF MANILA, PHILIPPINES, HAS TRACKED NORTHWESTWARD AT 09 KM/H OVER THE
PAST SIX HOURS.
Satellite bulletins are to be found in the comments of this post on
JTWC BIS
-----------------------------------------------------------------------------------------------------------
TC #29S #JOBO #SOUTHINDIANOCEAN
WARNING 1
As of 00:00 UTC Apr 21, 2021:
Location: 10.0°S 48.8°E
Maximum Winds: 45 kt ( 85km/h)
Gusts: 55 kt ( 100km/h)
Minimum Central Pressure: 1000 mb
INTENSIFYING
LOCATED AT 21/00UTC APPROXIMATELY 260KM EAST-SOUTHEAST OF ALDABRA HAS TRACKED WEST-NORTHWESTWARD
AT 15 KM/H OVER THE PAST SIX HOURS.
Satellite bulletins are to be found in the comments of this post on
JTWC BIS
Cheers,
Patrick Hoareau
M974World
ILES SOEURS
Cyclone Class 4
Cheers,PH.
Joint Typhoon Warning Center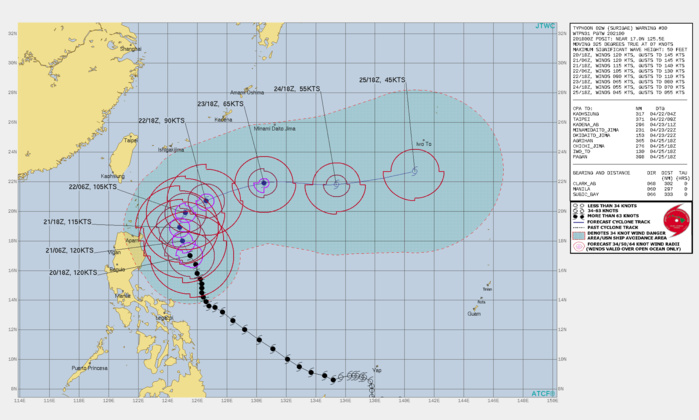 02W(SURIGAE). WARNING 31 ISSUED AT 21/03UTC.THROUGH 24 HOURS, SURIGAE WILL CONTINUE TRACKING NORTH- NORTHWESTWARD TO THE EAST OF LUZON ALONG THE WESTERN PERIPHERY OF AN UPPER-LEVEL RIDGE TO THE EAST. THE LARGE AND STABLE CORE SIZE FAVORS LITTLE INTENSITY CHANGE UNTIL THE ATMOSPHERIC ENVIRONMENT BECOMES MORE HOSTILE. THIS IS EXPECTED TO OCCUR AFTER 24 HOURS AS A SHORTWAVE TROUGH WITHIN THE SUBTROPICAL JET (STJ) APPROACHES FROM SOUTHEASTERN CHINA, DRAMATICALLY INCREASING VERTICAL WIND SHEAR TO AROUND 30 KNOTS. STEADY WEAKENING IS EXPECTED TO ENSUE AFTER 24 HOURS AS THE TYPHOON ACCELERATES NORTHEASTWARD AND THEN EASTWARD INTO THE MID-LATITUDE WESTERLIES. BY AROUND 72 HOURS, THE AFOREMENTIONED SHORTWAVE IS EXPECTED TO INTERACT DIRECTLY WITH SURIGAE. MODEL SOLUTIONS DIVERGE AT THIS POINT, WITH VARYING DEGREES OF SYMBIOTIC INTERACTION BETWEEN THE SHORTWAVE AND THE TYPHOON, DEPENDING ON THEIR POSITIONS RELATIVE TO EACH OTHER. THE MORE FAVORABLE THE INTERACTION, THE FASTER AND STRONGER SURIGAE IS LIKELY TO BE. THE CURRENT FORECAST HEDGES BETWEEN THESE OUTCOMES, AS UNCERTAINTY INCREASES SUBSTANTIALLY IN TRACK AND INTENSITY BEGINNING AROUND 72 HOURS. THE CURRENT FORECAST SHOWS WEAKENING TO 65 KNOTS/CAT 1 AT 72 HOURS. THE TRACK FORECAST IS SIMILAR TO THE PREVIOUS ONE, WITH HIGH CONFIDENCE THROUGH 48 HOURS AND MODERATE CONFIDENCE THROUGH 72 HOURS. AFTER 72 HOURS, SURIGAE WILL INTERACT WITH A LOW-LEVEL THERMAL GRADIENT SOUTH OF JAPAN, AS WELL AS THE AFOREMENTIONED UPPER-LEVEL SHORTWAVE TO ITS NORTHWEST. WHILE MODELS DEPICT A RANGE OF POSSIBLE ARRANGEMENTS OF THESE FEATURES, THE INCREASINGLY BAROCLINIC ENVIRONMENT AROUND THE CYCLONE IS EXPECTED TO INDUCE THE ONSET OF EXTRATROPICAL TRANSITION (ET). THE FORECAST IS HIGHLY DEPENDENT ON THE DETAILS OF ET, AND THUS BOTH MODEL TRACK AND INTENSITY SPREAD IS HIGH AFTER 72 HOURS.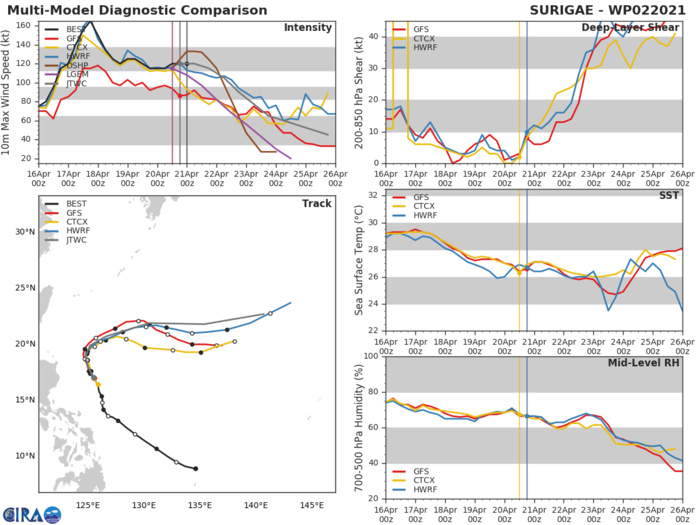 02W(SURIGAE).THE CURRENT FORECAST TRACK IS SIMILAR TO THE PREVIOUS ONE, EXCEPT SLIGHTLY SLOWER AT 96 AND 120 HOURS DUE TO TRENDS IN THE MULTI-MODEL CONSENSUS. WEAKENING TO 45 KNOTS IS FORECAST BY 120 HOURS WITHIN A HIGH SHEAR ENVIRONMENT, BUT THIS FORECAST HAS BELOW-AVERAGE CONFIDENCE DUE TO THE AFOREMENTIONED RANGE OF ET EVOLUTIONS.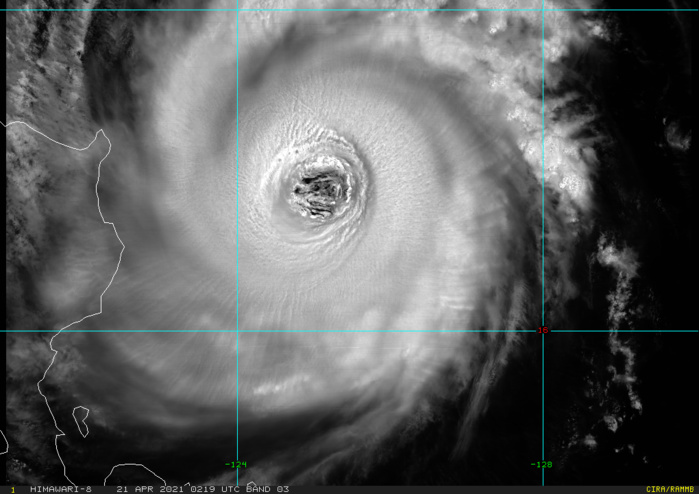 02W(SURIGAE). 21/0219UTC.SURIGAE CONTINUES TO EXHIBIT A LARGE 120 KM EYE WITH A WARM CENTER. THE ENCIRCLING COLD RING OF DEEP CONVECTION HAS WARMED SLIGHTLY IN RECENT HOURS. THE CORE REMAINS LARGELY SYMMETRIC, AS VERTICAL WIND SHEAR (VWS) CONTINUES TO STAY UNDER 10 KNOTS, THOUGH SOME INCREASING DEFORMITY IS NOTED IN THE WESTERN SEMICIRCLE, PERHAPS DUE TO A NEARBY DRY AIR MASS OVER LUZON.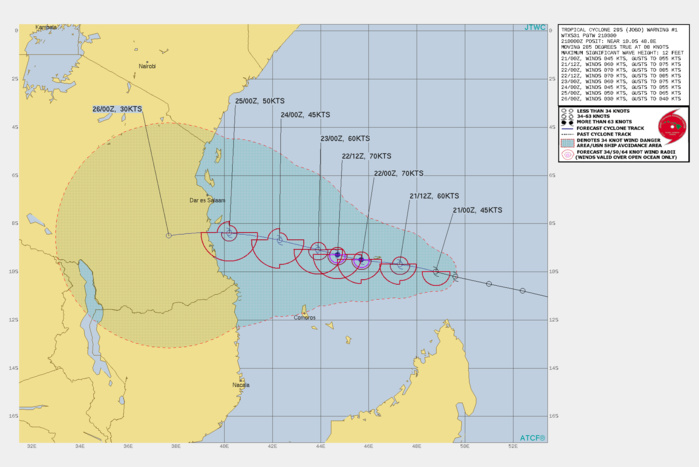 29S(JOBO). WARNING 1 ISSUED AT 21/03UTC. THE INITIAL INTENSITY IS SET AT 45 KNOTS, PERHAPS CONSERVATIVELY, BASED ON A 210230Z PGTW FIX OF 3.0. CONFIDENCE IN THIS ESTIMATE IS LOW DUE TO THE RAPIDLY DEVELOPING NATURE OF THE SYSTEM. THE LARGE-SCALE ENVIRONMENT HAS CONSISTED OF LIGHT-MODERATE WESTERLY VERTICAL WIND SHEAR (VWS) OF 15-20 KTS FOR THE PAST 12 HOURS, BUT EXPANDING CIRRUS OUTFLOW IN THE WESTERN SEMICIRCLE SUGGESTS THAT THIS SHEAR IS DECREASING. JOBO IS BEING STEERED WEST- NORTHWESTWARD BY A BELT OF LOW-LEVEL EASTERLIES EQUATORWARD OF THE SUBTROPICAL RIDGE. THIS MOTION WILL CARRY JOBO BENEATH AN UPPER- LEVEL ANTICYCLONE SEEN IN WATER VAPOR SATELLITE IMAGERY OFFSHORE OF TANZANIA DURING THE NEXT 12-18 HOURS, WHERE VWS IS EXPECTED TO DECREASE TO 10-15 KTS. COMBINED WITH WARM SEA SURFACE TEMPERATURES OF 29C, THIS ENVIRONMENT IS EXPECTED TO FAVOR RAPID INTENSIFICATION IN THE NEAR TERM, TO AROUND 70 KNOTS/CAT 1 AT 24 HOURS, SUPPORTED BY RECENT HWRF MODEL FORECASTS THAT HAVE ACCURATELY DEPICTED THE COMPACT NATURE OF THE VORTEX. IN 24-36 HOURS, AN UPPER-LEVEL TROUGH IN THE SUBTROPICAL JET OVER MOZAMBIQUE WILL APPROACH JOBO FROM THE WEST, INCREASING VWS BACK TO AROUND 20 KNOTS. THIS SHOULD ARREST THE INTENSIFICATION TREND, AND THE SMALL CYCLONE, BEING PARTICULARLY SUSCEPTIBLE TO MODERATE SHEAR, IS EXPECTED TO WEAKEN BETWEEN 36 AND 72 HOURS. SLOWING OF FORWARD MOTION IS ALSO EXPECTED AS LOW-LEVEL EASTERLIES BECOME OFFSET BY THE UPPER-LEVEL WESTERLY FLOW. AFTER 72 HOURS, THE AFOREMENTIONED UPPER-LEVEL TROUGH MOVES AWAY TO THE SOUTHEAST, POSSIBLY ALLOWING A PERIOD OF LIGHTER SHEAR ONCE AGAIN AS JOBO APPROACHES THE TANZANIAN COASTLINE. THE FORECAST SHOWS THE POSSIBILITY OF SOME REINTENSIFICATION BEFORE LANDFALL JUST AFTER 96 HOURS, FOLLOWED BY DISSIPATION INLAND.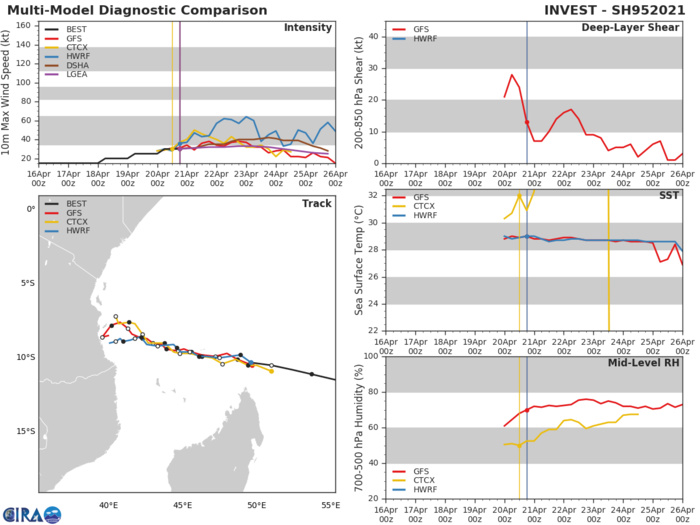 29S(JOBO).CONFIDENCE IN THE INTENSITY FORECAST IS LOW, GIVEN THE SUSCEPTIBILITY OF COMPACT CYCLONES TO QUICK UPS AND DOWNS IN INTENSITY.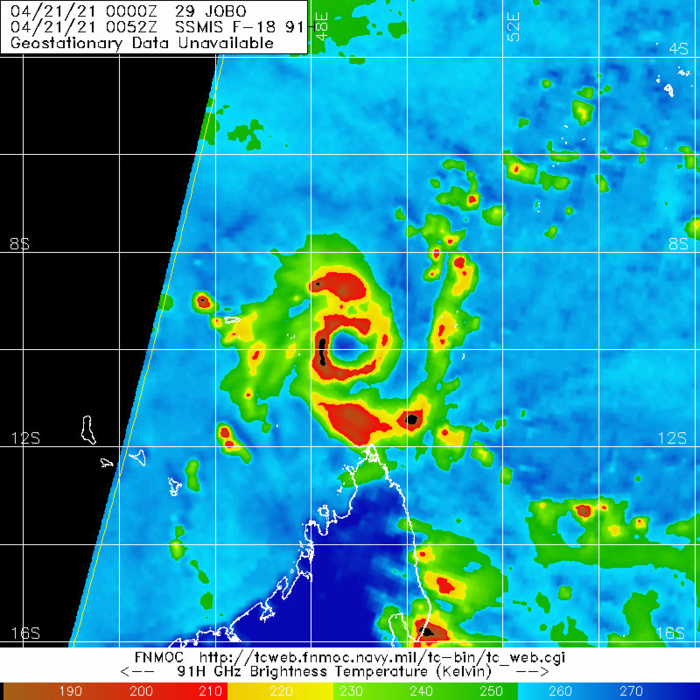 29S(JOBO). 21/0052UTC. MICROWAVE IMAGE SHOWED A RING OF DEEP CONVECTION ABOUT 95 KM IN DIAMETER WRAPPING AROUND 80% OF THE CIRCULATION, FORMING A WELL-DEFINED EYE- LIKE FEATURE.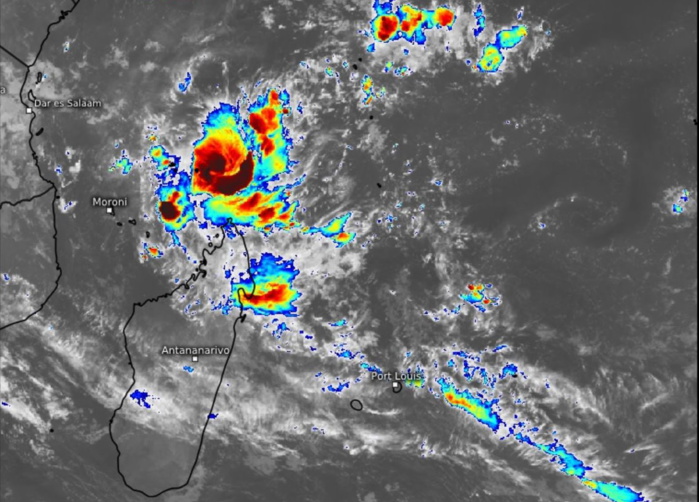 29S(JOBO). 21/0230UTC.ENHANCED INFRARED SATELLITE IMAGERY SHOWS A SMALL, RAPIDLY DEVELOPING CYCLONE, WITH A CURVED BAND OF CONVECTION WITH CLOUD TOPS COLDER THAN -80CELSIUS NEARLY ENCIRCLING THE LOW-LEVEL CENTER.