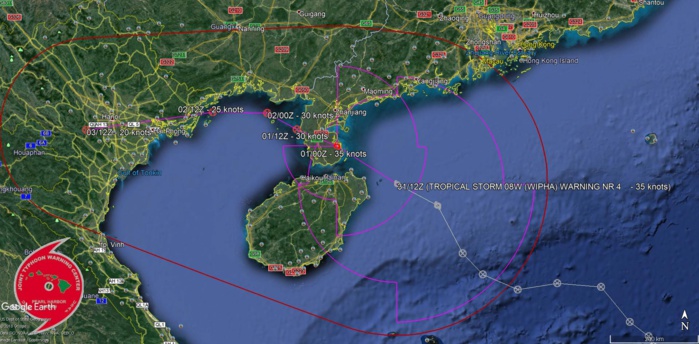 WARNING 4. WIPHA(08W) SHOULD BE OVER THE GULF OF TONKIN IN APPROX 24HOURS
Météo974
M974World
WESTERN NORTH PACIFIC
Location: 19.9°N 111.6°E
Maximum Winds: 35 kt ( 65km/h)
Gusts: 45 kt ( 85km/h)
Minimum Central Pressure: 992 mb
WDPN31 PGTW 311500
MSGID/GENADMIN/JOINT TYPHOON WRNCEN PEARL HARBOR HI//
SUBJ/PROGNOSTIC REASONING FOR TROPICAL STORM 08W (WIPHA)
WARNING NR 04//
RMKS//
1. FOR METEOROLOGISTS.
2. 6 HOUR SUMMARY AND ANALYSIS.
TROPICAL STORM 08W (WIPHA), LOCATED APPROXIMATELY 205 NM SOUTHWEST OF
HONG KONG, HAS TRACKED WEST-NORTHWESTWARD AT 09 KNOTS OVER THE PAST
SIX HOURS. THERE IS FAIR CONFIDENCE IN THE INITIAL POSITION BASED ON
A PARTIALLY OBSCURED, AND POORLY-DEFINED, LOW LEVEL CIRCULATION
CENTER (LLCC) IN ANIMATED ENHANCED INFRARED SATELLITE IMAGERY (EIR).
THE EIR LOOP AND A 311059Z SSMIS 91GHZ MICROWAVE IMAGE ALSO REVEALS
THAT THE OVERALL CONVECTIVE STRUCTURE IS DEFINED BY TWO BANDS
ORIGINATING IN THE NORTHEAST AND SOUTHEAST QUADRANTS WHERE UPPER
LEVEL SUPPORT IS STRONGEST. THE INITIAL INTENSITY IS MAINTAINED AT
35 KNOTS BASED ON A 311310Z ADT ESTIMATE OF 32 KNOTS AND IS FURTHER
SUPPORTED BY LOCAL OBSERVATIONS. ENVIRONMENTAL CONDITIONS ARE
SOMEWHAT FAVORABLE WITH FAIR POLEWARD AND EQUATORWARD OUTFLOW
CHANNELS OFFSET FROM THE LLCC, WARM (29-30 CELSIUS) SEA SURFACE
TEMPERATURE, AND LOW (10-15 KT) VERTICAL WIND SHEAR. TS 08W IS
TRACKING ALONG THE SOUTHWESTERN PERIPHERY OF A SUBTROPICAL RIDGE
(STR).
3. FORECAST REASONING.
A. THERE IS NO CHANGE TO THE FORECAST PHILOSOPHY SINCE THE
PREVIOUS PROGNOSTIC REASONING MESSAGE.
B. THROUGH TAU 72, TS 08W IS EXPECTED TO CONTINUE TRACKING ALONG
THE SOUTHWESTERN PERIPHERY OF THE STR, PASS OVER THE LEIZHOU
PENINSULA AROUND TAU 12, ENTER THE GULF OF TONKIN NEAR TAU 24, AND
MAKE LANDFALL EAST OF HANOI AROUND TAU 48. LAND INTERACTION AND FAIR
OUTFLOW SUPPORT IS EXPECTED TO CONTINUE TO LIMIT ANY FURTHER
INTENSIFICATION. THE JTWC TRACK FORECAST FOLLOWS JUST AHEAD OF THE
CONSENSUS THROUGH TAU 72. BASED ON ALONG TRACK SPREAD IN THE
NUMERICAL MODEL GUIDANCE, THERE IS LOW CONFIDENCE FOR THIS PORTION
OF THE JTWC TRACK FORECAST. AFTER TAU 48, TS 08W WILL CONTINUE
INLAND AND DISSIPATE BY TAU 72.//
NNNN