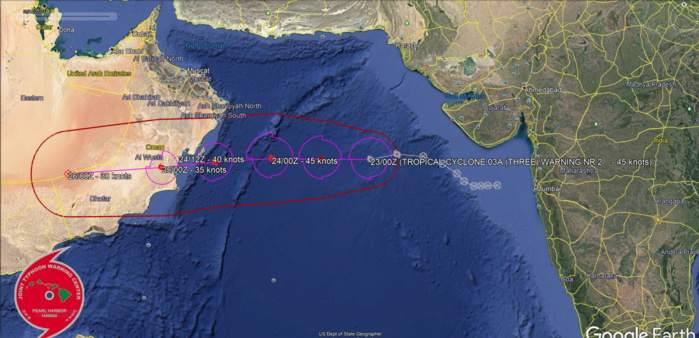 Météo974
NORTH INDIAN
Location: 20.3°N 65.9°E
Maximum Winds: 45 kt ( 85km/h)
Gusts: 55 kt ( 100km/h)
Minimum Central Pressure: 996 mb
REMARKS:
230300Z POSITION NEAR 20.3N 65.4E.
23SEP19. TROPICAL CYCLONE 03A (THREE), LOCATED APPROXIMATELY 277
NM SOUTH-SOUTHWEST OF KARACHI, PAKISTAN, HAS TRACKED WESTWARD AT
11 KNOTS OVER THE PAST SIX HOURS. ANIMATED ENHANCED INFRARED (EIR)
SATELLITE IMAGERY SHOWS CONVECTIVE BANDING WRAPPING INTO A COMPACT
AREA OF CENTRAL DEEP CONVECTION LOCATED OVERTOP OF AND OCCLUDING THE
LOW LEVEL CIRCULATION CENTER (LLCC). BASED ON THE COMPACT NATURE OF
THE SYSTEM, IT IS ASSESSED AS A MIDGET CYCLONE. THE INITIAL POSITION
IS PLACED WITH HIGH CONFIDENCE BASED ON A MICROWAVE EYE FEATURE
EVIDENT IN THE 192319Z SSMI 37GHZ MICROWAVE IMAGE. THE INITIAL
INTENSITY OF 45 KNOTS IS BASED ON THE DVORAK ESTIMATES OF T3.0/45KTS
FROM PGTW AND KNES AND IS SUPPORTED BY A 221709Z METOP-C ASCAT IMAGE
THAT SHOWED 40 KNOT WIND BARBS. ENVIRONMENTAL ANALYSIS INDICATES THE
SYSTEM IS IN AN AREA OF MODERATE (15-20 KNOT) VERTICAL WIND SHEAR
(VWS) AND IS TRACKING THROUGH A REGION OF WARM (29-30 CELSIUS) SEA
SURFACE TEMPERATURES. THE SYSTEM IS EXPERIENCING GOOD EQUATORWARD
OUTFLOW AND LIMITED POLEWARD OUTFLOW. TC 03A IS FORECAST TO TRACK
GENERALLY WEST-SOUTHWESTWARD ALONG THE SOUTHERN PERIPHERY OF A
SUBTROPICAL RIDGE ANCHORED OVER THE ARABIAN PENINSULA. MODERATE
VERTICAL WIND SHEAR WILL PERSIST THROUGHOUT THE FORECAST PREVENTING
SUBSTANTIAL INTENSIFICATION. THE SYSTEM WILL MAKE LANDFALL SOUTH OF
MASIRAH, OMAN AFTER TAU 36 AND TRACK INLAND. ONCE OVER LAND, THE
SYSTEM WILL RAPIDLY ERODE DUE TO THE FRICTIONAL EFFECTS OF TERRAIN
INTERACTION. NUMERICAL MODELS ARE IN OVERALL GOOD AGREEMENT WITH THE
WEST-SOUTHWESTWARD TRACK. EARLIER VARIATIONS IN ALONG TRACK SPEED
HAVE COME INTO BETTER AGREEMENT LENDING TO OVERALL HIGH CONFIDENCE
IN THE JTWC FORECAST TRACK. MAXIMUM SIGNIFICANT WAVE HEIGHT AT
230000Z IS 14 FEET. NEXT WARNINGS AT 230900Z, 231500Z, 232100Z AND
240300Z.//
NNNN
-------------------------------------------------------------------------------------------------------
WESTERN NORTH PACIFIC
As of 00:00 UTC Sep 23, 2019:
Location: 37.6°N 134.9°E
Maximum Winds: 50 kt ( 95km/h)
Minimum Central Pressure: 983 mb
REMARKS:
222100Z POSITION NEAR 36.3N 132.9E.
22SEP19. TROPICAL STORM 18W (TAPAH), LOCATED APPROXIMATELY 72 NM
NORTH-NORTHWEST OF IWAKUNI, JAPAN, HAS TRACKED NORTHEASTWARD AT
24 KNOTS OVER THE PAST SIX HOURS. TS 18W HAS CURRENTLY UNDERGOING
EXTRA-TROPICAL TRANSITION (ETT) AND IS RAPIDLY ACCELERATING
NORTHEASTWARD WITHIN THE MIDLATITUDE SOUTHWESTERLIES. THE SYSTEM HAS
BEGUN TO DISPLAY FRONTAL CHARACTERISTICS IN SATELLITE IMAGERY
SUGGESTING THAT IT WILL SOON BE AN EXTRA-TROPICAL SYSTEM. ANIMATED
ENHANCED INFRARED SATELLITE DEPICTS A WEAK, ELONGATED LOW-LEVEL
CIRCULATION (LLC) WITH DEEP CONVECTION SHEARED TO THE NORTHEAST. A
221711Z AMSR2 36 GHZ MICROWAVE IMAGE SHOWS EXTENSIVE DEEP CONVECTION
WITH FRONTAL CHARACTERISTICS HOWEVER, THERE IS NO LCC EVIDENT. THE
INITIAL POSITION IS BASED ON THE IR LOOP AND THE JMA RADAR LOOP. THE
OVERALL CONFIDENCE IN THE INITIAL POSITION IS LOW DUE TO THE
ELONGATED NATURE AND WEAK SIGNATURE OF THE LCC. THE INITIAL
INTENSITY OF 55 KNOTS WAS BASED ON AN EARLIER ASCAT IMAGE AND
SUPPORTED BY BOTH A PGTW EXTRA-TROPICAL SATELLITE FIX OF T3.5 (55
KNOTS) AND A RECENT SATCON ESTIMATE OF 53 KNOTS. ENVIRONMENTAL
CONDITIONS ARE BECOMING INCREASINGLY UNFAVORABLE. THE SYSTEM IS
CURRENTLY IN AN AREA OF HIGH (30-40 KNOT) VERTICAL WIND SHEAR AND IS
TRACKING OVER COOLER (25-26 CELSIUS) SEA SURFACE TEMPERATURES. THE
POOR ENVIRONMENT IS OFFSET BY STRONG POLEWARD OUTFLOW. TS TAPAH IS
TRACKING NORTHEASTWARD ALONG THE NORTHWEST PERIPHERY OF THE
SUBTROPICAL RIDGE (STR) LOCATED TO THE SOUTHEAST. THE SYSTEM IS
FORECAST TO TRACK TO THE NORTHEAST FOR THE DURATION OF THE FORECAST.
THE SYSTEM WILL CONTINUE TO EXPERIENCE A DEGRADING ENVIRONMENT WHICH
WILL CAUSE A WEAKENING TREND AS EXTRATROPICAL TRANSITION OCCURS. TS
18W WILL COMPLETE ETT BY TAU 12 AND CONTINUE TO ACCELERATE
NORTHEASTWARD, EVENTUALLY MAKING LANDFALL ON NORTHERN HONSHU AND
HOKKAIDO AFTER TAU 12. THE SYSTEM IS FORECAST TO REMAIN A STRONG
COLD-CORE LOW WITH GALE-FORCE WINDS ANTICIPATED OVER NORTHERN
HONSHU. DYNAMIC MODEL GUIDANCE REMAINS IN STRONG AGREEMENT THROUGH
TAU 24 LENDING HIGH CONFIDENCE IN THE OFFICIAL JTWC FORECAST TRACK.
THIS IS THE FINAL WARNING ON THIS SYSTEM BY THE JOINT TYPHOON WRNCEN
PEARL HARBOR HI. THE SYSTEM WILL BE CLOSELY MONITORED FOR SIGNS OF
REGENERATION. MAXIMUM SIGNIFICANT WAVE HEIGHT AT 221800Z
IS 26 FEET.//
NNNN
JMV FILE/JTWC
1819091718 217N1291E 20
1819091800 218N1294E 20
1819091806 220N1294E 20
1819091812 222N1293E 20
1819091818 223N1290E 20
1819091900 223N1287E 30
1819091906 223N1286E 30
1819091912 228N1280E 40
1819091918 229N1276E 40
1819092000 229N1272E 50
1819092006 232N1271E 50
1819092012 239N1269E 50
1819092018 251N1264E 55
1819092100 263N1258E 55
1819092106 275N1256E 60
1819092112 285N1256E 60
1819092118 296N1260E 60
1819092200 309N1265E 55
1819092206 327N1279E 55
1819092212 339N1293E 55
1819092218 354N1315E 55
NNNN