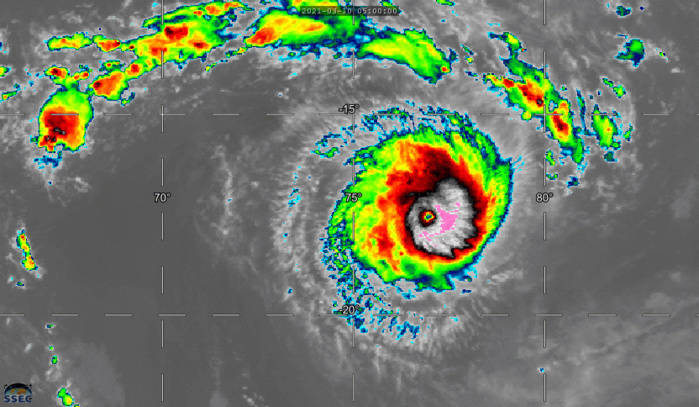 24S(HABANA). 10/23UTC. 18H ANIMATION. UP-DATED JTWC ANALYSIS INDICATE THAT SUPER CYCLONE 24S(HABANA) REACHED A PEAK INTENSITY OF 135KNOTS/CATEGORY 4 AT 10/12UTC. THE EYE-WALL REPLACEMENT CYCLE HAS RESULTED IN A SLIGHT WEAKENING SINCE. CLICK ON THE IMAGERY TO ANIMATE IF NEEDED.
As of 21:00 UTC Mar 10, 2021:
Maximum Winds( AT 10/18UTC): 130 kt (240km/h)
Minimum Central Pressure: 933 mb
LOCATED AT 10/21UTC APPROXIMATELY 1280KM EAST-NORTHEAST OF PORT MATHURIN, RODRIGUES ISLAND, MAURITIUS, HAS TRACKED WEST-NORTHWESTWARD AT 11KM/H OVER THE PAST SIX HOURS.
Satellite bulletins are to be found in the comments of this post on
JTWC BIS
Cheers,
Patrick Hoareau
M974World
ILES SOEURS
Cyclone Class 4
Cheers,PH.
Joint Typhoon Warning Center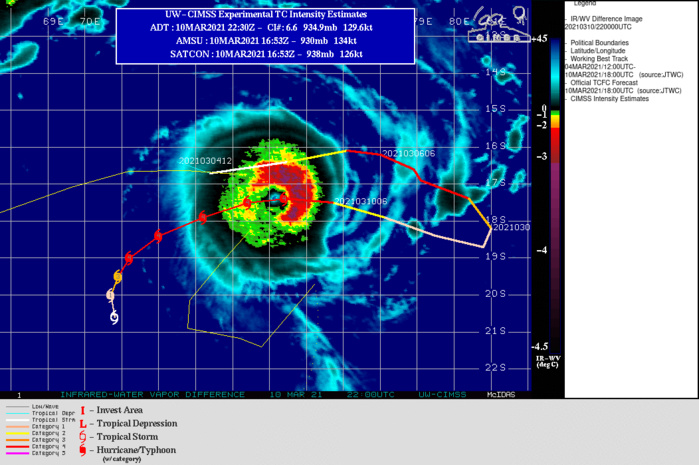 24S(HABANA). WARNING 14 ISSUED AT 10/21UTC.ENVIRONMENTAL ANALYSIS INDICATES GOOD RADIAL OUTFLOW WITH LOW (10-15 KTS) VERTICAL WIND SHEAR (VWS) AND WARM (28C) SEA SURFACE TEMPERATURES (SST). THE EYE-WALL REPLACEMENT CYCLE OVER THE LAST 12 HOURS HAS RESULTED IN A PLATEAU IN INTENSITY. TC 24S HAS TURNED SLIGHTLY TO THE WEST- NORTHWEST AS IT ROUNDS THE NORTHWESTERN EDGE OF THE SUBTROPICAL RIDGE (STR) TO THE SOUTH, BUT IS EXPECTED TO GRADUALLY TURN TOWARD THE SOUTHWEST THROUGHOUT 72H AND TOWARD THE SOUTH THROUGH 120H. BEYOND 72H, A SLOWING OF THE FORWARD MOTION IS EXPECTED, WITH INCREASED UPWELLING. THIS WILL RESULT IN COLDER SSTS, WHICH WILL BE THE PRIMARY FACTOR IN THE WEAKENING OF THE SYSTEM.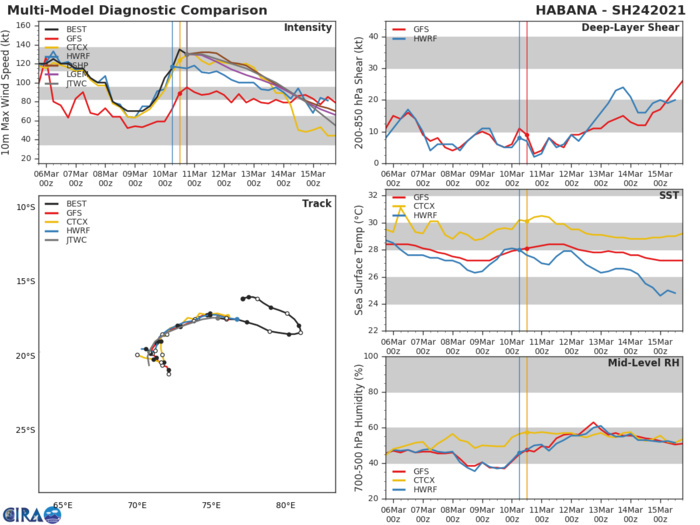 24S(HABANA). THE FORECAST TRACK WAS PLACED NORTHWEST OF CONSENSUS DUE TO NAVGEM AND GALWEM CONTINUING TO BE EASTERN-MOST OUTLIERS. OVERALL, THERE IS MODERATE CONFIDENCE IN THE JTWC FORECAST TRACK DUE TO UNCERTAINTY IN THE TIMING OF THE SOUTHWARD TURN AND THE POTENTIAL FOR QUASI- STATIONARY MOTION IN THE EXTENDED PERIOD.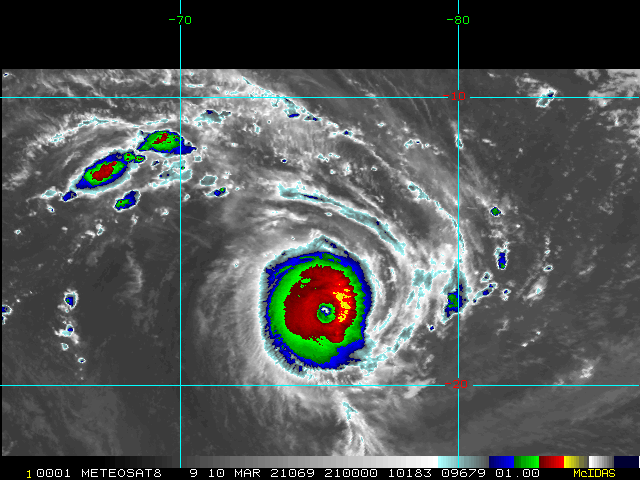 24S(HABANA). 10/21UTC. ANIMATED ENHANCED INFRARED (EIR) SATELLITE IMAGERY AND A 101138Z SSMIS MICROWAVE IMAGE DEPICT THE ONSET OF AN EYEWALL REPLACEMENT CYCLE (ERC), WITH A LARGE OUTER BAND NEARLY ENCIRCLING THE INNER EYEWALL. AT 10/2045UTC DVORAK ANALYSIS FROM JTWC IS T6.5/7.0/D2.5/24HRS STT: S0.0/03HRS