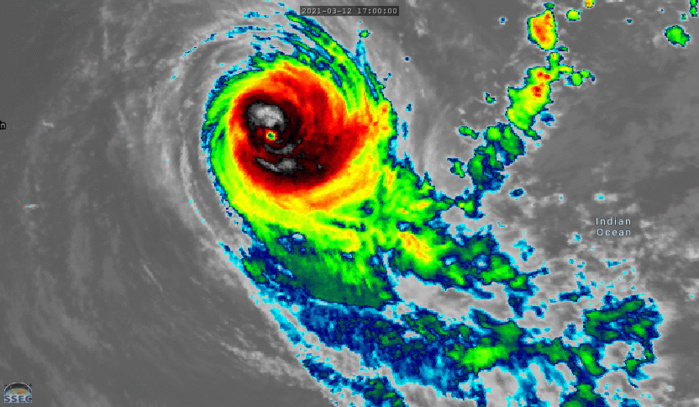 24S(HABANA). 13/02UTC. 9H ANIMATION. ANIMATED ENHANCED INFRARED SATELLITE IMAGERY SHOWS 24S LOSING ITS EYE FEATURE WHEREAS THE NORTHWEST QUADRANT IS WEAKENING. CLICK TO ANIMATE IF NEEDED.
As of 00:00 UTC Mar 13, 2021:
Maximum Winds: 100 kt (185km/h)
Minimum Central Pressure: 959 mb
CATEGORY US: 3
WEAKENING RAPIDLY NEXT 24H
LOCATED AT 13/00UTC APPROXIMATELY 750KM EAST-SOUTHEAST OF RODRIGUES ISLAND, MAURITIUS, HAS TRACKED SOUTH-SOUTHWESTWARD AT 9KM/H OVER THE PAST SIX HOURS.
Satellite bulletins are to be found in the comments of this post on
JTWC BIS
Cheers,
Patrick Hoareau
M974World
ILES SOEURS
Cyclone Class 4
Cheers,PH.
Joint Typhoon Warning Center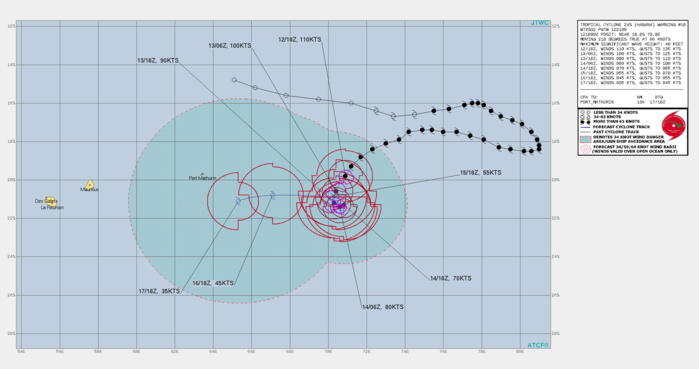 24S(HABANA). WARNING 18 ISSUED AT 12/21UTC. TC 24S IS MOVING AWAY FROM A REGION OF 28-30 DEGREE SEA SURFACE TEMPERATURES AND TOWARDS A REGION OF 26-28 DEGREE WATER, WHERE IT WILL REMAIN UNTIL IT TURNS TOWARD THE WEST. THE COOLING WATERS COUPLED WITH UPWELLING GENERATED BY THE SLOW MOVEMENT OF THE SYSTEM WILL INDUCE STEADY WEAKENING. BETWEEN TAU 24 AND TAU 48, TC 24S WILL LOSE STEERING INFLUENCE FROM A SUBTROPICAL RIDGE (STR) TO THE SOUTHEAST AND MEANDER UNTIL IT IS PICKED UP BY ANOTHER STR BUILDING FROM THE SOUTHWEST. THIS SECOND ANTICYCLONE WILL NUDGE TC 24S WESTWARD AND KEEP IT EQUATORWARD OF HEAVY SHEAR. AS IT RESUMES ITS WESTWARD TRACK AND LEAVES BEHIND THE COOLER UPWELLED SSTS, IT WILL MOVE THROUGH MARGINALLY FAVORABLE 26-28 DEGREE WATERS AND GRADUALLY WEAKEN TO NEAR GALE FORCE BY THE END OF THE FORECAST. SO LONG AS THE STORM STAYS EQUATORWARD OF THE 22ND LATITUDE, IT WILL AVOID HEAVY SHEAR AND DECAY PRIMARILY DUE TO OCEANOGRAPHIC FACTORS. THERE IS HIGH CONFIDENCE IN THE TRACK FORECAST THROUGH TAU 24, BUT LOW CONFIDENCE THEREAFTER GIVEN THE QUASI-STATIONARY PERIOD AND TIMING OF THE EXPECTED COUNTER-CLOCKWISE LOOP. THE GLOBAL MODELS ARE IN GOOD AGREEMENT WITH THE EVENTUAL WESTWARD TRACK, WITH THE EXCEPTION OF NAVGEM, WHICH CONTINUES TO SUGGEST A POSSIBLE RECURVE SCENARIO.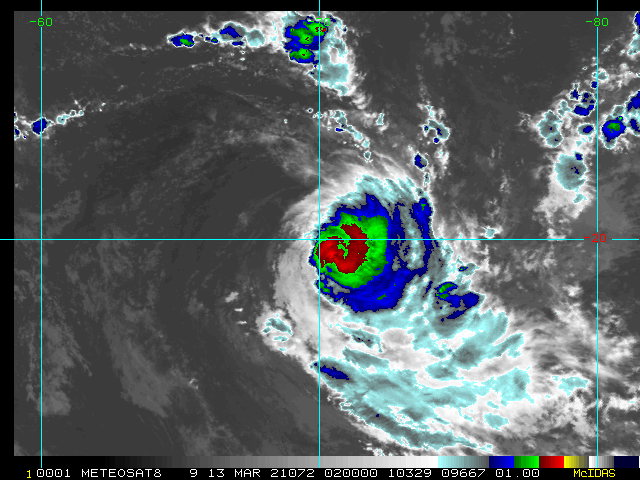 24S(HABANA). 13/02UTC. RAPIDLY WEAKENING SATELLITE SIGNATURE.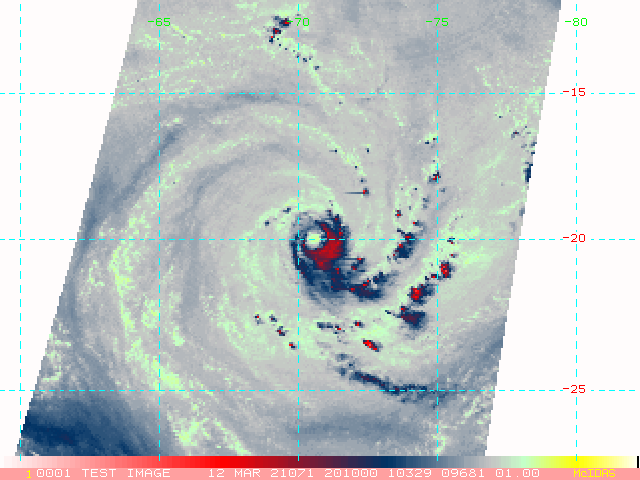 24S(HABANA). 12/2010UTC. THE EYE FEATURE WAS STILL WELL DEPICTED BUT THE NORTHWEST PORTION OF THE EYE-WALL WAS ALREADY WEAKENING.