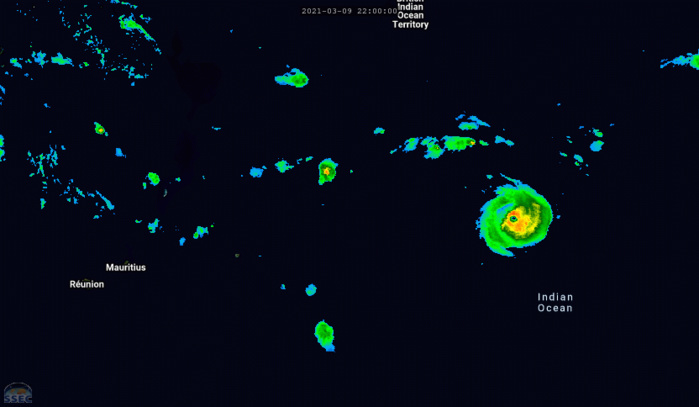 24S(HABANA). 10/04UTC. 6H ANIMATION. THE CYCLONE IS INTENSIFYING RAPIDLY FAR TO THE EAST-NORHTEAST OF THE MASCARENE ISLANDS. THE EYE IS SHARPER AND CONVECTION SURROUNDING IT IS MORE INTENSE. A COMPLETE BULLETIN WILL BE ISSUED NEAR 10/10UTC. CLICK TO ANIMATE IF NECESSARY.
As of 03:00 UTC Mar 10, 2021:
Maximum Winds( AT 10/00UTC): 95 kt (175km/h)
Minimum Central Pressure: 967 mb
LOCATED AT 10/03UTC APPROXIMATELY 1480KM EAST-NORTHEAST OF PORT MATHURIN, RODRIGUES ISLAND, MAURITIUS, HAS TRACKED WEST-NORTHWESTWARD AT 12 KM/H OVER THE PAST NINE HOURS.
Satellite bulletins are to be found in the comments of this post on
JTWC BIS
Cheers,
Patrick Hoareau
M974World
ILES SOEURS
Cyclone Class 4
Cheers,PH.
Joint Typhoon Warning Center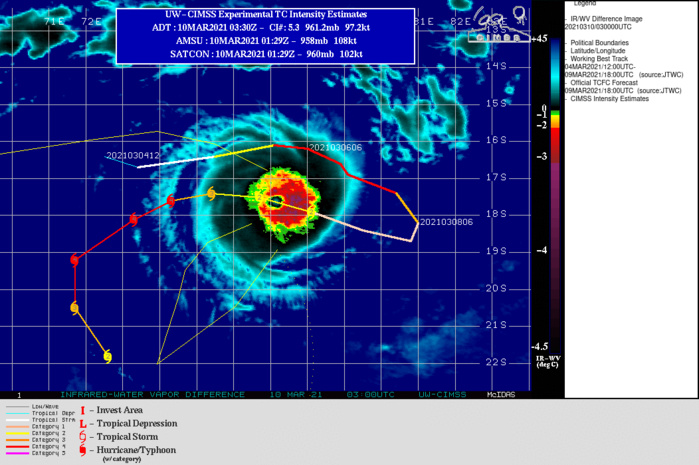 24S(HABANA). EYE POSITION AT 10/04UTC. THE CYCLONE HAS BEEN INTENSIFYING ABOVE THE THE FOREACAST ISSUED AT 09/21UTC.