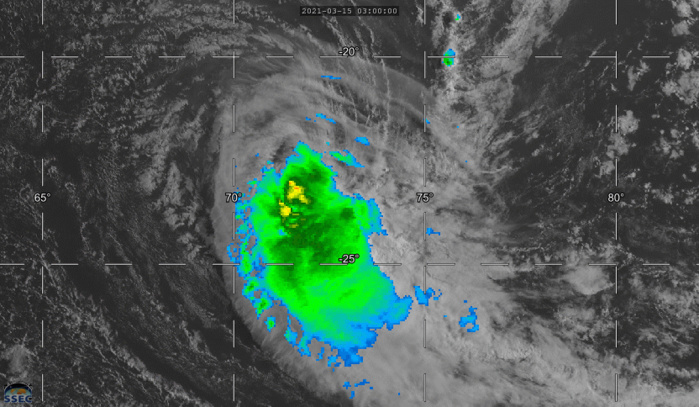 24S(HABANA). 15/09UTC. 6H ANIMATION. 24S(HABANA) IS WEAKENING STEADILY UNDER HIGH (25-35 KNOTS) WEST-NORTHWESTERLY VERTICAL WIND SHEAR ASSOCIATED WITH AN UPPER-LEVEL TROUGH AND DRY AIR ENTRAINMENT AS REVEALED IN ANIMATED MULTISPECTRAL SATELLITE IMAGERY AND TOTAL PRECIPITABLE WATER IMAGERY. DEEP CONVECTION IS SHEARED TO THE SOUTHEAST LEAVING THE LOW LEVEL CIRCULATION CENTER INCREASINGLY EXPOSED. CLICK TO ANIMATE IF NEEDED.
As of 06:00 UTC Mar 15, 2021:
Maximum Winds: 50 kt (95km/h)
Minimum Central Pressure: 990 mb
LOCATED AT 15/06UTC APPROXIMATELY 880KM SOUTHEAST OF PLAINE CORAIL-RODRIGUES ISLAND, MAURITIUS, HAS TRACKED SOUTH-SOUTHWESTWARD AT 04KM/H OVER THE PAST SIX HOURS.
Satellite bulletins are to be found in the comments of this post on
JTWC BIS
Cheers,
Patrick Hoareau
M974World
ILES SOEURS
Cyclone Class 4
Cheers,PH.
Joint Typhoon Warning Center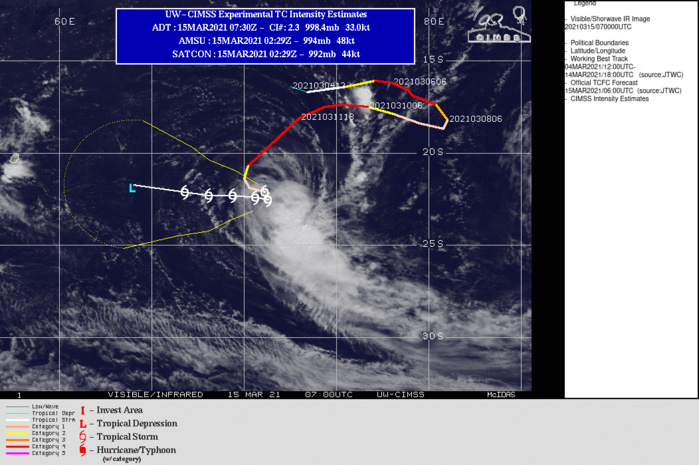 24S(HABANA). WARNING 23 ISSUED AT 15/09UTC. TC HABANA IS FORECAST TO CONTINUE WEAKENING THROUGH THE FORECAST PERIOD UNDER HIGH VERTICAL WIND SHEAR AND DRY AIR ENTRAINMENT. TC 24S IS SITUATED WITHIN A WEAK STEERING ENVIRONMENT BETWEEN A SUBTROPICAL RIDGE (STR) TO THE WEST AND A STR TO THE EAST, AND IS EXPECTED TO TRACK ERRATICALLY OVER THE NEXT 12 HOURS THEN ACCELERATE WESTWARD AS A BROAD LOW-LEVEL STR BUILDS TO THE SOUTH AFTER 12H.DUE TO THE STEADY WEAKENING TREND, INCREASING VERTICAL WIND SHEAR AND DRY AIR ENTRAINMENT, THE SYSTEM IS NOW EXPECTED TO DISSIPATE BY 72H OR PERHAPS EARLIER. THERE IS A LOW PROBABILITY THAT THE SYSTEM MAY REGENERATE TO GALE-FORCE STRENGTH AFTER 72H AS IT TRACKS WESTWARD OVER WARM SST (27-28C) BUT UPPER-LEVEL CONDITIONS ARE EXPECTED TO REMAIN MARGINAL.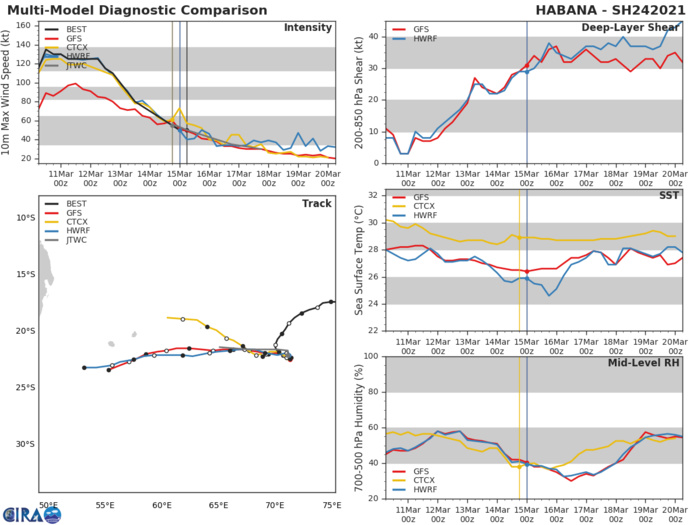 24S(HABANA). NUMERICAL MODEL GUIDANCE IS IN FAIR AGREEMENT SUPPORTING THE SHORT-TERM QUASI- STATIONARY TRACK MOTION AND WESTWARD TRACK AFTER 12H, HOWEVER, THE OVERALL CONFIDENCE IN THE JTWC FORECAST TRACK IS MODERATE.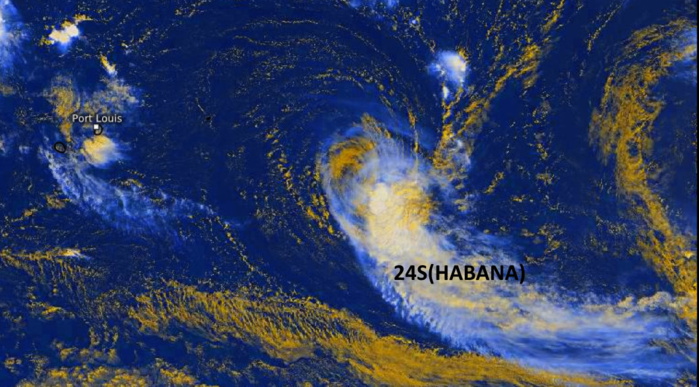 24S(HABANA). 15/0845UTC. MULTI SPECTRAL IMAGERY INDICATES RAPIDLY-DECAYING DEEP CONVECTION SHEARING OVER THE SOUTHEAST QUADRANT OF AN EXPOSED, WELL-DEFINED LOW-LEVEL CIRCULATION CENTER, WHICH SUPPORTS THE INITIAL POSITION WITH GOOD CONFIDENCE. Eumetsat. Enhanced by PH.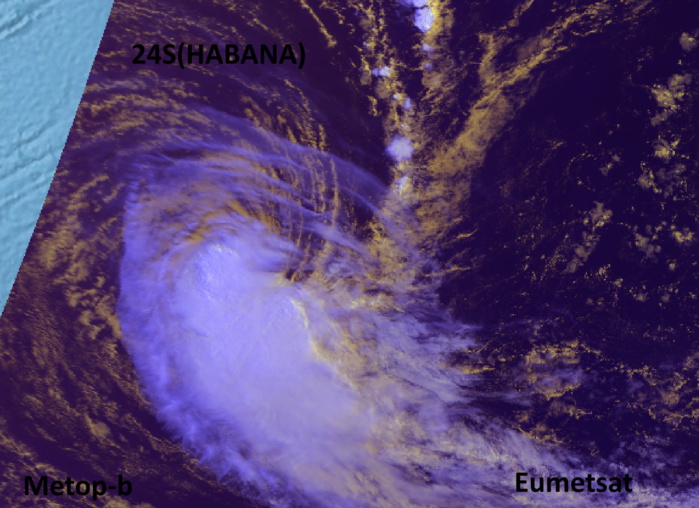 24S(HABANA). 15/0325UTC. METOP-B. THE LOW LEVEL CIRCULATION CENTER WAS ALREADY PARTLY EXPOSED. IT HAS GROWN INCREASINGLY EXPOSED SINCE THEN. Eumetsat.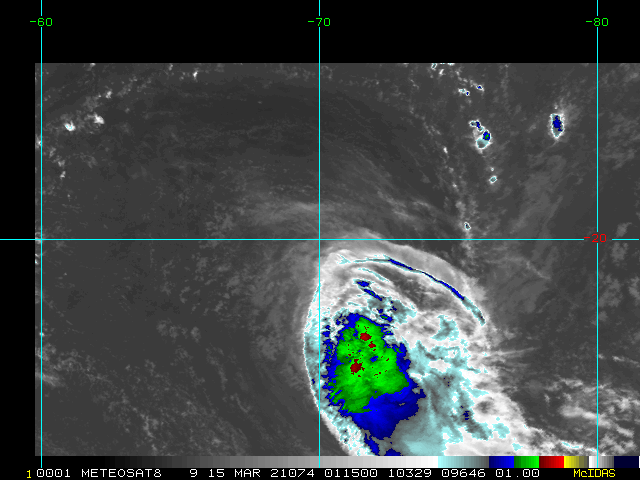 24S(HABANA). 15/0115UTC. RSMC/RÉUNION POINTS OUT THAT SMAP READ 48KNOT WINDS AT 15/0123UTC.