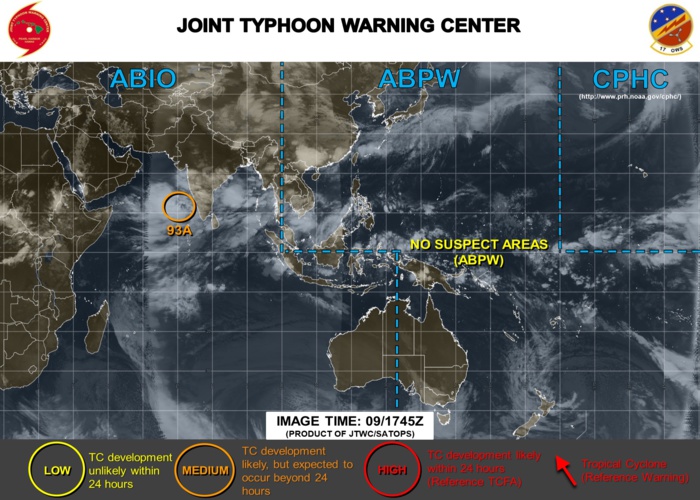 https://www.meteo974.re/M974World_r7.html
https://www.facebook.com/groups/1817419381676514/
NORTH INDIAN: Arabian Sea
Location: 11.2°N 71.1°E
Maximum Winds: 25 kt
Minimum Central Pressure: 1002 mb
ABIO10 PGTW 091800
1. NORTH INDIAN OCEAN AREA (MALAY PENINSULA WEST TO COAST OF AFRICA):
A. TROPICAL CYCLONE SUMMARY: NONE.
B. TROPICAL DISTURBANCE SUMMARY:
(1) THE AREA OF CONVECTION (INVEST 93A) PREVIOUSLY LOCATED
NEAR 10.4N 72.8E, IS NOW LOCATED NEAR 10.5N 72.2E, APPROXIMATELY 242
NM WEST OF COCHIN, INDIA. ANIMATED ENHANCED INFRARED SATELLITE
IMAGERY SHOWS PERSISTENT AND CONSOLIDATING CONVECTION LOCATED TO THE
WEST OF THE LOW LEVEL CIRCULATION CENTER (LLCC). A 091406Z SSMIS
91GHZ MICROWAVE IMAGE SHOWS FORMATIVE BANDING AND CONFIRMS THE DEEP
CONVECTION TO THE WEST OF THE LLCC. INVEST 93A IS CURRENTLY IN AN
AREA OF FAVORABLE TO NEUTRAL (15 TO 20 KNOT) VERTICAL WIND SHEAR
(VWS) AND FAIR OUTFLOW. SEA SURFACE TEMPERATURES REMAIN FAVORABLE
FOR DEVELOPMENT (28-30C). GLOBAL MODELS ARE IN GENERAL AGREEMENT
THAT INVEST 93A WILL TRACK GENERALLY NORTHWARD, ENTER A MORE
FAVORABLE ENVIRONMENT, AND INTENSIFY TO 35 KNOTS BEYOND 24 HOURS.
MAXIMUM SUSTAINED SURFACE WINDS ARE ESTIMATED AT 15 TO 20 KNOTS.
MINIMUM SEA LEVEL PRESSURE IS ESTIMATED TO BE NEAR 1006 MB. THE
POTENTIAL FOR THE DEVELOPMENT OF A SIGNIFICANT TROPICAL CYCLONE
WITHIN THE NEXT 24 HOURS IS UPGRADED TO MEDIUM.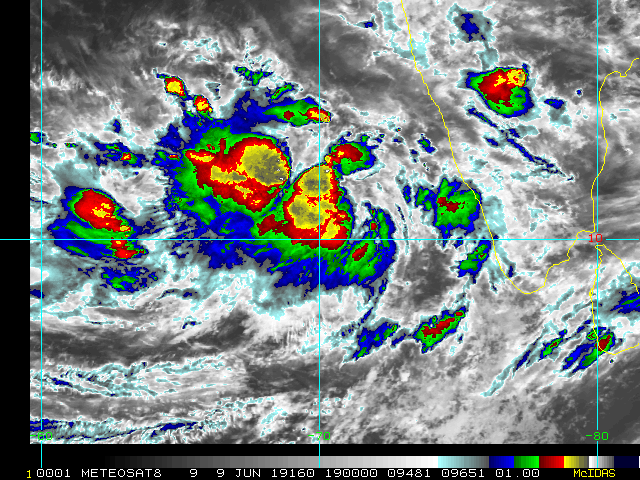 19UTC