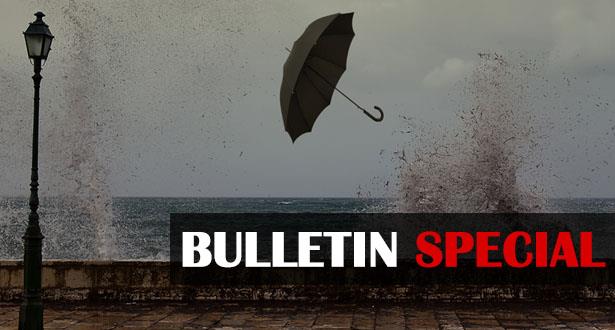 https://www.meteo974.re/
https://www.meteo974.re/M974World_r7.html
2019 JUIN 10 14h
MAURICE
Special Weather Bulletin MMS/Vacoas
Mon, Jun 10, 2019
Communique spécial de la météo émis à 1300 heures ce Lundi 10 June 2019.
Avis de fortes houles pour Maurice valable à partir d'aujourdhui 2200 hrs jusqu'à 1600hrs Mardi le 11 Juin 2019.
Des houles du Sud de l'ordre de 5 mètres influenceront l'état de la mer dans la région de Maurice.
Ces houles pourraient déferler sur les plages à l'heure des marées haute.
Il est fortement conseillé aux pécheurs, plaisanciers et au public de ne pas sortir en mer.
Marée Haute
: 20h57 et demain 08h38.
Marée Basse :
13h46 et demain 03h08.
______________________________________________________________________
Special Communiqué issued by Meteorological Services at 1300hrs on Monday 10 June 2019.
High Wave Warning for Mauritius valid as from today 2200 hrs upto 1600hrs Tuesday 11 June 2019.
Southerly swells of the order of 5 metres will influence the sea state in the region of Mauritius.
These swells may break along beaches during high tides.
Fishermen, pleasure-crafts users and the public are strongly advised not to go out at sea.
High tide:
20h57 and tomorrow 08h38.
Low tide:
13h46 and tomorrow 03h08.