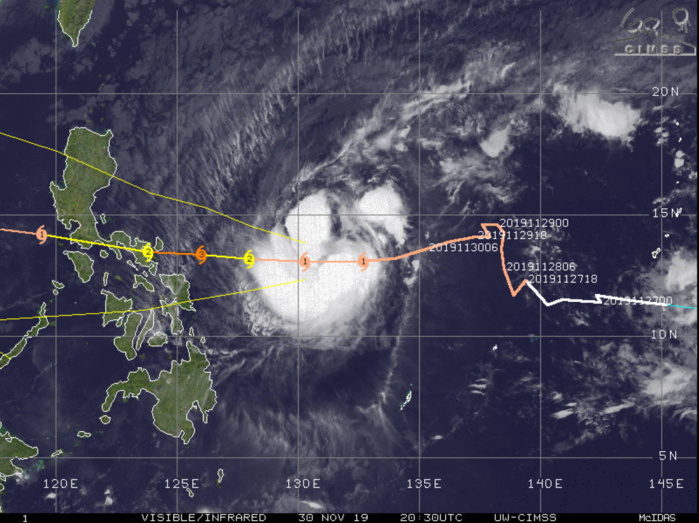 Météo974
WESTERN NORTH PACIFIC
Location: 13.1°N 132.7°E
Maximum Winds: 65 kt ( 120km/h)
Gusts: 80 kt ( 150km/h)
Minimum Central Pressure: 980 mb
CATEGORY US: 1
WDPN31 PGTW 302100
MSGID/GENADMIN/JOINT TYPHOON WRNCEN PEARL HARBOR HI//
SUBJ/PROGNOSTIC REASONING FOR TYPHOON 29W (KAMMURI) WARNING NR 021//
RMKS/
1. FOR METEOROLOGISTS.
2. 6 HOUR SUMMARY AND ANALYSIS.
TYPHOON (TY) 29W (KAMMURI), LOCATED APPROXIMATELY 687 NM EAST OF
MANILA, PHILIPPINES, HAS TRACKED WESTWARD AT 13 KNOTS OVER THE PAST SIX
HOURS. ANIMATED ENHANCED INFRARED SATELLITE IMAGERY SHOWS THAT DEEP
CONVECTION REMAINS PRESENT AROUND THE LOW LEVEL CIRCULATION CENTER
(LLCC) BUT THE CONVECTION HAS BECOME ASYMMETRIC. THE INITIAL POSITION
IS PLACED WITH FAIR CONFIDENCE AND IS BASED ON A 301800Z HIMAWARI
INFRARED SATELLITE IMAGE, WHICH SHOWS A SMALL NOTCH FEATURE. THE
INITIAL INTENSITY OF 65 KNOTS IS HEDGED BELOW THE PGTW DVORAK CURRENT
INTENSITY (CI) ESTIMATE OF T4.5 (77 KNOTS) BASED ON THE RAGGED STORM
STRUCTURE AND AN OLDER 301209Z METOP-B ASCAT IMAGE, WHICH INDICATED 50
KNOTS. THEREFORE, THERE IS POOR CONFIDENCE IN THE INITIAL INTENSITY.
ENVIRONMENTAL ANALYSIS SHOWS FAVORABLE TO NEUTRAL VERTICAL WIND SHEAR
(15 TO 20 KNOTS) ALONG WITH ROBUST POLEWARD AND EQUATORWARD OUTFLOW
CHANNELS. SEA SURFACE TEMPERATURES REMAIN FAVORABLE FOR DEVELOPMENT,
NEAR 29 DEGREES CELSIUS. TY 29W IS TRACKING WESTWARD WHILE POSITIONED
ON THE SOUTHWESTERN EDGE OF A SUBTROPICAL RIDGE (STR) WHICH IS LOCATED
TO THE NORTHEAST.
3. FORECAST REASONING.
A. THERE IS NO SIGNIFICANT CHANGE TO THE FORECAST PHILOSOPHY FROM
THE LAST PROGNOSTIC REASONING MESSAGE.
B. THROUGH TAU 36, TY 29W WILL CONTINUE TO TRACK WESTWARD ALONG
THE SOUTHWESTERN PERIPHERY OF THE STR AND STEADILY INTENSIFY DUE TO
FAVORABLE CONDITIONS. BY TAU 48, TY 29W WILL MAKE LANDFALL IN THE
CENTRAL PHILIPPINES AND STEADILY DECREASE IN INTENSITY DUE TO LAND
INTERACTION. AN APPROACHING SHORTWAVE TROUGH WILL TEMPORARILY ERODE THE
STR AND ALLOW A SLIGHT NORTHWESTWARD JOG IN THE TRACK. DYNAMIC MODEL
TRACK GUIDANCE IS IN FAIRLY GOOD AGREEMENT. HOWEVER, DUE TO UNCERTAINTY
IN THE INITIAL INTENSITY AND THE INTENSITY GUIDANCE THERE IS LOW
CONFIDENCE IN THIS PORTION OF THE JTWC FORECAST TRACK.
C. AFTER TAU 72, TY 29 WILL TRACK WEST-NORTHWESTWARD AS THE STR
BUILDS BACK TO THE WEST AFTER THE PASSAGE OF THE SHORTWAVE TROUGH. AS
TY 29W TRACKS INTO THE SOUTH CHINA SEA IT WILL QUICKLY WEAKEN AS IT
BEGINS TO INTERACT WITH A STRONG NORTHEAST SURGE EVENT AND EXPERIENCE
UNFAVORABLE VERTICAL WIND SHEAR. AFTER TAU 96, TY 29W WILL TURN
SHARPLY SOUTHWESTWARD AS THE TRACK CONTINUES TO BE INFLUENCED BY THE
SURGE EVENT. DYNAMIC MODEL GUIDANCE IS IN GOOD AGREEMENT. THEREFORE,
THERE IS HIGH CONFIDENCE IN THIS PORTION OF THE JTWC FORECAST
TRACK.//
NNNN
FORECAST LANDFALL AREA
CLICK TO ANIMATE: LAPTOP AND PC