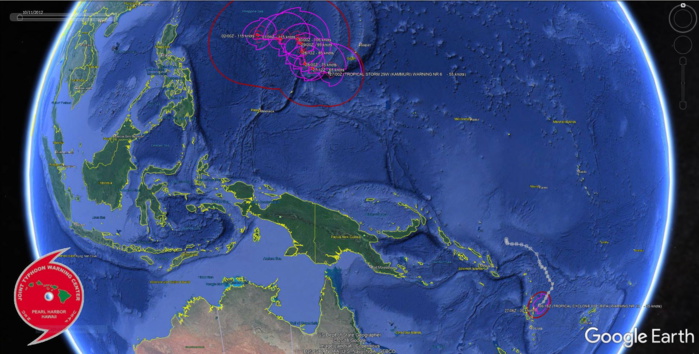 Météo974
WESTERN NORTH PACIFIC
TS KAMMURI (29W)
Location: 11.7°N 142.3°E
Maximum Winds: 55 kt ( 100km/h)
Gusts: 70 kt ( 130km/h)
Minimum Central Pressure: 986 mb
WDPN31 PGTW 270300
MSGID/GENADMIN/JOINT TYPHOON WRNCEN PEARL HARBOR HI//
SUBJ/PROGNOSTIC REASONING FOR TROPICAL STORM 29W (KAMMURI)
WARNING NR 006//
RMKS/
1. FOR METEOROLOGISTS.
2. 6 HOUR SUMMARY AND ANALYSIS.
TROPICAL STORM 29W (KAMMURI), LOCATED APPROXIMATELY 194 NM
SOUTHWEST OF ANDERSEN AFB, GUAM HAS TRACKED WESTWARD AT 12 KNOTS OVER
THE PAST SIX HOURS. ANIMATED MULTISPECTRAL SATELLITE IMAGERY (MSI)
SHOWS AN EXPANSIVE SYSTEM (OVER 600NM ACROSS) WITH EXCEPTIONALLY STRONG
POLEWARD OUTFLOW THAT CONTINUED TO CONSOLIDATE. THE INITIAL POSITION IS
EXTRAPOLATED WITH FAIR CONFIDENCE FROM A MICROWAVE EYE FEATURE IN THE
262052Z SSMIS 37GHZ COLORIZED IMAGE. THE INITIAL INTENSITY OF 55KTS IS
BASED ON THE DVORAK ESTIMATE OF T3.5/55KTS FROM PGTW AND REFLECTS THE
GRADUAL IMPROVEMENT. ANALYSES REVEAL A FAVORABLE ENVIRONMENT WITH LOW
TO MODERATE (05-15KT) VERTICAL WIND SHEAR, ROBUST OUTFLOW ESPECIALLY ON
THE POLEWARD SIDE, AND VERY WARM (>30C) SEA SURFACE TEMPERATURES. THE
CYCLONE IS TRACKING IN THE PHILIPPINE SEA ALONG THE SOUTHERN PERIPHERY
OF THE SUBTROPICAL RIDGE (STR) TO THE NORTH NORTHEAST.
3. FORECAST REASONING.
A. THERE IS NO SIGNIFICANT CHANGE TO THE FORECAST PHILOSOPHY FROM
THE LAST PROGNOSTIC REASONING MESSAGE.
B. TS 29W WILL CONTINUE ON ITS CURRENT TRACK UNDER THE STR UP TO
TAU 12; AFTERWARD, A SHORTWAVE TROUGH APPROACHING FROM THE NORTHWEST
WILL WEAKEN THE STR AND ALLOW THE SYSTEM TO TRACK MORE NORTHWESTWARD
THEN VERY SLOWLY NORTH-NORTHWESTWARD AS IT ENTERS THE COL BETWEEN THE
CURRENT STR AND A SECONDARY, BUILDING STR TO THE NORTHWEST. THE
FAVORABLE ENVIRONMENT WILL FUEL STEADY TO RAPID INTENSIFICATION TO
105KTS BY TAU 72.
C. AFTER TAU 72, TS 29W WILL SLOWLY DRIFT WESTWARD OUT OF THE COL
AFTER THE TROUGH PASSES TO THE NORTHEAST AND THE PRIMARY STR REBUILDS
AND REGAINS STEERING. THE FAVORABLE CONDITIONS WILL PREVAIL AND SUSTAIN
FURTHER INTENSIFICATION TO 115KTS UP TO TAU 120. NUMERICAL MODELS ARE
IN GENERAL AGREEMENT WITH THE OVERALL FORECAST TRACK BUT SPREAD OUT TO
OVER 300NM BY TAU 72 AND OVER 400NM BY TAU 120. THIS, PLUS THE
DIFFERENCES IN ALONG-TRACK SPEED AND THE STORM MOTION UNCERTAINTY IN
THE COL, LEND LOW CONFIDENCE TO THE JTWC TRACK FORECAST.//
NNNN
Location: 5.5°N 172.4°E
Maximum Winds: 15 kt
Minimum Central Pressure: 1010mb
-----------------------------------------------------------------------------------------------
SOUTHERN HEMISPHERE SOUTH PACIFIC
Location: 15.2°S 168.6°E
Maximum Winds: 30 kt ( 55km/h)
Gusts: 40 kt ( 75km/h)
Minimum Central Pressure: 1000 mb
JMV FILE:
0119112100 65S1629E 15
0119112106 67S1629E 15
0119112112 69S1630E 15
0119112118 70S1631E 15
0119112200 71S1637E 15
0119112206 71S1643E 20
0119112212 72S1650E 20
0119112218 74S1657E 20
0119112300 77S1663E 25
0119112306 84S1673E 25
0119112312 93S1678E 30
0119112318 97S1680E 30
0119112400 100S1683E 40
0119112406 102S1688E 45
0119112412 107S1691E 50
0119112418 112S1694E 55
0119112500 117S1698E 65
0119112506 122S1704E 65
0119112512 128S1704E 60
0119112518 133S1700E 55
0119112600 137S1698E 50
0119112606 140S1697E 40
0119112612 144S1695E 35
0119112618 148S1689E 35
NNNN
Click to animate(laptop and PC)