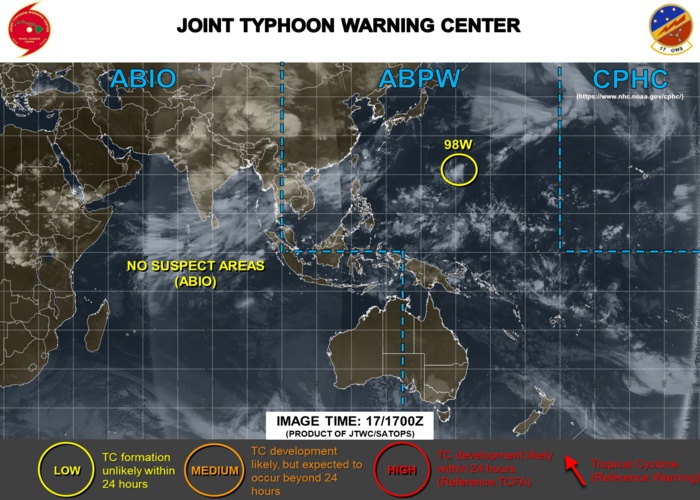 Météo974
WESTERN NORTH PACIFIC
INVEST 98W
Location: 22.4°N 154.4°E
Maximum Winds: 20 kt
Minimum Central Pressure: 1005 mb
ABPW10 PGTW 170600
1. WESTERN NORTH PACIFIC AREA (180 TO MALAY PENINSULA):
A. TROPICAL CYCLONE SUMMARY: NONE.
B. TROPICAL DISTURBANCE SUMMARY:
(1) AN AREA OF CONVECTION (INVEST 98W) HAS PERSISTED NEAR
22.3N 155.2E, APPROXIMATELY 800 NM NORTHEAST OF GUAM. ANIMATED
MULTISPECTRAL SATELLITE IMAGERY DEPICTS A FULLY EXPOSED AND WELL-
DEFINED LOW LEVEL CIRCULATION CENTER (LLCC) WITH LOWER LEVEL BANDING
DISPLACED TO THE WEST AND THE MAJORITY OF CONVECTION SHEARED TO THE
SOUTHWEST. A RECENT 162355Z ASCAT PASS REVEALED A COMPACT AND WEAK
LLC WITH A SMALL 15 TO 20 KNOT WIND FIELD TO THE SOUTHWEST. UPPER
LEVEL ANALYSIS INDICATES A MARGINAL ENVIRONMENT WITH 20-25 KNOTS OF
VERTICAL WIND SHEAR, WEAK OUTFLOW, AND FAVORABLE (28-29C) SEA
SURFACE TEMPERATURE. GLOBAL MODELS ARE IN GOOD AGREEMENT. MOST
MODELS SHOW THE LLCC REMAINING WEAK AND MOVING SOUTHWEST WITHOUT
INTENSIFICATION BEFORE BEING ABSORBED INTO ANOTHER CIRCULATION TO
THE SOUTH. GFS SHOWS INTENSIFICATION WHILE MAINTAINING ITS OWN
CIRCULATION. MAXIMUM SUSTAINED SURFACE WINDS ARE ESTIMATED AT 12 TO
18 KNOTS. MINIMUM SEA LEVEL PRESSURE IS ESTIMATED TO BE NEAR 1002
MB. THE POTENTIAL FOR THE DEVELOPMENT OF A SIGNIFICANT TROPICAL
CYCLONE WITHIN THE NEXT 24 HOURS IS LOW.
---------------------------------------------------------------------------------------------------------------
INVEST 97W
Location: 12.5°N 144.0°E
Maximum Winds: 15 kt
Minimum Central Pressure: 1007 mb