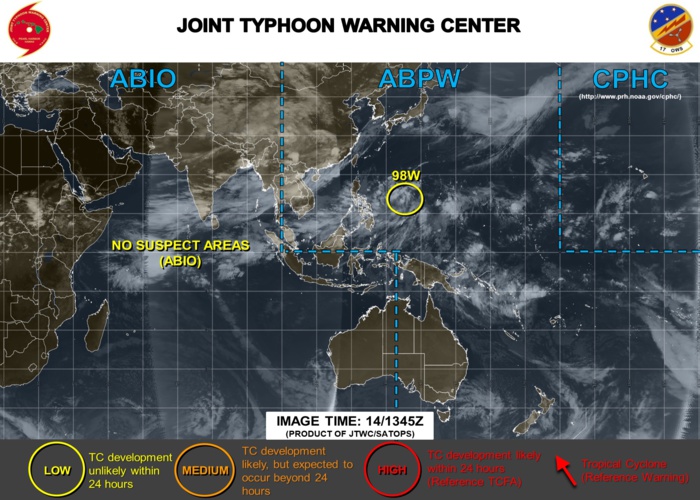 https://www.meteo974.re/M974World_r7.html
https://www.facebook.com/groups/1817419381676514/
WESTERN NORTH PACIFIC
Location: 14.9°N 135.4°E
Maximum Winds: 15 kt
Minimum Central Pressure: 1002 mb
ABPW10 PGTW 141400
1. WESTERN NORTH PACIFIC AREA (180 TO MALAY PENINSULA):
A. TROPICAL CYCLONE SUMMARY: NONE.
B. TROPICAL DISTURBANCE SUMMARY:
(1) AN AREA OF CONVECTION (INVEST 98W) HAS PERSISTED NEAR
14.9N 135.4E, APPROXIMATELY 548 NM WEST OF GUAM. ANIMATED
MULTISPECTRAL IMAGERY AND A 140940Z SSMIS 91GHZ IMAGE AND A 141210Z
METOP-A ASCAT PASS DEPICT A BROAD LOW LEVEL CIRCULATION (LLC) WITH
FLARING CONVECTION. UPPER ANALYSIS INDICATES LOW (5-15 KNOT)
VERTICAL WIND SHEAR WITH GOOD POLEWARD DIFFLUENCE ALOFT. WARM SEA
SURFACE TEMPERATURES (29-30 CELSIUS) SUPPORT FUTURE DEVELOPMENT.
GLOBAL MODELS ARE IN GENERAL AGREEMENT INDICATING A NORTHWEST TRACK
OVER THE NEXT 48-72 HOURS WITH GRADUAL INTENSIFICATION. MAXIMUM
SUSTAINED SURFACE WINDS ARE ESTIMATED AT 15 TO 20 KNOTS. MINIMUM SEA
LEVEL PRESSURE IS ESTIMATED TO BE NEAR 1002 MB. THE POTENTIAL FOR
THE DEVELOPMENT OF A SIGNIFICANT TROPICAL CYCLONE WITHIN THE NEXT 24
HOURS IS LOW.
(2) NO OTHER SUSPECT AREAS.