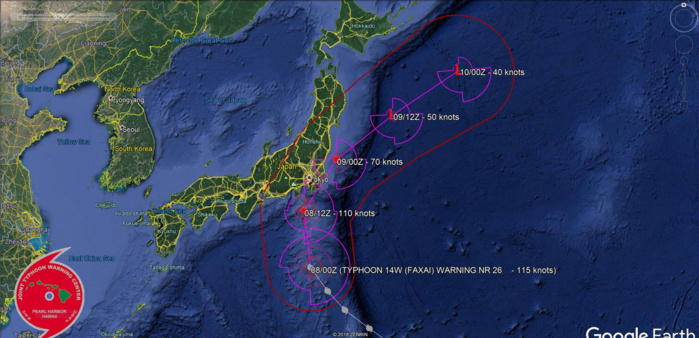 Météo974
WESTERN NORTH PACIFIC
TY FAXAI (14W)
Location: 31.1°N 139.8°E
Maximum Winds: 115 kt ( 215km/h)
Gusts : 140kt ( 260km/h)
Minimum Central Pressure: 942 mb
CATEGORY US: 4
WDPN31 PGTW 080300
MSGID/GENADMIN/JOINT TYPHOON WRNCEN PEARL HARBOR HI//
SUBJ/PROGNOSTIC REASONING FOR TYPHOON 14W (FAXAI) WARNING NR 026//
RMKS/
1. FOR METEOROLOGISTS.
2. 6 HOUR SUMMARY AND ANALYSIS.
TYPHOON (TY) 14W (FAXAI), LOCATED APPROXIMATELY 252 NM SOUTH OF
YOKOSUKA, JAPAN, HAS TRACKED NORTHWESTWARD AT 15 KNOTS OVER THE PAST
SIX HOURS. ANIMATED MULTISPECTRAL SATELLITE IMAGERY (MSI) SHOWS THE
SYSTEM HAS MAINTAINED A DEEP COMPACT STRUCTURE AND A SHARPLY,
OUTLINED 10-NM EYE EVEN AS SUBSIDENCE IS NOW APPARENT ALONG THE
NORTHWEST QUADRANT CAUSED BY DEEP TROUGHING. THE INITIAL POSITION IS
PLACED WITH HIGH CONFIDENCE BASED ON A DEFINED MICROWAVE EYE FEATURE
IN THE NEAR-SURFACE 072145Z 37GHZ SCAN THAT LINED UP JUST BEHIND THE
MSI EYE THAT IS TILTED SLIGHTLY FORWARD. THE INITIAL INTENSITY OF
115KTS IS BASED ON THE PGTW DVORAK ESTIMATE OF T6.0/115KTS AND
REFLECTS THE SUSTAINED INTENSITY. ENVIRONMENTAL ANALYSIS INDICATES
FAVORABLE CONDITIONS OF LOW (5-15 KT) VERTICAL WIND SHEAR (VWS)
ENHANCED BY A STORM MOTION THAT IS IN-PHASE WITH UPPER LEVEL WIND
FLOW, GOOD RADIAL OUTFLOW, AND WARM (29-30 CELSIUS) SEA SURFACE
TEMPERATURE (SST) VALUES. THE CYCLONE IS TRACKING ALONG THE
SOUTHWESTERN PERIPHERY OF A DEEP-LAYER SUBTROPICAL RIDGE (STR) TO THE
NORTHEAST.
3. FORECAST REASONING.
A. THERE IS NO CHANGE TO THE FORECAST PHILOSOPHY SINCE THE
PREVIOUS PROGNOSTIC REASONING MESSAGE.
B. TY FAXAI WILL CONTINUE ON ITS CURRENT TRACK AS THE STR REMAINS
THE PRIMARY STEERING INFLUENCE THROUGHOUT THE FORECAST. AFTER TAU 12,
THE TRACK WILL BECOME MORE POLEWARD AS THE SYSTEM BEGINS TO ROUND THE
STR AXIS, CRESTING IT NEAR TAU 06. AROUND TAU 18, TY 14W WILL MAKE
LANDFALL OVER HONSHU NEAR YOKOSUKA. AFTERWARD, IT WILL ACCELERATE
NORTHEASTWARD BACK INTO THE PACIFIC OCEAN, ALBEIT WITH COOLER SSTS.
THE FAVORABLE ENVIRONMENTAL CONDITIONS WILL SUSTAIN THE CURRENT
INTENSITY, MAYBE EVEN INTENSIFY SLIGHTLY, UP TO TAU 12. AFTERWARD,
INCREASING VWS, DIMINISHING OUTFLOW, AND LAND INTERACTION, WILL
GRADUALLY WEAKEN THE SYSTEM TO 70KTS BY TAU 24. CONCURRENTLY AT TAU
24, TY 14W WILL BEGIN EXTRA-TROPICAL TRANSITION (ETT) AS IT ENTERS
THE BAROCLINIC ZONE, COMPLETING ETT BY TAU 36, AND BY TAU 48, WILL BE
REDUCED TO A 40-KT COLD CORE LOW WITH AN EXPANSIVE WIND FIELD. MODEL
GUIDANCE REMAINS IN TIGHT AGREEMENT WITH NAVGEM THE SOLE LEFT
OUTLIER, LENDING HIGH CONFIDENCE TO THE JTWC TRACK FORECAST THAT IS
LAID JUST TO THE RIGHT AND SLIGHTLY FASTER THAN CONSENSUS AFTER TAU
12 TO OFFSET NAVGEM.//
NNNN
--------------------------------------------------------------------------------------
Location: 46.3°N 130.0°E
Maximum Winds: 30 kt
Minimum Central Pressure: 982 mb
----------------------------------------------------------------------
Location: 19.9°N 116.6°E
Maximum Winds: 15 kt
Minimum Central Pressure: 1001 mb
Location: 12.7°N 147.4°E
Maximum Winds: 15 kt
Minimum Central Pressure: 1008 mb
------------------------------------------------------------------------------------------------------------------
Location: 27.9°N 125.2°E
Maximum Winds: 20 kt
Minimum Central Pressure: 1003 mb