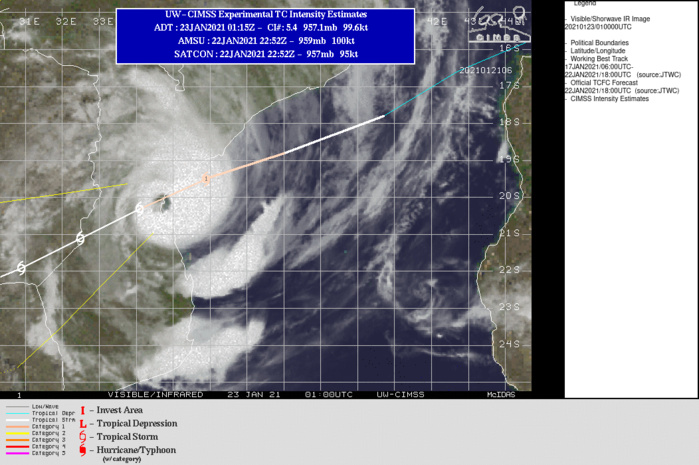 23/01UTC. THE EYE IS TRACKING APPRX 20KM SOUTH OF BEIRA MAKING LANDFALL.
TROPICAL CYCLONE 12S (ELOISE), LOCATED AT 23/00UTC APPROXIMATELY 20KM SOUTH SOUTHWEST OF BEIRA/MOZAMBIQUE, HAS TRACKED WEST-SOUTHWESTWARD AT 21 KM/H OVER THE PAST SIX HOURS. THE CYCLONE IS MAKING LANDFALL.
2021 JAN 23 0150UTC
TC #12S #ELOISE
#
SOUTHINDIANOCEAN
As of 00:00 UTC Jan 23, 2021:
UPDATE
Location: 20.0°S 34.8°E
Maximum Winds: 85 kt ( 160km/h)
Gusts: 105 kt ( 195km/h)
Minimum Central Pressure: 971 mb
CATEGORY US: 2
MAKING LANDFALL
Satellite bulletins are to be found in the comments of this post on
JTWC BIS
Cheers,
Patrick Hoareau
M974World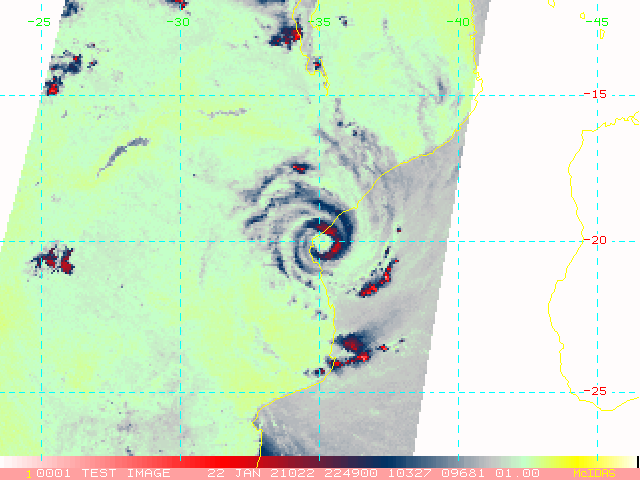 22/2249UTC. MICROWAVE DEPICTED STRONGER EASTERN QUADRANT.