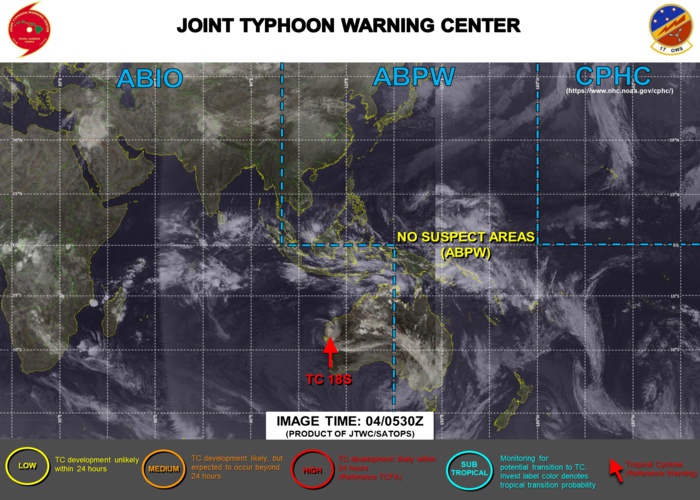 JTWC HAS BEEN ISSUING 6HOURLY WARNINGS ON 18S(NONAME). 3 HOURLY SATELLITE BULLETINS ARE PROVIDED FOR 18S AND THE REMNANTS OF 17P(LUCAS).
2021 FEB 04 0954UTC
#SOUTHERNHEMISPHERE
TC #18S
#
SOUTHINDIANOCEAN
WARNING 16
As of 06:00 UTC Feb 04, 2021:
Location: 24.4°S 113.7°E
Maximum Winds: 35 kt (65km/h)
Gusts: 45 kt (85km/h)
Minimum Central Pressure: 996 mb
18S (EIGHTEEN), LOCATED APPROXIMATELY 55 KM NORTH OF CARNARVON/WESTERN AUSTRALIA, HAS TRACKED WESTWARD AT 11
KM/H OVER THE PAST SIX HOURS.
Satellite bulletins are to be found in the comments of this post on
JTWC BIS
------------------------------------------------------------------------------------------------------------------
REMNANTS TC #17P #LUCAS
#
SOUTHPACIFICOCEAN
UPDATE
As of 06:00 UTC Feb 04, 2021:
Location: 23.1°S 165.6°E
Maximum Winds: 25 kt
Minimum Central Pressure: 999 mb
Satellite bulletins are to be found in the comments of this post on
JTWC BIS
Cheers,
Patrick Hoareau
Météo974
M974World
Cyclone Class 4
Cheers,PH.
Joint Typhoon Warning Center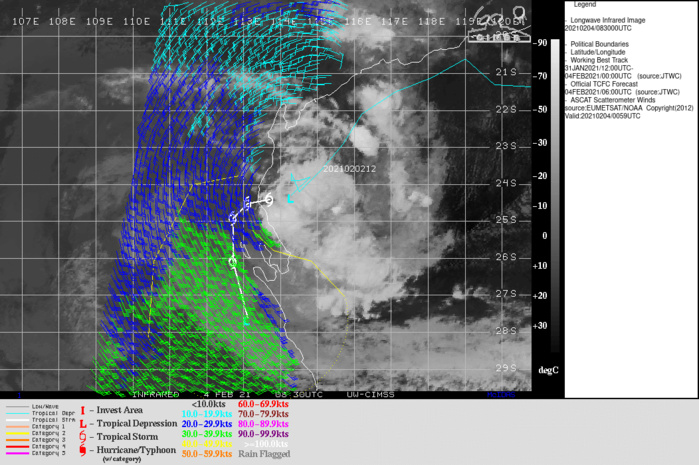 18S(EIGHTEEN). WARNING 16.ANIMATED RADAR IMAGERY FROM THE CARNARVON RADAR INDICATES THE BULK OF THE CONVECTIVE BANDING IS OVER LAND, OVER THE SOUTHERN SEMICIRCLE. THE CENTER IS LOCATED APPROXIMATELY 55KM NORTH OF CARNARVON, WHICH IS REPORTING SUSTAINED SURFACE WINDS (10-MINUTE AVERAGE) OF 24-27 KNOTS WITH GUSTS AS HIGH AS 37 KNOTS; THE MINIMUM SLP THUS FAR IS 991.8MB, WHICH TYPICALLY CORRESPONDS TO A 35-40 KNOT TROPICAL CYCLONE, WITH A 24-HOUR DECREASE OF 5.0MB. A 040215Z ASCAT-B IMAGE(SHOWN ABOVE) REVEALS AN EXTENSIVE SWATH OF 30-35 KNOT WINDS OVER WATER TO THE SOUTHWEST ASSOCIATED WITH A LARGE FIELD OF STABLE, COOL-AIR STRATOCUMULUS AS EVIDENT IN SATELLITE.OVERALL, THIS DATA SUPPORTS THE INITIAL INTENSITY ASSESSMENT OF 35 KNOTS. ENVIRONMENTAL ANALYSIS INDICATES FAVORABLE UPPER-LEVEL CONDITIONS WITH LOW VERTICAL WIND SHEAR (VWS) AND POLEWARD VENTING INTO THE WESTERLIES TO THE SOUTH. HOWEVER, INTERACTION WITH LAND, DRY AIR ENTRAINMENT AND MARGINAL SST VALUES (26C) WILL HINDER DEVELOPMENT. TC 18S IS TRACKING ALONG THE NORTHERN PERIPHERY OF A LOW-LEVEL SUBTROPICAL RIDGE (STR) POSITIONED TO THE SOUTH BUT IS EXPECTED TO TURN SOUTHWARD AS A STR BUILDS EAST OF THE SYSTEM OVER WESTERN AUSTRALIA. DUE TO THE SOUTHWARD TRACK, THE SYSTEM WILL MOVE UNDER THE SUBTROPICAL WESTERLIES WITH INCREASING VWS (30-45 KNOTS), WHICH WILL LEAD TO STEADY WEAKENING AND EVENTUAL DISSIPATION BY 48H.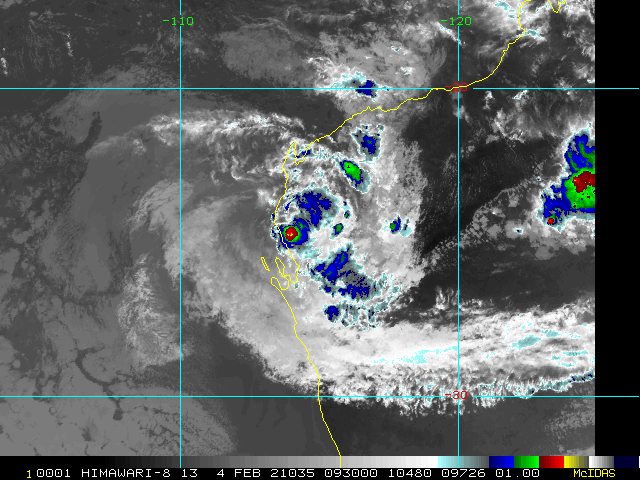 18S. 04/0930UTC. EXTENSIVE BANDING WRAPPING TIGHTLY INTO THE LOW LEVEL CENTER WHICH IS LOCATED CLOSE TO THE COASTLINE.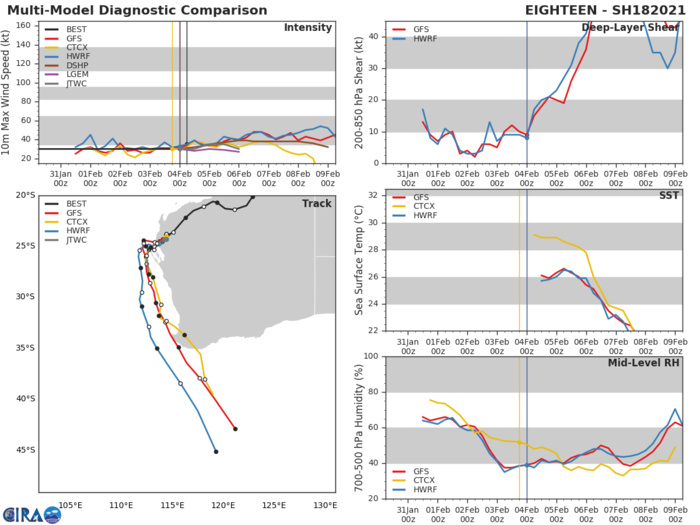 18S. WITH THE EXCEPTION OF NAVGEM, NUMERICAL MODEL GUIDANCE IS IN GOOD AGREEMENT LENDING HIGH CONFIDENCE TO THE JTWC FORECAST TRACK, WHICH IS POSITIONED NEAR THE MULTI-MODEL CONSENSUS.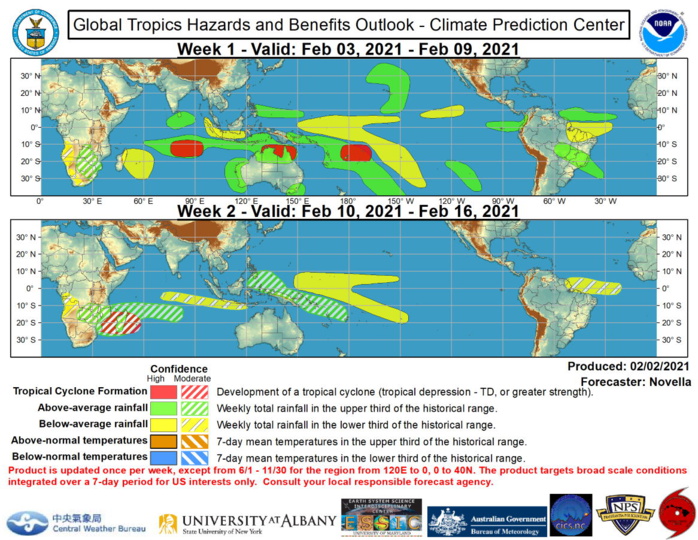 ISSUED AT 02/02. TROPICAL CYCLONE DEVELOPMENT OUTLOOK. For week-1, high confidence regions for TC formation are highlighted over the southern central Indian Ocean, off of northern Australia, and along the Date Line between 10-20S. These areas are targeted due to continued support in the probabilistic TC tools and good run-to-run continuity in the models depicting continued Rossby wave activity and developing areas of low pressure by the latter portion of week-1. In the northwest Pacific, Rossby wave activity is favored in both the CFS and ECMWF during late week-1 and into week-2 across the Phillipine Sea. Although enhanced precipitation amounts and a deepening area of low pressure are favored by the GEFS, the ECMWF ensemble and probabilistic TC tools remain less supportive of TC development in the region and there is not enough confidence to issue a TC formation area at this time. Over the southwestern Indian Ocean, there is consensus between the GEFS and ECMWF ensemble guidance featuring a broad area of low pressure developing over the Mozambique Channel and Madagascar. With anomalously warm SSTs in place and good continuity in probabilistic TC tools indicating elevated probabilities for TC development, a moderate confidence region is posted over the region for week-2.