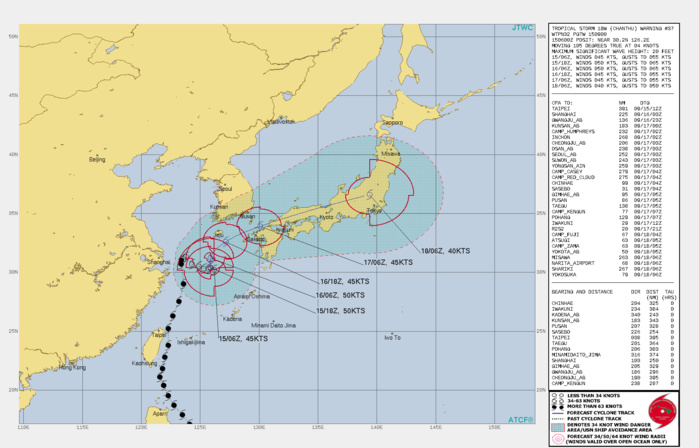 TS 19W(CHANTHU). WARNING 37 ISSUED AT 15/09UTC.SIGNIFICANT FORECAST CHANGES: TRACK SHIFTED TO THE SOUTH ACROSS THE SPINE OF JAPAN.FORECAST DISCUSSION: TS 19W IS EXPECTED TO FINALLY BEGIN ITS RECURVE AROUND THE SUBTROPICAL RIDGE, LOCATED TO ITS SOUTHEAST, BY 12H. THE MARGINALLY FAVORABLE ENVIRONMENT OVER THE NEXT 24 HOURS WILL LIKELY ALLOW FOR SLIGHT INTENSIFICATION TO 50 KNOTS AS IT APPROACHES THE TSUSHIMA STRAIT UNDER INCREASED UPPER LEVEL OUTFLOW, LOW SHEAR(VWS) AND WARM SEA SURFACE TEMPERATURES (28-29 DEGREES CELSIUS). AS THE SYSTEM TRACKS MORE POLEWARD, INCREASING VWS AND LAND INTERACTION WILL WEAKEN IT AS IT PASSES OVER JAPAN AND BEGINS EXTRATROPICAL TRANSITION. EXTRATROPICAL TRANSITION IS EXPECTED TO COMPLETE NO LATER THAN 72H.
1921090506 123N1397E 15
1921090512 126N1395E 20
1921090518 130N1389E 20
1921090600 135N1385E 20
1921090606 141N1382E 25
1921090612 148N1379E 35
1921090618 152N1373E 45
1921090700 156N1366E 50
1921090706 161N1357E 70
1921090712 163N1346E 95
1921090718 163N1335E 125
1921090800 160N1323E 130
1921090806 156N1313E 140
1921090812 155N1303E 135
1921090818 153N1291E 135
1921090900 155N1281E 140
1921090906 157N1272E 130
1921090912 161N1260E 120
1921090918 166N1250E 120
1921091000 171N1241E 130
1921091006 179N1235E 145
1921091012 187N1228E 150
1921091018 195N1223E 155
1921091100 204N1219E 145
1921091106 211N1216E 135
1921091112 218N1218E 120
1921091118 228N1220E 115
1921091200 238N1223E 110
1921091206 252N1223E 105
1921091212 263N1227E 95
1921091218 275N1232E 90
1921091300 290N1236E 85
1921091306 307N1234E 75
1921091312 310N1234E 65
1921091318 311N1236E 55
1921091400 313N1238E 50
1921091406 307N1243E 45
1921091412 305N1249E 40
1921091418 303N1253E 35
1921091500 303N1257E 35
1921091506 302N1262E 45
NNNN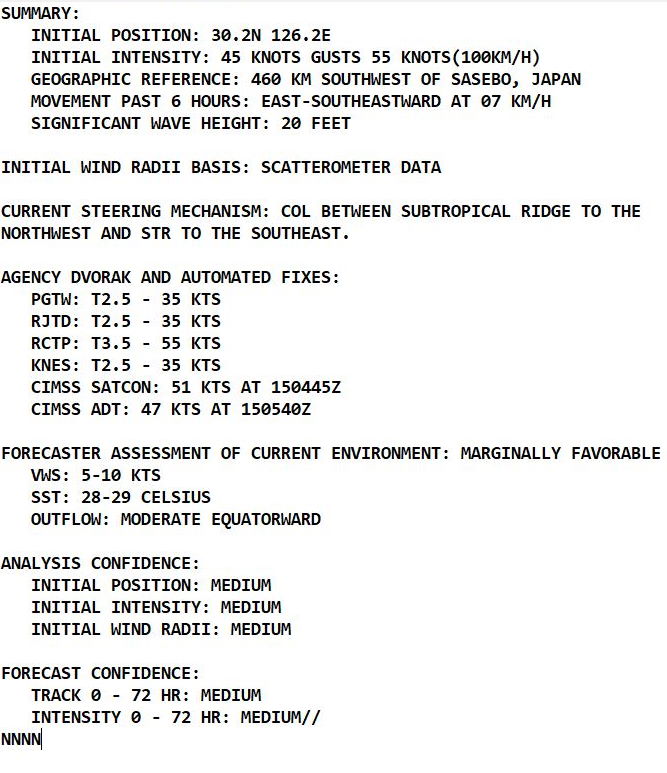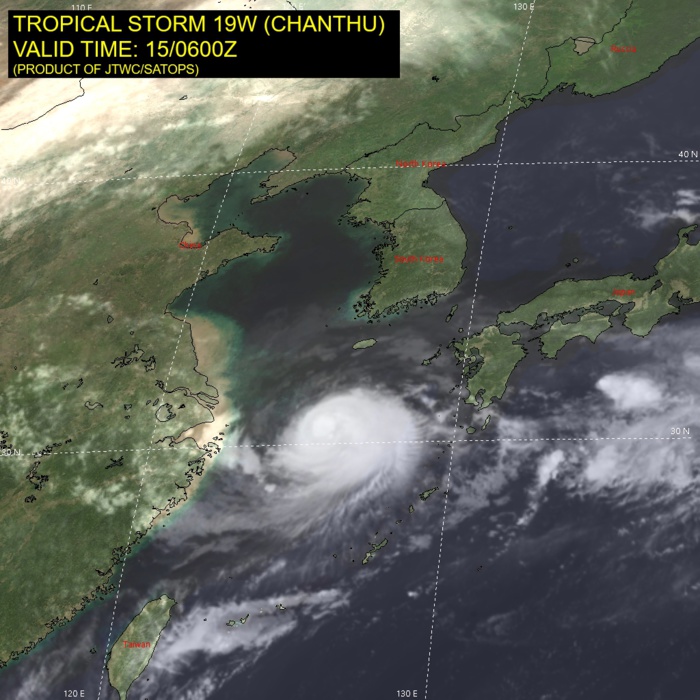 TS 19W(CHANTU). SATELLITE ANALYSIS, INITIAL POSITION AND INTENSITY DISCUSSION: ANIMATED MULTISPECTRAL SATELLITE IMAGERY (MSI) SHOWS THE SYSTEM HAS FURTHER DEVELOPED ITS CENTRAL CONVECTION, WHICH IS PARTLY OBSCURING THE LOW LEVEL CIRCULATION CENTER (LLCC). THE INITIAL POSITION IS PLACED WITH MEDIUM CONFIDENCE BASED ON A NOTCH FEATURE IN THE 150545Z GMI 37GHZ MICROWAVE IMAGE. THE INITIAL INTENSITY IS ASSESSED WITH MEDIUM CONFIDENCE BASED ON THE OVERALL ASSESSMENT OF AGENCY AND AUTOMATED DVORAK ESTIMATES. ANALYSIS INDICATES A MARGINALLY FAVORABLE ENVIRONMENT WITH MODERATE EQUATORWARD OUTFLOW AND LOW VWS. THE SYSTEM CONTINUES TO DEVELOP IN A COL REGION.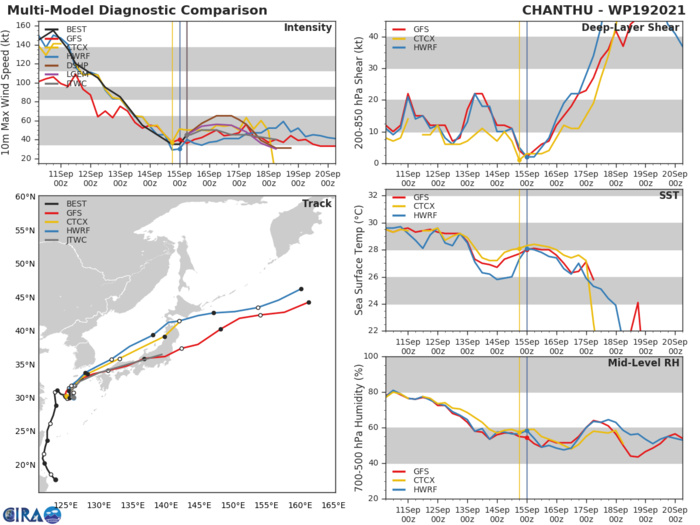 TS 19W(CHANTHU).MODEL DISCUSSION: NUMERICAL MODELS HAVE PULLED TO THE RIGHT OF THE PREVIOUS FORECAST, WITH LANDFALL EXPECTED SHORTLY AFTER 48H. GIVEN THE UNCERTAINTY IN THE STORM MOTION IN THE COL, THERE IS ONLY MEDIUM CONFIDENCE IN THE JTWC TRACK FORECAST DESPITE TIGHT MODEL GROUPING. INTENSITY FORECAST CONFIDENCE IS MEDIUM DUE TO SUSTAINED COMPETING ENVIRONMENTAL FACTORS AND RECURVE TIMING.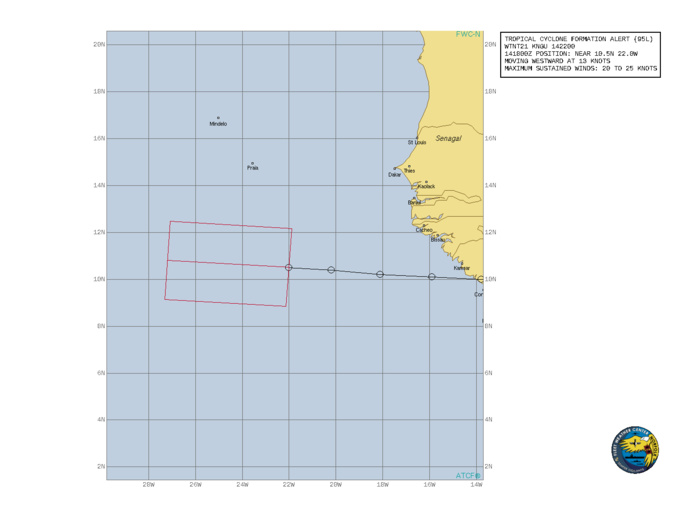 ATLANTIC. INVEST 95L. TROPICAL CYCLONE FORMATION ALERT ISSUED AT 14/22UTC.FORMATION OF A TROPICAL CYCLONE IS POSSIBLE WITHIN 185 KM EITHER SIDE OF A LINE FROM 10.5N 22.0W TO 11.0N 25.4W WITHIN THE NEXT 24 HOURS. AVAILABLE DATA DOES NOT JUSTIFY ISSUANCE OF NUMBERED TROPICAL CYCLONE WARNINGS AT THIS TIME. WINDS IN THE AREA ARE ESTIMATED TO BE 20 TO 25 KNOTS. METSAT IMAGERY AT 141800Z INDICATES THAT A CIRCULATION CENTER IS LOCATED NEAR 10.5N 22.0W. THE SYSTEM IS MOVING WESTWARD AT 24 KM/H. 2.REMARKS: MAXIMUM SUSTAINED SURFACE WINDS ARE ESTIMATED AT 20 TO 25 KNOTS. SHOWERS AND THUNDERSTORMS ASSOCIATED WITH A LOW PRESSURE AREA LOCATED A FEW HUNDRED MILES SOUTH-SOUTHEAST OF THE CABO VERDE ISLANDS CONTINUE TO SHOW SIGNS OF ORGANIZATION. ENVIRONMENTAL CONDITIONS ARE EXPECTED TO REMAIN CONDUCIVE FOR DEVELOPMENT, AND A TROPICAL DEPRESSION IS LIKELY TO FORM DURING THE NEXT DAY OR SO WHILE THE SYSTEM MOVES GENERALLY WESTWARD AT ABOUT 12 TO 14 KNOTS ACROSS THE EASTERN TROPICAL ATLANTIC OCEAN.
9521091312 100N 118W 20
9521091318 100N 138W 20
9521091400 101N 159W 20
9521091406 102N 181W 25
9521091412 104N 202W 25
9521091418 105N 220W 25
9521091500 107N 231W 25
9521091506 101N 246W 30