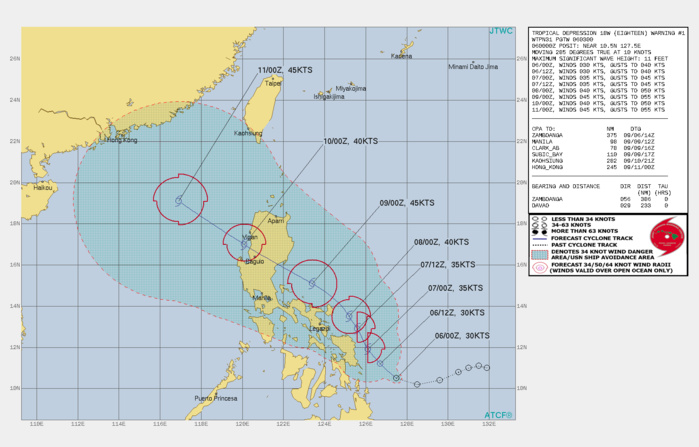 TD 18W. WARNING 1 ISSUED AT 06/03UTC.THIS INITIAL PROGNOSTIC REASONING MESSAGE ESTABLISHES THE FORECAST PHILOSOPHY. FORECAST DISCUSSION: TD 18W IS EXPECTED TO CONTINUE GENERALLY ON ITS CURRENT TRACK FOR THE ENTIRETY OF THE FORECAST, MAKING LANDFALL NEAR BALER, PHILIPPINES AROUND 84H, CROSS LUZON, THEN EXIT INTO THE SOUTH CHINA SEA (SCS) JUST BEFORE 96H. THE MARGINALLY FAVORABLE ENVIRONMENT, TEMPERED FURTHER BY OUTFLOW FROM ANOTHER CYCLONE WEST OF GUAM THAT IS EXPECTED TO BE DOMINANT, WILL FUEL WEAK INTENSIFICATION TO A PEAK OF 45KNOTS BY 72H; AFTERWARD, LAND INTERACTION, MOSTLY, WILL REDUCE IT TO 40 KNOTS AS IT EXITS INTO THE SCS. THE WARM WATER MAY AID TO RE-INTENSIFY IT BACK TO 45 KNOTS BY 120H.
1821090412 110N1319E 15
1821090418 111N1315E 15
1821090500 110N1310E 15
1821090506 108N1305E 15
1821090512 104N1296E 20
1821090518 102N1285E 20
1821090600 105N1275E 30
NNNN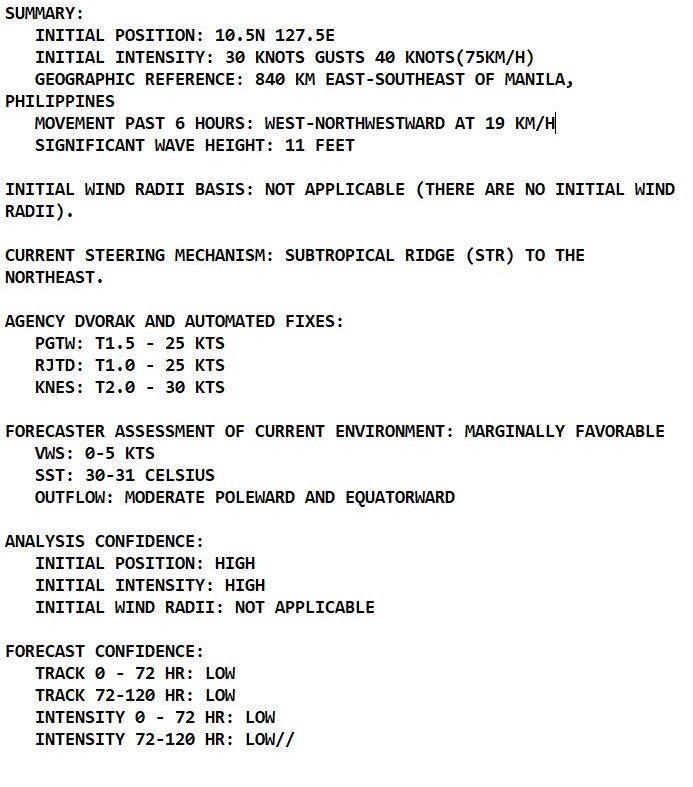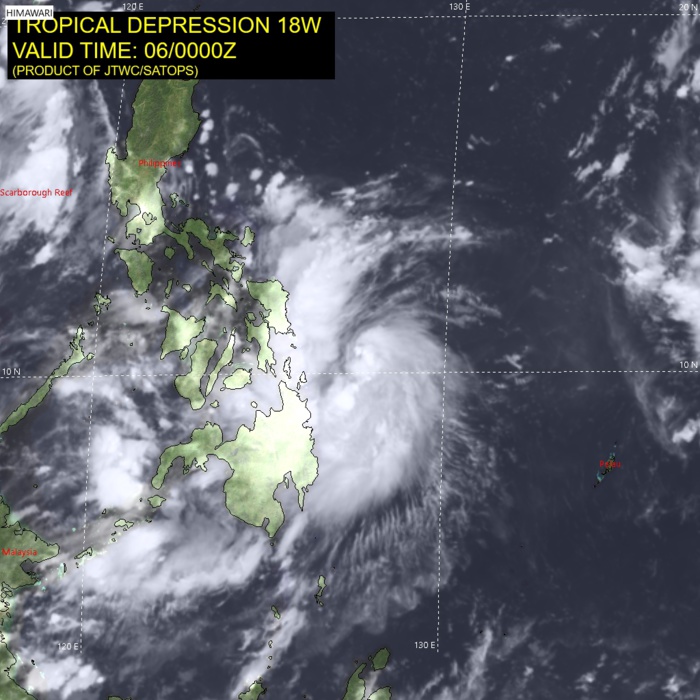 TD 18W. SATELLITE ANALYSIS, INITIAL POSITION AND INTENSITY DISCUSSION: ANIMATED MULTISPECTRAL SATELLITE IMAGERY (MSI) SHOWS A CONSOLIDATING SYSTEM WITH PERSISTENT FLARING CONVECTION AND FORMATIVE BANDS WRAPPING INTO AN OBSCURED LOW LEVEL CIRCULATION (LLC). THE INITIAL POSITION AND INTENSITY ARE PLACED WITH HIGH CONFIDENCE BASED ON A 052126Z SCATTEROMETRY BULLSEYE PASS SHOWING 30-KT WIND BARBS ALONG THE SOUTHERN ARC OF THE LLC. THE INITIAL INTENSITY IS HELD ON THE HIGHER END OF AGENCY DVORAK ESTIMATES. ANALYSIS INDICATES A MARGINALLY FAVORABLE ENVIRONMENT WITH WARM SST, LOW VERTICAL WIND SHEAR, AND DUAL OUTFLOW OFFSET BY STRONG SUBSIDENCE FROM A TUTT CELL 5 DEGREES TO THE NORTH. THE CYCLONE IS TRACKING ALONG THE SOUTHWESTERN PERIPHERY OF THE STR TO THE NORTHEAST.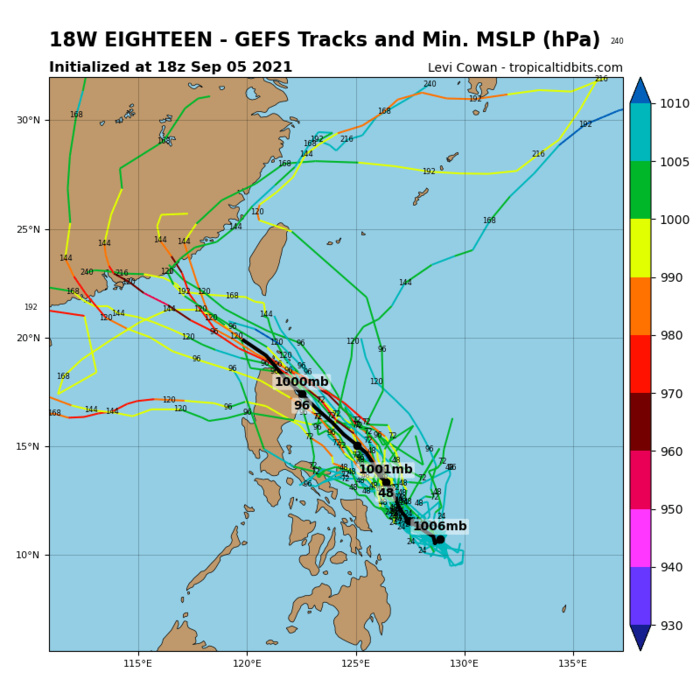 TD 18W.MODEL DISCUSSION: THE HANDFUL OF AVAILABLE NUMERICAL MODELS ARE IN GOOD AGREEMENT BUT GIVEN THE UNCERTAINTIES ASSOCIATED WITH A DEVELOPING CYCLONE COUPLED WITH THE VARIABILITY IN THE IMPACT OF THE AFOREMENTIONED SECONDARY CYCLONE, THERE IS LOW CONFIDENCE IN THE INITIAL JTWC FORECAST TRACK AND INTENSITIES.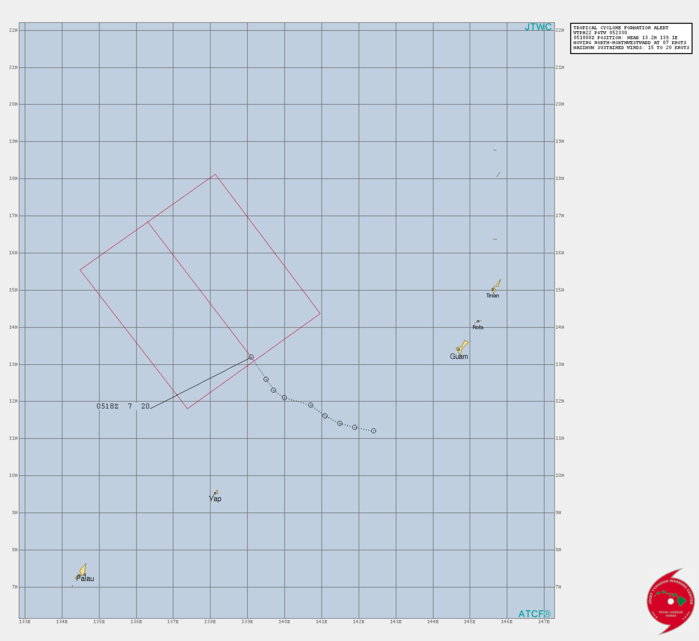 INVEST 94W. TROPICAL CYCLONE FORMATION ALERT ISSUED AT 05/2330UTC.THE AREA OF CONVECTION (INVEST 94W) PREVIOUS LOCATED NEAR 12.6N 139.5E IS NOW LOCATED NEAR 13.2N 139.1E, APPROXIMATELY 610 KM WEST OF ANDERSEN AFB, GUAM. ANIMATED MULTISPECTRAL SATELLITE IMAGERY DEPICTS A COMPACT SYSTEM WITH PERSISTENT CONVECTION. A 052101Z SSMIS 91GHZ IMAGE SHOWS SOUTHEASTERLY FORMATIVE CONVECTIVE BAND WRAPPING INTO AN OBSCURED LLC. UPPER-LEVEL ANALYSIS REVEALS A FAVORABLE ENVIRONMENT WITH WARM SEA SURFACE TEMPERATURES (30C), LOW VERTICAL WIND SHEAR (05-10KT) AND EQUATORIAL OUTFLOW.MAXIMUM SUSTAINED SURFACE WINDS ARE ESTIMATED AT 15 TO 20 KNOTS. MINIMUM SEA LEVEL PRESSURE IS ESTIMATED TO BE NEAR 1007 MB. THE POTENTIAL FOR THE DEVELOPMENT OF A SIGNIFICANT TROPICAL CYCLONE WITHIN THE NEXT 24 HOURS REMAINS HIGH.
9421090318 112N1424E 15
9421090400 113N1419E 20
9421090406 114N1415E 20
9421090412 116N1411E 20
9421090418 119N1407E 20
9421090500 121N1400E 15
9421090506 123N1397E 15
9421090512 126N1395E 20
9421090518 132N1391E 20
9421090600 139N1385E 20
NNNN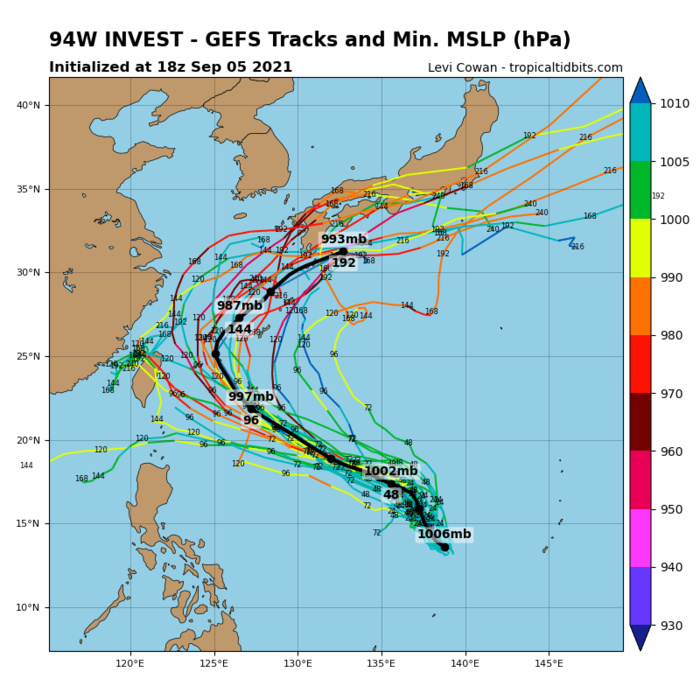 INVEST 94W.GLOBAL MODELS ARE IN GOOD AGREEMENT WITH 94 TRACKING NORTHWESTWARD WITH DEVELOPMENT AND INTENSIFICATION IN THE NEXT 12-36 HOURS.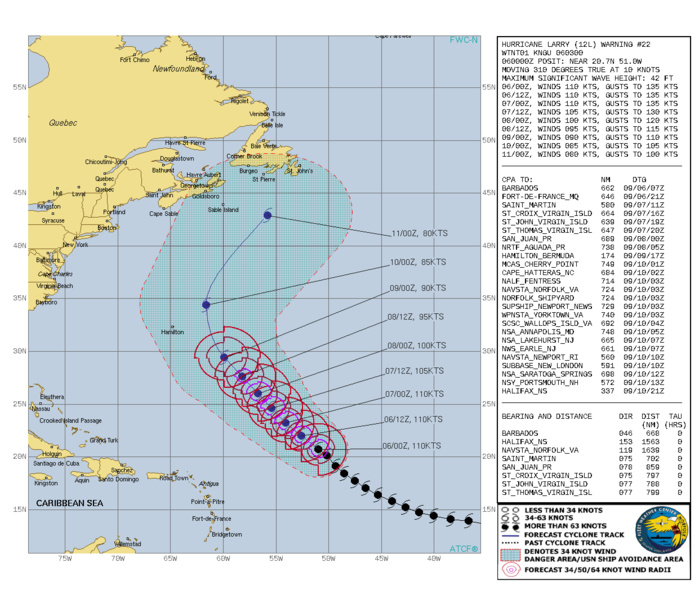 ATLANTIC. HU 12L(LARRY) WARNING 22 ISSUED AT 06/03UTC. CURRENT INTENSITY IS 110KNOTS/CAT 3 AND IS FORECAST TO REMAIN STEADY BY 07/00UTC AND DROP TO 85KNOTS/CAT2 BY 10/00UTC.
1221083000 82N 115W 15
1221083006 82N 127W 20
1221083012 82N 139W 20
1221083018 83N 151W 25
1221083100 86N 163W 25
1221083106 96N 175W 30
1221083112 105N 190W 30
1221083118 112N 206W 30
1221090100 119N 225W 35
1221090106 122N 245W 40
1221090112 124N 265W 45
1221090118 125N 284W 55
1221090200 127N 300W 60
1221090206 130N 316W 65
1221090212 133N 333W 70
1221090218 136N 350W 70
1221090300 139N 367W 75
1221090306 141N 384W 80
1221090312 144N 400W 80
1221090318 147N 414W 85
1221090400 152N 427W 100
1221090406 158N 440W 105
1221090412 164N 453W 110
1221090418 170N 465W 110
1221090500 177N 475W 105
1221090506 184N 485W 105
1221090512 191N 493W 110
1221090518 201N 502W 110
1221090600 207N 510W 110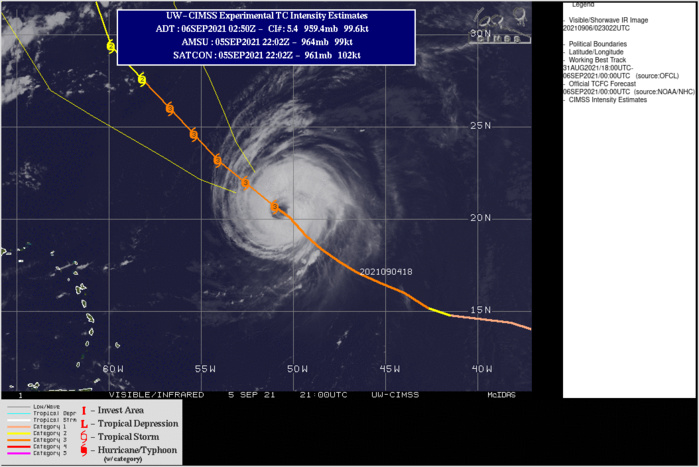 HU 12L(LARRY). GOING THROUGH EYE-WALL REPLACEMENT CYCLES(BASED ON MICROWAVE DATA). IF NEEDED CLICK ON THE IMAGERY TO ANIMATE IT.