IF NEEDED CLICK ON THE IMAGERY TO GET IT ANIMATED AND ZOOMED.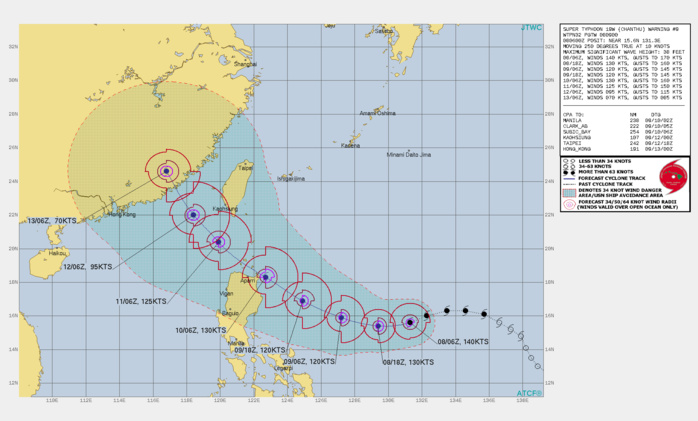 STY 19W(CHANTHU). WARNING 9 ISSUED AT 08/09UTC.SIGNIFICANT FORECAST CHANGES: THERE ARE NO SIGNIFICANT CHANGES TO THE FORECAST FROM THE PREVIOUS WARNING. FORECAST DISCUSSION: STY 19W IS FORECAST TO TURN TO A MORE WESTWARD TRACK OVER THE NEXT 12 HOURS, AND INITIAL SIGNS OF THIS OCCURRENCE ARE ALREADY BEING SEEN IN ANIMATED MSI THROUGH THE 0800Z HOUR. BEYOND 12H THE SUBTROPICAL RIDGE(STR) IS FORECAST TO MOVE EAST RESULTING IN A MORE SOUTHEAST-NORTHWEST ORIENTATION ALONG ITS SOUTHWEST PERIPHERY, ALLOWING STY 19W TO GRADUALLY TURN MORE NORTHWESTWARD THROUGH 48H. THE SYSTEM IS EXPECTED TO SKIRT THE NORTHEAST TIP OF LUZON BY 48H, AND ENTER THE LUZON STRAIT BY 72H. WHILE GLOBAL MODEL FIELDS SHOW PRIMARILY ZONAL FLOW ACROSS CENTRAL CHINA, THE ORIENTATION OF THE STR TO THE EAST AND A DEVELOPING STR OVER SOUTHERN CHINA INDUCE A WEAKNESS IN THE RIDGE NORTHWEST OF TAIWAN, WHICH WILL ALLOW STY 19W TO TURN NORTHWEST AFTER 72H AND HEAD TOWARDS A LANDFALL ALONG THE SOUTHEAST COAST OF CHINA BETWEEN 96H AND 120H. STY 19W HAS LIKELY REACHED PEAK INTENSITY. AN EYEWALL REPLACEMENT CYCLE(EWRC) IS FORECASTED TO START IMMINENTLY, WHICH WILL LEAD TO RELATIVELY RAPID WEAKENING THROUGH 24H, DOWN TO 120 KNOTS/CAT 4. AFTER COMPLETION OF THE EWRC THE SYSTEM IS EXPECTED TO INTENSIFY ONCE AGAIN TO A PEAK OF 130 KNOTS/CAT 4 AT 48H. THEREAFTER INCREASING MID-LEVEL SHEAR AND COOLER SSTS WILL OFFSET INCREASED POLEWARD OUTFLOW LEADING TO STEADY WEAKENING THROUGH LANDFALL. ONCE OVER LAND THE SYSTEM WILL RAPIDLY WEAKEN DUE TO TERRAIN INFLUENCES.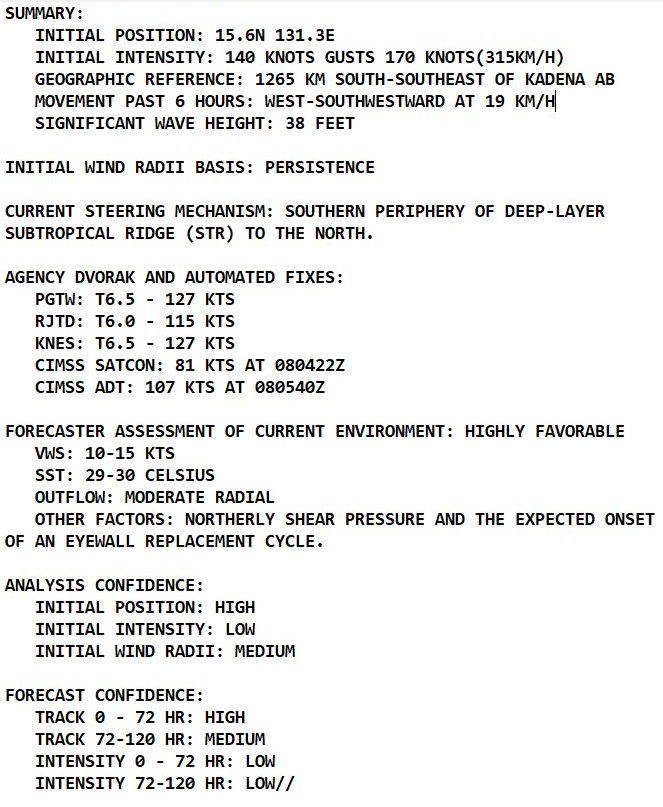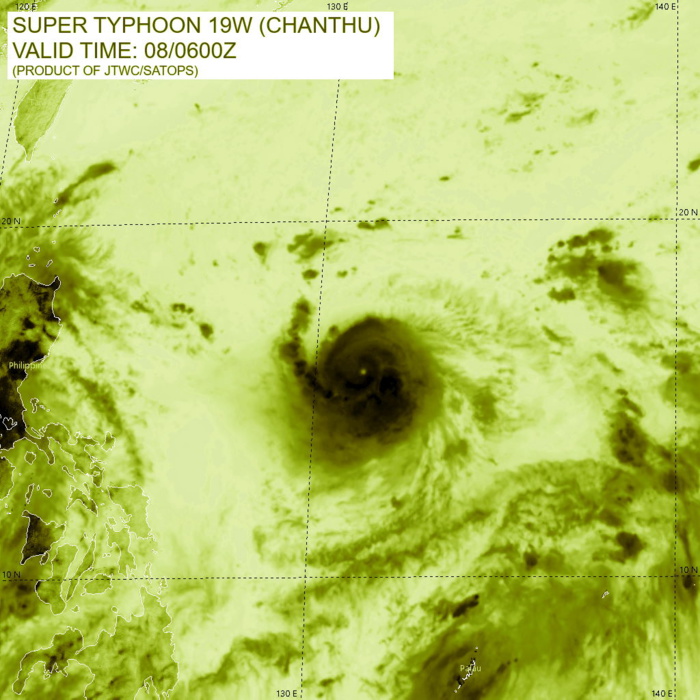 STY 19W(CHANTHU). SATELLITE ANALYSIS, INITIAL POSITION AND INTENSITY DISCUSSION: ANIMATED MULTISPECTRAL SATELLITE IMAGERY (MSI) INDICATES THAT SUPER TYPHOON CHANTHU HAS CONTINUED TO INTENSIFY OVER THE PAST SIX HOURS, WITH A VERY COMPACT CORE OF INTENSE CONVECTION WRAPPING INTO A 9KM PINHOLE EYE. THERE IS HIGH CONFIDENCE IN THE INITIAL POSITION BASED ON THE PINHOLE EYE AND AN EXTRAPOLATION OF A 080433Z AMSR2 89GHZ MICROWAVE IMAGE WHICH SHOWED THE PINHOLE EYE SURROUNDED BY A CORE OF INTENSE CONVECTION AS WELL A MOAT REGION AND ANOTHER BAND OF STRONG CONVECTION WHICH IS LIKELY THE FIRST SIGN OF A DEVELOPING SECONDARY EYEWALL. AN EYEWALL REPLACEMENT CYCLE (EWRC) IS EXPECTED TO BEGIN IMMINENTLY. OBJECTIVE DVORAK ESTIMATES ARE STRUGGLING TO PROPERLY ASSESS THE INTENSITY OF STY 19W DUE TO EXTREMELY SMALL EYE, THE ADT AT TIMES SWITCHING TO EMBEDDED CENTER TECHNIQUE AS IT STRUGGLES TO MAINTAIN TRACK ON THE EYE. SUBJECTIVE ESTIMATES ARE ALSO STRUGGLING TO PROVIDE CONSISTENT AND ACCURATE INTENSITY ESTIMATES, AS THE RESOLUTION OF AVAILABLE INFRARED IMAGERY IS SUCH THAT THE EYE TEMPERATURE MEASUREMENTS ARE SHOWING WILD SWINGS FROM AS HIGH AS 16C TO AS LOW AS -48C. ADDITIONALLY, A STRONG INNER-CORE LIGHTNING BURST WAS OBSERVED BETWEEN 0200Z AND 0600Z, WHICH COULD ALSO SUPPORT A PERIOD OF INTENSIFICATION LEADING UP TO THE 0600Z INTENSITY. THE INITIAL INTENSITY HAS BEEN INCREASED TO 140 KNOTS/CAT 5 BASED PRIMARILY ON AN EXTRAPOLATION OF AN UNOFFICIAL INTENSITY ESTIMATE OF T7.0 OBTAINED AT 0310Z USING THE ADT EYE TEMP OF 16C AND COMPARING THE OVERALL STRUCTURE AT THAT TIME TO THE STRUCTURE AT 0600Z, WHICH HAD DEPICTED AN EVEN SMALLER EYE AND COLDER CLOUD TEMPERATURES, THE LIGHTNING BURST AND ASSESSMENT OF THE AMSR2 MICROWAVE DATA. THUS THE LOW CONFIDENCE INTENSITY IS WELL ABOVE ALL AVAILABLE FIX ESTIMATES. STY 19W IS TRACKING WEST-SOUTHWEST IN A HIGHLY FAVORABLE ENVIRONMENT OF LOW NORTHERLY VWS, GOOD RADIAL OUTFLOW AND WARM SST, HIGH OHC WATERS.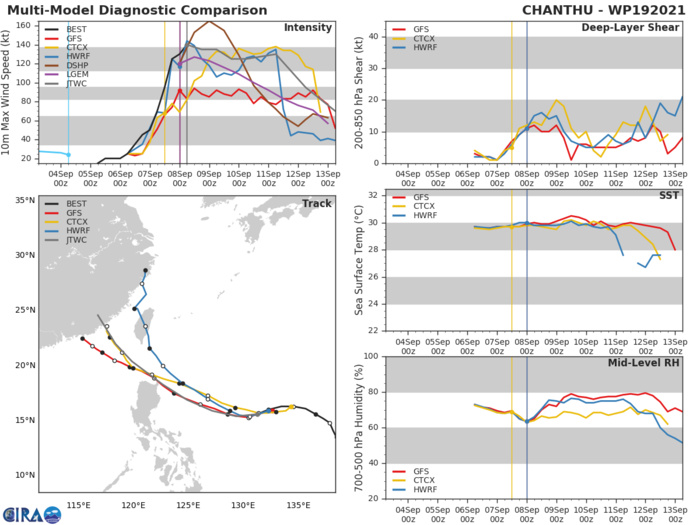 STY 19W(CHANTHU).MODEL DISCUSSION: TRACK GUIDANCE IS IN GOOD AGREEMENT, WITH A 130KM SPREAD AT 48H. BEYOND 48H HOWEVER, THE GUIDANCE SHOWS INCREASING UNCERTAINTY WITH SPREAD INCREASING TO 1020KM AT 120H. THE ECMWF, NAVGEM, JGSM AND THEIR ENSEMBLES SHOW THE SYSTEM TURNING SHARPLY POLEWARD OVER OR JUST SOUTH OF TAIWAN AND MOVING TOWARDS SHANGHAI. MEANWHILE THE GFS, UKMET AND GALWEM SHOW A TRACK CLOSER TO HONG KONG. THE NAVGEM AND JGSM HAVE BEEN DISCOUNTED AS UNREALISTIC AT THIS TIME, AND THUS THE JTWC FORECAST TRACK LIES SOUTH AND WEST OF THE CONSENSUS MEAN AND CONSISTENT WITH PREVIOUS FORECASTS WITH HIGH CONFIDENCE THROUGH 48H AND MEDIUM CONFIDENCE THEREAFTER. INTENSITY GUIDANCE HAS STRUGGLED WITH THIS SYSTEM, PARTICULARLY IN THE INTENSIFICATION PHASE. IT HAS NOW COME INTO MUCH BETTER AGREEMENT, WITH DECREASING SPREAD IN THE GUIDANCE. GFS CONTINUES TO SHOW DRASTIC WEAKENING TO 85 KNOTS/CAT 2 BY 12H THEN STEADY STATE THROUGH LANDFALL. MEANWHILE COAMPS-TC CONTINUES TO INDICATE INTENSIFICATION, WHICH SEEMS IMPROBABLE. THE REMAINDER OF THE GUIDANCE AGREES ON NEAR TERM WEAKENING FOLLOWED BY A SMALL INTENSIFICATION THEN WEAKENING PRIOR TO LANDFALL. THE JTWC FORECAST LIES CLOSE TO, BUT ABOVE, THE HWRF AND ABOVE THE INTENSITY CONSENSUS. THE TIMING OF EWRC, THE AMOUNT OF WEAKENING EXPECTED AND THE TIMING OF THE COMPLETION OF EWRC ALL LEND LOW CONFIDENCE TO THE INTENSITY FORECAST.