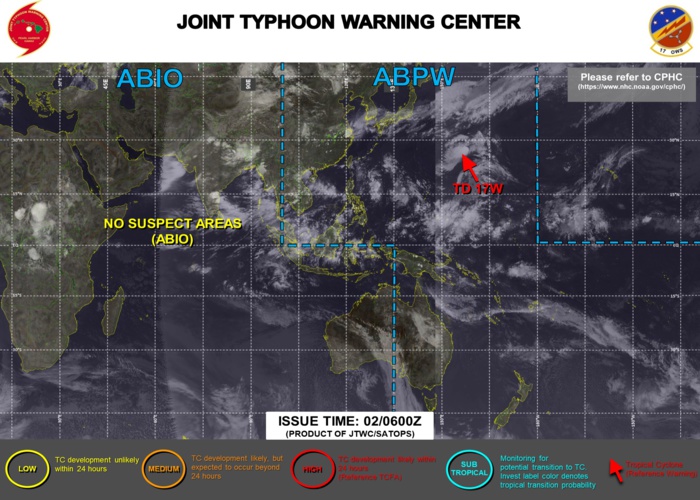 JTWC ARE NOW ISSUING 6HOURLY WARNINGS ON 17W. 3HOURLY SATELLITE BULLETINS ARE STILL ISSUED ON THE SYSTEM.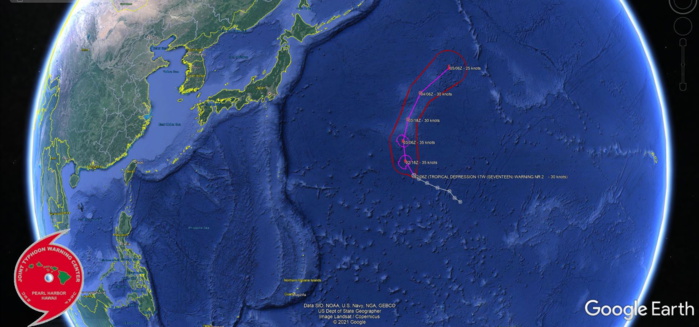 TD 17W. WARNING 2 ISSUED AT 02/09UTC. THERE ARE NO SIGNIFICANT CHANGES TO THE FORECAST FROM THE PREVIOUS WARNING. FORECAST DISCUSSION: TD 17W IS FORECAST TO TRACK TO THE NORTHWEST THROUGH 12H BEFORE SLOWLY AND STEADILY TURNING NORTHWARD AS IT ROUNDS THE RIDGE AXIS THROUGH 36H. AFTER ROUNDING THE RIDGE AXIS, TD 17W WILL ACCELERATE NORTHEASTWARD AND BEGIN INTERACTING WITH THE BAROCLINIC ZONE. AS THE SYSTEM MOVES NORTHWARD, THE TUTT CELL WILL MOVE FURTHER AWAY TOWARDS THE SOUTHWEST, EASING THE UPPER-LEVEL GRADIENT AND DECREASING SHEAR, WHICH COMBINED WITH WARM SSTS ABOVE 29C, WILL SUPPORT A PERIOD OF SLIGHT INTENSIFICATION THROUGH 24H TO A PEAK OF 35 KNOTS. BY 36H THE SYSTEM MOVES UNDER AN UPPER-LEVEL RIDGE, WHICH WILL DECREASE NET OUTFLOW ALOFT, LEADING TO GRADUAL WEAKENING BEGINNING AT 36H. BY 48H, THE SYSTEM WILL BEGIN TO FEEL THE EFFECTS OF RAPIDLY INCREASING VERTICAL WIND SHEAR (VWS) AND DECREASING SEA SURFACE TEMPERATURES (UNDER 26 DEGREES CELSIUS) AS IT MOVES UNDER THE UPPER-LEVEL WESTERLIES, AND SIMULTANEOUSLY BEGIN EXTRA-TROPICAL TRANSITION (ETT). THE SYSTEM IS EXPECTED TO COMPLETE ETT NO LATER THAN 72H AND POSSIBLY AS EARLY AS 60H.
1721083118 238N1646E 25
1721090100 243N1639E 30
1721090106 251N1633E 30
1721090112 256N1618E 30
1721090118 262N1605E 30
1721090200 267N1595E 30
1721090206 271N1589E 30
NNNN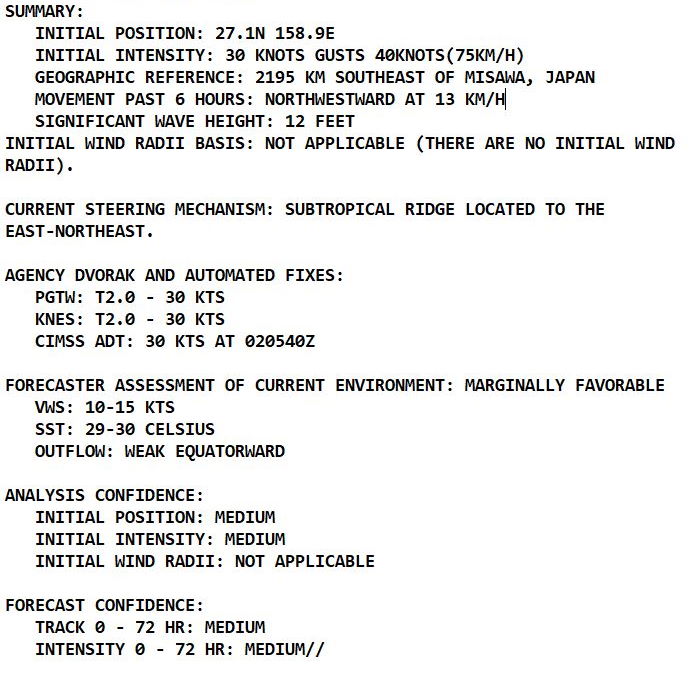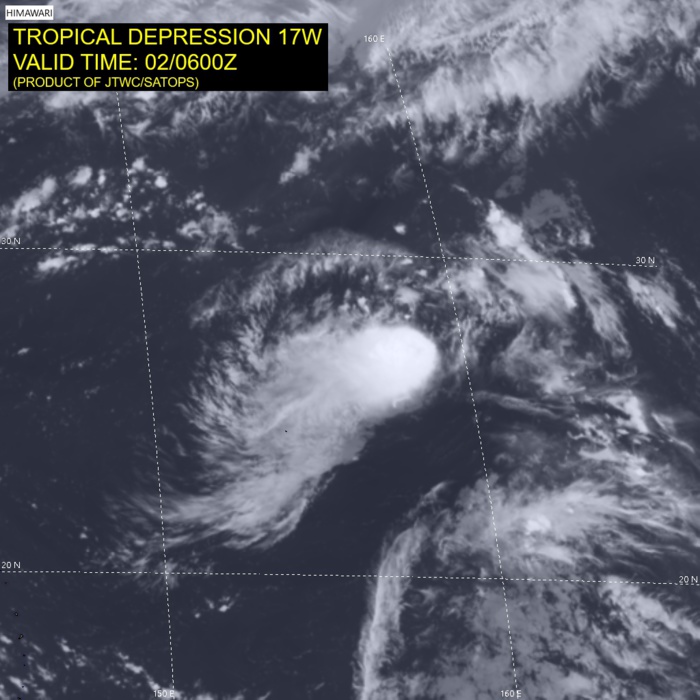 TD 17W. SATELLITE ANALYSIS, INITIAL POSITION AND INTENSITY DISCUSSION: ANIMATED MULTISPECTRAL SATELLITE IMAGERY (MSI) DEPICTS A PARTIALLY EXPOSED LOW LEVEL CIRCULATION CENTER (LLCC) WITH FLARING DEEP CONVECTION DISPLACED TO THE WEST-SOUTHWEST OF THE LLCC. WATER VAPOR IMAGERY INDICATES TD 17W IS LOCATED TO THE NORTHEAST OF AN ELONGATED TUTT CELL WHICH HAS AIDED IN DEEPENING THE SYSTEM OVER THE PAST 24 HOURS. THE INITIAL POSITION IS PLACED WITH MEDIUM CONFIDENCE BASED ON A 020541Z SSMIS MICROWAVE IMAGE. THE INITIAL INTENSITY OF 30 KNOTS IS ASSESSED WITH MEDIUM CONFIDENCE BASED ON MULTIPLE DVORAK FIXES.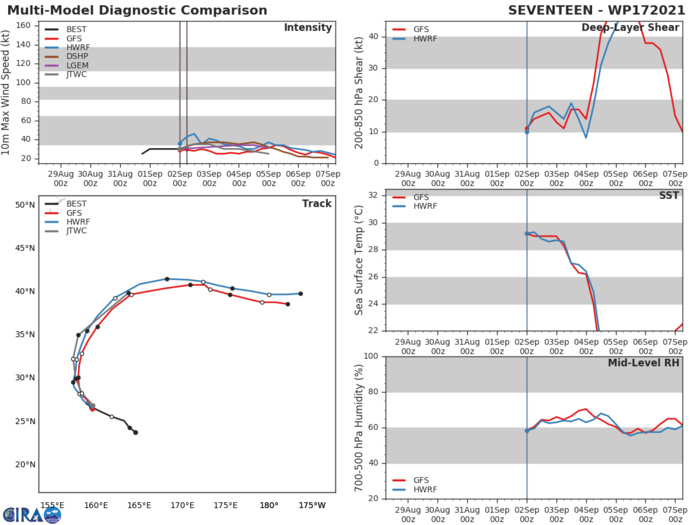 TD 17W. MODEL DISCUSSION: OVERALL MODEL CONSENSUS IS IN TIGHT AGREEMENT THAT TD 17W IS ON TRACK FOR A RECURVE SCENARIO AS THE SYSTEM ROUNDS THE SUBTROPICAL RIDGE(STR) AXIS BY 36H. THE JTWC FORECAST TRACK IS PLACED SLIGHTLY TO THE RIGHT OF THE MODEL CONSENSUS, TO SUBTRACT THE UNREALISTIC MOTION OF THE AFUM TRACKER WHICH MOVES THE SYSTEM FAR TO THE WEST OF THE REMAINING GUIDANCE. INTENSITY AIDS ARE IN RELATIVELY FAIR AGREEMENT WITH COAMPS BEING THE OUTLIER INDICATING A WEAKENING TREND EARLY IN THE FORECAST PERIOD. THE JTWC INTENSITY FORECAST IS PLACED SLIGHTLY ABOVE INTENSITY CONSENSUS (ICNW) DURING THE FIRST 24 HOURS, THEN SLIGHTLY BELOW AFTERWARDS AS THE SYSTEM ROUNDS THE STR AND BEGINS TO UNDERGO EXTRA-TROPICAL TRANSITION(ETT).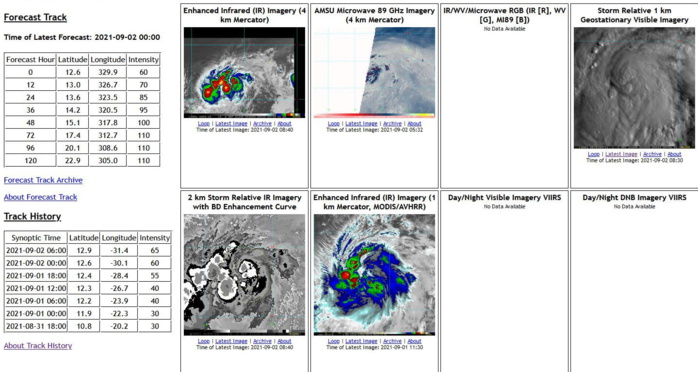 ATLANTIC. HU 12L(LARRY). WARNING 7 ISSUED AT 02/09UTC. CURRENT INTENSITY IS 65KNOTS/CAT 1 AND IS FORECAST TO REACH 100KNOTS/CAT 3 BY 48H.
1221083000 82N 115W 15
1221083006 82N 127W 20
1221083012 82N 139W 20
1221083018 83N 151W 25
1221083100 86N 163W 25
1221083106 96N 175W 30
1221083112 105N 190W 30
1221083118 112N 206W 30
1221090100 119N 225W 35
1221090106 122N 245W 40
1221090112 124N 265W 45
1221090118 125N 284W 55
1221090200 127N 300W 60
1221090206 129N 315W 65