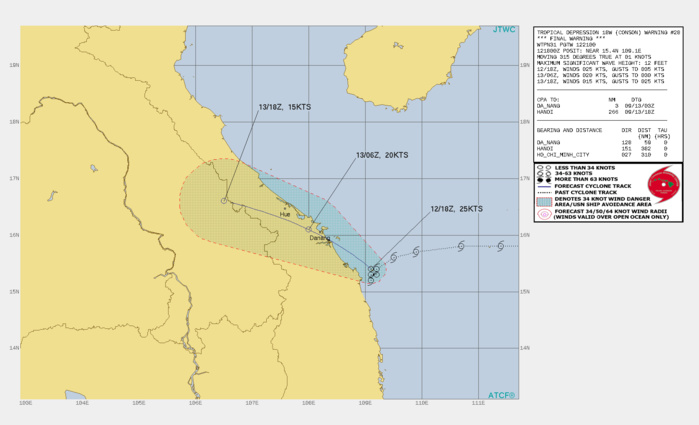 TD 18W(CONSON). WARNING 28/FINAL ISSUED AT 12/21UTC.REMARKS: 122100Z POSITION NEAR 15.6N 108.8E. 12SEP21. TROPICAL DEPRESSION (TD) 18W (CONSON), LOCATED APPROXIMATELY 110 KM SOUTHEAST OF DA NANG, VIETNAM, HAS TRACKED NORTHWESTWARD AT 02 KM/H OVER THE PAST SIX HOURS. ANIMATED ENHANCED INFRARED SATELLITE IMAGERY AND ANIMATED RADAR IMAGERY DEPICT A DECAYING LOW- LEVEL CIRCULATION WITH A WEAKLY DEFINED CENTER. UPPER-LEVEL ANALYSIS INDICATES UNFAVORABLE CONDITIONS WITH MODERATE TO STRONG EASTERLY VERTICAL WIND SHEAR, WHICH WILL PERSIST THROUGH THE FORECAST PERIOD. SURFACE OBSERVATIONS FROM QUANG NGAI, 40KM TO THE SOUTHWEST, INDICATE STEADILY RISING SLP WITH A 12/18Z SLP VALUE AT 1001.4MB REFLECTING THE STEADY WEAKENING TREND. THE SYSTEM IS FORECAST TO TRACK NORTHWESTWARD INTO VIETNAM WITH DISSIPATION BY 12H. THIS IS THE FINAL WARNING ON THIS SYSTEM BY THE JOINT TYPHOON WRNCEN PEARL HARBOR HI. THE SYSTEM WILL BE CLOSELY MONITORED FOR SIGNS OF REGENERATION. MAXIMUM SIGNIFICANT WAVE HEIGHT AT 121800Z IS 12 FEET.
PEAK INTENSITY WAS 65KNOTS/CAT 1.
1821090412 110N1319E 15
1821090418 111N1315E 15
1821090500 110N1310E 15
1821090506 108N1305E 15
1821090512 104N1296E 30
1821090518 102N1285E 40
1821090600 105N1275E 50
1821090606 108N1268E 60
1821090612 112N1259E 65
1821090618 115N1249E 60
1821090700 119N1243E 55
1821090706 125N1233E 50
1821090712 130N1228E 55
1821090718 133N1220E 55
1821090800 137N1214E 55
1821090806 141N1208E 55
1821090812 147N1201E 50
1821090818 148N1192E 50
1821090900 153N1183E 50
1821090906 160N1171E 50
1821090912 162N1150E 45
1821090918 161N1137E 45
1821091000 159N1130E 45
1821091006 158N1122E 45
1821091012 158N1114E 45
1821091018 158N1107E 50
1821091100 157N1099E 50
1821091106 156N1095E 50
1821091112 154N1092E 40
1821091118 152N1091E 35
1821091200 153N1091E 30
1821091206 153N1092E 30
1821091212 153N1092E 30
1821091218 154N1091E 25
NNNN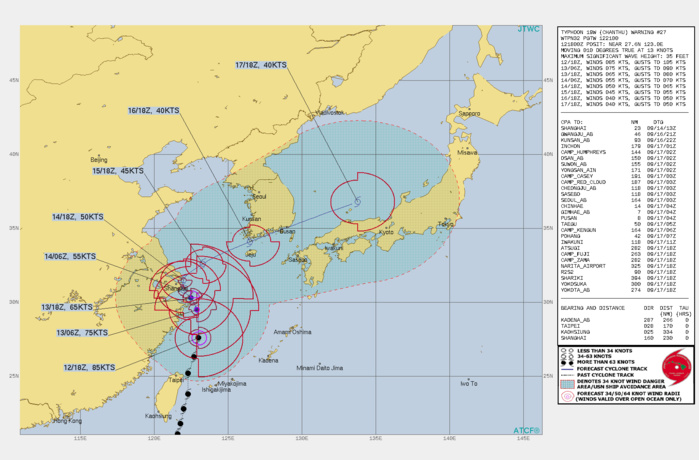 TY 19W(CHANTHU). WARNING 27 ISSUED AT 12/21UTC.SIGNIFICANT FORECAST CHANGES: THERE ARE NO SIGNIFICANT CHANGES TO THE FORECAST FROM THE PREVIOUS WARNING. FORECAST DISCUSSION: TY 19W CONTINUES TO TRACK GENERALLY NORTHWARD ALONG THE WESTERN PERIPHERY OF A NORTH-SOUTH ORIENTED SUBTROPICAL RIDGE(STR) TO THE EAST. THE PAST SIX HOURS HAS SEEN THE TRACK TREND A BIT FURTHER EAST OF NORTH THAN EXPECTED, BUT THIS IS LIKELY JUST A WOBBLE AND THE OVERALL TRACK IS FORECAST TO BE NORTH THROUGH THE NEXT 12 TO 24 HOURS. BETWEEN 24H AND 36H, A DEEP STR IS EXPECTED TO BUILD TO THE NORTHWEST OF THE SYSTEM WITH RIDGING EXTENDING EASTWARD ACROSS THE KOREAN PENINSULA, COCOONING TY 19W IN A COMPETING STEERING ENVIRONMENT. IN RESPONSE, TY 19W WILL SLOW AND BECOME QUASI-STATIONARY AND STALL IN THE VICINITY OF SHANGHAI BETWEEN 36h AND 72H. BY 72H A FAIRLY STRONG MID-LATITUDE MAJOR SHORTWAVE TROUGH WILL BEGIN TO ERODE THE STR TO THE WEST, WHILE THE STR TO THE EAST MOVES SOUTHWEST AND BUILDS. THE COMBINATION OF THE REORIENTATION OF STR TO THE EAST AND THE APPROACHING TROUGH FROM THE WEST WILL KICK TY 19W ONTO AN ACCELERATING EASTWARD TRACK. AS THE SYSTEM SKIRTS THE SOUTHERN KOREA COASTLINE, IT WILL BECOME EMBEDDED UNDER STRONG WESTERLY FLOW ALOFT AND BEGIN EXTRATROPICAL TRANSITION (ETT). THE UPPER-LEVEL OUTFLOW PATTERN HAS SHIFTED OVER THE PAST 12 HOURS, WITH A 200MB ANTI-CYCLONE NOW FIRMLY IN PLACE JUST EAST OF THE SYSTEM. WHILE THIS POSITIONING SUPPORTS A STRONG POLEWARD OUTFLOW CHANNEL, THE PREVIOUSLY STRONG EQUATORWARD CHANNEL HAS WEAKENED. THIS PATTERN IS EXPECTED TO CONTINUE AND THE REDUCTION TO ONE OUTFLOW CHANNEL WILL BE THE PRIMARY MECHANISM TO WEAKEN THE SYSTEM OVER THE NEXT 24 TO 36 HOURS. BY 48H A 200MB RIDGE WILL MOVE DIRECTLY OVER THE SYSTEM, EFFECTIVELY CHOKING OFF ANY SIGNIFICANT OUTFLOW MECHANISM AND LEADING TO MORE RAPID WEAKENING THROUGH 72H. ONCE THE SYSTEM STARTS MOVING EAST IT WILL TAP INTO ROBUST DIVERGENT OUTFLOW AHEAD OF THE APPROACHING TROUGH, BUT RAPIDLY INCREASING VERTICAL WIND SHEAR WILL OFFSET THIS OUTFLOW RESULTING IN A STEADY INTENSITY THROUGH THE REMAINDER OF THE FORECAST.
1921090506 123N1397E 15
1921090512 126N1395E 20
1921090518 130N1389E 20
1921090600 135N1385E 20
1921090606 141N1382E 25
1921090612 148N1379E 35
1921090618 152N1373E 45
1921090700 156N1366E 50
1921090706 161N1357E 70
1921090712 163N1346E 95
1921090718 163N1335E 125
1921090800 160N1323E 130
1921090806 156N1313E 140
1921090812 155N1303E 135
1921090818 153N1291E 135
1921090900 155N1281E 140
1921090906 157N1272E 130
1921090912 161N1260E 120
1921090918 166N1250E 120
1921091000 171N1241E 130
1921091006 179N1235E 145
1921091012 187N1228E 150
1921091018 195N1223E 155
1921091100 204N1219E 145
1921091106 211N1216E 135
1921091112 218N1218E 120
1921091118 228N1220E 115
1921091200 238N1223E 110
1921091206 252N1223E 105
1921091212 263N1227E 95
1921091218 276N1230E 85
NNNN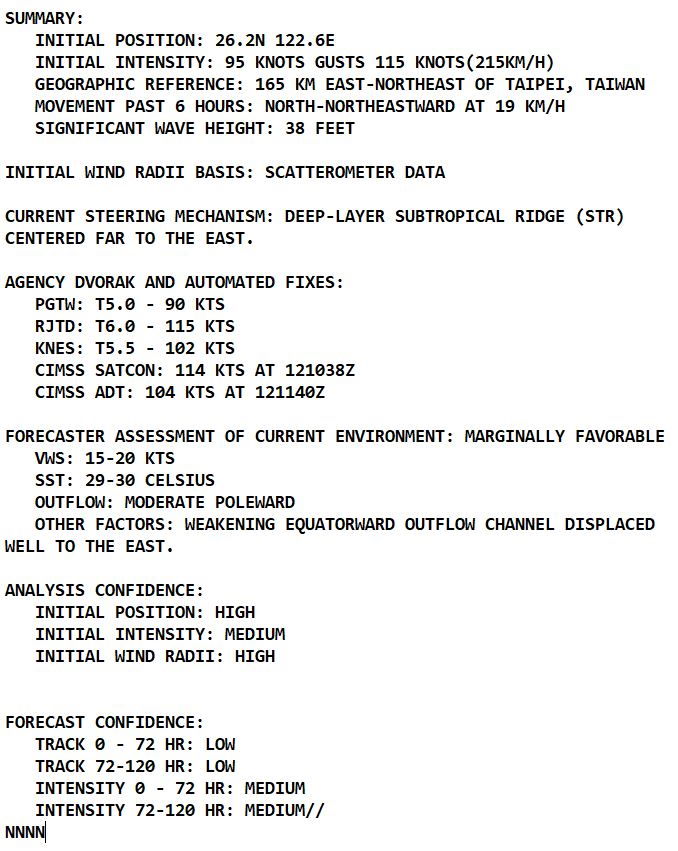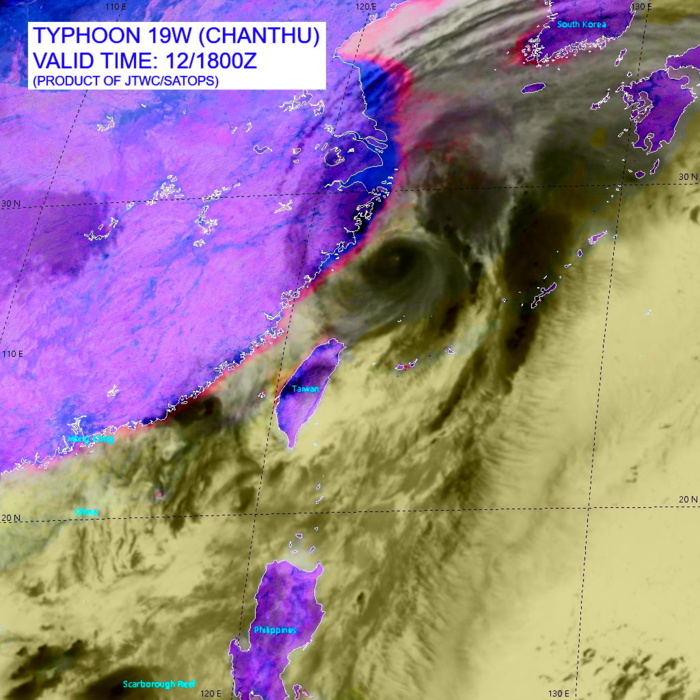 TY 19W(CHANTHU).SATELLITE ANALYSIS, INITIAL POSITION AND INTENSITY DISCUSSION: ANIMATED ENHANCED INFRARED (EIR) SATELLITE IMAGERY SHOWS THAT TY 19W HAS UNDERGONE SIGNIFICANT WEAKENING OVER THE PAST SIX HOURS, WITH CONVECTIVE CLOUD TOPS WARMING SIGNIFICANTLY AND THE EYE COOLING AND FILLING. HIGH RESOLUTION MODELING INDICATES DRY, DESCENDING AIR IS BEING ENTRAINED INTO THE SOUTHWESTERN SIDE OF THE SYSTEM. ADDITIONALLY, CIMSS SHEAR ANALYSIS REVEALS MODERATE SOUTHWESTERLY SHEAR IS NOW IMPINGING ON THE SYSTEM. FINALLY, OVER THE PAST SIX HOURS THE SYSTEM HAS MOVED OVER AN EDDY OF LOW OCEAN HEAT CONTENT. THE COMBINATION OF ALL THESE FACTORS HAS LED TO THE RAPID WEAKENING. ANIMATED RADAR IMAGERY DEPICTS THE DEVELOPMENT OF A MOAT OF WEAK RADAR RETURNS SURROUNDING A COMPACT CORE OF CONVECTION WHICH IS WRAPPING INTO THE ILL-DEFINED LOW LEVEL CIRCULATION CENTER (LLCC). THE INITIAL POSITION IS ASSESSED WITH HIGH CONFIDENCE BASED ON RJTD RADAR FIXES AND THE 19-KM RAGGED EYE IN THE EIR. THE INITIAL INTENSITY IS ASSESSED AT 95 KNOTS/CAT 2 WITH MEDIUM CONFIDENCE BASED ON A BLEND OF THE AGENCY CURRENT INTENSITY ESTIMATES BETWEEN 5.0-5.5. AGENCY DATA-T NUMBERS ARE MUCH LOWER, IN THE T4.5 (77 KTS) RANGE, WHILE THE ADT AND SATCON APPEAR UNREASONABLY HIGH BASED ON THE RAPIDLY DETERIORATING STRUCTURE. A 121106Z ASCAT-B PASS PROVIDED SOLID DATA TO DRAMATICALLY REDUCE THE SIZE OF THE WIND FIELD. ANALYSIS REVEALS AN INCREASINGLY MARGINAL ENVIRONMENT WITH INCREASING SOUTHWESTERLY SHEAR, DECREASING SSTS AND STEADILY DECREASING OUTFLOW ALOFT.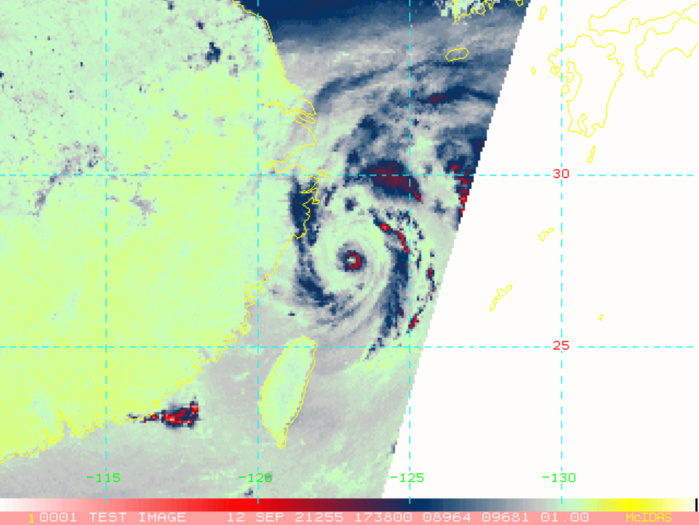 TY 19W(CHANTHU).MICROWAVE DATA SHOW THE DEVELOPMENT OF A MOAT OF WEAK RADAR RETURNS SURROUNDING A COMPACT CORE OF CONVECTION WHICH IS WRAPPING INTO THE ILL-DEFINED LOW LEVEL CIRCULATION CENTER (LLCC).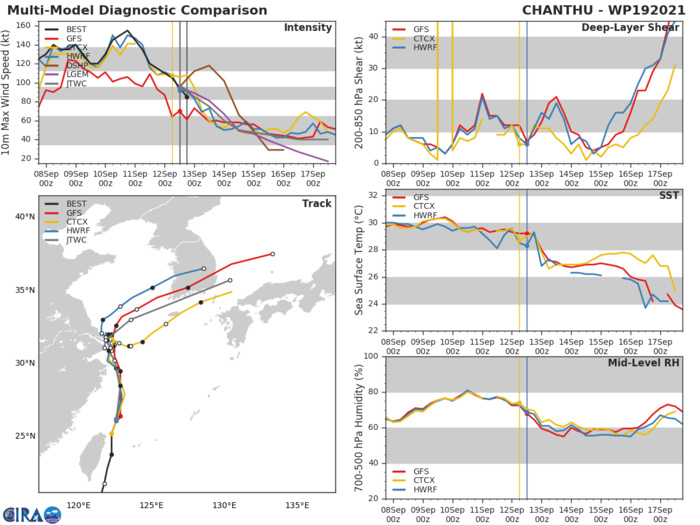 TY 19W(CHANTHU).MODEL DISCUSSION: TRACK GUIDANCE REMAINS IN GOOD AGREEMENT WITH MINIMAL CROSS- AND ALONG-TRACK SPREAD THROUGH 24H. BETWEEN 36H AND 72H HOWEVER, THE MODELS DEPICT WHAT IS KNOWN AS A SQUASHED SPIDER PATTERN WITH TRACKERS RANDOMLY SCATTERED WITHIN A 280KM CIRCLE CENTERED OVER SHANGHAI. THIS IS NOT UNEXPECTED DUE TO THE WEAK AND COMPETING STEERING INFLUENCES, THOUGH IT LENDS VERY HIGH UNCERTAINTY TO THE TRACK FORECAST THROUGH 72H. THE JTWC FORECAST LIES ON THE EASTERN SIDE OF THE GUIDANCE CLUSTER THROUGH 72H. TRACK GUIDANCE FIRMS UP AFTER 72H, WITH THE BULK OF THE TRACKERS TIGHTLY CLUSTERED ON A TRACK OVER THE SOUTHERN COAST OF KOREA THROUGH 120H. THE EGRR AND GALWEM ARE THE NOTABLE OUTLIERS, TRACKING THE SYSTEM OVER CENTRAL KYUSHU. THE EXTENDED FORECAST LIES TO THE NORTH OF THE CONSENSUS MEAN WITH LOW CONFIDENCE DUE TO THE UNCERTAINTIES AROUND THE TIMING OF THE TURN TO THE EAST. INTENSITY GUIDANCE IS IN GOOD AGREEMENT ON THE STEADY WEAKENING TREND, THOUGH THE JTWC FORECAST LIES ABOUT FIVE KNOTS HIGHER THAN THE CONSENSUS MEAN, WITH MEDIUM CONFIDENCE.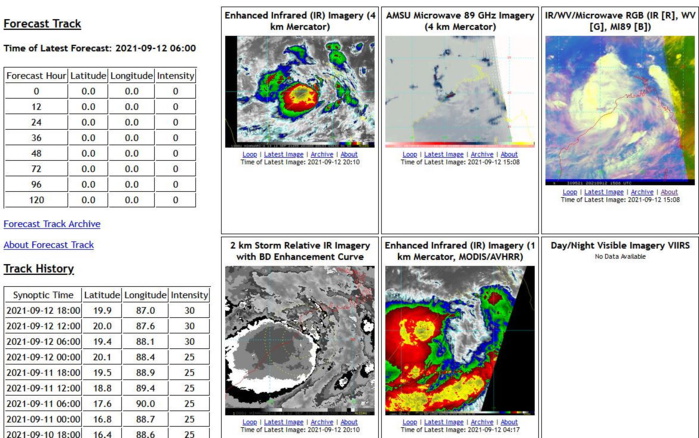 INVEST 95B. TROPICAL CYCLONE FORMATION ALERT ISSUED AT 12/07UTC. UPDATE AT 12/18UTC.THE AREA OF CONVECTION (INVEST 95B) PREVIOUSLY LOCATED NEAR 16.0N 88.0E IS NOW LOCATED NEAR 20.0N 81.6E, APPROXIMATELY 285 KM SOUTH-SOUTHWEST OF KOLKATA, INDIA. ANIMATED ENHANCED INFRARED SATELLITE IMAGERY DEPICTS A CONSOLIDATING LOW LEVEL CIRCULATION CENTER (LLCC) WITH IMPROVED CONVECTIVE BANDING. A 121427Z METOP-A PASS REVEALS A SWATH OF 30-35 KT WIND BARBS OVER THE SOUTHWEST QUADRANT OF THE SYSTEM WITH WEAKER (10-15 KT) WINDS OVER THE NORTHERN SEMICIRCLE. ANIMATED RADAR IMAGERY FROM THE PARADIP RADAR INDICATES BETTER ORGANIZATION WITH DEEP CONVECTIVE BANDING OVER THE SOUTHERN SEMICIRCLE WRAPPING INTO THE SOUTHEAST QUADRANT. ENVIRONMENTAL ANALYSIS NOW INDICATES A LESS FAVORABLE ENVIRONMENT DUE TO MODERATE TO HIGH (20-30 KT) VERTICAL WIND SHEAR (VWS) OFFSET BY GOOD EQUATORWARD OUTFLOW ALOFT AND VERY WARM (29-30C) SEA SURFACE TEMPERATURES (SST).MAXIMUM SUSTAINED SURFACE WINDS ARE ESTIMATED AT 30 TO 35 KNOTS. MINIMUM SEA LEVEL PRESSURE IS ESTIMATED TO BE NEAR 993 MB. THE POTENTIAL FOR THE DEVELOPMENT OF A SIGNIFICANT TROPICAL CYCLONE WITHIN THE NEXT 24 HOURS REMAINS HIGH.
9521091012 160N 883E 25
9521091018 162N 890E 25
9521091100 167N 898E 25
9521091106 176N 900E 25
9521091112 188N 894E 25
9521091118 191N 892E 25
9521091200 192N 885E 25
9521091206 194N 881E 30
9521091212 200N 876E 30
9521091218 199N 870E 30/35
NNNN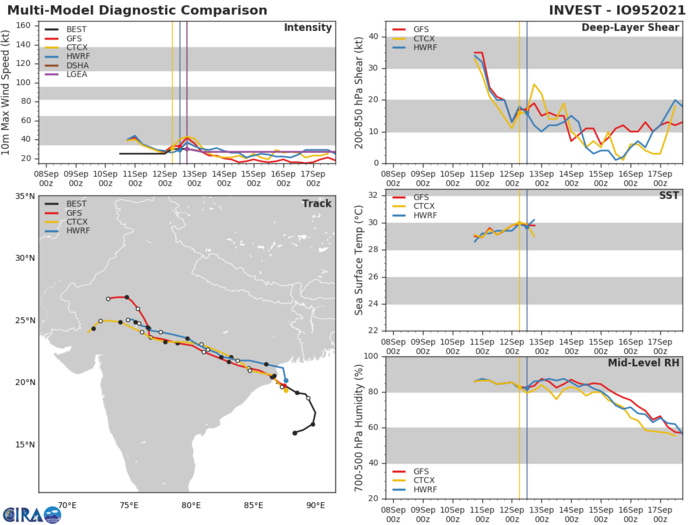 INVEST 95B. GLOBAL MODELS ARE GOOD IN AGREEMENT THAT INVEST 95B WILL CONTINUE TO CONSOLIDATE AND TRACK NORTHWESTWARD OVER THE NEXT 12 TO 24 HOURS AND THERE EXISTS A BRIEF WINDOW OF OPPORTUNITY FOR THE SYSTEM TO REACH MINIMAL TROPICAL STORM STRENGTH PRIOR TO LANDFALL ALONG THE NORTHEAST COAST OF INDIA.