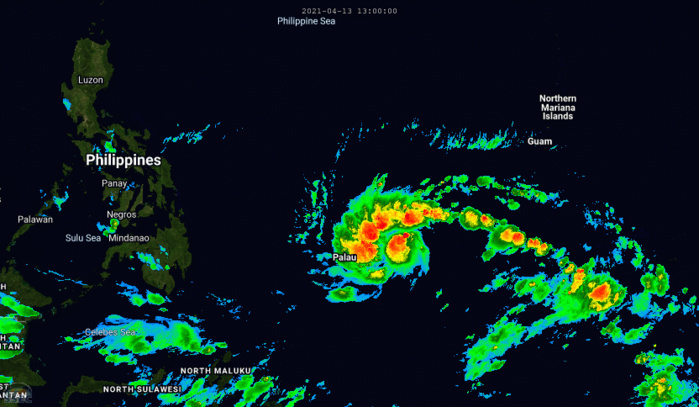 02W(SURIGAE). 14/01UTC. 12H LOOP. ANIMATED MULTISPECTRAL SATELLITE IMAGERY SHOWS A PARTIALY EXPOSED LOW LEVEL CIRCULATION CENTER, WITH THE DEEPEST CONVECTIVE BANDING BUILDING TO THE WEST AND NORTH OF THE CENTER.
2021 APR 14 02UTC #WESTERNNORTHPACIFIC
TS #02W #SURIGAE
WARNING 3
As of 00:00 UTC Apr 13, 2021:
Location: 8.5°N 137.7°E
Maximum Winds: 35 kt ( 65km/h)
Gusts: 45 kt ( 85km/h)
Minimum Central Pressure: 998 mb
INTENSIFYING
LOCATED AT 14/00UTC APPROXIMATELY 120KM SOUTH-SOUTHWEST OF YAP, HAS TRACKED NORTH-NORTHWESTWARD AT 05
KM/H OVER THE PAST SIX HOURS.
Satellite bulletins are to be found in the comments of this post on
JTWC BIS
Cheers,
Patrick Hoareau
M974World
ILES SOEURS
Cyclone Class 4
Cheers,PH.
Joint Typhoon Warning Center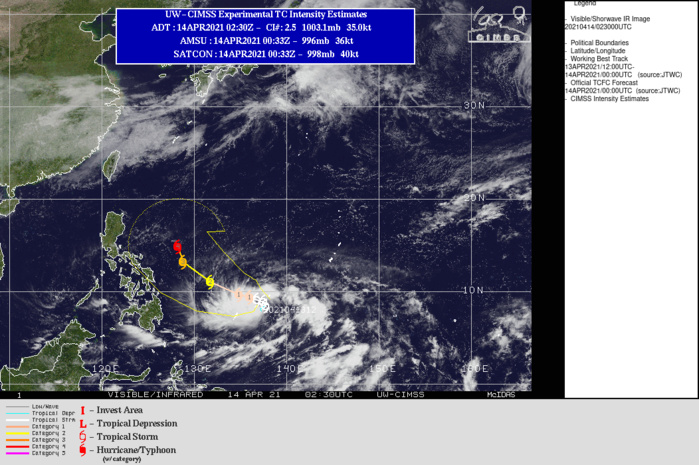 02W(SURIGAE). WARNING 3 ISSUED AT 14/03UTC. ANALYSIS INDICATES A FAVORABLE ENVIRONMENT WITH POLEWARD AND EQUATORWARD OUTFLOW CHANNELS, LOW (10- 20 KNOTS) VERTICAL WIND SHEAR, AND VERY WARM (29-30 DEGREES CELSIUS) SEA SURFACE TEMPERATURES IN THE PHILIPPINE SEA. THE CYCLONE IS TRACKING ALONG THE SOUTHWEST PERIPHERY OF A SUBTROPICAL RIDGE EXTENSION LOCATED TO THE NORTHEAST. TS 02W WILL TRACK SLOWLY NORTHWARD THEN NORTHWESTWARD OVER THE NEXT 72 HOURS AS THE AFOREMENTIONED SUBTROPICAL RIDGE (STR) REORIENTS. THE AFOREMENTIONED FAVORABLE ENVIRONMENT WILL MAINTAIN AND PROMOTE STEADY INTENSIFICATION TO 85 KNOTS/CAT 2 BY 72H. THERE IS A POSSIBILITY OF INDUCED PRESSURE THAT MAY DAMPEN CONVECTION TO THE EAST OF THE LLCC IN THE UPPER LEVELS. AFTER 72H, TS 02W WILL CONTINUE NORTHWESTWARD TOWARD THE BREAK IN THE RIDGE FORMED BY A MIDLATITUDE TROUGH DIGGING IN FROM EASTERN ASIA THAT WILL BREAK THE AFOREMENTIONED STR. AFTER THE STR BREAKS, TS 02W WILL TRACK ALONG THE WESTERN PERIPHERY OF THE STR FEATURE POSITIONED TO ITS EAST, DRIVING IT FURTHER NORTHWESTWARD UNTIL REACHING THE STR AXIS AROUND 120H. CONTINUED INTENSIFICATION IS EXPECTED AS THE FAVORABLE CONDITIONS ARE FURTHER ENHANCED BY INCREASED POLEWARD OUTFLOW. BY 120H, TS 02W IS EXPECTED TO REACH 115 KNOTS/CAT 4.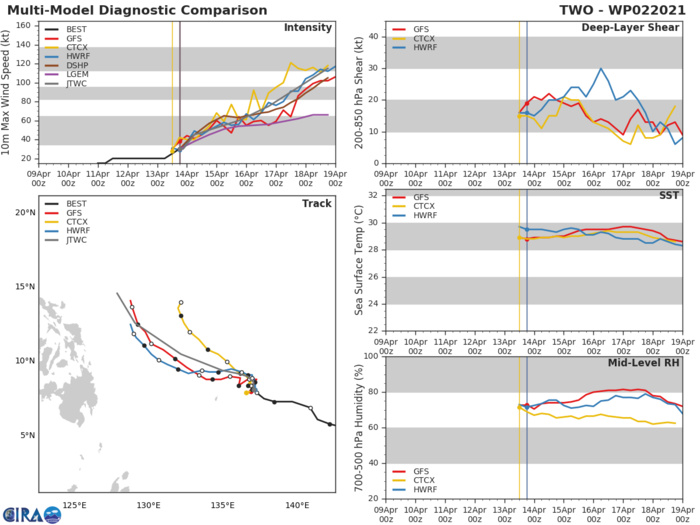 02W(SURIGAE). NUMERICAL MODELS ARE IN OVERALL GOOD AGREEMENT WITH A CROSS TRACK SPREAD OF 280KM BY 72H WITH THE ENSEMBLE MEAN OF ECMWF MEMBERS TRACKING CLOSER TO THE PHILIPPINES AND JGSM SHOWING A MORE POLEWARD TRACK, WITH THE REMAINING MODELS FALLING BETWEEN THE TWO. GIVEN THE UNCERTAINTY IN THE INITIAL STORM MOTION, THERE IS FAIR CONFIDENCE IN THIS PORTION OF THE JTWC TRACK FORECAST.NUMERICAL MODELS SPREAD OUT TO OVER 550KM BY 120H, LENDING LOW CONFIDENCE TO THE EXTENDED PORTION OF THE JTWC TRACK FORECAST.//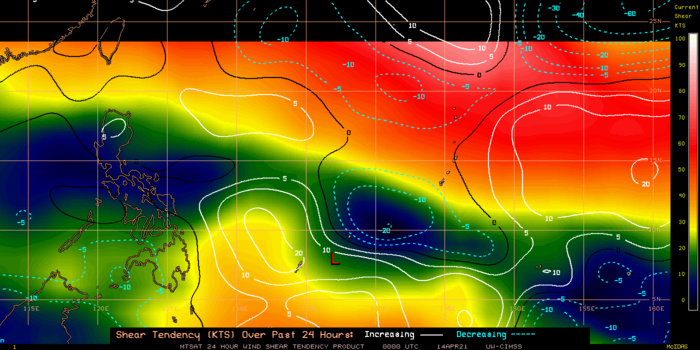 02W. 24H SHEAR. UW-CIMSS Experimental Vertical Shear and TC Intensity Trend Estimates: CIMSS Vertical Shear Magnitude : 8.9 m/s (17.2 kts) Direction : 77.4 deg. Outlook for TC Intensification Based on Current Env. Shear Values and MPI Differential: FAVOURABLE OVER 24H.