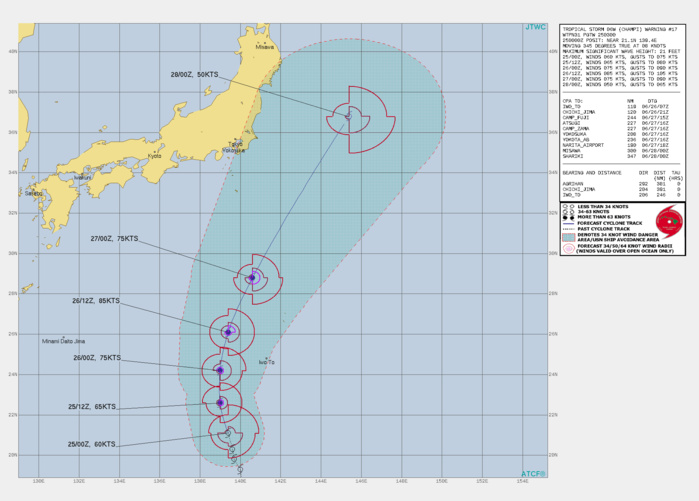 WARNING 17 ISSUED AT 25/03UTC.FORECAST DISCUSSION: TROPICAL STORM 06W WILL CONTINUE TO TRACK AROUND THE WESTERN PERIPHERY OF THE SUBTROPICAL RIDGE (STR) TO THE NORTHEAST AS IT REMAINS IN A FAVORABLE ENVIRONMENT WITH LOW VERTICAL WIND SHEAR (VWS), WARM (28-30C) SEA SURFACE TEMPERATURES (SSTS), AND NEAR-RADIAL OUTFLOW ALLOWING 06W TO REACH A PEAK INTENSITY OF 85 KNOTS/US CAT 2 BY 36H. AS THE SYSTEM CONTINUES TO TURN MORE NORTH-NORTHEASTWARD AROUND THE STR, COOLER SSTS OF 23-25C AND INCREASING VWS FROM THE WESTERLIES WILL BEGIN TO WEAKEN 06W. NEAR 48H, THE SYSTEM WILL BEGIN EXTRATROPICAL TRANSITION WITH COMPLETION BY 72H AS THE SYSTEM TRACKS NEAR THE UPPER-LEVEL JET AND TRANSITIONS INTO AN EXTRATROPICAL LOW ON THE BAIU FRONT.
2021 JUNE 25 02UTC #WESTERNNORTHPACIFIC
TS #06W #CHAMPI
WARNING 17/UPDATE
As of 00:00 UTC June 25, 2021:
Location: 21.1°N 139.4°E
Maximum Winds: 60 kt ( 110km/h)
Gusts: 75 kt ( 140km/h)
Minimum Central Pressure: 992 mb
INTENSIFYING
LOCATED AT 25/00UTC 455 KM SOUTH-SOUTHWEST OF IWO TO, HAS TRACKED NORTH-NORTHWESTWARD AT
15 KM/H OVER THE PAST SIX HOURS.
Satellite bulletins are to be found in the comments of this post on
JTWC BIS
Cheers,
Patrick Hoareau
JTWC PH
ILES SOEURS
Joint Typhoon Warning Center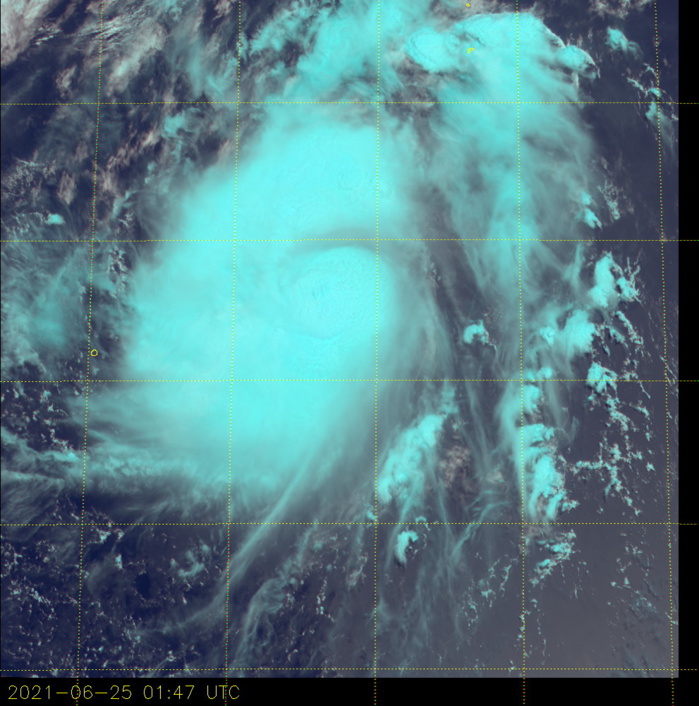 25/0147UTC.SATELLITE ANALYSIS, INITIAL POSITION AND INTENSITY DISCUSSION: ANIMATED MULTISPECTRAL SATELLITE IMAGERY (MSI) DEPICTS A CONSOLIDATING YET STILL ASYMMETRIC CIRCULATION WITH DEEP FLARING CONVECTION SUSTAINED OVER THE CENTER. A 242359Z 89 GHZ MHS MICROWAVE IMAGE SHOWS CONVECTIVE BANDING WRAPPING INTO THE WESTERN SEMICIRCLE OF THE SYSTEM FROM THE NORTH BUT SHOWS NO EVIDENCE OF A SUSTAINED STRONG INNER CORE AS OF YET. THE INITIAL POSITION IS PLACED WITH HIGH CONFIDENCE BASED ON A 250005Z ASCAT IMAGE SHOWING A DEFINED BUT ASYMMETRIC CIRCULATION WITH 45-50 KT WINDS WRAPPING INTO THE CENTER. THE INITIAL INTENSITY IS BASED ON THE PGTW AND RJTD DVORAK CURRENT INTENSITY ESTIMATES.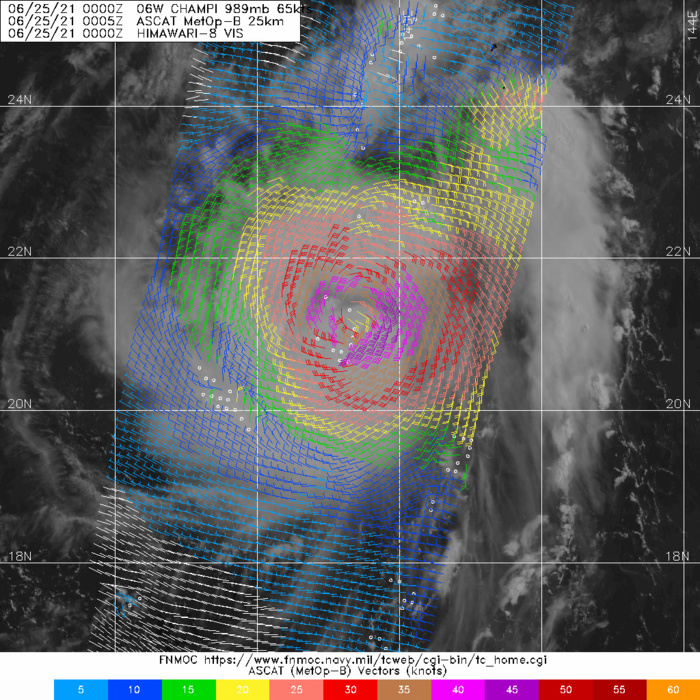 ASCAT IMAGE SHOWING A DEFINED BUT ASYMMETRIC CIRCULATION WITH 45-50 KT WINDS WRAPPING INTO THE CENTER.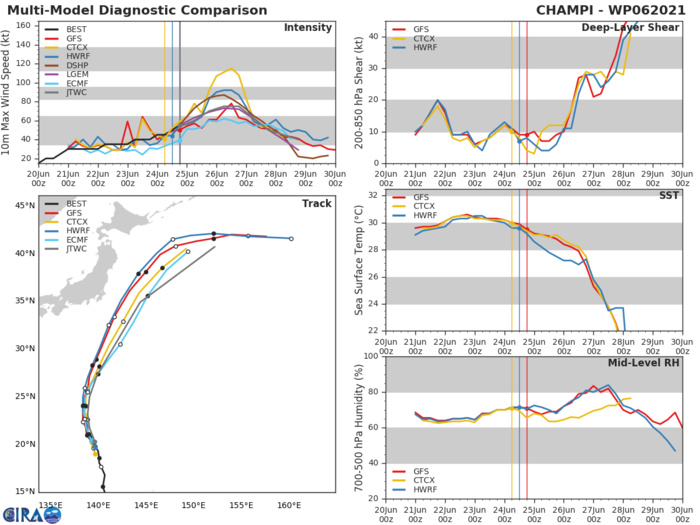 MODEL DISCUSSION: THE JTWC TRACK FORECAST IS SLIGHTLY EAST OF THE MULTI-MODEL CONSENSUS DUE TO THE WESTERN OUTLIERS JGSM AND NVGM. HOWEVER, THERE IS OVERALL GOOD AGREEMENT IN THE NUMERICAL MODEL GUIDANCE WITH A 120 KM CROSS-TRACK SPREAD AT 48H LENDING TO HIGH CONFIDENCE IN THE JTWC FORECAST TRACK. THE JTWC INTENSITY FORECAST AND PEAK INTENSITY ARE NOW IN LINE WITH THE HWRF GUIDANCE AND SLIGHTLY HIGHER THAN THE INTENSITY CONSENSUS.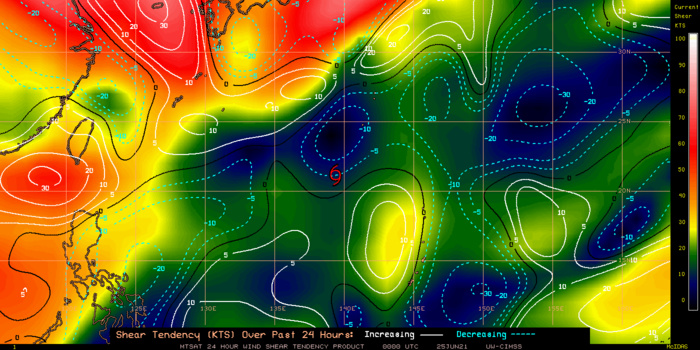 25/00UTC.24H SHEAR TENDENCY.UW-CIMSS Experimental Vertical Shear and TC Intensity Trend Estimates: CIMSS Vertical Shear Magnitude : 6.0 m/s (11.6 kts)Direction : 39.2deg Outlook for TC Intensification Based on Current Env. Shear Values and MPI Differential: FAVOURABLE OVER 24H.