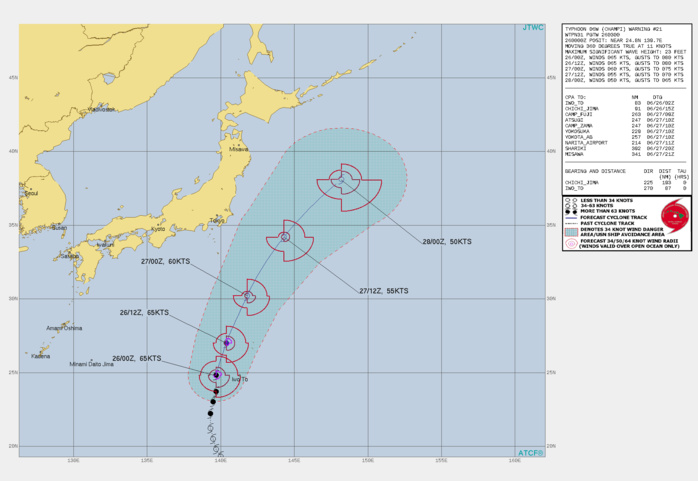 WARNING 21 ISSUED AT 26/03UTC. FORECAST DISCUSSION: TY 06W IS FORECAST TO TRACK NORTH-NORTHEASTWARD THROUGH 36H. IN THE NEAR TERM, THE MARGINALLY FAVORABLE ENVIRONMENT SHOULD ALLOW THE SYSTEM TO MAINTAIN CURRENT INTENSITY THROUGH 12H. AFTERWARDS, AS VERTICAL WIND SHEAR INCREASES AND SEA SURFACE TEMPERATURES BEGIN TO COOL, TY 06W SHOULD BEGIN TO EXPERIENCE A STEADY WEAKENING TREND. BY 36H, THE SYSTEM WILL BEGIN TO INTERACT WITH THE BAIU BOUNDARY AND START EXTRATROPICAL TRANSITION (ETT) AS IT ACCELERATES NORTHEASTWARD THROUGH 48H. ETT COMPLETION IS EXPECTED BY 48H AS THE SYSTEM BECOMES EMBEDDED WITHIN THE BAROCLINIC ZONE AND MOVES UNDER THE JET FLOW.
2021 JUNE 26 0310UTC #WESTERNNORTHPACIFIC
TY #06W #CHAMPI
WARNING 21/UPDATE
As of 00:00 UTC June 26, 2021:
Location: 24.8°N 139.7°E
Maximum Winds: 65 kt ( 120km/h)
Gusts: 80 kt ( 150km/h)
Minimum Central Pressure: 987 mb
CATEGORY US: 1
LOCATED AT 26/00UTC 160 KM WEST OF IWO TO, HAS TRACKED NORTHWARD AT 20 KM/H OVER THE PAST SIX HOURS.
Satellite bulletins are to be found in the comments of this post on
JTWC BIS
Cheers,
Patrick Hoareau
JTWC PH
ILES SOEURS
Joint Typhoon Warning Center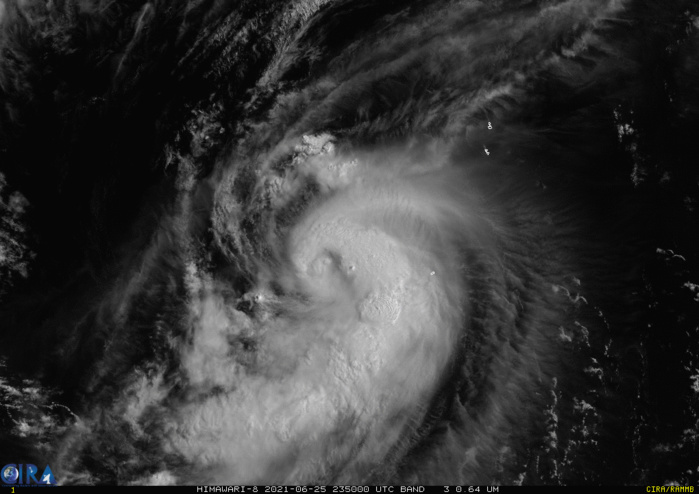 SATELLITE ANALYSIS, INITIAL POSITION AND INTENSITY DISCUSSION: ANIMATED MULTISPECTRAL SATELLITE IMAGERY (MSI) DEPICTS A PARTIALLY EXPOSED LOW LEVEL CIRCULATION WITH CONVECTION OVER THE EASTERN PERIPHERY AND THE CENTER. OVER THE PAST SEVERAL HOURS, CONVERGENT FLOW ASSOCIATED WITH A SHORTWAVE TROUGH TO THE WEST OF THE SYSTEM HAS ERODED THE CONVECTION OVER THE WESTERN PERIPHERY. THE INITIAL POSITION IS PLACED WITH HIGH CONFIDENCE BASED ON THE PARTIALLY EXPOSED NATURE OF THE SYSTEM AND AN EXTRAPOLATION OF A 252152Z SSMIS 91 GHZ MICROWAVE IMAGE SHOWING CONVECTION WRAPPING AROUND THE SOUTHERN AND EASTERN PERIPHERIES. THE INITIAL INTENSITY OF 65 KNOTS IS ASSESSED WITH HIGH CONFIDENCE BASED ON A CONSENSUS OF MULTI-AGENCY DVORAK CURRENT INTENSITY ESTIMATES AND AN ADVANCED DVORAK TECHNIQUE (ADT) ESTIMATE.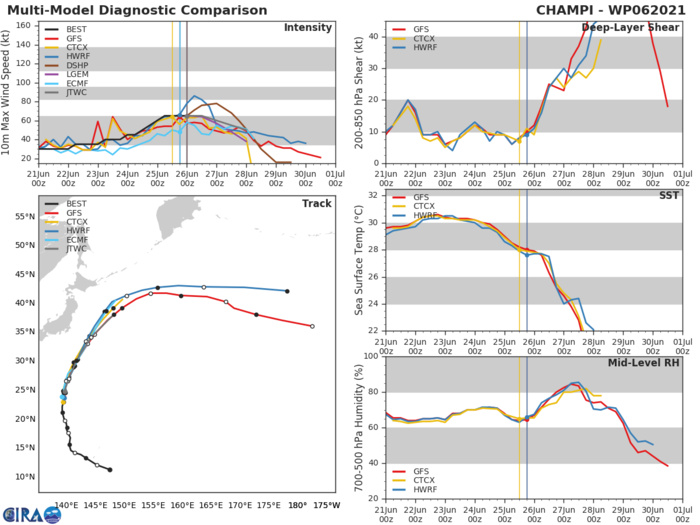 MODEL DISCUSSION: NUMERICAL MODEL GUIDANCE REMAINS IN TIGHT AGREEMENT WITH ACROSS-TRACK SPREAD INCREASING TO 205 KM BY 48H. THE JTWC FORECAST TRACK IS PLACED NEAR THE MULTI-MODEL CONSENSUS. AS THE SYSTEM ACCELERATES NORTHEASTWARD DURING EXTRATROPICAL TRANSITION, ALONG-TRACK SPREAD INCREASES TO 280 KM BY 48H. THE JTWC INTENSITY FORECAST IS IN GOOD AGREEMENT WITH MODEL SOLUTIONS WHICH SHOW A STEADY WEAKENING TREND AFTER TAU 12. HWRF REMAINS THE ONE EXCEPTION WHICH INDICATES A BRIEF INTENSIFICATION PERIOD THROUGH 12H.