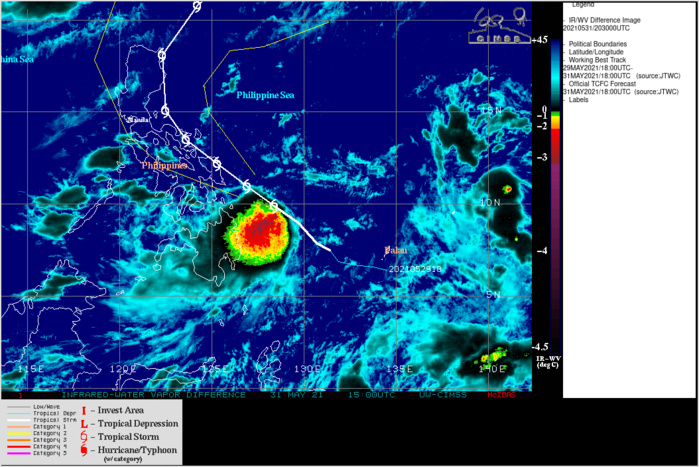 TS 04W(CHOI-wan). SATELLITE ANIMATION DEPICTS INTENSE (-82C TOPS) DEEP CONVECTION SPREADING OVER AND OBSCURING THE LOW-LEVEL CIRCULATION CENTER.
2021 MAY 31 2050UTC #WESTERNNORTHPACIFIC
TS #04W #CHOI-WAN
WARNING 9
As of 18:00 UTC May 31, 2021:
Location: 9.9°N 128.5°E
Maximum Winds: 45 kt (85km/h)
Gusts: 55 kt ( 100km/h)
Minimum Central Pressure: 996 mb
FORECAST TO INTENSIFY
LOCATED AT 31/18UTC APPROXIMATELY 960 KM EAST-SOUTHEAST OF MANILA, PHILIPPINES, HAS TRACKED WEST-
NORTHWESTWARD AT 15 KM/H OVER THE PAST SIX HOURS.
Satellite bulletins are to be found in the comments of this post on
JTWC BIS
Cheers,
Patrick Hoareau
M974World
ILES SOEURS
Cyclone Class 4
Cheers,PH.
Joint Typhoon Warning Center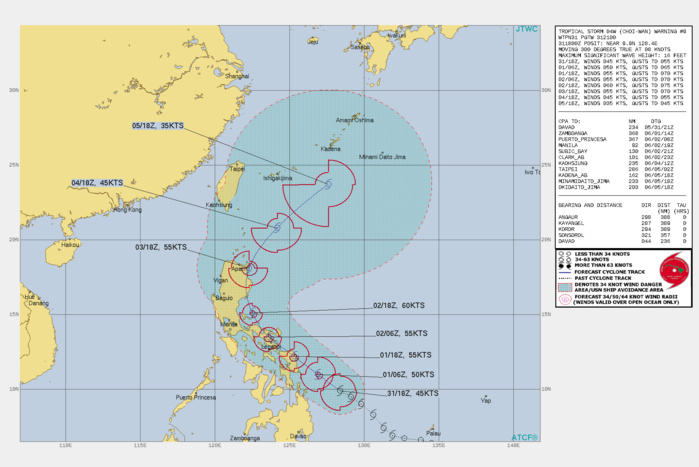 TS 04W. WARNING 9 ISSUED AT 31/21UTC.THE SYSTEM IS LOCATED WITHIN A MARGINALLY-FAVORABLE ENVIRONMENT WITH NORTHEASTERLY VERTICAL WIND SHEAR (VWS) OFFSET BY GOOD EQUATORWARD OUTFLOW AND WARM SST VALUES (29-30C). TS 04W IS TRACKING WEST-NORTHWESTWARD UNDER THE STEERING INFLUENCE OF A DEEP-LAYERED SUBTROPICAL RIDGE (STR) POSITIONED TO THE NORTH AND NORTHEAST.TS 04W IS FORECAST TO TRACK ALONG THE EASTERN COAST OF THE PHILIPPINES WHILE SLOWLY INTENSIFYING TO A PEAK OF 60 KNOTS BY 48H. AFTER 72H, THE WESTERN PORTIONS OF THE STR WILL CONTINUE TO ERODE ALLOWING THE SYSTEM TO RECURVE NORTHEASTWARD. TS 04W WILL WEAKEN AS IT ENCOUNTERS INCREASING VWS ASSOCIATED WITH A MIDLATITUDE SHORTWAVE TROUGH EXPECTED TO DIG OVER THE EAST CHINA SEA. TS 04W IS EXPECTED TO BEGIN EXTRA-TROPICAL TRANSITION (ETT) NEAR 120H BUT MAY DISSIPATE PRIOR TO COMPLETING ETT.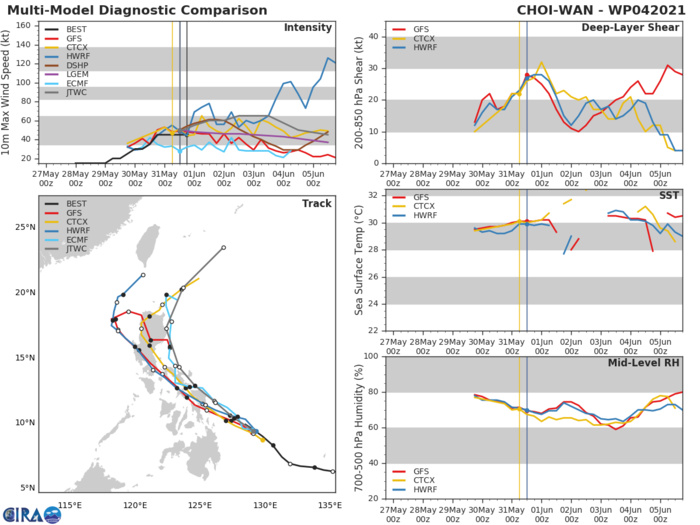 TS 04W. WITH THE EXCEPTION OF GFS AND HWRF, WHICH TRACK THE SYSTEM INTO THE SOUTH CHINA SEA, THE BULK OF THE GUIDANCE SUPPORTS THE JTWC FORECAST WITH MODERATE CONFIDENCE WITH A 215KM SPREAD IN SOLUTIONS AT 72H. DUE TO THE PROXIMITY TO LAND, THE INTENSITY FORECAST IS UNCERTAIN. THE 31/12UTC ECMWF ENSEMBLE INDICATES UNCERTAINTY IN THE EXACT TRACK WITH POTENTIAL FOR A TRACK FURTHER WEST, WHICH WOULD LEAD TO MORE SIGNIFICANT WEAKENING THROUGH 72H. AFTER 72H MODEL GUIDANCE DIVERGES WITH A LARGE SPREAD IN SOLUTIONS AT 120H. THE JTWC FORECAST REMAINS CONSISTENT WITH THE PREVIOUS FORECAST AND IS POSITIONED CLOSE TO THE MULTI-MODEL CONSENSUS. BASED ON THE UNCERTAINTY IN THE TIMING AND DEGREE OF RECURVATURE, THERE IS MODERATE CONFIDENCE IN THE JTWC FORECAST TRACK.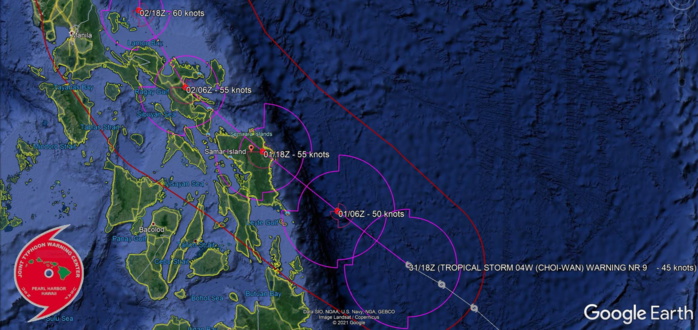 TS 04W. WARNING 9. FORECAST TO TRACK OVER EASTERN SAMAR IN APPRX 24H. MODERATE CONFIDENCE IN THE FORECAST.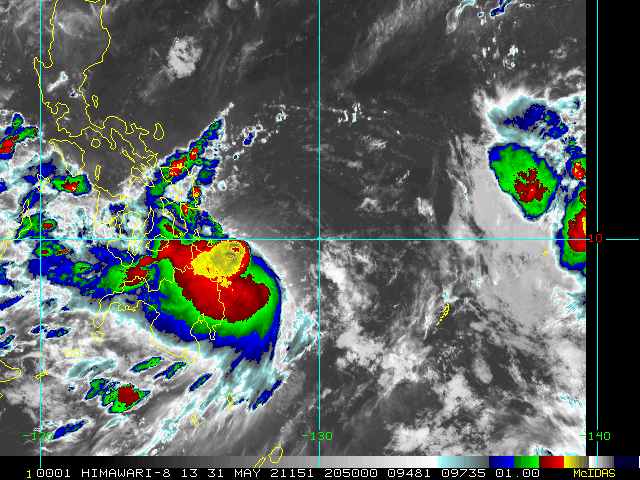 31/2050UTC. SATELLITE IMAGERY DEPICTS INTENSE (-82C TOPS) DEEP CONVECTION SPREADING OVER AND OBSCURING THE LOW-LEVEL CIRCULATION CENTER, WHICH LIKELY INDICATES A CENTRAL COLD COVER PATTERN WITH ARRESTED DEVELOPMENT.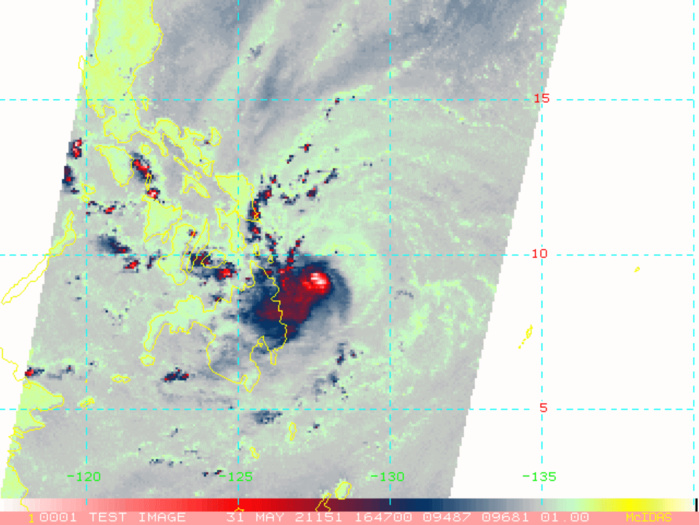 TS 04W. 31/17UTC. MICROWAVE SHOWED CONVECTIVE BANDING WRAPPING INTO A DEFINED LOW LEVEL CIRCULATION CENTER.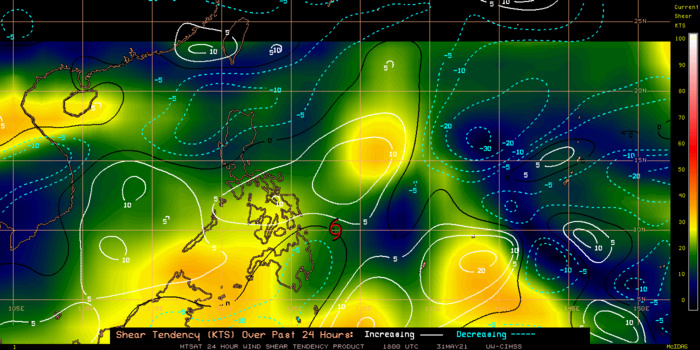 TS 04W. 31/18UTC.24H SHEAR TENDENCY.UW-CIMSS Experimental Vertical Shear and TC Intensity Trend Estimates: CIMSS Vertical Shear Magnitude : 9.4 m/s (18.2 kts)Direction : 71.6deg Outlook for TC Intensification Based on Current Env. Shear Values and MPI Differential: FAVOURABLE OVER 24H.