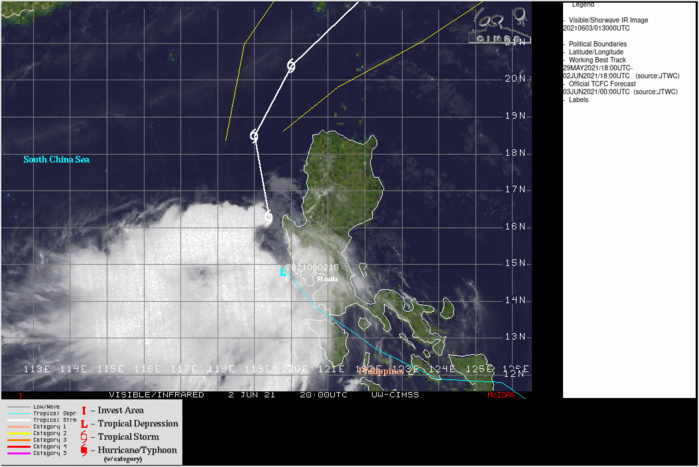 TS 04W. ANIMATED MULTISPECTRAL SATELLITE IMAGERY SHOWS A SYSTEM THAT HAS DEEPENED, ALBEIT WITH A PARTIALLY EXPOSED LOW LEVEL CIRCULATION (LLC) AS THE BROAD CENTRAL CONVECTION HAS BECOME OFFSET TO THE SOUTHWEST.
2021 JUNE 03 03UTC #WESTERNNORTHPACIFIC
TS #04W #CHOI-WAN
WARNING 18
As of 00:00 UTC Jun 03, 2021:
Location: 16.3°N 119.4°E
Maximum Winds: 35 kt (65km/h)
Gusts: 45 kt ( 85km/h)
Minimum Central Pressure: 1000 mb
LOCATED AT 03/00UTC APPROXIMATELY 250 KM NORTHWEST OF MANILA, PHILIPPINES, HAS TRACKED NORTHWESTWARD AT 28 KM/H OVER THE PAST SIX HOURS.
Satellite bulletins are to be found in the comments of this post on
JTWC BIS
Cheers,
Patrick Hoareau
M974World
ILES SOEURS
Cyclone Class 4
Cheers,PH.
Joint Typhoon Warning Center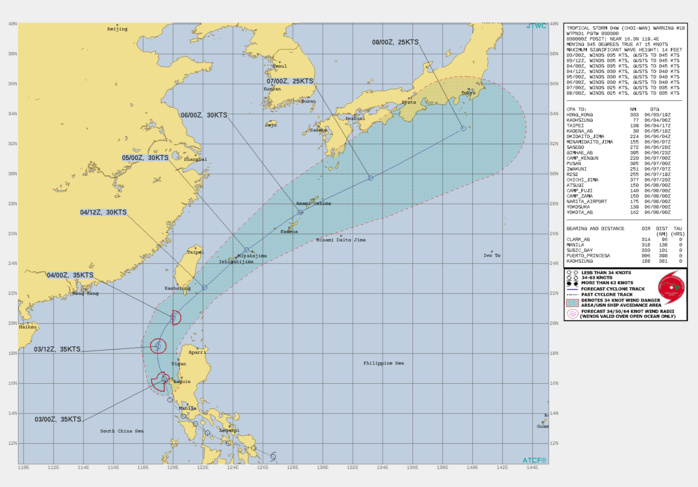 TS 04W. WARNING 18 ISSUED AT 03/03UTC.THE SYSTEM IS IN A MARGINAL ENVIRONMENT WITH GOOD WESTWARD AND EQUATORWARD OUTFLOW AND VERY WARM (30-31C) SEA SURFACE TEMPERATURES, OFFSET BY MODERATE TO STRONG (20-25KT) VERTICAL WIND SHEAR(VWS) FROM THE NORTHEAST. THE CYCLONE IS TRACKING ALONG THE WESTERN PERIPHERY OF THE SUBTROPICAL RIDGE (STR) TO THE EAST-NORTHEAST. TS 04W WILL CONTINUE TO TRACK NORTH-NORTHWESTWARD OVER THE NEXT 12 HOURS, MAKING THE TURN NORTH-NORTHEASTWARD THEN NORTHEASTWARD AFTER 12H UNDER THE STEERING INFLUENCE OF THE STR. THE SYSTEM IS FORECAST TO REMAIN AT 35KNOTS UNDER THE AFOREMENTIONED MARGINAL CONDITIONS AS IT ROUNDS THE RIDGE AXIS. BY 36H, TS 04W WILL WEAKEN TO 30 KNOTS DUE TO INCREASING VWS ASSOCIATED WITH STRONG NORTHEASTERLY FLOW FROM A SECONDARY STR ANCHORED OVER SOUTHEASTERN CHINA. THE SYSTEM WILL REMAIN AT 30 KNOTS AS IT PASSES NORTH OF KADENA AIR BASE BEFORE 48H AND UP TO 72H AS IT CONTINUES NORTHEASTWARD. AFTER 72H, TS CHOI-WAN WILL ACCELERATE NORTHEASTWARD ON THE POLEWARD SIDE OF THE STEERING STR. CONCURRENTLY BY 96H, IT WILL BEGIN EXTRA-TROPICAL TRANSITION (ETT) AS IT ENTERS THE BAROCLINIC ZONE AND WILL COMPLETE ETT SOUTH OF YOKOSUKA, JAPAN, BY 120H. THERE IS A DISTINCT POSSIBILITY THAT TS 04W WILL DISSIPATE BEFORE ETT.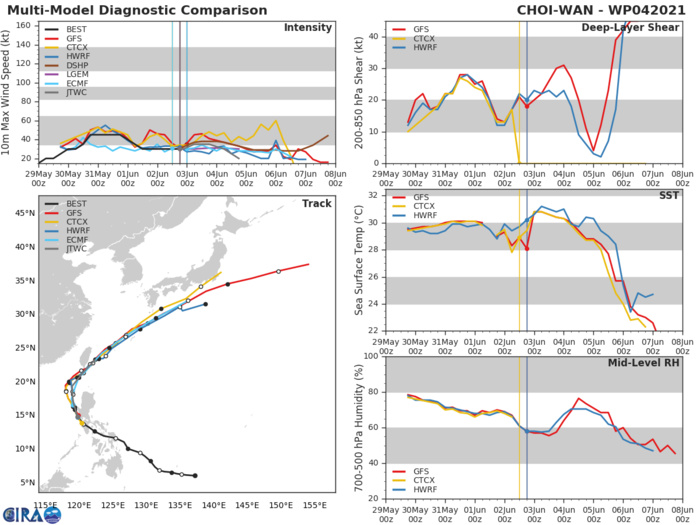 TS 04W. THE FORECAST TRACK HAS BEEN EXTENDED TO 120H TO INCLUDE EXTRA-TROPICAL TRANSITION. NUMERICAL MODELS REMAIN IN GOOD AGREEMENT, LENDING FAIR CONFIDENCE TO THE EXTENDED PORTION OF THE JTWC TRACK FORECAST.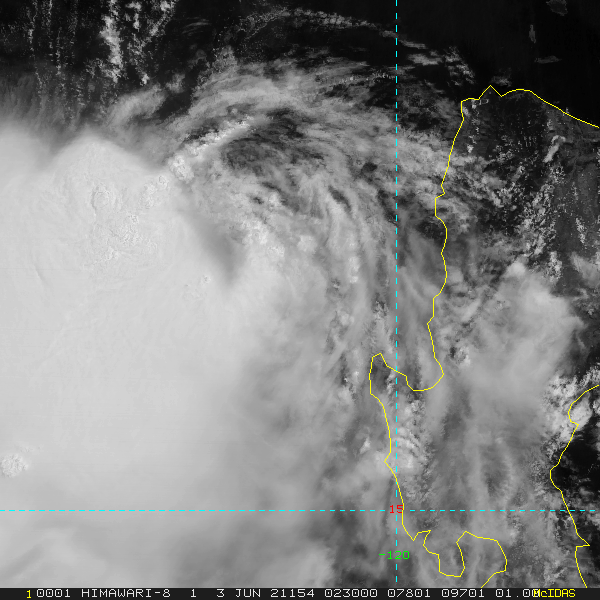 03/0230UTC.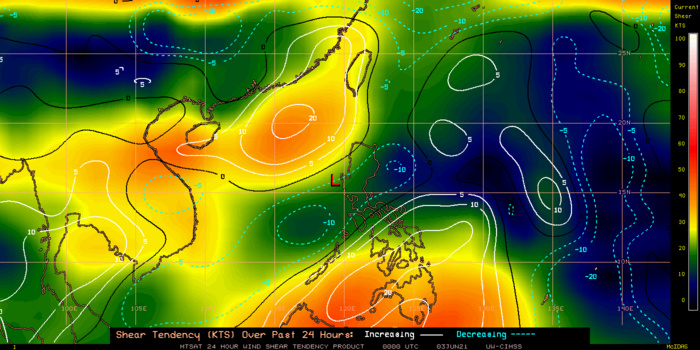 03/00UTC. 24H SHEAR TENDENCY.UW-CIMSS Experimental Vertical Shear and TC Intensity Trend Estimates: CIMSS Vertical Shear Magnitude : 9.0 m/s (17.5 kts)Direction : 68.2deg Outlook for TC Intensification Based on Current Env. Shear Values and MPI Differential: FAVOURABLE OVER 24H.