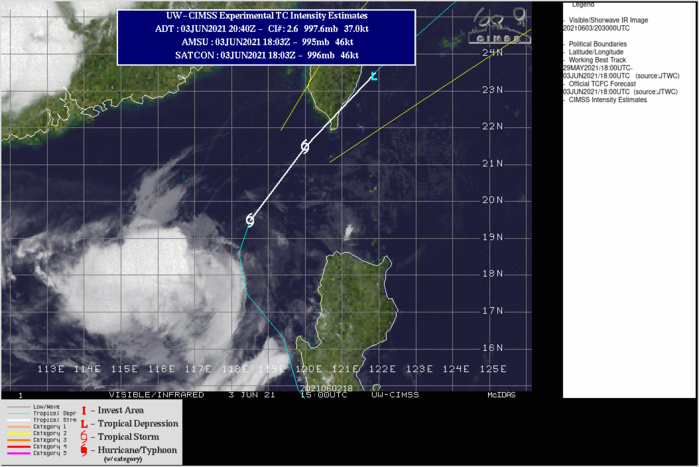 TS 04W. ANIMATED ENHANCED INFRARED SATELLITE IMAGERY SHOWS THE BROAD AREA OF CONVECTION ASSOCIATED WITH THE SYSTEM HAS BECOME TOTALLY OFFSET TO THE WEST-SOUTHWEST FROM A FULLY EXPOSED LOW LEVEL CIRCULATION CENTER.
2021 JUNE 03 2130UTC #WESTERNNORTHPACIFIC
TS #04W #CHOI-WAN
WARNING 21
As of 18:00 UTC Jun 03, 2021:
Location: 19.5°N 118.5°E
Maximum Winds: 35 kt (65km/h)
Gusts: 45 kt ( 85km/h)
Minimum Central Pressure: 997 mb
LOCATED AT 03/18UTC APPROXIMATELY 395 KM SOUTHWEST OF KAOHSIUNG, TAIWAN, HAS TRACKED NORTHWESTWARD AT 17KM/H OVER THE PAST SIX HOURS.
Satellite bulletins are to be found in the comments of this post on
JTWC BIS
Cheers,
Patrick Hoareau
M974World
ILES SOEURS
Cyclone Class 4
Cheers,PH.
Joint Typhoon Warning Center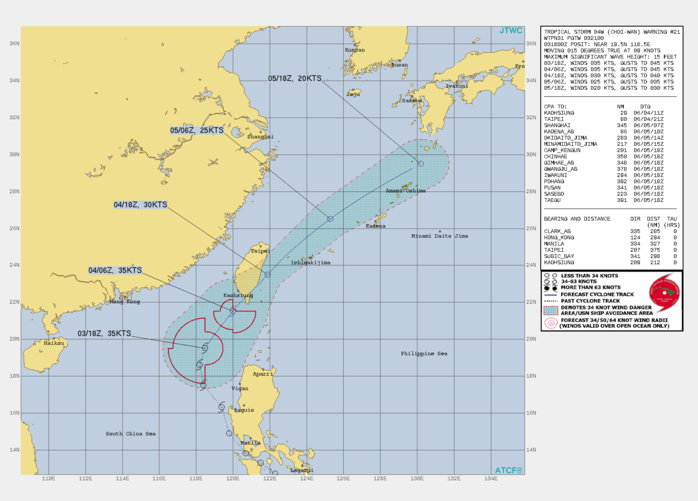 TS 04W. WARNING 21 ISSUED AT 03/21UTC.THE SYSTEM IS IN A MARGINAL ENVIRONMENT WITH GOOD WESTWARD AND EQUATORWARD OUTFLOW AND VERY WARM (30-31C) SEA SURFACE TEMPERATURES, OFFSET BY MODERATE TO STRONG (20- 25KT) VERTICAL WIND SHEAR(VWS) FROM THE NORTHEAST. THE CYCLONE IS TRACKING ALONG THE WESTERN PERIPHERY OF THE SUBTROPICAL RIDGE (STR) TO THE EAST. THE FORECAST TRACK HAS BEEN REDUCED 48H TO INDICATE DISSIPATION OVER WATER SOUTH OF KYUSHU, JAPAN.TS 04W HAS BEGUN TO MAKE ITS TURN NORTHEASTWARD AROUND THE AXIS OF THE STR AND AFTER 12H WILL BEGIN TO WEAKEN DUE TO INTERACTION WITH THE SOUTHERN PORTION OF THE CHUNGYANG MOUNTAIN RANGE IN TAIWAN. BY 24H, TS 04W WILL WEAKEN TO 30 KNOTS DUE TO INCREASING VWS ASSOCIATED WITH STRONG NORTHEASTERLY FLOW FROM A SECONDARY STR ANCHORED OVER SOUTHEASTERN CHINA. BY 36H, THE SYSTEM WILL WEAKEN TO 25 KNOTS AS IT PASSES EAST-NORTHEAST OF KADENA AIR BASE. AT 48H, THE SYSTEM WILL BE FULLY DISSIPATED AS IT GETS ABSORBED INTO THE MEI-YU FRONTAL BOUNDARY APPROACHING FROM THE WEST, POSSIBLY SOONER.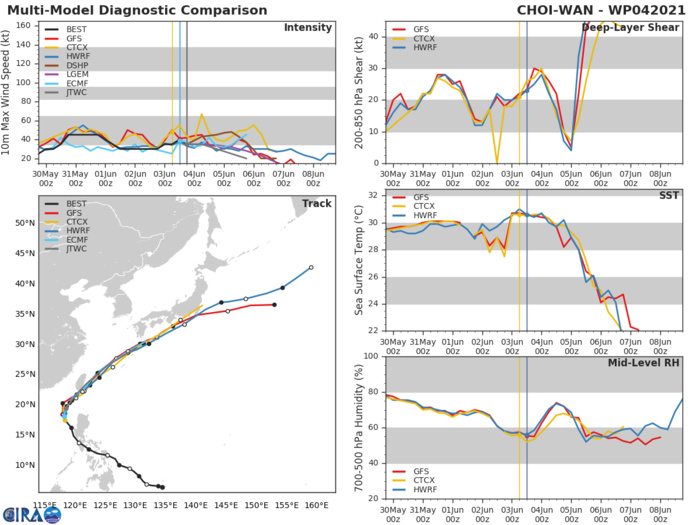 TS 04W. NUMERICAL MODELS ARE IN TIGHT AGREEMENT, SPREADING TO A MERE 110KM AT 48H, LENDING HIGH CONFIDENCE TO THE JTWC TRACK FORECAST.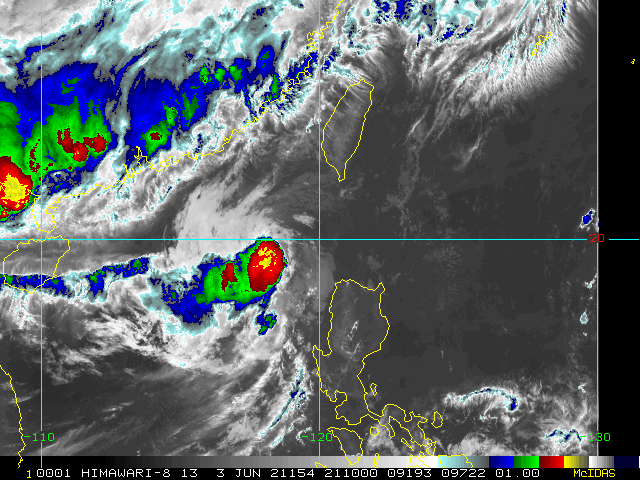 03/2110UTC.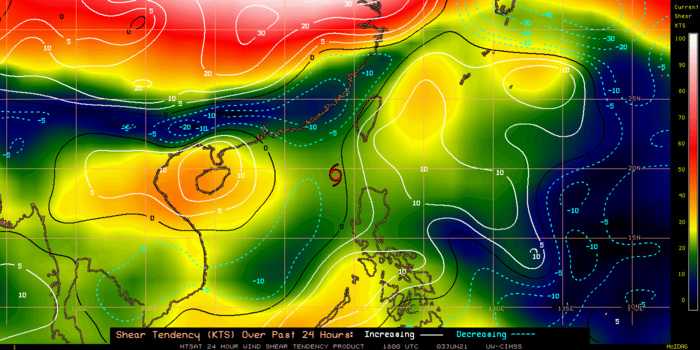 03/18UTC. 24H SHEAR TENDENCY.UW-CIMSS Experimental Vertical Shear and TC Intensity Trend Estimates: CIMSS Vertical Shear Magnitude : 11.9 m/s (23.1 kts)Direction : 43.7deg Outlook for TC Intensification Based on Current Env. Shear Values and MPI Differential: FAVOURABLE OVER 24H.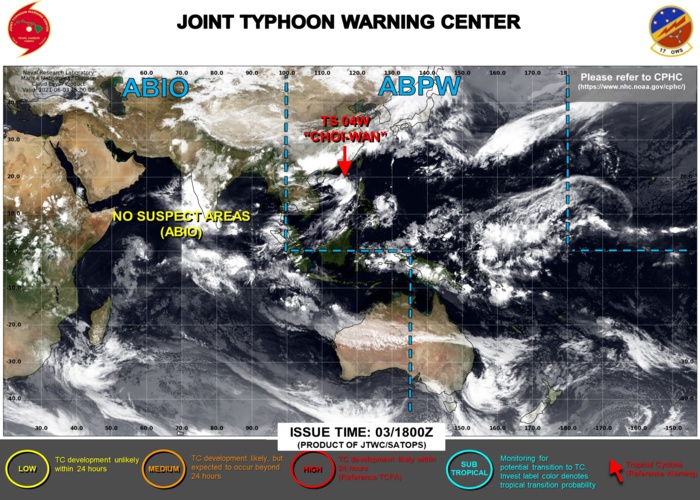 JTWC HAS BEEN ISSUING 6HOURLY WARNINGS AND 3HOURLY SATELLITE BULLETINS ON 04W. INVEST 93S HAS BEEN REMOVED FROM THE MAP AS THE AREA IS NO LONGER CONSIDERED HAVING POTENTIAL TO DEVELOP WITHIN 24H.