CLICK TO ANIMATE. TY 30W(PHANFONE)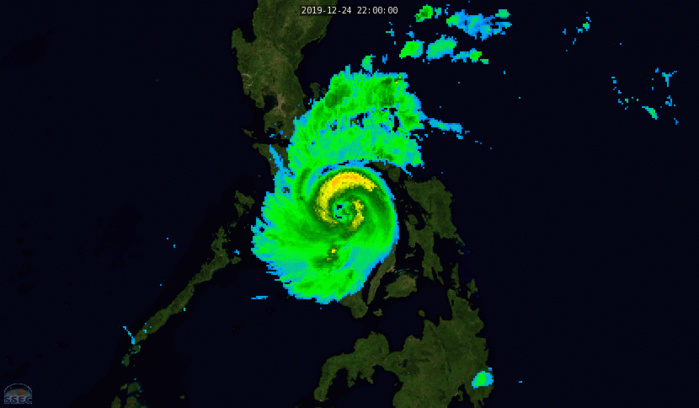 Location: 11.8°N 122.4°E
Maximum Winds: 95 kt ( 175km/h)
Gusts: 115 kt ( 220km/h)
Minimum Central Pressure: mb
CATEGORY US: 2
WDPN31 PGTW 250300
MSGID/GENADMIN/JOINT TYPHOON WRNCEN PEARL HARBOR HI//
SUBJ/PROGNOSTIC REASONING FOR TYPHOON 30W (PHANFONE)
WARNING NR 014//
RMKS/
1. FOR METEOROLOGISTS.
2. 6 HOUR SUMMARY AND ANALYSIS.
TYPHOON 30W (PHANFONE), LOCATED APPROXIMATELY 187 NM SOUTH-
SOUTHEAST OF MANILA, PHILIPPINES, HAS TRACKED WESTWARD AT 10 KNOTS
OVER THE PAST SIX HOURS. ANIMATED MULTISPECTRAL IMAGERY REVEALS AN
18 NM WIDE CLOUD-FILLED EYE WITH THE UPPER LEVELS DISPLACED
SLIGHTLY TO THE NORTHWEST OF THE LOW-LEVEL CIRCULATION CENTER
(LLCC). THERE IS GOOD CONFIDENCE IN THE INITIAL POSITION, WHICH IS
BASED ON THE EYE AND SUPPORTED BY A 242225Z 37GHZ WINDSAT IMAGE.
THE INITIAL INTENSITY IS ASSESSED AT 95 KTS, HEDGING BELOW MULTI-
AGENCY DVORAK CURRENT INTENSITY ESTIMATES OF T5.5 (102 KTS) AS THE
SYSTEM CONTINUES TO TRACK ACROSS THE WATERS WITHIN THE PHILIPPINES
ARCHIPELAGO. THE ENVIRONMENT IS FAVORABLE FOR CONTINUED
DEVELOPMENT WITH LOW (5-10 KT) VERTICAL WIND SHEAR (VWS), GOOD
POLEWARD AND WESTWARD OUTFLOW AND WARM (27-28 CELSIUS) SEA SURFACE
TEMPERATURES (SSTS). TY 30W IS TRACKING ALONG THE SOUTHERN
PERIPHERY OF A SUBTROPICAL RIDGE (STR) TO THE NORTHEAST.
3. FORECAST REASONING.
A. THERE IS NO SIGNIFICANT CHANGE TO THE FORECAST PHILOSOPHY
FROM THE PREVIOUS PROGNOSTIC REASONING MESSAGE.
B. TY 30W WILL TRACK GENERALLY WEST-NORTHWESTWARD THROUGH TAU
48. THE FAVORABLE ENVIRONMENT IS EXPECTED TO PARTIALLY OFFSET LAND
INTERACTION THAT WILL PERSIST THROUGH TAU 12, ALLOWING THE SYSTEM
TO MAINTAIN INTENSITY AT 95 KTS. ONCE TY 30W EMERGES IN THE SOUTH
CHINA SEA, BETWEEN TAUS 12 AND 24, IT WILL INTENSIFY TO A MAXIMUM
OF 100 KTS AT TAU 24. BY TAU 48, TY 30W WILL BEGIN WEAKENING AS IT
ENCOUNTERS DECREASING SSTS (25-26 DEGREES CELSIUS), INCREASING VWS
AND RELATIVELY COOL, DRY AIR FROM A BUILDING SURFACE HIGH PRESSURE
SYSTEM TO THE NORTH. TY 30W HAS BEEN TRENDING ABOVE MODEL
INTENSITY GUIDANCE, THEREFORE THE CURRENT INTENSITY IS MAINTAINED
SLIGHTLY ABOVE THE MULTI-MODEL CONSENSUS. THE MOST RECENT MODEL
TRACK GUIDANCE SHOWS A SLIGHT INCREASE IN THE NORTHERLY COMPONENT
OF THE TRACK AS THE STR TO THE NORTHEAST PUSHES EASTWARD ALLOWING
THE SYSTEM TO RECURVE SLIGHTLY. HOWEVER, BETWEEN TAUS 48 AND 72
THE NORTHEASTERLY SURGE AT 850MB WILL STEER THE SYSTEM ALONG A
WESTERLY PATH. THERE IS A SPREAD OF 60 NM BETWEEN THE MODEL TRACKS
AT TAU 48, LENDING FAIR CONFIDENCE TO THIS PORTION OF THE FORECAST
TRACK.
C. AFTER TAU 72, AN INCREASINGLY VOLATILE ENVIRONMENT WILL
CAUSE A RAPID DECREASE IN INTENSITY, WITH TY 30W DISSIPATING FULLY
AROUND TAU 120. THE SYSTEM WILL CONTINUE TO TRACK WEST-
NORTHWESTWARD THROUGH TAU 96, THEN TURN SHARPLY TO THE NORTH AS
THE DEEP-LAYER STR BUILDS BACK IN TO THE EAST AND STEERS THE
SYSTEM NORTHWARD. ALL MODELS RECURVE THE SYSTEM AROUND THIS DEEP-
LAYER STR, WITH THE EXCEPTION OF GALWEM, UKMET, GFS, AND JGSM THAT
TRACK DUE WEST IN LATER TAUS OR STOP TRACKING THE CIRCULATION AT
TAU 96. THERE IS LOW CONFIDENCE IN THE LATTER HALF OF THE JTWC
FORECAST DUE TO THE LARGE MODEL SPREAD.//
NNNN
-------------------------------------------------------------------------------------------------------
Location: 8.3°S 175.7°E
Maximum Winds: 25 kt
Gusts: 35 kt ( 65km/h)
Minimum Central Pressure: mb
WTPS21 PGTW 250300
MSGID/GENADMIN/JOINT TYPHOON WRNCEN PEARL HARBOR HI//
SUBJ/TROPICAL CYCLONE FORMATION ALERT (INVEST 99P)//
RMKS/
1. FORMATION OF A SIGNIFICANT TROPICAL CYCLONE IS POSSIBLE WITHIN
135 NM EITHER SIDE OF A LINE FROM 8.1S 175.9E TO 12.7S 175.5E
WITHIN THE NEXT 12 TO 24 HOURS. AVAILABLE DATA DOES NOT JUSTIFY
ISSUANCE OF NUMBERED TROPICAL CYCLONE WARNINGS AT THIS TIME.
WINDS IN THE AREA ARE ESTIMATED TO BE 20 TO 25 KNOTS. METSAT
IMAGERY AT 250000Z INDICATES THAT A CIRCULATION CENTER IS LOCATED
NEAR 8.3S 175.7E. THE SYSTEM IS MOVING WEST-SOUTHWESTWARD AT 04
KNOTS.
2. REMARKS: THE AREA OF CONVECTION (INVEST 99P) PREVIOUSLY LOCATED
NEAR 6.8S 176.4E IS NOW LOCATED NEAR 7.8S 176.4E, APPROXIMATELY 870
NM WEST-NORTHWEST OF PAGO PAGO, AMERICAN SAMOA. ANIMATED
MULTISPECTRAL SATELLITE IMAGERY AND A 242127Z METOP-B MICROWAVE
IMAGE DEPICT AN ELONGATED LOW LEVEL CIRCULATION CENTER (LLCC) WITH
POCKETS OF FLARING CONVECTION ON THE NORTHERN PERIPHERY. INVEST 99P
IS CURRENTLY IN A FAVORABLE ENVIRONMENT FOR DEVELOPMENT WITH LOW (10-
15 KTS) VERTICAL WIND SHEAR, VERY WARM (30-31C) SEA SURFACE
TEMPERATURES, AND GOOD POLEWARD OUTFLOW ALOFT. GLOBAL MODELS ARE IN
GOOD AGREEMENT THAT 99P WILL CONTINUE TO TRACK SOUTHWARD AND IS
FORECAST TO QUICKLY CONSOLIDATE. MAXIMUM SUSTAINED SURFACE WINDS ARE
ESTIMATED AT 20 TO 25 KNOTS. MINIMUM SEA LEVEL PRESSURE IS ESTIMATED
TO BE NEAR 1004 MB. THE POTENTIAL FOR THE DEVELOPMENT OF A
SIGNIFICANT TROPICAL CYCLONE WITHIN THE NEXT 24 HOURS IS HIGH.
3. THIS ALERT WILL BE REISSUED, UPGRADED TO WARNING OR CANCELLED BY
260300Z.//
NNNN
TRACK AND INTENSITY GUIDANCE
TRACK AND INTENSITY GUIDANCE