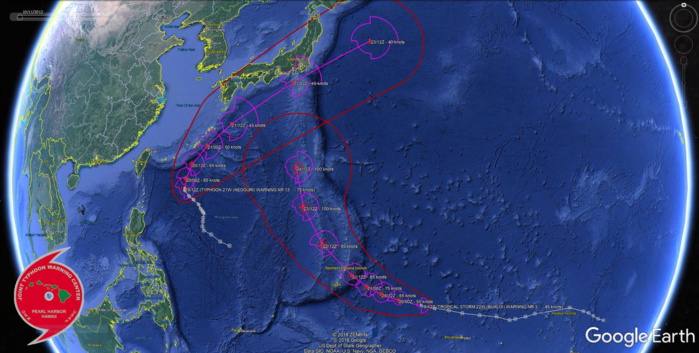 TY 21W AND TS 22W
Météo974
WESTERN NORTH PACIFIC
Location: 21.8°N 127.3°E
Maximum Winds: 75 kt ( 140km/h)
Gusts: 90 kt ( 170km/h)
Minimum Central Pressure: 980 mb
WDPN31 PGTW 191500
MSGID/GENADMIN/JOINT TYPHOON WRNCEN PEARL HARBOR HI//
SUBJ/PROGNOSTIC REASONING FOR TYPHOON 21W (NEOGURI) WARNING
NR 013//
RMKS//
1. FOR METEOROLOGISTS.
2. 6 HOUR SUMMARY AND ANALYSIS.
TYPHOON (TY) 21W (NEOGURI), LOCATED APPROXIMATELY 283 NM SOUTH OF
KADENA AB, OKINAWA, HAS TRACKED NORTHWARD AT 02 KNOTS OVER THE PAST
SIX HOURS. ANIMATED ENHANCED INFRARED SATELLITE IMAGERY DEPICTS A
COMPACT, CONSOLIDATING SYSTEM WITH A 6NM EYE, WHICH SUPPORTS THE
CURRENT POSITION WITH GOOD CONFIDENCE. THE CURRENT INTENSITY IS
ASSESSED AT 75 KNOTS BASED ON DVORAK INTENSITY ESTIMATES OF T4.5 (77
KNOTS) FROM RJTD AND PGTW, CONSISTENT WITH THE EYE STRUCTURE. UPPER-
LEVEL ANALYSIS INDICATES MODERATE TO HIGH (20-25 KNOTS) VERTICAL
WIND SHEAR OFFSET BY ROBUST POLEWARD OUTFLOW INTO A DEEP UPPER-LEVEL
TROUGH TO THE NORTH. SST VALUES OF 27-28C REMAIN CONDUCIVE FOR
FURTHER DEVELOPMENT. THE SYSTEM IS TRACKING ALONG THE SOUTHWESTERN
PERIPHERY OF A SUBTROPICAL RIDGE (STR) POSITIONED TO THE NORTHEAST.
3. FORECAST REASONING.
A. THERE IS NO SIGNIFICANT CHANGE TO THE FORECAST PHILOSOPHY FROM
THE PREVIOUS PROGNOSTIC REASONING MESSAGE.
B. TY 21W IS FORECAST TO TURN NORTH-NORTHEASTWARD WITHIN THE NEXT
12-24 HOURS AS IT BEGINS TO RECURVE ALONG THE WESTERN PERIPHERY OF
THE STR. BY TAU 36, THE SYSTEM WILL BEGIN TO INTERACT WITH A DEEP
MIDLATITUDE SHORTWAVE TROUGH POSITIONED OVER THE EAST CHINA SEA AND
RYUKYU ISLANDS, AND BEGIN EXTRA-TROPICAL TRANSITION (ETT). THE
SYSTEM IS EXPECTED TO INTENSIFY SLIGHTLY TO A PEAK INTENSITY OF 85
KNOTS BY TAU 12, HOWEVER, VWS IS EXPECTED TO INCREASE SIGNIFICANTLY
BY TAU 24 (35-40 KNOTS), WHICH WILL SERVE TO WEAKEN THE SYSTEM.
AFTER TAU 24, TY 21W WILL ENCOUNTER INCREASING VWS (45-70 KNOTS) AS
IT BECOMES EMBEDDED WITHIN THE MIDLATITUDE WESTERLIES AND SHOULD
COMPLETE ETT BY TAU 72. DUE TO THE COMPLEX SYNOPTIC ENVIRONMENT,
LARGE SPREAD IN MODEL SOLUTIONS AND EXTRA-TROPICAL NATURE OF THE
SYSTEM, THERE IS HIGH UNCERTAINTY IN THE EXACT POSITION OF THE
CENTER AS THE SYSTEM APPROACHES CENTRAL HONSHU. THE GLOBAL MODELS
CONSISTENTLY FORECAST A STRONG JET TO REMAIN ENTRENCHED OVER JAPAN
AND JUST TO THE SOUTH OF HONSHU, WHICH SHOULD SUPPORT A STRONG
BAROCLINIC, COLD-CORE LOW AFTER TAU 60. HOWEVER, EXTREMELY STRONG
VWS WILL SHRED THE DEEP CONVECTION OVER THE SYSTEM.
C. BEYOND TAU 72, TY 21W IS EXPECTED TO ACCELERATE NORTHEASTWARD
AS IT TRACKS UNDER A SOUTHWESTERLY JET. THIS EXTRA-TROPICAL LOW
IS EXPECTED TO MAINTAIN GALE-FORCE WINDS AS IT TRACKS EAST OF
HONSHU. DUE TO THE LARGE SPREAD IN MODEL SOLUTIONS, THERE IS LOW
CONFIDENCE IN THE JTWC TRACK FORECAST.//
NNNN
------------------------------------------------------------------------------------------------------------------------
TS BUALOI(22W)
Location: 11.0°N 153.7°E
Maximum Winds: 45 kt ( 85km/h)
Gusts: 55 kt ( 100km/h)
Minimum Central Pressure: 1002 mb
WDPN32 PGTW 191500
MSGID/GENADMIN/JOINT TYPHOON WRNCEN PEARL HARBOR HI//
SUBJ/PROGNOSTIC REASONING FOR TROPICAL STORM 22W (BUALOI)
WARNING NR 003//
RMKS/
1. FOR METEOROLOGISTS.
2. 6 HOUR SUMMARY AND ANALYSIS.
TROPICAL STORM (TS) 22W (BUALOI), LOCATED APPROXIMATELY 541 NM
EAST-SOUTHEAST OF ANDERSEN AFB, GUAM, HAS TRACKED WEST-NORTHWESTWARD
AT 14 KNOTS OVER THE PAST SIX HOURS. ANIMATED ENHANCED INFRARED
SATELLITE IMAGERY INDICATES A CONSOLIDATING LOW-LEVEL CIRCULATION
WITH FRAGMENTED BANDING AND A DEVELOPING CENTRAL DENSE OVERCAST
FEATURE OVER THE CENTER. A 191134Z MHS 89GHZ IMAGE DEPICTS TIGHTLY-
CURVED BANDING WRAPPING INTO A DEFINED LOW-LEVEL CIRCULATION CENTER.
A 191136Z ASCAT-B IMAGE DEPICTS A WELL-DEFINED CENTER WITH 40-45
KNOT WINDS, WHICH SUPPORTS THE CURRENT POSITION AND THE CURRENT
INTENSITY OF 45 KNOTS WITH GOOD CONFIDENCE. UPPER-LEVEL ANALYSIS
INDICATES A FAVORABLE ENVIRONMENT WITH LOW VERTICAL WIND SHEAR AND
VIGOROUS EQUATORWARD OUTFLOW. SST VALUES OF 29-30C REMAIN CONDUCIVE.
TS 22W IS TRACKING ALONG THE SOUTHERN PERIPHERY OF A DEEP-LAYERED
SUBTROPICAL RIDGE (STR) ENTRENCHED TO THE NORTH.
3. FORECAST REASONING.
A. THERE IS NO SIGNIFICANT CHANGE TO THE FORECAST PHILOSOPHY FROM
THE PREVIOUS PROGNOSTIC REASONING MESSAGE. THE WIND RADII HAVE BEEN
ADJUSTED SLIGHTLY BASED ON A DETAILED ANALYSIS OF THE ASCAT DATA.
B. TS 22W IS FORECAST TO TRACK WEST-NORTHWESTWARD TO
NORTHWESTWARD THROUGH TAU 72 ALONG THE SOUTHWEST PERIPHERY OF THE
STR. THE SYSTEM SHOULD CONTINUE TO INTENSIFY STEADILY TO 95 KNOTS BY
TAU 72 UNDER FAVORABLE CONDITIONS. MODEL GUIDANCE IS IN FAIR
AGREEMENT WITH A SPREAD OF 170NM AT TAU 72, THEREFORE, THERE IS
MODERATE CONFIDENCE IN THE JTWC FORECAST TRACK.
C. AFTER TAU 72, TS 22W WILL TURN NORTH-NORTHWESTWARD TO
NORTHWARD AS IT TRACKS ALONG THE WESTERN PERIPHERY OF THE STR. THE
BULK OF THE MODEL GUIDANCE IS IN TIGHTER AGREEMENT WITH THE
EXCEPTION OF NAVGEM, WHICH IS THE SOLE OUTLIER TO THE WEST OF THE
AIDS ENVELOPE. DUE TO SIGNIFICANT DIFFERENCES IN TRACK SPEEDS, THERE
IS LOW CONFIDENCE IN THE EXTENDED PERIOD FORECAST. TS 22W SHOULD
CONTINUE TO INTENSIFY TO A PEAK INTENSITY OF 100 KNOTS BY TAU 96.//
NNNN
------------------------------------------------------------------------------------------------------------------------
NORTH INDIAN
Location: 12.5°N 66.7°E
Maximum Winds: 15 kt
Minimum Central Pressure: 1008 mb