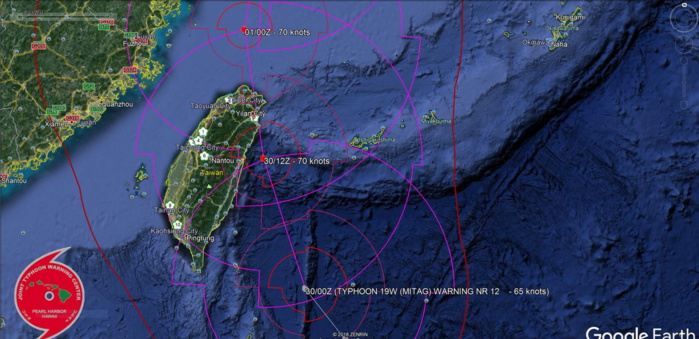 FORECAST TRACK CLOSE AND OVER EASTERN TAIWAN
Météo974
WESTERN NORTH PACIFIC
TY
Location: 21.7°N 122.9°E
Maximum Winds: 65 kt ( 120km/h)
Gusts: 80 kt ( 150km/h)
Minimum Central Pressure: 983 mb
WDPN31 PGTW 300300
MSGID/GENADMIN/JOINT TYPHOON WRNCEN PEARL HARBOR HI//
SUBJ/PROGNOSTIC REASONING FOR TYPHOON 19W (MITAG) WARNING NR 012//
RMKS/
1. FOR METEOROLOGISTS.
2. 6 HOUR SUMMARY AND ANALYSIS.
TYPHOON (TY) 19W (MITAG), LOCATED APPROXIMATELY 394 NM SOUTHWEST
OF KADENA AB, HAS TRACKED NORTHWESTWARD AT 12 KNOTS (KTS) OVER THE
PAST SIX HOURS. ANIMATED MULTISPECTRAL SATELLITE IMAGERY (AMSI)
REVEALS DISTINCT RAIN BANDS AND A SMALL CENTRAL DENSE OVERCAST OVER
THE LOW LEVEL CIRCULATION CENTER (LLCC). THERE IS HIGH CONFIDENCE IN
THE INITIAL POSITION BASED OFF THE AMSI, A MICROWAVE EYE IN A
PARTIAL 292331Z GMI 36 GHZ MICROWAVE IMAGE, AND ANIMATED RADAR
IMAGERY. THE INITIAL INTENSITY IS CONSISTENT WITH PGTW AND RJTD
DVORAK INTENSITY ESTIMATES OF T4.0 (65 KTS). LOW (5-10 KT) VERTICAL
WIND SHEAR (VWS), GOOD EQUATORWARD AND POLEWARD OUTFLOW, AND WARM
(27-28 CELSIUS) SEA SURFACE TEMPERATURE (SST) IS BEING PARTIALLY
OFFSET BY DRY AIR ENTRAINMENT. THEREFORE, THE ENVIRONMENT IS
SLIGHTLY FAVORABLE FOR INTENSIFICATION. TY 19W IS TRACKING AROUND
THE SOUTHWESTERN PERIPHERY OF A SUBTROPICAL RIDGE (STR).
3. FORECAST REASONING.
A. THERE IS NO CHANGE TO THE FORECAST PHILOSOPHY SINCE THE
PREVIOUS PROGNOSTIC REASONING MESSAGE.
B. BY TAU 36, TY 19W WILL CREST THE STR AXIS AND GRADUALLY BEGIN
TURNING ONTO A NORTHEASTWARD TRACK. THE ENVIRONMENT SHOULD SUPPORT
SLIGHT INTENSIFICATION THROUGH TAU 24, HOWEVER LAND INTERACTION WITH
TAIWAN SHOULD LIMIT THE AMOUNT OF INTENSIFICATION. PRIOR TO TAU 36,
LAND INTERACTION WITH COASTAL CHINA, COOL SST, AND HIGH VWS SHOULD
GRADUALLY WEAKEN THE SYSTEM. THERE IS HIGH UNCERTAINTY IN THE NEAR-
TERM INTENSITY FORECAST BECAUSE OF THE PROXIMITY OF THE TRACK TO
CHINA AND TAIWAN. DYNAMIC MODEL GUIDANCE IS IN STRONG OVERALL
AGREEMENT ON THE TIMING AND LOCATION OF RE-CURVATURE BUT ALONG-TRACK
SPEED DIFFERENCES INCREASE AFTER TAU 48, LEADING TO FAIR OVERALL
AGREEMENT IN THIS PORTION OF THE TRACK FORECAST.
C. AFTER TAU 72, TY 19W WILL BECOME EMBEDDED IN THE MID-LATITUDE
WESTERLIES AND START EXTRATROPICAL TRANSITION (ETT). PRIOR TO TAU
120, TY 19W WILL HAVE COMPLETELY TRANSITIONED INTO A COLD-CORE LOW
AS IT APPROACHES JAPAN. DUE TO A COMBINATION OF ALONG-TRACK AND
CROSS-TRACK UNCERTAINTY, SPREAD IN THE GUIDANCE AT TAU 120 IS 356
NM. FOR THAT REASON, THERE IS POOR CONFIDENCE IN THE EXTENDED TRACK
FORECAST.//
NNNN