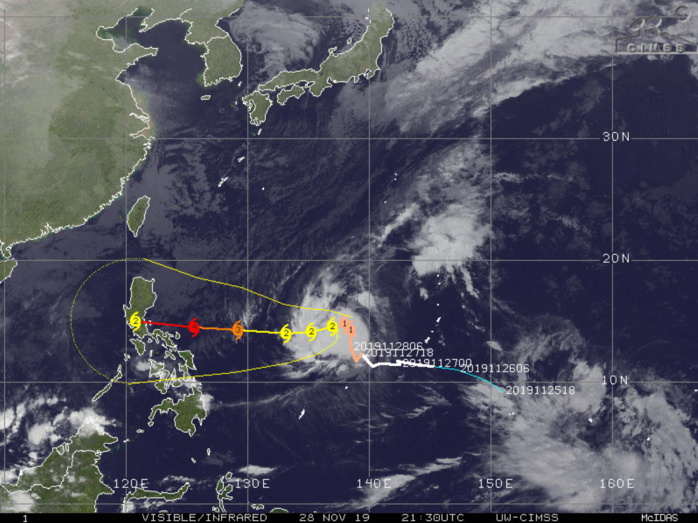 Météo974
WESTERN NORTH PACIFIC
TY KAMMURI (29W)
Location: 14.3°N 138.5°E
Maximum Winds: 75 kt ( 140km/h)
Gusts: 90 kt ( 170km/h)
Minimum Central Pressure: 976 mb
CATEGORY US: 1
WDPN31 PGTW 282100
MSGID/GENADMIN/JOINT TYPHOON WRNCEN PEARL HARBOR HI//
SUBJ/PROGNOSTIC REASONING FOR TYPHOON 29W (KAMMURI) WARNING NR 013//
RMKS/
1. FOR METEOROLOGISTS.
2. 6 HOUR SUMMARY AND ANALYSIS.
TYPHOON (TY) 29W (KAMMURI), LOCATED APPROXIMATELY 1017 NM EAST OF
MANILA, PHILIPPINES, HAS TRACKED NORTHWARD AT 07 KNOTS (KTS) OVER THE
PAST SIX HOURS. ANIMATED ENHANCED INFRARED SATELLITE IMAGERY REVEALS A
LARGE CENTRAL DENSE OVERCAST (CDO) THAT IS OBSCURING THE LOW LEVEL
CIRCULATION CENTER (LLCC). THERE IS FAIR CONFIDENCE IN THE INITIAL
POSITION, PLACED ON THE NORTHEASTERN SIDE OF THE CDO, THANKS TO A
MICROWAVE EYE FEATURE IN A 281610Z AMSR2 36 GHZ MICROWAVE IMAGE. PGTW
AND RJTD DVORAK ESTIMATES RANGE FROM T4.5-5.0 (77-90 KTS) WHILE A
281641Z CIMSS SATCON ESTIMATE IS 61 KTS, GIVING US LOW CONFIDENCE IN THE
INITIAL INTENSITY OF 75 KTS. MODERATE (10-20 KT) VERTICAL WIND SHEAR IS
PARTIALLY OFFSETTING RADIAL OUTFLOW AND WARM (28-29 CELSIUS) SEA SURFACE
TEMPERATURE TO MAKE THE ENVIRONMENT MARGINALLY SUPPORTIVE OF
INTENSIFICATION. TY 29W IS TRACKING NORTHWARD TOWARDS A COL IN A
SUBTROPICAL RIDGE (STR) TO THE NORTH.
3. FORECAST REASONING.
A. THERE IS NO SIGNIFICANT CHANGE TO THE FORECAST PHILOSOPHY FROM THE
LAST PROGNOSTIC REASONING MESSAGE.
B. TY 29W WILL BEGIN TRACKING WESTWARD TO WEST-SOUTHWESTWARD AS A STR
TO THE WEST BECOMES THE PRIMARY STEERING INFLUENCE. THROUGHOUT THIS
PERIOD, THE ENVIRONMENT WILL REMAIN MARGINAL AND TY 29W WILL INTENSIFY
STEADILY TO 105 KTS BY TAU 72. THE INTENSITY FORECAST FALLS ON THE HIGH
SIDE OF THE INTENSITY AIDS, NEAR THE CLIMATOLOGICAL RATE, WITH LOW
CONFIDENCE. WITH ABOUT 90 NM OF SPREAD AT TAU 72, MODEL TRACK GUIDANCE
IS IN STRONG AGREEMENT, LENDING HIGH CONFIDENCE TO THIS PORTION OF THE
TRACK FORECAST.
C. AFTER TAU 72, TY 29W WILL CONTINUE TO BE STEERED WESTWARD BY THE
STR TO THE NORTHWEST AND SHOULD MAKE LANDFALL EAST OF MANILA,
PHILIPPINES PRIOR TO TAU 120. THE INTENSITY DECREASE IS DUE TO
FRICTIONAL EFFECTS AFTER MAKING LANDFALL. WITH 120 NM OF SPREAD AT TAU
120, NUMERICAL MODELS REMAIN IN EXCELLENT AGREEMENT. AS A RESULT, THERE
IS HIGH CONFIDENCE IN THE EXTENDED FORECAST TRACK.//
NNNN
Click to animate: laptop and PC