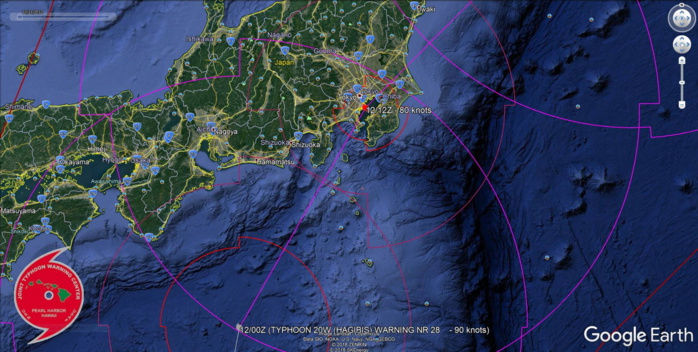 Météo974
WESTERN NORTH PACIFIC
Location: 32.1°N 137.4°E
Maximum Winds: 90 kt ( 170km/h)
Gusts: 110 kt ( 205km/h)
Minimum Central Pressure: 952 mb
CATEGORY 2 US
WDPN31 PGTW 120300
MSGID/GENADMIN/JOINT TYPHOON WRNCEN PEARL HARBOR HI//
SUBJ/PROGNOSTIC REASONING FOR TYPHOON 20W (HAGIBIS) WARNING NR 028//
RMKS/
1. FOR METEOROLOGISTS.
2. 6 HOUR SUMMARY AND ANALYSIS.
TYPHOON (TY) 20W (HAGIBIS), LOCATED APPROXIMATELY 224 NM
SOUTH-SOUTHWEST OF YOKOSUKA, JAPAN, HAS TRACKED NORTHWARD AT 13 KNOTS
(KTS) OVER THE PAST SIX HOURS. ANIMATED MULTISPECTRAL SATELLITE
IMAGERY (MSI) DEPICTS CONVECTIVE BANDING WRAPPING INTO A LOW LEVEL
CIRCULATION CENTER (LLCC). THE UPPER LEVEL CONVECTION HAS BECOME
SHEARED TO THE NORTHEAST AS TY 20W HAS INTERACTED WITH THE
MID-LATITUDE TROUGH. THE INITIAL POSITION IS PLACED WITH GOOD
CONFIDENCE BASED ON MULTI-AGENCY SATELLITE FIXES AND CENTRALIZED ON
THE EYE OBSERVED IN MSI. SET WITH GOOD CONFIDENCE, THE INITIAL
INTENSITY OF 90 KTS IS BASED ON DVORAK CURRENT INTENSITY ESTIMATES OF
T5.0/90 KTS FROM PGTW AND RJTD. THE SYSTEM IS STEADILY WEAKENING AS
IT TRANSITS TOWARD THE ISLAND OF HONSHU. DESPITE STRONG POLEWARD
OUTFLOW, THE SURROUNDING ENVIRONMENT IS BECOMING UNFAVORABLE AS
MODERATE TO HIGH (20-30 KTS) VERTICAL WIND SHEAR (VWS) FROM THE
MID-LATITUDE TROUGH DISRUPTS THE OUTFLOW CHANNEL. SEA SURFACE
TEMPERATURES (SST) ARE NEUTRALLY FAVORABLE AT 27-28 CELSIUS. TRACKING
NORTHEASTWARD, TY 20W IS ROUNDING THE AXIS OF THE SUBTROPICAL RIDGE
(STR) SERVING AS THE PRIMARY STEERING MECHANISM.
3. FORECAST REASONING.
A. THERE IS NO SIGNIFICANT CHANGE TO THE FORECAST PHILOSOPHY FROM
THE PREVIOUS PROGNOSTIC REASONING MESSAGE.
B. TY 20W WILL TRACK NORTHEASTWARD UNDER THE STEERING INFLUENCE OF
THE AFOREMENTIONED STR UNTIL IT MAKES LANDFALL AROUND TAU 12 IN THE
TOKYO AREA. THE SYSTEM WILL CONTINUALLY WEAKEN AS THE UPPER LEVEL
OUTFLOW CONTINUES TO BE SHEARED BY THE MID-LATITUDE TROUGH AND
FRICTIONAL TERRAIN EFFECTS ERODE THE SYSTEM. FOLLOWING LANDFALL, THE
SYSTEM WILL BECOME FULLY EMBEDDED WITHIN THE TROUGH AND ACCELERATE
NORTHEASTWARD AS IT UNDERGOES EXTRATROPICAL TRANSITION EAST OF
HONSHU. TY 20W IS EXPECTED TO BE A STRONG EXTRATROPICAL LOW PRESSURE
SYSTEM BY TAU 36. NUMERICAL MODELS ARE IN STRONG AGREEMENT THROUGHOUT
THE DURATION OF THE FORECAST PERIOD. THE JTWC FORECAST TRACK IS LAID
CLOSE TO MODEL CONSENSUS, LENDING HIGH CONFIDENCE TO THE FORECAST
TRACK.//
NNNN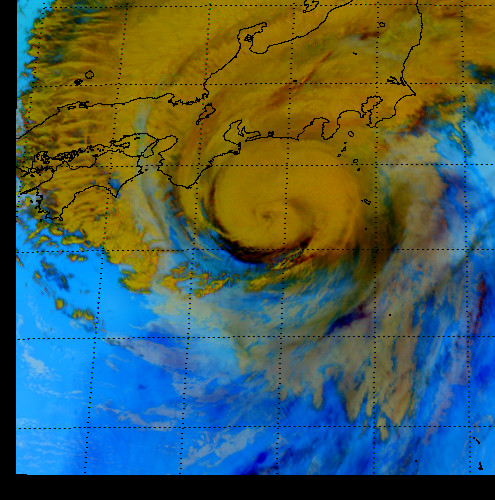 12/0230UTC