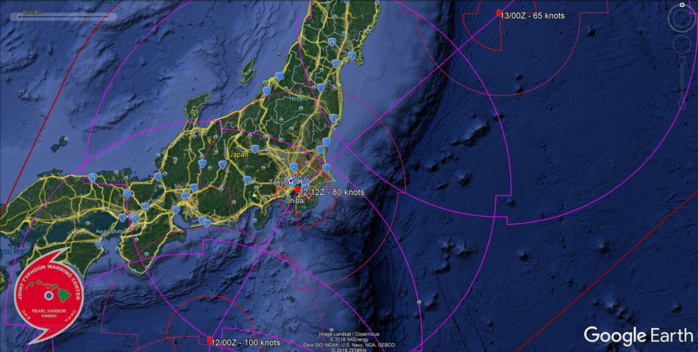 Météo974
WESTERN NORTH PACIFIC
Location: 27.4°N 138.0°E
Maximum Winds: 120 kt ( 220km/h)
Gusts: 145 kt ( 270km/h)
Minimum Central Pressure: 927 mb
CATEGORY 4 US
WDPN31 PGTW 110300
MSGID/GENADMIN/JOINT TYPHOON WRNCEN PEARL HARBOR HI//
SUBJ/PROGNOSTIC REASONING FOR TYPHOON 20W (HAGIBIS) WARNING NR
024//
RMKS/
1. FOR METEOROLOGISTS.
2. 6 HOUR SUMMARY AND ANALYSIS.
TYPHOON 20W (HAGIBIS), LOCATED APPROXIMATELY 482 NM SOUTH OF
YOKOSUKA, JAPAN, HAS TRACKED NORTH-NORTHWESTWARD AT 12 KNOTS OVER THE
PAST SIX HOURS. ANIMATED ENHANCED MULTI-SPECTRAL SATELLITE IMAGERY
(MSI) REVEALS A 35 NM WIDE EYE FEATURE PARTIALLY FILLED WITH LOW
LEVEL CLOUDS. THE CONVECTIVE STRUCTURE IN THE INNER CORE HAS
CONTINUED TO DETERIORATE OVER THE PAST 6 HOURS, SUPPORTING THE
PERSISTENT WEAKENING TREND. THE INITIAL POSITION IS PLACED WITH HIGH
CONFIDENCE BASED ON THE EYE VISIBLE IN THE MSI LOOP AND IS SUPPORTED
BY EXTRAPOLATION FROM THE 102026Z AND 102110Z SSMIS 37 GHZ MICROWAVE
IMAGES. THE INITIAL INTENSITY OF 120 KNOTS IS BASED ON DVORAK
INTENSITY ESTIMATES OF 6.0 BY PGTW AND RJTD AND SUPPORTED BY A RECENT
SATCON ESTIMATE OF 120 KNOTS. THE INTENSITY REFLECTS THE WEAKENING
TREND THAT IS EXPECTED TO PERSIST FOR THE DURATION OF THE STORM
EXISTENCE. ENVIRONMENTAL ANALYSIS INDICATED LOW TO MODERATE (10-20
KNOTS) VERTICAL WIND SHEAR (VWS) OFFSET BY GOOD EQUATORWARD OUTFLOW,
STRONG POLEWARD OUTFLOW ENHANCED BY A SHORTWAVE TROUGH APPROACHING
FROM THE NORTHWEST, AND FAVORABLE SSTS (28-29C). HOWEVER, THE CIMSS
TOTAL PRECIPITABLE WATER (TPW) LOOP CONTINUES TO SHOW DRY AIR
INFILTRATING DEEPER INTO THE STORM AND BEGINNING TO WRAP TOWARD THE
CENTER OF TY 20W THAT IS PARTIALLY OFFSETTING THE PREVIOUSLY STATED
FAVORABLE CONDITIONS. HAGIBIS IS CURRENTLY TRACKING
NORTH-NORTHWESTERLY ALONG THE WESTERN PERIPHERY OF A DEEP-LAYERED
SUBTROPICAL RIDGE (STR) TO THE EAST.
3. FORECAST REASONING.
A. THERE IS NO SIGNIFICANT CHANGE TO THE FORECAST PHILOSOPHY FROM
THE PREVIOUS PROGNOSTIC REASONING MESSAGE.
B. STEERED BY THE STR LOCATED TO THE EAST, TY HAGIBIS WILL
CONTINUE ON ITS CURRENT TRACK THROUGH TAU 12. IMMEDIATELY FOLLOWING
TAU 12 IT WILL TRACK AROUND THE STR AXIS AND BEGIN ACCELERATING
NORTHEASTWARD ON THE POLEWARD SIDE, MAKING A QUICK LANDFALL NEAR
YOKOSUKA AT ABOUT TAU 36. THE SYSTEM WILL CONTINUE TO GRADUALLY
WEAKEN DUE TO INCREASING VWS, SUBSIDENCE ASSOCIATED WITH THE
APPROACHING SHORTWAVE TROUGH, AND DRY AIR CONTINUING TO WRAP INTO THE
CENTER OF THE SYSTEM. TY 20W WILL BEGIN INTERACTING WITH THE UPPER
LEVEL JET BY TAU 36 AND BEGIN THE EXTRATROPICAL TRANSISTION (ETT). BY
TAU 60 TY 20W WILL BE FULLY EXTRATROPICAL AND WILL HAVE GAINED
FRONTAL CHARACTERISTICS. THE NUMERICAL MODELS ARE IN TIGHT AGREEMENT
WITH A SPREAD OF ONLY 30 NM AT TAU 36, LENDING HIGH CONFIDENCE IN THE
JTWC TRACK FORECAST THAT IS PLACED JUST SLIGHTLY FASTER THAN THE
MULTI-MODEL CONSENSUS.//
NNNN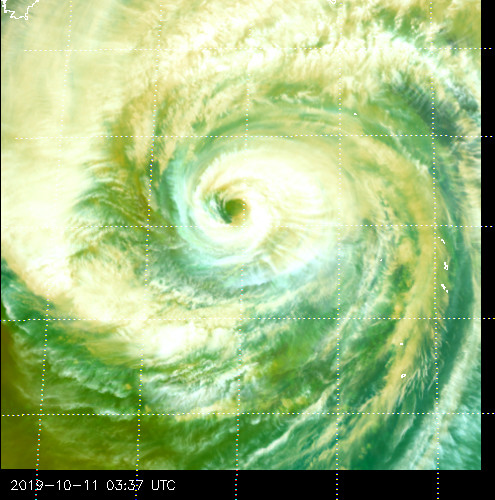 11/0330UTC