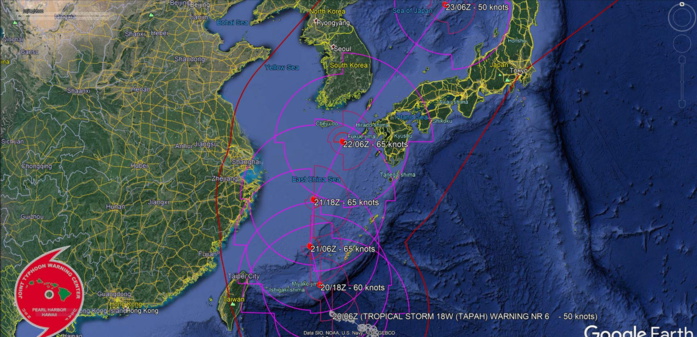 Météo974
WESTERN NORTH PACIFIC
As of 06:00 UTC Sep 20, 2019:
Location: 23.1°N 126.9°E
Maximum Winds: 50 kt ( 95km/h)
Gusts: 65 kt ( 120km/h)
Minimum Central Pressure: 978 mb
WDPN31 PGTW 200900
MSGID/GENADMIN/JOINT TYPHOON WRNCEN PEARL HARBOR HI//
SUBJ/PROGNOSTIC REASONING FOR TROPICAL STORM 18W (TAPAH) WARNING NR
006//
RMKS//
1. FOR METEOROLOGISTS.
2. 6 HOUR SUMMARY AND ANALYSIS.
TROPICAL STORM (TS) 18W (TAPAH), LOCATED APPROXIMATELY 210 NM
SOUTH-SOUTHWEST OF KADENA AB, OKINAWA, JAPAN HAS TRACKED
NORTHWESTWARD AT 03 KNOTS (KTS) OVER THE PAST SIX HOURS. ANIMATED
MULTISPECTRAL SATELLITE IMAGERY (MSI) SHOWS DEEP CONVECTIVE BANDING
WRAPPING INTO A BROAD, PARTIALLY EXPOSED LOW LEVEL CIRCULATION (LLC).
THE LLC APPEARS TO HAVE AN ELONGATED SHAPE AND IS ROTATING
END-OVER-END, CAUSING POSITIONAL UNCERTAINTY AS PORTIONS OF THIS
CIRCULATION ARE OCCLUDED BY THE DEEP CONVECTION EXTENDING TO THE
SOUTH AND SOUTHEAST. THE INITIAL POSITION IS PLACED WITH FAIR
CONFIDENCE BASED ON A 200517Z AMSR 89 GHZ MICROWAVE IMAGE DISPLAYING
CONVECTION WRAPPING INTO THE BROAD LLC. THE INITIAL INTENSITY OF 50
KNOTS IS BASED ON THE 200133Z METOP-C ASCAT PASS DEPICTING A BROAD,
CLOSED CIRCULATION WITH AN AREA OF 45-50 KT WINDS EXTENDING TO THE
EAST OF THE LLC. THIS INTENSITY IS ABOVE THE PGTW/RJTD/RTCP DVORAK
ESTIMATES OF T3.0 (45 KTS) DUE TO THE BROAD NATURE OF THE SYSTEM
CAUSING LOW DVORAK ESTIMATES. UPPER LEVEL ANALYSIS SHOWS THAT TS 18W
IS UNDER AN AREA OF FAVORABLE (10-20 KTS) VERTICAL WIND SHEAR (VWS)
WITH THE EASTERN AND SOUTHEASTERN EXTENSION OF THE SYSTEM
EXPERIENCING MODERATE TO HIGH (15-25 KTS) VWS. THE SYSTEM REMAINS IN
AN AREA OF WARM (28-29 CELSIUS) SEA SURFACE TEMPERATURES AND
MAINTAINS STRONG EQUATORWARD OUTFLOW TO OFFSET THE VWS. TS 18W IS
TRACKING NORTHWEST UNDER THE STEERING INFLUENCE OF A SUBTROPICAL
RIDGE (STR) TO THE NORTHEAST.
3. FORECAST REASONING.
A. THERE IS NO CHANGE TO THE FORECAST PHILOSOPHY SINCE THE
PREVIOUS PROGNOSTIC REASONING MESSAGE.
B. TS 18W IS FORECAST TO TURN TO A NORTH-NORTHWESTWARD TRACK AS IT
RECURVES AROUND THE STR TO THE NORTHEAST. DURING THIS PORTION OF THE
TRACK, THE SYSTEM WILL STEADILY INTENSIFY, REACHING ITS PEAK
INTENSITY OF 65 KNOTS BY TAU 24. TS 18W WILL ROUND THE RIDGE AXIS BY
TAU 36, MAINTAINING INTENSITY THROUGH TAU 48, JUST SOUTHEAST OF CHEJU
ISLAND, AS AN APPROACHING MID-LATITUDE TROUGH BRIEFLY ENHANCES
POLEWARD OUTFLOW. THERE IS SOME UNCERTAINTY IN THE TIMING OF THE
ARRIVAL OF THE MID-LATITUDE TROUGH, WITH NAVGEM AND GFS SHOWING
ARRIVAL AROUND TAU 48 WHILE ECMWF SHOWS INTERACTION AT TAU 60. AS THE
TROUGH ARRIVES, INCREASING VWS WILL BEGIN TO ERODE THE SYSTEM AS IT
TRACKS NORTHEAST THROUGH THE KOREAN STRAIT AND INTO THE SEA OF JAPAN
WHILE TS 18W BEGINS TO UNDERGO EXTRATROPICAL TRANSITION (ETT).
ADDITIONALLY, LAND INTERACTION WILL CONTINUE TO WEAKEN THE SYSTEM
THROUGH TAU 72. NUMERICAL GUIDANCE IS IN STRONG AGREEMENT THROUGH
THIS PORTION OF THE FORECAST, SUPPORTING HIGH CONFIDENCE IN THE JTWC
FORECAST TRACK.
C. AFTER TAU 72, TS 18W WILL ENCOUNTER AN INCREASINGLY UNFAVORABLE
ENVIRONMENT WITH COOLING SST AND HIGH VWS, CONTINUALLY WEAKENING THE
SYSTEM AS IT TRACKS NORTHEAST ACROSS THE SEA OF JAPAN AND BECOMES
EMBEDDED IN THE PASSING MID-LATITUDE TROUGH. TS 18W WILL TRANSITION
INTO AN EXTRATROPICAL CYCLONE PRIOR TO MAKING LANDFALL IN HOKKAIDO.
TS 18W WILL THEN EXIT BACK OVER THE PACIFIC OCEAN AT TAU 96. THERE IS
FAIR ALONG- AND CROSS-TRACK SPREAD IN THE MODELS BEGINNING AFTER TAU
72, HOWEVER, THE GENERAL GUIDANCE IS IN AGREEMENT, LENDING TO OVERALL
HIGH CONFIDENCE IN THE JTWC FORECAST TRACK.//
NNNN