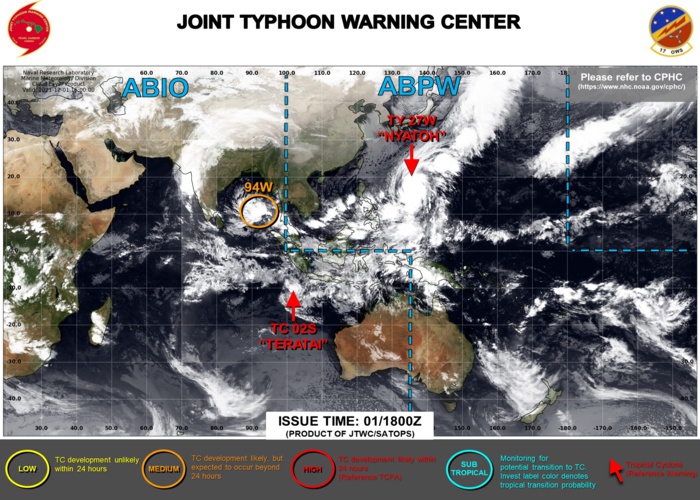 JTWC IS ISSUING 6HOURLY WARNINGS ON TY 27W(NYATOH). WARNING 2/FINAL WAS ISSUED ON TC 02S(TERATAI) AT 01/21UTC. 3HOURLY SATELLITE BULLETINS ARE ISSUED ON 27W,02S AND 94W.
WESTERN NORTH PACIFIC: TY 27W(NYATOH). WARNING 11 ISSUED AT 02/03UTC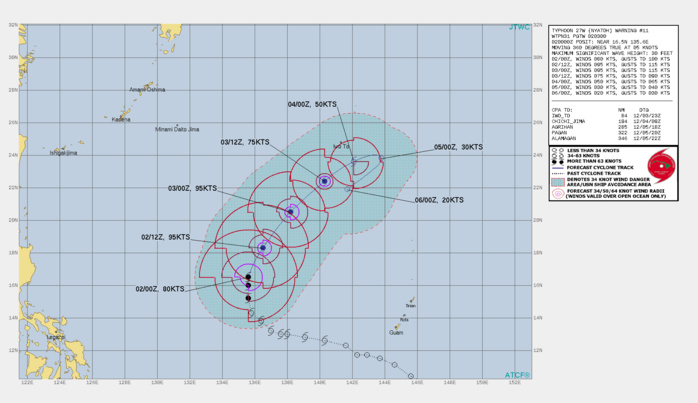 FORECAST REASONING. SIGNIFICANT FORECAST CHANGES: THERE ARE NO SIGNIFICANT CHANGES TO THE FORECAST FROM THE PREVIOUS WARNING. FORECAST DISCUSSION: WHILE TY 27W HAS YET TO DEVELOP A DISCRETE AND PERSISTENT EYE FEATURE, IT HAS STILL MANAGED TO STEADILY, ALBEIT, SLOWLY INTENSIFY UNDER HIGHLY FAVORABLE CONDITIONS OF LOW VWS, WARM SSTS AND EXTREMELY ROBUST POLEWARD OUTFLOW. THE ALIGNMENT OF FAVORABLE CONDITIONS IS NOT EXPECTED TO LAST FOR MUCH LONGER HOWEVER, AND THE LIMITED TIME LEFT BEFORE CONDITIONS DETERIORATE WILL LIMIT THE ULTIMATE PEAK INTENSITY. THE SYSTEM IS FORECAST TO INTENSIFY TO 95 KNOTS WITHIN THE NEXT 12 HOURS, THEN MAINTAIN THAT INTENSITY THROUGH 24H. BASED ON MODEL CROSS-SECTIONS AND ANIMATED WATER VAPOR IMAGERY, DRY AIR ASSOCIATED WITH ROBUST NORTHERLY FLOW ON THE WESTERN SIDE OF THE CIRCULATION IS ALREADY BEGINNING TO WRAP INTO THE CORE FROM THE SOUTH. THIS TREND IS EXPECTED TO CONTINUE AND STRENGTHEN FROM HERE ON OUT. AT THE SAME TIME, WHILE VWS IS CURRENTLY LOW DUE TO THE PRESENCE OF A STRONG SECONDARY CIRCULATION ALOFT, SHEAR IS FORECAST TO INCREASE SHARPLY AFTER 18H. COMBINED, THESE FACTORS WILL SERVE TO BOTH DECAPITATE AND DRY OUT THE SYSTEM, LEADING TO RAPID WEAKENING AFTER 24H. AS THE SYSTEM WEAKENS, IT WILL SLOW DOWN AS IT APPROACHES STRONG NORTHERLY FLOW ASSOCIATED WITH A STRONG HIGH PRESSURE SYSTEM OVER EASTERN CHINA. AFTER 48H, THE SYSTEM WILL BE UNDER EXTREMELY HIGH SHEAR (50+ KTS) AND DRY AIR WILL ENVELOPE THE ENTIRE COLUMN ABOVE 850MB, LEADING TO VERY RAPID DISSIPATION BY 96H. WHILE DISSIPATING, THE REMNANT VORTEX WILL TURN SHARPLY SOUTHWARD UNDER THE INFLUENCE OF THE LOW LEVEL FLOW FROM THE NORTH-NORTHEAST.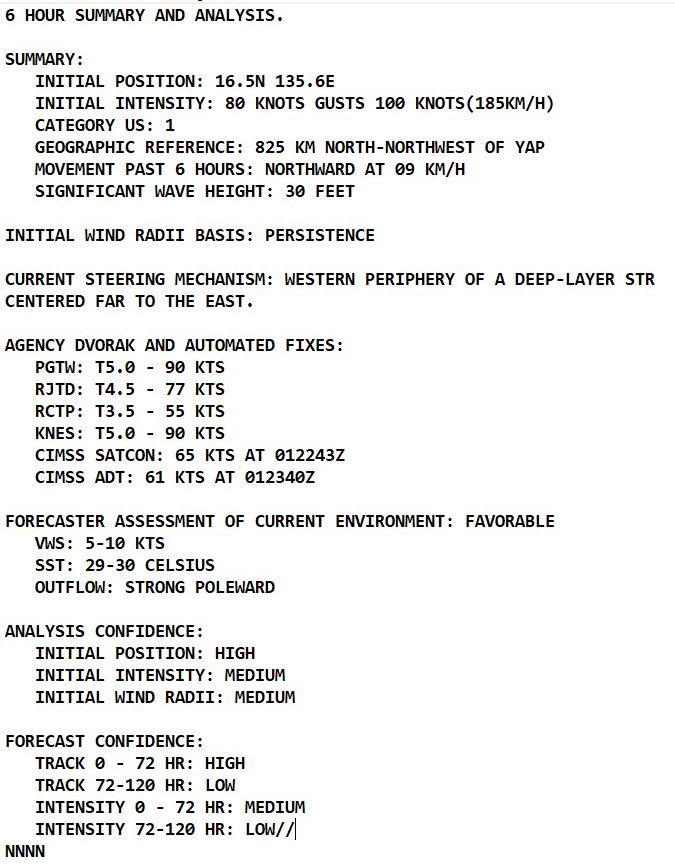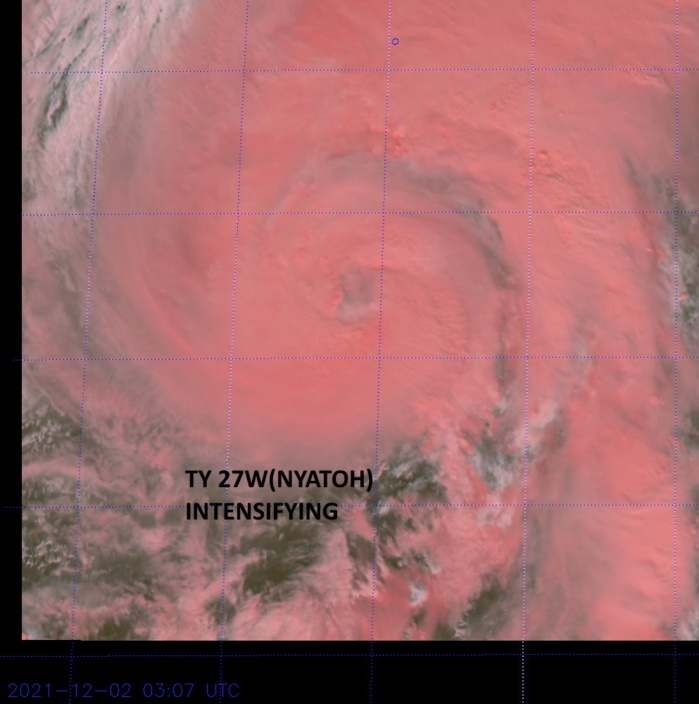 SATELLITE ANALYSIS, INITIAL POSITION AND INTENSITY DISCUSSION: ANIMATED MULTISPECTRAL SATELLITE IMAGERY (MSI) SHOWS THAT TY NYATOH CONTINUES TO VALIANTLY IN AN ATTEMPT TO ESTABLISH AN EYE. OVER THE PAST SIX HOURS, A TRANSIT, RAGGED EYE HAS BRIEFLY BEEN EVIDENT IN THE MSI AND INFRARED IMAGERY, BUT HAS FAILED TO PERSIST FOR MORE THAN AN HOUR OR SO. VORTICAL HOT TOWERS (VHT) WITH CLOUD TOPS COLDER THAN (-90C) CONTINUE TO FLARE UP ALONG THE WESTERN AND SOUTHERN PERIPHERY OF THE CENTER, PROVIDING STRONG INDICATIONS THAT THE APPEARANCE OF THE EYE MAY BE IMMINENT. THE INITIAL POSITION IS ASSESSED WITH HIGH CONFIDENCE BASED ON THE NASCENT EYE FEATURE SEEN IN THE 0000Z MSI AND IR IMAGERY, THOUGH SUBSEQUENT IMAGERY SUGGESTS THE EYE FEATURE HAS ONCE AGAIN DEGRADED. THE INITIAL INTENSITY OF 80 KNOTS IS ASSESSED WITH MEDIUM CONFIDENCE, CONSISTENT WITH THE AVERAGE OF AGENCY CURRENT INTENSITY ESTIMATES BETWEEN T3.5 AND T5.0. OF NOTE, THE ADT CONTINUES TO USE THE UNIFORM CDO SCENE TYPE, LEADING TO AN UNREALISTICALLY LOW ESTIMATE, WHICH IS ALSO DRAGGING DOWN THE SATCON ESTIMATE, BOTH OF WHICH HAVE BEEN DISREGARDED IN THIS ANALYSIS. THE SYSTEM IS TRACKING NORTHWARD ALONG THE WESTERN PERIPHERY OF A DEEP-LAYER SUBTROPICAL RIDGE (STR), THROUGH A FAVORABLE ENVIRONMENT.
RAGGED MICROWAVE EYE FEATURE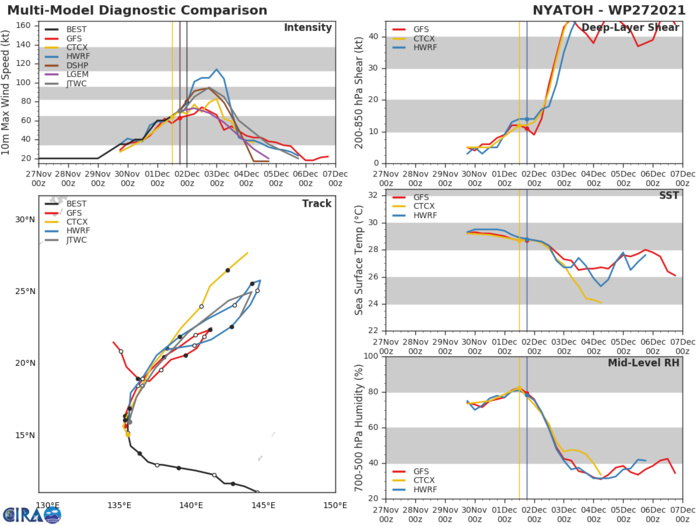 MODEL DISCUSSION: TRACK GUIDANCE IS IN GOOD AGREEMENT THROUGH 36H, WITH ALL CONSENSUS MEMBERS IN A TIGHT, 120KM ENVELOPE. HOWEVER BY 48H, MODELS BEGIN TO SHARPLY DIVERGE IN ALONG TRACK SPEED, WITH THE GFS AND NAVGEM IN PARTICULARLY SLOWING SIGNIFICANTLY AND BEGINNING THE SHARP TURN SOUTHWARD BY 48H, WHILE THE REMAINDER OF THE GUIDANCE CONTINUES THE NORTHEAST TRACK FOR ANOTHER 12 TO 24 HOURS. ALL REMAINING MEMBERS EXCEPT GALWEM AND EGRR TURN THE SYSTEM SOUTHWARD BETWEEN 60H AND 72H, WHILE THE GFS AND GFS ENSEMBLE RACE THE SYSTEM SOUTHWESTWARD AT HIGH SPEED THROUGH 72H AND LATER. THE JTWC FORECAST TRACK FOLLOWS THE CONSENSUS MEAN THROUGH 36H, THEN MOST CLOSELY TRACKS THE UKMET AND NAVGEM SOLUTIONS THROUGH THE REMAINDER OF THE FORECAST. OVERALL CONFIDENCE IS MEDIUM IN THE NEAR-TERM AND LOW AFTER 48H DUE TO THE DIVERGENCE IN THE GUIDANCE AND THE UNCERTAINTY OF THE TIMING AND STRENGTH OF THE TURN SOUTHWARD. INTENSITY GUIDANCE REMAINS MIXED, WITH THE HWRF CONTINUING IN ITS ATTEMPT TO RAPIDLY INTENSIFY THE SYSTEM TO A PEAK OF 105 KTS BY 24H. THE REMAINDER OF THE GUIDANCE PACKAGE PEAKS BETWEEN 80-90 KTS, FOLLOWED BY A RAPID AND DRAMATIC WEAKENING THROUGH THE REMAINDER OF THE FORECAST PERIOD. THE JTWC FORECAST LIES 10 KTS HIGHER THAN THE CONSENSUS MEAN THROUGH 24H AND ABOUT FIVE KTS HIGHER THEREAFTER WITH LOW CONFIDENCE.
NORTH INDIAN OCEAN/BAY OF BENGAL: INVEST 94W. TROPICAL CYCLONE FORMATION ALERT ISSUED AT 02/0230UTC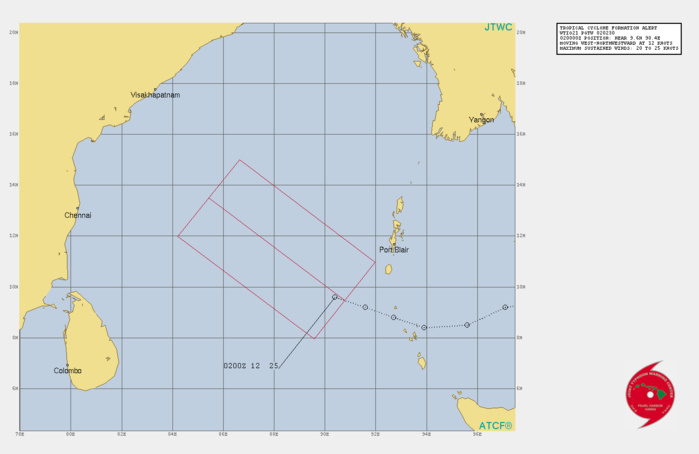 THE AREA OF CONVECTION (INVEST 94W) PREVIOUSLY LOCATED NEAR 9.2N 91.6E IS NOW LOCATED NEAR 9.6N 90.4E, APPROXIMATELY 1164KM EAST-SOUTHEAST OF CHENNAI, INDIA. A 2230Z SSMIS 91HZ IMAGE DEPICTS DISORGANIZED CONVECTIVE BANDS ON THE NORTHWESTERN BOUNDARY OF SOME LOW LEVEL TURNING WHILE MORE RECENT ANIMATED MULTISPECTRAL IMAGERY REVEALS A MASS OF CONVECTION CONSOLIDATING OVER AN OBSCURED LOW LEVEL CIRCULATION. 94W IS AT THE LIMINAL POINT OF ITS MATURATION, CURRENTLY EXISTING IN A BOUNDARY LAYER OF MODERATE (20 KTS) TO LOW (05-10 KTS) VERTICAL WIND SHEAR (VWS) AND AS IT CONTINUES NORTHWEST ACROSS THE BAY OF BENGAL 94W WILL ENTER A POCKET OF LOW VWS. ACCOUNTING FOR THAT, THE EXCELLENT POLEWARD OUTFLOW, AND WARM SEA SURFACE TEMPERATURES (29-30 C) 94W WILL ENTER AN ENVIRONMENT FAVORABLE FOR TC DEVELOPMENT. DYNAMIC MODELS SUGGEST 94W WILL REACH THE 35KT WARNING THRESHOLD, HOWEVER FURTHER DEVELOPMENT IS LACKADAISICAL AS THE SYSTEM TRACKS WEST-NORTHWEST TOWARD INDIA. MAXIMUM SUSTAINED SURFACE WINDS ARE ESTIMATED AT 20 TO 25 KNOTS. MINIMUM SEA LEVEL PRESSURE IS ESTIMATED TO BE NEAR 1004 MB. THE POTENTIAL FOR THE DEVELOPMENT OF A SIGNIFICANT TROPICAL CYCLONE WITHIN THE NEXT 24 HOURS IS HIGH.
9421112812 79N1094E 15
9421112818 81N1078E 15
9421112900 82N1062E 15
9421112906 82N1048E 15
9421112912 84N1031E 15
9421112918 87N1020E 20
9421113000 93N1010E 20
9421113006 94N 994E 15
9421113012 93N 977E 15
9421113018 92N 971E 20
9421120100 85N 956E 20
9421120106 84N 939E 20
9421120112 88N 927E 25
9421120118 92N 916E 25
9421120200 96N 904E 25
NNNN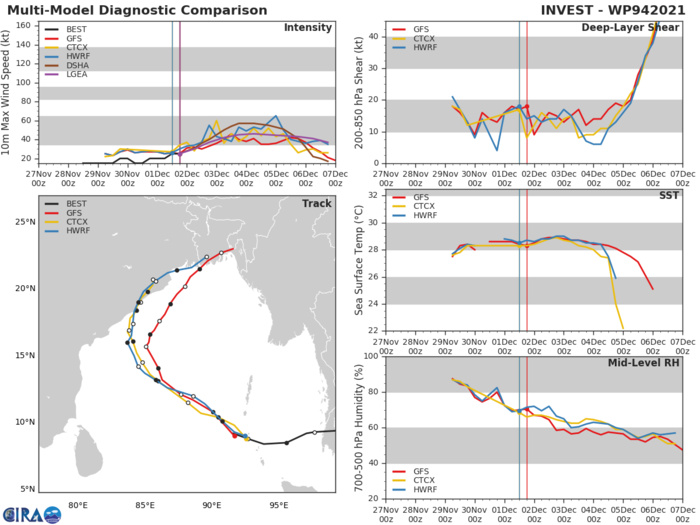 DYNAMIC MODELS SUGGEST 94W WILL REACH THE 35KT WARNING THRESHOLD, HOWEVER FURTHER DEVELOPMENT IS LACKADAISICAL AS THE SYSTEM TRACKS WEST-NORTHWEST TOWARD INDIA.
SOUTHERN HEMISPHERE/SOUTH INDIAN OCEAN: TC 02S(TERATAI). WARNING 2/FINAL ISSUED AT 01/21UTC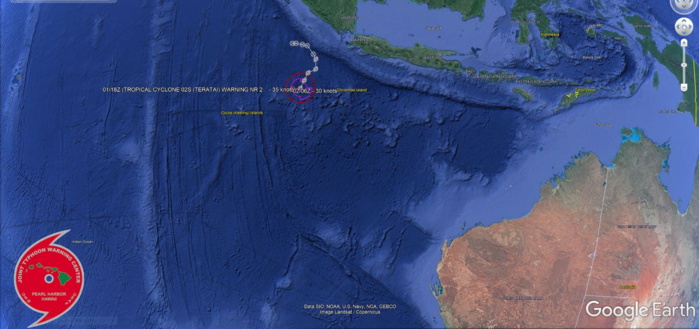 0221112912 67S1009E 15
0221112918 67S1012E 15
0221113000 68S1017E 20
0221113006 69S1021E 15
0221113012 76S1026E 25
0221113018 80S1028E 35
0221120100 88S1028E 35
0221120106 91S1022E 40
0221120112 97S1019E 40
0221120118 103S1016E 35
0221120200 098S1011E 30
NNNN