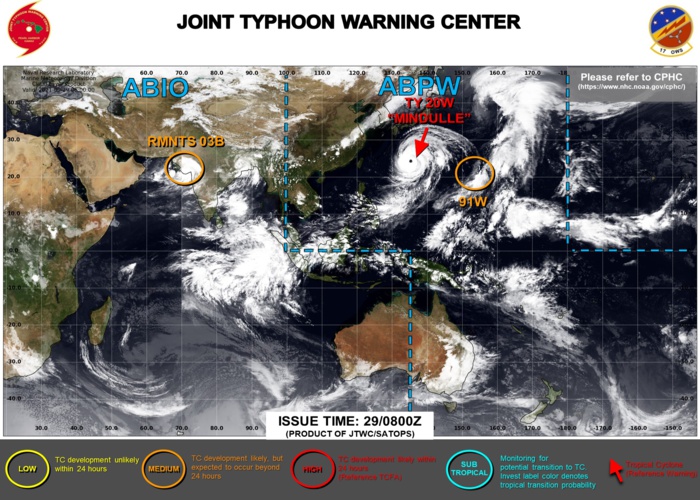 JTWC IS ISSUING 6HOURLY WARNINGS ON TY 20W. 3HOURLY SATELLITE BULLETINS ARE ISSUED ON 20W,91W AND THE REMNANTS OF TC 03B.
WESTERN NORTH PACIFIC. TY 20W(MINDULLE). WARNING 27 ISSUED AT 29/03UTC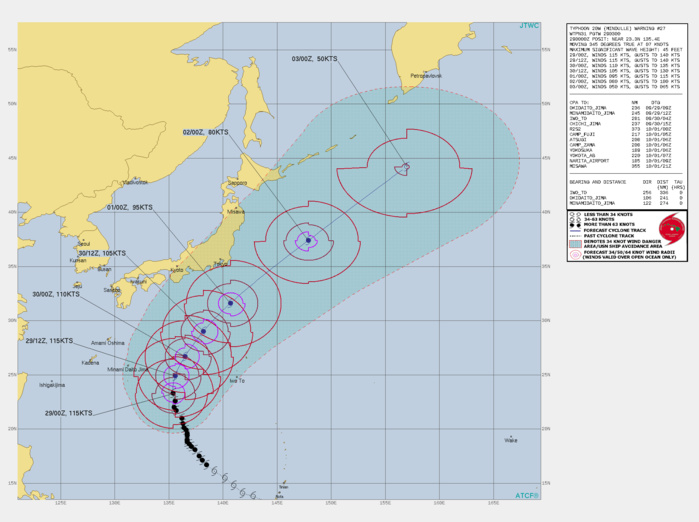 FORECAST REASONING. SIGNIFICANT FORECAST CHANGES: THERE ARE NO SIGNIFICANT CHANGES TO THE FORECAST FROM THE PREVIOUS WARNING. FORECAST DISCUSSION: TY 20W REMAINS IN A FAVORABLE ENVIRONMENT AS IT ROUNDS THE WESTERN PERIPHERY OF A SUBTROPICAL RIDGE (STR) CENTERED OVER THE MARIANAS. THE SYSTEM CONTINUES TO EXHIBIT HEALTHY RADIAL OUTFLOW, WITH AN ENHANCED POLEWARD OUTFLOW CHANNEL WRAPPING AROUND THE STR TO THE EAST. TY 20W REMAINS OVER A REGION OF WARM SSTS (29 TO 30C), BUT THE SLOW FORWARD MOTION IS INDUCING SOME UPWELLING, WHICH IS CONSTRAINING THE OTHERWISE FAVORABLE CONDITIONS FOR FURTHER INTENSIFICATION. THE INNER CORE STRUCTURE HAS ALSO IMPROVED SINCE SIX HOURS AGO, WHICH IS INDICATIVE OF A GRADUALLY INTENSIFYING SYSTEM. HOWEVER, SHIPS GUIDANCE AND OTHER MEMBERS OF ICNW HAVE FALLEN OFF DRAMATICALLY SINCE THE LAST CYCLE, SUGGESTING THAT TY 20W IS LIKELY AT OR NEAR ITS PEAK INTENSITY. BY AROUND 24H, THE SYSTEM IS FORECAST TO TURN TOWARD THE NORTHEAST, GRADUALLY WEAKEN, AND ACCELERATE AROUND THE STR AHEAD OF AN APPROACHING MID-LATITUDE TROUGH. UPON INTERACTING WITH THE BAROCLINIC ZONE, EXTRATROPICAL TRANSITION SHOULD BE WELL UNDERWAY BY 72H, WITH EXTRATROPICAL TRANSITION EXPECTED TO BE COMPLETE BY 96H.
2021092012 97N1567E 15
2021092018 102N1555E 15
2021092100 107N1541E 15
2021092106 109N1526E 20
2021092112 109N1517E 20
2021092118 109N1510E 20
2021092200 108N1503E 20
2021092206 110N1495E 20
2021092212 112N1486E 25
2021092218 118N1475E 30
2021092300 123N1460E 30
2021092306 130N1447E 35
2021092312 138N1428E 40
2021092318 141N1418E 45
2021092400 148N1410E 45
2021092406 155N1402E 45
2021092412 161N1392E 55
2021092418 167N1385E 65
2021092500 171N1381E 80
2021092506 175N1378E 90
2021092512 181N1374E 115
2021092518 184N1371E 115
2021092600 186N1369E 140
2021092606 188N1367E 145
2021092612 190N1367E 130
2021092618 194N1367E 110
2021092700 196N1367E 100
2021092706 199N1366E 95
2021092712 201N1364E 90
2021092718 205N1363E 90
2021092800 210N1362E 95
2021092806 217N1357E 95
2021092812 220N1355E 100
2021092818 226N1356E 105
2021092900 233N1354E 115
NNNN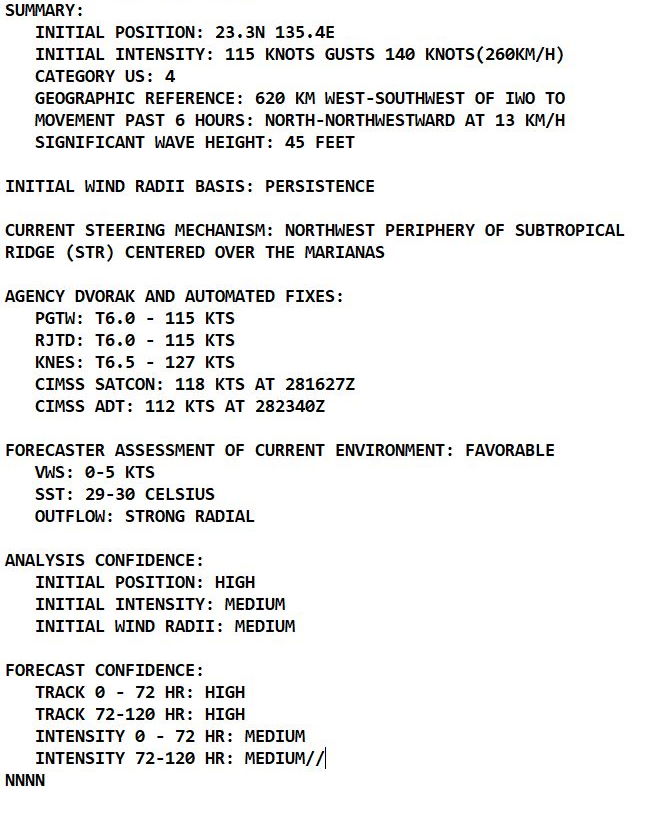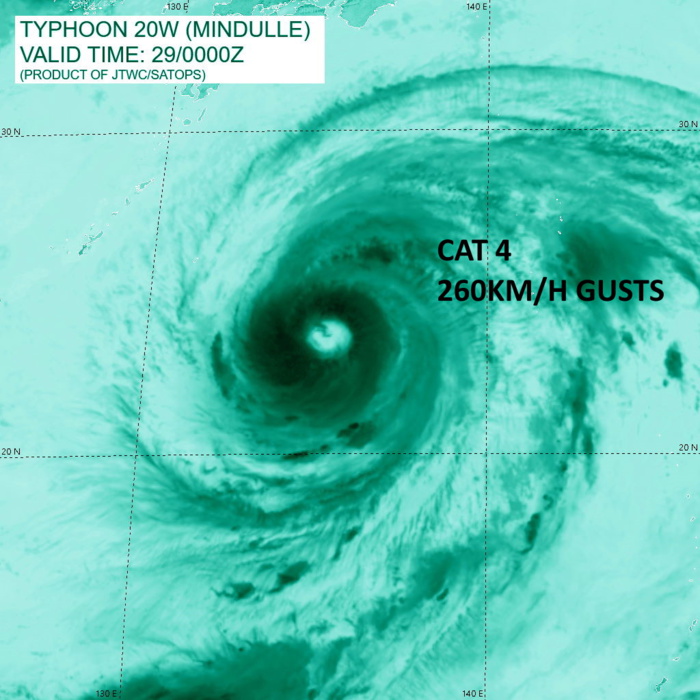 SATELLITE ANALYSIS, INITIAL POSITION AND INTENSITY DISCUSSION: ANIMATED ENHANCED INFRARED (EIR) SATELLITE IMAGERY DEPICTS DEEP CONVECTION WRAPPING AROUND A LARGE 75 KM DIAMETER EYE. THE INNER CORE OF TY 20W HAS GRADUALLY BECOME BETTER ORGANIZED AND LESS RAGGED OVER THE LAST 6 HOURS, WHICH IS REFLECTED IN THE HIGHER INTENSITY ASSESSMENT OF 115 KNOTS/CAT 4. THE INITIAL INTENSITY IS BASED ON DVORAK ESTIMATES OF T6.0 (PGTW AND RJTD) AND A SATCON OF 118 KNOTS. THE ENVIRONMENT HAS BEEN FAVORABLE FOR INTENSIFICATION, BUT THE EARLIER STRUGGLE OF TY 20W TO CONSOLIDATE ITS INNER CORE STRUCTURE RESULTED IN ONLY GRADUAL INTENSIFICATION. THE EYE REMAINS LARGE, SO CONSERVATION OF ANGULAR MOMENTUM IS RESTRAINING ITS CURRENT INTENSIFICATION RATE ALONGSIDE THE PRESENCE OF UPWELLING DUE TO THE SLOW FORWARD MOTION. GIVEN THE LARGE EYE, THE INITIAL POSITION IS ASSESSED WITH HIGH CONFIDENCE. THE INITIAL INTENSITY IS ASSESSED WITH MEDIUM CONFIDENCE.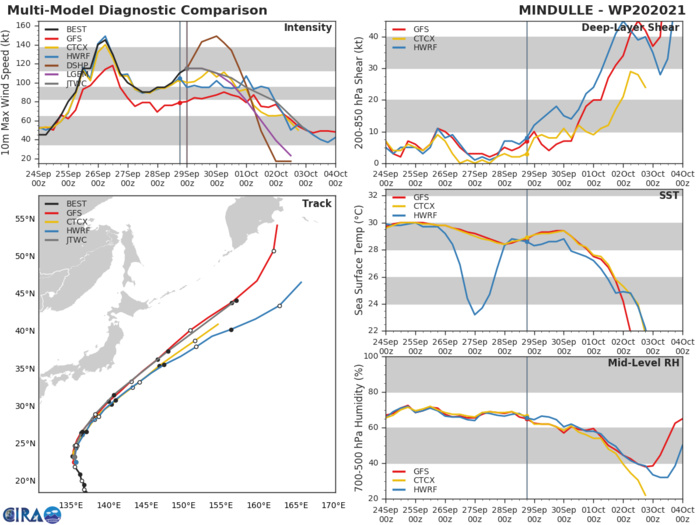 MODEL DISCUSSION: TRACK GUIDANCE REMAINS IN EXCELLENT AGREEMENT, AND BOTH CROSS- AND ALONG-TRACK ERRORS ARE LOW IN THE NEAR TERM. ALONG-TRACK ERRORS INCREASE AT EXTENDED FORECAST DUE TO ACCELERATION INTO THE MID-LATITUDE WESTERLIES, BUT OVERALL CONFIDENCE IN THE TRACK FORECAST IS HIGH THROUGHOUT THE FORECAST PERIOD. INTENSITY GUIDANCE IS ALSO IN GOOD AGREEMENT ON THE OVERALL SCENARIO OF MAINTAINING CURRENT INTENSITY FOR ABOUT 24 HOURS FOLLOWED BY STEADY WEAKENING. THE OVERALL INTENSITY FORECAST CONFIDENCE IS MEDIUM, GIVEN SOME NEAR-TERM UNCERTAINTY WITH RESPECT TO PEAK INTENSITY.
WESTERN NORTH PACIFIC: INVEST 91W. REMAINS MEDIUM AT 29/06UTC.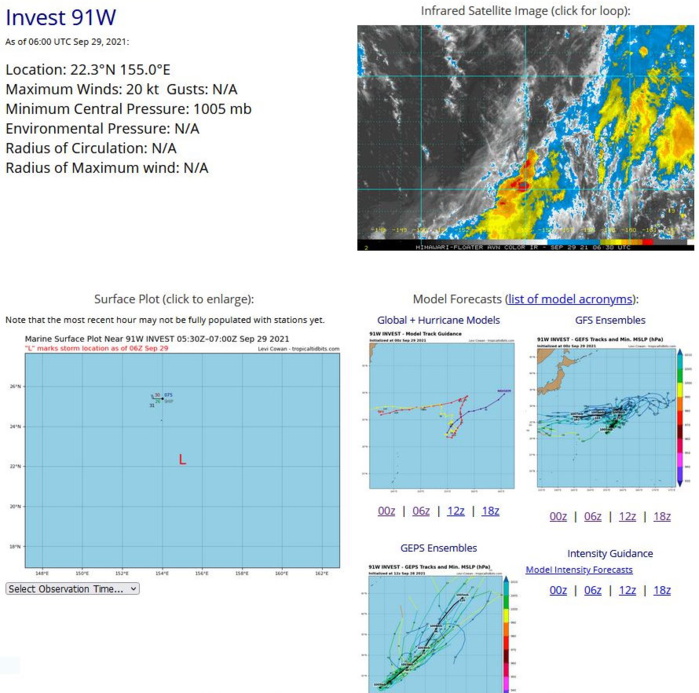 THE AREA OF CONVECTION (INVEST 91W) PREVIOUSLY LOCATED NEAR 21.3N 153.2E IS NOW LOCATED NEAR 21.8N 154.8E, APPROXIMATELY 1945 KM SOUTHEAST OF YOKOSUKA, JAPAN. MULTISPECTRAL SATELLITE IMAGERY (MSI) AND A 290314Z AMSR2 89GHZ MICROWAVE IMAGE DEPICT FLARING CONVECTION SHEARED TO THE SOUTHEAST OF AN EXPOSED LOW LEVEL CIRCULATION (LLC). ENVIRONMENTAL ANALYSIS INDICATES MARGINAL CONDITIONS FOR DEVELOPMENT, WITH GOOD EQUATORWARD OUTFLOW AND WARM (30C) SEA SURFACE TEMPERATURES (SST) BEING OFFSET BY MODERATE TO STRONG (20-25 KTS) NORTHWESTERLY VERTICAL WIND SHEAR (VWS) FLOWING OUTWARD FROM TY 20W. NUMERICAL MODELS SHOW LITTLE IN THE WAY OF DEVELOPMENT, REMAINING BELOW WARNING CRITERIA. MAXIMUM SUSTAINED SURFACE WINDS ARE ESTIMATED AT 18 TO 22 KNOTS. MINIMUM SEA LEVEL PRESSURE IS ESTIMATED TO BE NEAR 1005 MB. THE POTENTIAL FOR THE DEVELOPMENT OF A SIGNIFICANT TROPICAL CYCLONE WITHIN THE NEXT 24 HOURS REMAINS MEDIUM.
NORTH INDIAN OCEAN/BAY OF BENGAL: INVEST 98B. TROPICAL CYCLONE FORMATION ALERT CANCELLED AT 29/02UTC.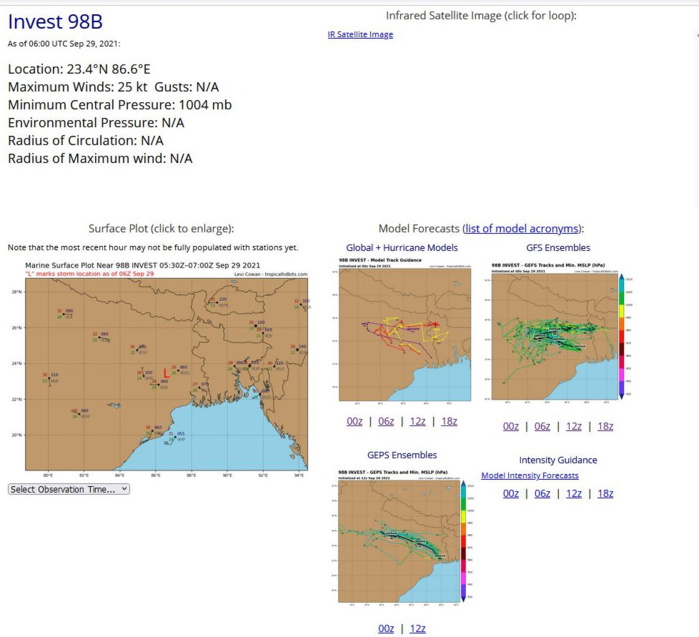 THE AREA OF CONVECTION (INVEST 98B) PREVIOUSLY LOCATED NEAR 21.8N 88.3E, IS NOW LOCATED NEAR 22.8N 87.5E, APPROXIMATELY 540 KM WEST-NORTHWEST OF KOLKATA. INVEST 98B HAS TRACKED OVER LAND AND IS FORECAST TO REMAIN OVER LAND AS IT CONTINUES ON ITS NORTHWESTWARD TRAJECTORY. MAXIMUM SUSTAINED SURFACE WINDS ARE ESTIMATED AT 20 TO 25 KNOTS. MINIMUM SEA LEVEL PRESSURE IS ESTIMATED TO BE NEAR 1004 MB. IN VIEW OF THE UNFAVORABLE FORECAST FOR THIS SYSTEM, IT IS NO LONGER CONSIDERED SUSPECT FOR THE DEVELOPMENT OF A SIGNIFICANT TROPICAL CYCLONE WITHIN THE NEXT 24 HOURS.
NORTH INDIAN OCEAN/ARABIAN SEA: REMNANTS OF TC 03B(GULAB). UP-GRADED TO LOW AT 29/0230UTC AND UP-GRADED TO MEDIUM AT 29/06UTC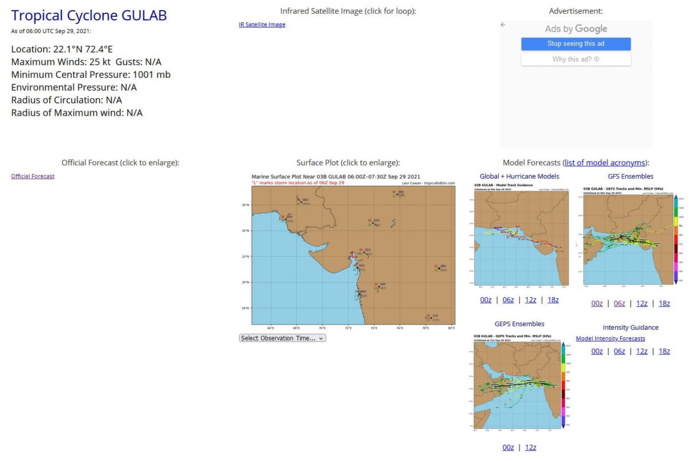 AN AREA OF CONVECTION (RMNTS 03B) HAS PERSISTED NEAR 20.3N 76.7E, APPROXIMATELY 130 KM EAST-NORTHEAST OF MUMBAI. THE REMNANTS OF 03B CONTINUE TO TRAVEL WEST ACROSS THE INDIAN SUBCONTINENT THROUGH AN AREA OF LOW (10-15 KTS) VERTICAL WIND SHEAR (VWS) AND ROBUST EQUATORWARD OUTFLOW. SURFACE OBSERVATIONS INDICATE WEAK LOW LEVEL TURNING ON THE NORTHEAST SIDE OF AN AREA DEEP CONVECTION. NUMERICAL MODELS ARE IN GOOD AGREEMENT THAT THE REMNANTS OF 03B WILL CONSOLIDATE AND INTENSIFY AS IT MOVES INTO THE NORTH ARABIAN SEA IN THE NEXT FEW DAYS. MAXIMUM SUSTAINED SURFACE WINDS ARE ESTIMATED AT 15 TO 20 KNOTS. MINIMUM SEA LEVEL PRESSURE IS ESTIMATED TO BE NEAR 1002 MB. THE POTENTIAL FOR THE DEVELOPMENT OF A SIGNIFICANT TROPICAL CYCLONE WITHIN THE NEXT 24 HOURS IS LOW.
ATLANTIC. HU 18L(SAM). WARNING 26 ISSUED AT 29/03UTC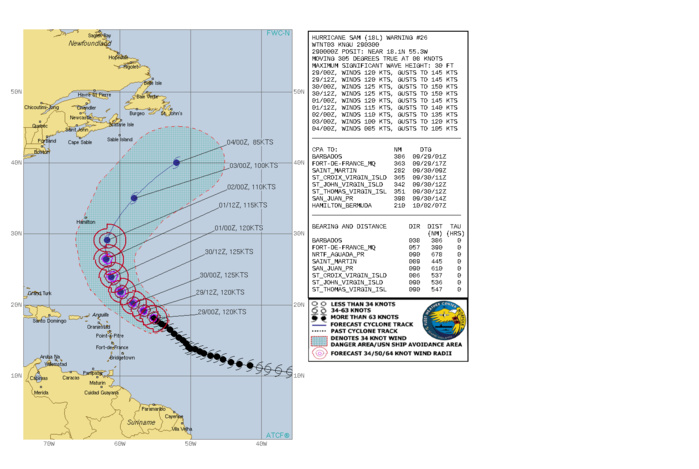 CURRENT INTENSITY IS 120KNOTS/CAT 4 AND IS FORECAST TO PEAK AT 125KNOTS BY 30/00UTC. NHC points out :"Sam has looked a little less impressive on satellite imagery this afternoon, particularly on the infrared channels where the eye is not very well-defined. However, observations from the Air Force Hurricane Hunters indicate that the hurricane is maintaining category 4 intensity since a blend of the latest flight-level and SFMR-observed surface winds support maintaining 115-kt winds. The aircraft also measured a quite low central pressure of 947 mb on two passes through the eye. Upper-level outflow remains well defined except over the southwest quadrant of the circulation, and several arc clouds are seen emanating from the system over the western semicircle, indicative of some dry mid-level air in the environment. However, this dry air is apparently not significantly affecting the inner core of Sam, given that it has remained a powerful hurricane."
1821091900 103N 115W 15
1821091906 100N 131W 15
1821091912 98N 147W 15
1821091918 96N 163W 15
1821092000 95N 178W 20
1821092006 95N 193W 25
1821092012 93N 210W 25
1821092018 94N 228W 25
1821092100 95N 247W 25
1821092106 95N 261W 25
1821092112 95N 273W 25
1821092118 95N 285W 25
1821092200 96N 296W 25
1821092206 96N 307W 25
1821092212 98N 319W 30
1821092218 100N 331W 30
1821092300 102N 344W 30
1821092306 105N 360W 35
1821092312 107N 376W 45
1821092318 109N 391W 50
1821092400 111N 403W 60
1821092406 114N 416W 65
1821092412 116N 431W 65
1821092418 119N 443W 70
1821092500 123N 454W 85
1821092506 127N 463W 95
1821092512 128N 472W 105
1821092518 131N 481W 115
1821092600 134N 487W 125
1821092606 137N 494W 125
1821092612 138N 500W 130
1821092618 140N 503W 135
1821092700 145N 506W 130
1821092706 150N 511W 115
1821092712 154N 517W 105
1821092718 159N 523W 105
1821092800 165N 529W 105
1821092806 170N 536W 115
1821092812 173N 540W 115
1821092818 177N 547W 115
1821092900 181N 553W 120
ATLANTIC: INVEST 90L. TROPICAL CYCLONE FORMATION ALERT ISSUED AT 28/20UTC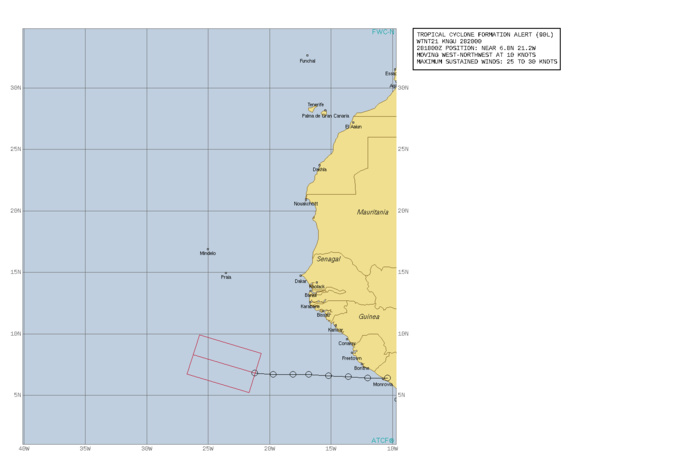 FORMATION OF A SIGNIFICANT TROPICAL CYCLONE IS POSSIBLE WITHIN 100 NM EITHER SIDE OF A LINE FROM 6.8N 21.2W TO 8.3N 26.2W WITHIN THE NEXT 24 HOURS. AVAILABLE DATA DOES NOT JUSTIFY ISSUANCE OF NUMBERED TROPICAL CYCLONE WARNINGS AT THIS TIME. WINDS IN THE AREA ARE ESTIMATED TO BE 25 TO 30 KNOTS. METSAT IMAGERY AT 281800Z INDICATES THAT A CIRCULATION CENTER IS LOCATED NEAR 6.8N 21.2W. THE SYSTEM IS MOVING WEST-NORTHWEST AT 8-12 KNOTS. 2. REMARKS: A BROAD AREA OF LOW PRESSURE LOCATED OVER THE FAR EASTERN ATLANTIC, SEVERAL HUNDRED MILES SOUTH-SOUTHEAST OF THE CABO VERDE ISLANDS, IS PRODUCING A LARGE AREA OF SHOWERS AND THUNDERSTORMS. THIS SHOWER ACTIVITY IS GRADUALLY BECOMING BETTER ORGANIZED AND A TROPICAL DEPRESSION IS EXPECTED TO FORM IN THE NEXT 24 HOURS.
9021092700 64N 104W 15
9021092706 64N 120W 15
9021092712 65N 136W 20
9021092718 66N 152W 20
9021092800 67N 168W 20
9021092806 67N 181W 25
9021092812 67N 197W 25
9021092818 68N 212W 25
9021092906 72N 228W 30