WESTERN NORTH PACIFIC: TY 20W(MINDULLE). WARNING 23 ISSUED AT 28/03UTC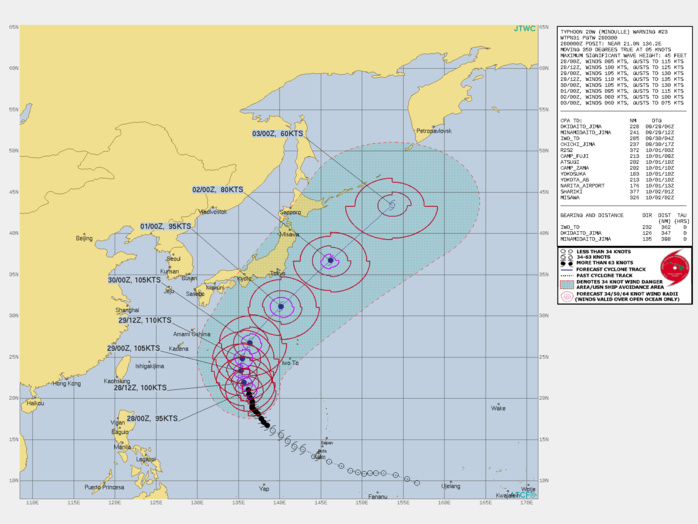 SIGNIFICANT FORECAST CHANGES: THERE ARE NO SIGNIFICANT CHANGES TO THE FORECAST FROM THE PREVIOUS WARNING. FORECAST DISCUSSION: TY 20W WILL CONTINUE A GENERALLY NORTHWARD TRACK AND THEN TURN NORTHEASTWARD AFTER 36H AS THE SUBTROPICAL RIDGE BUILDING TO THE SOUTHEAST TAKES A MORE NORTHEAST-SOUTHWEST ORIENTATION. AFTER 48H, THE SYSTEM WILL ACCELERATE ON ITS NORTHEASTWARD TRACK AS A MID-LATITUDE TROUGH APPROACHES FROM THE WEST. AS THE EYEWALL CONTINUES TO CONSTRICT FOLLOWING THE COMPLETION OF AN EYEWALL REPLACEMENT CYCLE AND THE SYSTEM CONTINUES TO TRACK, TY 20W WILL CONTINUE TO INCREASE IN INTENSITY REACHING A PEAK OF 110 KNOTS/CAT3 AROUND 36H. AFTERWARDS, INCREASING VERTICAL WIND SHEAR AND A DRY AIR MASS TO THE WEST WILL BEGIN TO WEAKEN THE SYSTEM, REACHING 80 KNOTS/CAT 1 BY 96H. AT THIS POINT, TY 20W WILL BEGIN TO INTERACT WITH THE BAROCLINIC ZONE AND BEGIN EXTRATROPICAL TRANSITION (ETT) WHICH IT WILL COMPLETE NO LATER THAN 120H.
2021092012 97N1567E 15
2021092018 102N1555E 15
2021092100 107N1541E 15
2021092106 109N1526E 20
2021092112 109N1517E 20
2021092118 109N1510E 20
2021092200 108N1503E 20
2021092206 110N1495E 20
2021092212 112N1486E 25
2021092218 118N1475E 30
2021092300 123N1460E 30
2021092306 130N1447E 35
2021092312 138N1428E 40
2021092318 141N1418E 45
2021092400 148N1410E 45
2021092406 155N1402E 45
2021092412 161N1392E 55
2021092418 167N1385E 65
2021092500 171N1381E 80
2021092506 175N1378E 90
2021092512 181N1374E 115
2021092518 184N1371E 115
2021092600 186N1369E 140
2021092606 188N1367E 145
2021092612 190N1367E 130
2021092618 194N1367E 110
2021092700 196N1367E 100
2021092706 199N1366E 95
2021092712 201N1364E 90
2021092718 205N1363E 90
2021092800 210N1362E 95
NNNN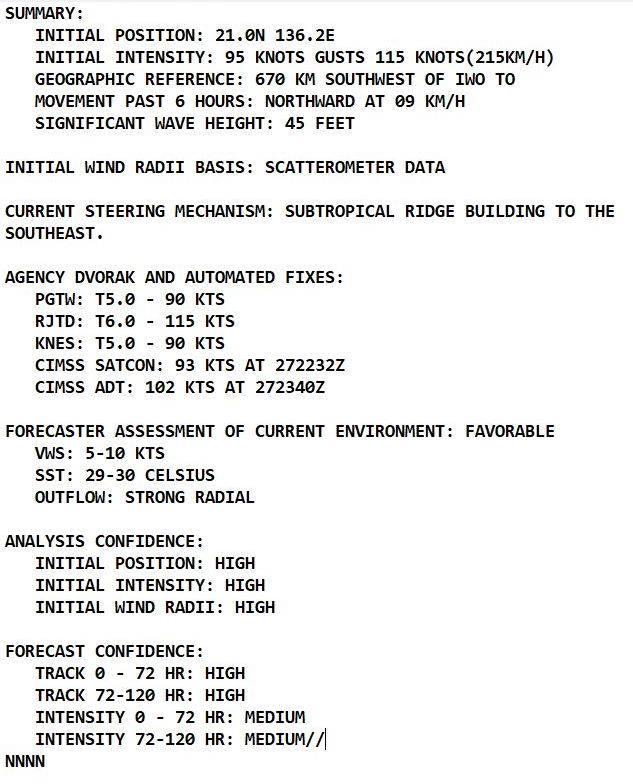 IF NEEDED CLICK ON THE IMAGERY TO GET IT ANIMATED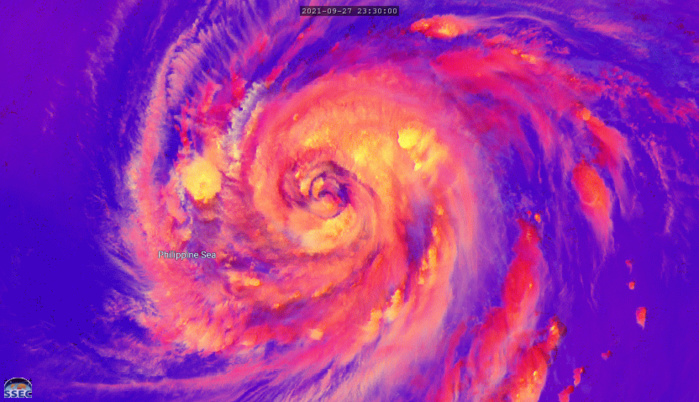 SATELLITE ANALYSIS, INITIAL POSITION AND INTENSITY DISCUSSION: ANIMATED MULTISPECTRAL SATELLITE IMAGERY (MSI) DEPICTS AN IMPROVING SYSTEM WITH ROBUST RADIAL OUTFLOW AND A RAGGED EYE FEATURE. TY 20W CONTINUES TO TRACK GENERALLY NORTHWARD WITHIN A FAVORABLE ENVIRONMENT OF WARM SEA SURFACE AND LOW VERTICAL WIND SHEAR. THE INITIAL INTENSITY IS ASSESSED AT 95 KNOTS/CAT 2, SLIGHTLY HIGHER THAN THE PGTW CURRENT INTENSITY ESTIMATE OF 5.0(90 KTS), AND IS HEDGED SLIGHTLY LOWER THAN ADT (102 KTS). THE INITIAL POSITION IS BASED ON THE RAGGED EYE FEATURE IN MSI AND IS SUPPORTED BY MULTIPLE AGENCY FIX POSITIONS.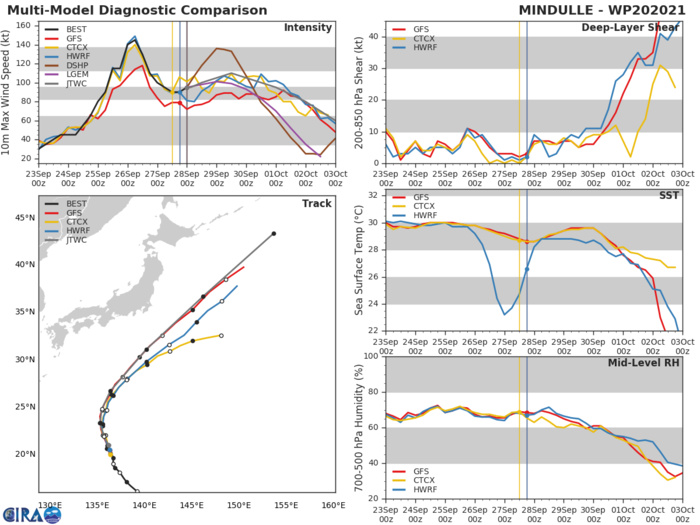 MODEL DISCUSSION: NUMERICAL MODEL TRACK GUIDANCE IS IN VERY GOOD AGREEMENT WITH ONLY A 93 KM CROSS-TRACK SPREAD AT 48H, AND ONLY INCREASING TO 260 KM AT 120H. HOWEVER, THE ALONG-TRACK SPREAD DOES BEGIN TO INCREASE AT 96H AS MODELS BEGIN TO DISAGREE ON TRACK SPEED AS THE SYSTEM UNDERGOES ETT. INTENSITY GUIDANCE IS ALSO IN GOOD AGREEMENT, WITH ALMOST ALL MODELS SHOWING AN INCREASE IN INTENSITY PEAKING BY 48H FOLLOWED BY A DECREASING TREND FOR THE REMAINDER OF THE FORECAST. THE FORECAST INTENSITY IS THEREFORE PLACED CLOSE TO CONSENSUS.
WESTERN NORTH PACIFIC. INVEST 91W UP-GRADED TO MEDIUM AT 28/01UTC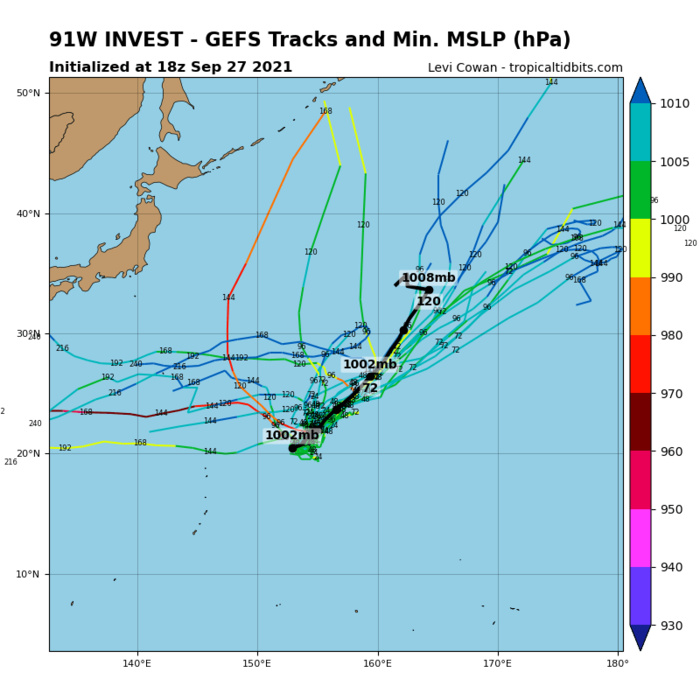 AN AREA OF CONVECTION (INVEST 91W) HAS PERSISTED NEAR 21.3N 153.2E, APPROXIMATELY 1250 KM NORTHEAST OF GUAM. MULTISPECTRAL SATELLITE IMAGERY (MSI) AND A 272107Z SSMIS 91GHZ MICROWAVE IMAGE DEPICT PERSISTENT CONVECTION OFFSET TO THE SOUTHEASTERN PERIPHERY OF AN EXPOSED LOW LEVEL CIRCULATION (LLC). A 272143Z METOP-A ASCAT PASS SHOWS HIGHER WINDS IN THE EASTERN HEMISPHERE OF THE ELONGATED LLC. ENVIRONMENTAL ANALYSIS INDICATES GENERALLY FAVORABLE CONDITIONS FOR DEVELOPMENT, WITH ROBUST EQUATORWARD OUTFLOW AND WARM (30C) SEA SURFACE TEMPERATURES (SST) BEING OFFSET BY MODERATE (15-20 KTS) VERTICAL WIND SHEAR (VWS). NUMERICAL MODELS AGREE THAT 91W WILL TRACK NORTH-NORTHEAST OVER THE NEXT SEVERAL DAYS, BUT DISAGREE REGARDING INTENSIFICATION, WITH GFS AND NAVGEM SHOWING INTENSIFICATION BUT ECMWF AND JMA REMAINING BELOW WARNING CRITERIA. MAXIMUM SUSTAINED SURFACE WINDS ARE ESTIMATED AT 10 TO 15 KNOTS. MINIMUM SEA LEVEL PRESSURE IS ESTIMATED TO BE NEAR 1010 MB. THE POTENTIAL FOR THE DEVELOPMENT OF A SIGNIFICANT TROPICAL CYCLONE WITHIN THE NEXT 24 HOURS IS MEDIUM.
ATLANTIC: HU 18L(SAM). WARNING 22 ISSUED AT 28/03UTC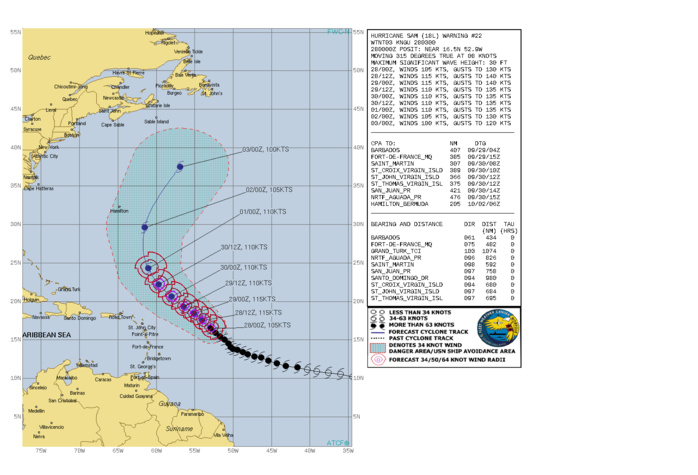 CURRENT INTENSITY IS 105KNOTS/CAT3 AND IS FORECAST TO REACH 115KNOTS WITHIN 24HOURS.
1821091900 103N 115W 15
1821091906 100N 131W 15
1821091912 98N 147W 15
1821091918 96N 163W 15
1821092000 95N 178W 20
1821092006 95N 193W 25
1821092012 93N 210W 25
1821092018 94N 228W 25
1821092100 95N 247W 25
1821092106 95N 261W 25
1821092112 95N 273W 25
1821092118 95N 285W 25
1821092200 96N 296W 25
1821092206 96N 307W 25
1821092212 98N 319W 30
1821092218 100N 331W 30
1821092300 102N 344W 30
1821092306 105N 360W 35
1821092312 107N 376W 45
1821092318 109N 391W 50
1821092400 111N 403W 60
1821092406 114N 416W 65
1821092412 116N 431W 65
1821092418 119N 443W 70
1821092500 123N 454W 85
1821092506 127N 463W 95
1821092512 128N 472W 105
1821092518 131N 481W 115
1821092600 134N 487W 125
1821092606 137N 494W 125
1821092612 138N 500W 130
1821092618 140N 503W 135
1821092700 145N 506W 130
1821092706 150N 511W 115
1821092712 154N 517W 105
1821092718 159N 523W 105
1821092800 165N 529W 105
REMNANTS OF TD 16L(PETER). TROPICAL CYCLONE FORMATION ALERT ISSUED AT 27/16UTC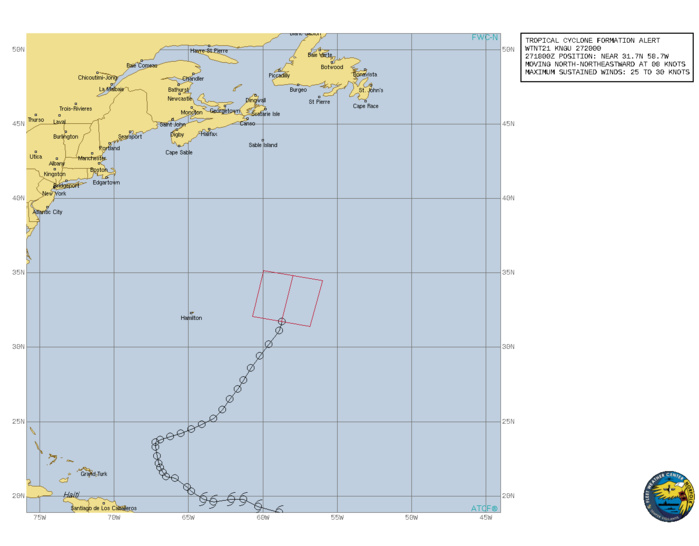 1621091312 100N 118W 20
1621091318 100N 138W 20
1621091400 101N 159W 20
1621091406 102N 181W 25
1621091412 102N 199W 25
1621091418 102N 215W 25
1621091500 103N 231W 25
1621091506 103N 246W 30
1621091512 104N 261W 30
1621091518 112N 287W 25
1621091600 115N 315W 25
1621091606 112N 339W 25
1621091612 112N 360W 25
1621091618 118N 380W 25
1621091700 119N 400W 25
1621091706 120N 418W 25
1621091712 125N 436W 25
1621091718 134N 454W 25
1621091800 141N 473W 25
1621091806 145N 491W 30
1621091812 150N 504W 30
1621091818 156N 516W 30
1621091900 164N 527W 30
1621091906 170N 541W 35
1621091912 174N 558W 40
1621091918 180N 570W 40
1621092000 184N 580W 45
1621092006 189N 589W 45
1621092012 193N 603W 45
1621092018 198N 613W 45
1621092100 198N 621W 45
1621092106 196N 633W 40
1621092112 198N 640W 35
1621092118 203N 648W 30
1621092200 206N 651W 30
1621092206 212N 659W 30
1621092212 213N 665W 30
1621092218 216N 667W 30
1621092300 219N 669W 30
1621092306 222N 670W 25
1621092312 227N 671W 25
1621092318 233N 672W 25
1621092400 236N 672W 25
1621092406 238N 669W 25
1621092412 240N 662W 25
1621092418 242N 655W 25
1621092500 245N 648W 25
1621092506 248N 641W 25
1621092512 252N 633W 25
1621092518 258N 627W 25
1621092600 265N 622W 25
1621092606 272N 617W 25
1621092612 278N 613W 25
1621092618 286N 608W 30
1621092700 294N 602W 25
1621092706 302N 596W 30
1621092712 311N 589W 30
1621092718 317N 587W 30