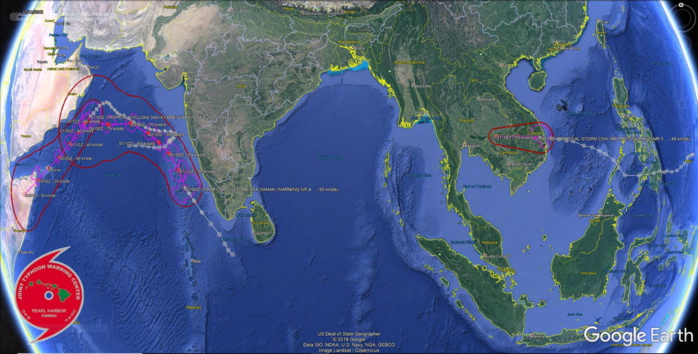 TS 23W, TC 04A & TC 05A
Météo974
WESTERN NORTH PACIFIC
Location: 13.5°N 107.0°E
Maximum Winds: 35 kt ( 65km/h)
Gusts: 45 kt ( 85km/h)
Minimum Central Pressure: 1002 mb
REMARKS:
302100Z POSITION NEAR 13.7N 108.2E.
30OCT19. TROPICAL STORM (TS) 23W (MATMO), LOCATED APPROXIMATELY 147 NM SOUTH OF DA NANG, VIETNAM, HAS TRACKED WESTWARD AT 13 KNOTS OVER
THE PAST SIX HOURS. ANIMATED ENHANCED INFRARED SATELLITE IMAGERY DEPICTS TIGHTLY-CURVED BANDING WRAPPING INTO A WELL-DEFINED LOW-LEVEL CIRCULATION CENTER (LLCC), WHICH SUPPORTS THE CURRENT POSITION WITH GOOD CONFIDENCE. A 301431Z METOP-B ASCAT PASS SHOWS A CLEAR LLCC WITH LIMITED 50 KNOT WIND BARBS TO THE NORTH OF THE CENTER. THE INTENSITY OF 45 KNOTS IS SLIGHTLY BELOW THE ESTIMATE PROVIDED BY THE AFOREMENTIONED ASCAT PASS AS THE SYSTEM HAS SINCE TRACKED OVER VIETNAM. UPPER-LEVEL ANALYSIS REVEALS FAIR POLEWARD OUTFLOW AND LOW (10-15 KNOTS) VERTICAL WIND SHEAR. TS 23W IS TRACKING ALONG THE SOUTHERN PERIPHERY OF A SUBTROPICAL RIDGE (STR) POSITIONED TO THE NORTH. TS MATMO WILL CONTINUE ON ITS CURRENT TRACK UNDER THE STR AS IT CONTINUES TO TRACK ACROSS MAINLAND SOUTHEAST ASIA. NUMERICAL MODEL GUIDANCE IS IN TIGHT AGREEMENT THROUGH THE FORECAST PERIOD, LENDING HIGH CONFIDENCE TO THE JTWC TRACK FORECAST. RAPID WEAKENING IS ANTICIPATED AS THE SYSTEM TRACKS OVER THE MOUNTAINOUS TERRAIN OF INDOCHINA. THIS IS THE FINAL WARNING ON THIS SYSTEM BY THE JOINT TYPHOON WRNCEN PEARL HARBOR HI. THE SYSTEM WILL BE CLOSELY MONITORED FOR SIGNS OF REGENERATION.//
NNNN
JMV FILE
2319102418 79N1371E 15
2319102500 80N1364E 15
2319102506 80N1355E 15
2319102512 80N1344E 15
2319102518 75N1331E 15
2319102600 73N1319E 15
2319102606 71N1306E 15
2319102612 72N1291E 15
2319102618 75N1279E 15
2319102700 75N1272E 15
2319102706 78N1262E 15
2319102712 78N1249E 15
2319102718 80N1220E 15
2319102800 84N1196E 15
2319102806 93N1188E 20
2319102812 102N1181E 20
2319102818 110N1170E 20
2319102900 114N1162E 20
2319102906 119N1152E 20
2319102912 122N1141E 20
2319102918 128N1128E 25
2319103000 130N1119E 35
2319103006 132N1110E 40
2319103012 134N1101E 50
2319103018 136N1088E 45
----------------------------------------------------------------------------------------------------------------------------
NORTH INDIAN
Location: 18.2°N 60.5°E
Maximum Winds: 40 kt ( 75km/h)
Gusts: 50 kt ( 95km/h)
Minimum Central Pressure: 999 mb
REMARKS:
310300Z POSITION NEAR 18.0N 60.3E.
31OCT19. TROPICAL CYCLONE 04A (KYARR), LOCATED APPROXIMATELY 373
NM EAST-NORTHEAST OF SALALAH, OMAN, HAS TRACKED SOUTHWESTWARD AT
05 KNOTS OVER THE PAST SIX HOURS. ANIMATED ENHANCED INFRARED
SATELLITE IMAGERY DEPICTS A RAPIDLY WEAKENING SYSTEM WITH FLARING
CONVECTION OVER THE SOUTHEAST QUADRANT OF A PARTIALLY-EXPOSED LOW-
LEVEL CIRCULATION. A 302322Z SSMIS 85GHZ IMAGE REVEALS A DEFINED BUT
BROAD CENTER WITH THE BULK OF THE DEEP CONVECTION CONFINED IN THE
SOUTHEAST QUADRANT. THE SSMIS MICROWAVE IMAGE SUPPORTS THE CURRENT
POSITION WITH FAIR CONFIDENCE. THE CURRENT INTENSITY IS ASSESSED AT
40 KNOTS BASED ON A DVORAK CURRENT INTENSITY ESTIMATE OF 3.0 (45
KNOTS) FROM PGTW AND A 302138Z SATCON ESTIMATE OF 41 KNOTS. UPPER-
LEVEL ANALYSIS INDICATES A MARGINALLY-FAVORABLE ENVIRONMENT WITH
FAIR OUTFLOW AND LOW (05-10 KNOTS) VERTICAL WIND SHEAR. TC 04A IS
TRACKING SLOWLY UNDER THE STEERING INFLUENCE OF THE SUBTROPICAL
RIDGE (STR) POSITIONED OVER THE SAUDI PENINSULA AND IS FORECASTED TO
ACCELERATE SOUTHWESTWARD THROUGH THE FORECAST PERIOD. THE NUMERICAL
MODELS ARE IN OVERALL FAIR AGREEMENT, WITH A CROSS-TRACK SPREAD OF
200 NM AT TAU 72, THEREFORE, THERE IS MODERATE CONFIDENCE IN THE
JTWC TRACK FORECAST. THE SYSTEM SHOULD WEAKEN GRADUALLY AS
ENVIRONMENTAL CONDITIONS DEGRADE DUE TO INCREASING UPPER-LEVEL
CONVERGENCE AND DRY AIR ENTRAINMENT. TC 04A SHOULD DISSIPATE BY TAU
96 AS IT TRACKS OVER SOMALIA. MAXIMUM SIGNIFICANT WAVE HEIGHT AT
310000Z IS 18 FEET. NEXT WARNINGS AT 310900Z, 311500Z, 312100Z AND
010300Z. REFER TO TROPICAL CYCLONE 05A (MAHA) WARNINGS (WTIO32 PGTW)
FOR SIX-HOURLY UPDATES.//
NNNN
Location: 11.1°N 73.1°E
Maximum Winds: 50 kt ( 95km/h)
Gusts: 65 kt ( 120km/h)
Minimum Central Pressure: 995 mb
REMARKS:
310300Z POSITION NEAR 11.5N 72.9E.
31OCT19. TROPICAL CYCLONE 05A (MAHA), LOCATED APPROXIMATELY 996
NM EAST-SOUTHEAST OF MASIRAH ISLAND, HAS TRACKED NORTHWESTWARD AT
06 KNOTS OVER THE PAST SIX HOURS. ANIMATED ENHANCED INFRARED
SATELLITE IMAGERY SHOWS THAT CONVECTION HAS CONTINUED TO DEEPEN OVER
THE PAST SEVERAL HOURS. THE INITIAL POSITION IS PLACED WITH POOR
CONFIDENCE BASED ON A PARTIAL 302240Z SSMIS 91GHZ MICROWAVE IMAGE
WHICH SHOWS BANDING IN THE EASTERN SEMICIRCLE OF TC 05A. THE INITIAL
INTENSITY OF 50 KNOTS IS IN AGREEMENT WITH A MULTI-AGENCY DVORAK
INTENSITY ESTIMATE OF T3.0-4.0 (45-65 KNOTS) AND A 302050Z SATCON
ESTIMATE OF 46 KNOTS. ENVIRONMENTAL ANALYSIS SHOWS THAT TC 05A IS IN
LOW TO MODERATE VERTICAL WIND SHEAR (15 TO 20 KNOTS) WITH A FAIR
EQUATORWARD OUTFLOW CHANNEL. SEA SURFACE TEMPERATURES ARE FAVORABLE
(29-30 DEGREES CELSIUS) FOR DEVELOPMENT. TC 05A IS TRACKING
NORTHWESTWARD WHILE UNDER THE INFLUENCE OF A SUBTROPICAL RIDGE (STR)
LOCATED TO THE NORTHEAST. THE STR WILL BE THE PRIMARY STEERING
FEATURE IN THE SHORT TERM. DYNAMIC MODEL GUIDANCE IS IN FAIRLY GOOD
AGREEMENT THROUGH TAU 72 WITH A SPREAD OF 150NM. HOWEVER, THE SPREAD
INCREASES TO 355NM BY TAU 120 AS A BIFURCATION DEVELOPS WITH A
RECURVE SCENARIO INTO A BREAK IN THE STR (NAVGEM AND UKMET) AND A
WESTERLY TRACK FOR THE REMAINING MEMBERS. THE JTWC FORECAST IS
PLACED NEAR THE MULTI-MODEL CONSENSUS BUT FAVORS THE ECMWF SOLUTION
BASED ON THE ZONAL FLOW IN THE REGION AND THE LACK OF A DYNAMIC
SHORTWAVE TROUGH. FAVORABLE ENVIRONMENTAL CONDITIONS WILL LEAD TO
STEADY INTENSIFICATION. HOWEVER, TC 05A WILL BEGIN TO ENCOUNTER
COOLER SEA SURFACE TEMPERATURES BY TAU 60 AS A RESULT OF UPWELLING
CAUSED BY THE PASSAGE OF TC 04A SEVERAL DAYS AGO. BASED ON THE WIDE
SPREAD IN MODEL GUIDANCE IN BOTH TRACK AND INTENSITY, THERE IS LOW
CONFIDENCE IN THE JTWC FORECAST. MAXIMUM SIGNIFICANT WAVE HEIGHT AT
310000Z IS 15 FEET. NEXT WARNINGS AT 310900Z, 311500Z, 312100Z AND
010300Z. REFER TO TROPICAL CYCLONE 04A (KYARR) WARNINGS (WTIO31
PGTW) FOR SIX-HOURLY UPDATES.//
NNNN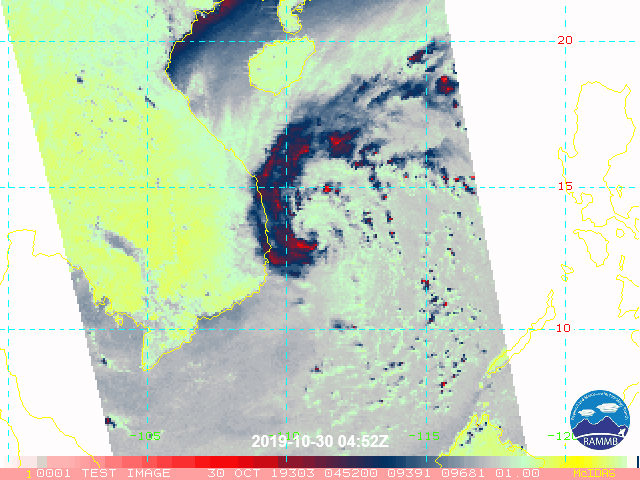 23W: CLICK TO ANIMATE