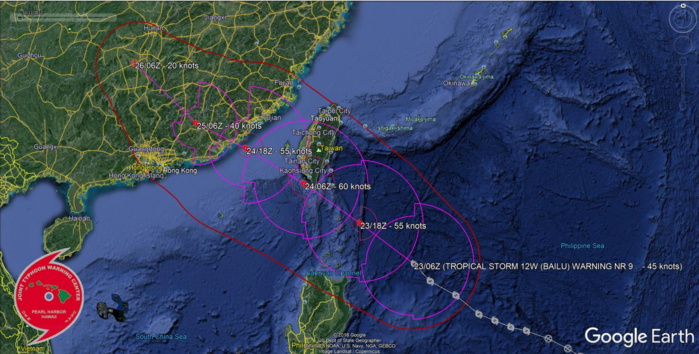 Météo974
WESTERN NORTH PACIFIC
TS BAILU(12W)
Location: 19.0°N 125.1°E
Maximum Winds: 45 kt (85km/h)
Gusts: 55 kt ( 100km/h)
Minimum Central Pressure: 992 mb
INTENSIFYING
WDPN31 PGTW 230900
MSGID/GENADMIN/JOINT TYPHOON WRNCEN PEARL HARBOR HI//
SUBJ/PROGNOSTIC REASONING FOR TROPICAL STORM 12W (BAILU) WARNING NR
09//
RMKS/
1. FOR METEOROLOGISTS.
2. 6 HOUR SUMMARY AND ANALYSIS.
TROPICAL STORM (TS) 12W (BAILU), LOCATED APPROXIMATELY 417 NM
SOUTH-SOUTHEAST OF TAIPEI, TAIWAN, HAS TRACKED NORTHWESTWARD AT 10
KNOTS OVER THE PAST SIX HOURS. ANIMATED MULTISPECTRAL SATELLITE
IMAGERY SHOWS THE LOW LEVEL CIRCULATION CENTER (LLCC) WITH DEEPENING
CONVECTION WRAPPING COUNTERCLOCKWISE FROM THE SOUTHWEST TO
NORTHEAST. THE INITIAL POSITION IS PLACED WITH GOOD CONFIDENCE AND
IS BASED ON A 230452Z AMSR2 36GHZ MICROWAVE IMAGE, WHICH SHOWS GOOD
LOW LEVEL BANDING. THE INITIAL INTENSITY OF 45 KNOTS IS BASED ON
DVORAK CURRENT INTENSITY (CI) ESTIMATES OF T3.0 FROM PGTW AND RJTD.
THE INTENSITY OF 45 KNOTS IS ALSO SUPPORTED BY A 230428Z SATCON
ESTIMATE OF 47 KNOTS. ENVIRONMENTAL ANALYSIS SHOWS THAT TS 12W IS
EXPERIENCING FAVORABLE (5 TO 10 KNOT) VERTICAL WIND SHEAR. THE
EQUATORWARD OUTFLOW CHANNEL REMAINS STRONG WHILE THERE IS LIMITED
POLEWARD OUTFLOW. SEA SURFACE TEMPERATURES REMAIN FAVORABLE FOR
ADDITIONAL DEVELOPMENT, BETWEEN 29 AND 30 DEGREES CELSIUS. TS 12W IS
TRACKING NORTHWESTWARD WHILE UNDER THE INFLUENCE OF A SUBTROPICAL
RIDGE (STR) LOCATED TO THE NORTHEAST.
3. FORECAST REASONING.
A. THERE IS NO CHANGE TO THE OVERALL FORECAST PHILOSOPHY SINCE
THE PREVIOUS PROGNOSTIC REASONING MESSAGE.
B. THE AFOREMENTIONED STR WILL CONTINUE TO BE THE PRIMARY
STEERING FEATURE FOR THE REMAINDER OF THE FORECAST, ALLOWING TS 12W
TO TRACK NORTHWESTWARD. FAVORABLE SEA SURFACE TEMPERATURES AND LOW
VERTICAL WIND SHEAR WILL ALLOW TS 12W TO REACH 60 KNOTS BY TAU 24 AS
IT PASSES JUST TO THE SOUTH OF TAIWAN. TS 12W WILL CONTINUE TO TRACK
NORTHWESTWARD AROUND THE STR AND MAKE LANDFALL IN CHINA SHORTLY
AFTER TAU 36. AFTER MAKING LANDFALL IN CHINA, TS 12W WILL QUICKLY
DECREASE IN INTENSITY AND DISSIPATE BY TAU 72 WITH AN INTENSITY OF
20 KNOTS. DYNAMIC MODEL GUIDANCE IS IN GOOD AGREEMENT WITH A MODEL
SPREAD OF ONLY 130 NM BY TAU 72. THEREFORE, THERE IS HIGH CONFIDENCE
IN THE JTWC FORECAST TRACK.//
NNNN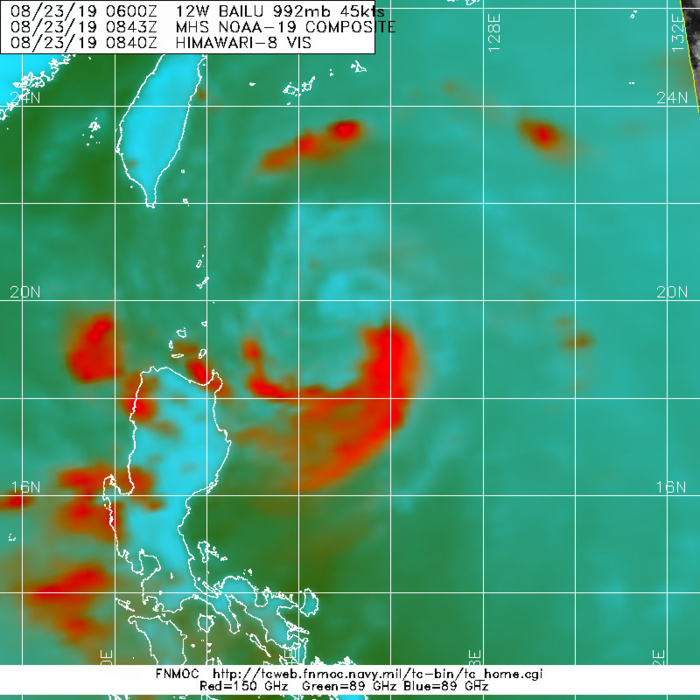 23/0843UTC. CONVECTION STILL FINDING IT HARD TO BUILD ON THE NORTHERN QUADRANT. WELL DEFINED CYCLONIC CIRCULATION THOUGH