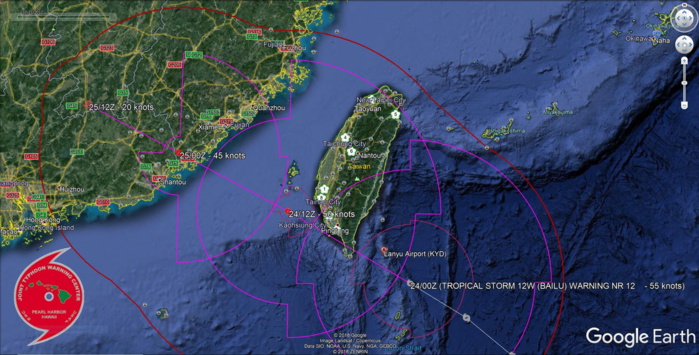 Météo974
WESTERN NORTH PACIFIC
TS BAILU(12W)
Location: 21.4°N 122.1°E
Maximum Winds: 55 kt (100km/h)
Gusts: 70 kt ( 130km/h)
Minimum Central Pressure: 987 mb
WDPN31 PGTW 240300
MSGID/GENADMIN/JOINT TYPHOON WRNCEN PEARL HARBOR HI//
SUBJ/PROGNOSTIC REASONING FOR TROPICAL STORM 12W (BAILU) WARNING NR
12//
RMKS/
1. FOR METEOROLOGISTS.
2. 6 HOUR SUMMARY AND ANALYSIS.
TROPICAL STORM (TS) 12W (BAILU), LOCATED APPROXIMATELY 125 NM
SOUTHEAST OF KAOHSIUNG, TAIWAN, HAS TRACKED WEST-NORTHWESTWARD AT 13
KNOTS OVER THE PAST SIX HOURS. ANIMATED MULTISPECTRAL SATELLITE
IMAGERY SHOWS THE SYSTEM HAS MAINTAINED OVERALL CONVECTIVE SIGNATURE
PUNCTUATED BY THE APPEARANCE OF A LARGE, RAGGED EYE-LIKE FEATURE.
EXPANSIVE RAIN BANDS ARE TRAILING FROM THE SOUTHWEST AND ARE
VENTILATED BY STRONG EQUATORWARD OUTFLOW. THERE IS ALSO WEAK
POLEWARD OUTFLOW INTO A TUTT CELL EAST OF OKINAWA. THE INITIAL
POSITION IS PLACED WITH FAIR CONFIDENCE BASED ON THE EYE-LIKE
FEATURE THAT COINCIDED WITH A CIRCULATION FEATURE ON A COMPOSITE
RADAR REFLECTIVITY LOOP FROM TAIWAN. THE INITIAL INTENSITY OF 55KTS
IS BASED ON THE DVORAK ESTIMATES OF T3.5/55KTS FROM PGTW AND RCTP
AND CONSISTENT WITH NEARBY SURFACE OBSERVATIONS. ENVIRONMENTAL
ANALYSIS SHOWS THAT TS 12W IS UNDER FAVORABLE (5-10KT) VERTICAL WIND
SHEAR. THIS, IN ADDITION TO THE AFOREMENTIONED OUTFLOW CHANNELS ARE
PARTLY OFFSET BY SUBSIDENCE ALONG THE NORTHWEST QUADRANT OF THE
CYCLONE THAT IS CAUSED BY AN INVERTED TROUGH. SEA SURFACE
TEMPERATURES AT 29-30C REMAIN FAVORABLE. TS 12W IS TRACKING ALONG
THE SOUTHWEST PERIPHERY OF THE SUBTROPICAL RIDGE (STR) TO THE
NORTHEAST.
3. FORECAST REASONING.
A. THERE IS NO CHANGE TO THE OVERALL FORECAST PHILOSOPHY SINCE
THE PREVIOUS PROGNOSTIC REASONING MESSAGE.
B. THE STR WILL CONTINUE TO STEER TS BAILU WEST-NORTHWESTWARD FOR
THE REMAINDER OF THE FORECAST, CLIP THE SOUTHERN TIP OF TAIWAN AROUND
TAU 06, CROSS THE TAIWAN STRAIT, THEN MAKE LANDFALL OVER EASTERN
CHINA NEAR XIAMEN JUST BEFORE TAU 24. INTERACTION WITH THE RUGGED
TERRAIN OF TAIWAN AND CHINA WILL GRADUALLY AND THEN RAPIDLY ERODE THE
SYSTEM, LEADING TO DISSIPATION BY TAU 36 AS THE CYCLONE DRAGS DEEPER
INTO THE CHINESE INTERIOR. DYNAMIC MODEL GUIDANCE REMAINS IN TIGHT
GOOD AGREEMENT, LENDING HIGH CONFIDENCE IN THE JTWC FORECAST TRACK.//
NNNN