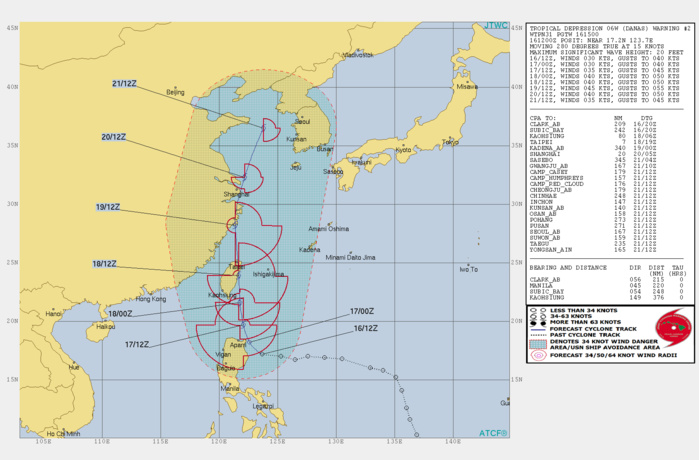 WARNING 2/JTWC. PEAK INTENSITY OF 45KNOTS IS FORECAST IN 72H
https://www.meteo974.re/M974World_r7.html
https://www.facebook.com/groups/1817419381676514/
WESTERN NORTH PACIFIC
Location: 17.2°N 123.7°E
Maximum Winds: 30 kt ( 55km/h)
Gusts: 40 kt (75km/h)
Minimum Central Pressure: 995 mb
WDPN31 PGTW 161500
MSGID/GENADMIN/JOINT TYPHOON WRNCEN PEARL HARBOR HI//
SUBJ/PROGNOSTIC REASONING FOR TROPICAL DEPRESSION 06W (DANAS)
WARNING NR 02//
RMKS//
1. FOR METEOROLOGISTS.
2. 6 HOUR SUMMARY AND ANALYSIS.
TROPICAL DEPRESSION 06W (DANAS), LOCATED APPROXIMATELY 603 NM SOUTH-
SOUTHWEST OF KADENA AB, HAS TRACKED WESTWARD AT 15 KNOTS (KTS) OVER
THE PAST SIX HOURS. ANIMATED ENHANCED INFRARED SATELLITE IMAGERY
REVEALS AN OBSCURED LOW LEVEL CIRCULATION CENTER (LLCC) WITH DEEP
CONVECTION CONCENTRATED IN THE NORTHWEST QUADRANT AND SHALLOW RAIN
BANDS TO THE SOUTH AND EAST OF THE LLCC. THERE IS FAIR CONFIDENCE IN
THE INITIAL POSITION BASED ON A 161245Z METOP-B ASCAT IMAGE THAT
DEPICTS A LARGE REGION OF 30 KT WINDS TO THE SOUTH OF A RELATIVELY
BROAD LLCC. THE INITIAL INTENSITY OF 30 KTS IS CONSISTENT WITH THE
METOP-B IMAGE AND KNES AND RJTD DVORAK INTENSITY ESTIMATES OF T2.0
(30 KTS). ENVIRONMENTAL CONDITIONS ARE MARGINAL WITH GOOD
EQUATORWARD AND WESTWARD OUTFLOW AND WARM SEA SURFACE TEMPERATURE
(30-31 CELSIUS) BEING PARTIALLY OFFSET BY MODERATE TO HIGH VERTICAL
WIND SHEAR (15-25 KTS). TD 06W IS TRACKING ALONG THE SOUTHWESTERN
PERIPHERY OF A SUBTROPICAL RIDGE (STR).
3. FORECAST REASONING.
A. THERE IS NO CHANGE TO THE FORECAST PHILOSOPHY SINCE THE
PREVIOUS PROGNOSTIC REASONING MESSAGE.
B. IN THE NEXT 12 HOURS OR SO, TD 06W SHOULD BEGIN TURNING
NORTHWARD AS IT ROUNDS THE STR AXIS. AFTER MAKING THE NORTHWARD
TURN, THE TRACK SHOULD REMAIN NORTHWARD THROUGH TAU 72. BY TAU 72,
TD 06W IS EXPECTED TO MAKE LANDFALL SOUTH OF SHANGHAI, CHINA. FOR
THIS PORTION OF THE FORECAST, THE JTWC TRACK FORECAST IS HEDGED WEST
OF THE CONSENSUS TRACK TO OFFSET TWO EASTERN OUTLIERS, GFS (THROUGH
TAU 72) AND GALWEM (THROUGH TAU 36, COMES BACK INTO AGREEMENT WITH
THE OTHER MEMBERS AFTER TAU 36). CONTINUED MARGINAL ENVIRONMENTAL
CONDITIONS WILL ALLOW FOR SLOW INTENSIFICATION TO 45 KTS JUST PRIOR
TO LANDFALL AT TAU 72. OVERALL, THERE IS LOW CONFIDENCE IN THIS
PORTION OF THE JTWC TRACK FORECAST BASED ON HIGH UNCERTAINTY IN THE
FORECAST GUIDANCE.
C. AFTER TAU 72, TD 06W IS EXPECTED TO CONTINUE TRACKING
NORTHWARD ALONG THE WESTERN PERIPHERY OF THE STR, BRIEFLY FOLLOW THE
EAST COAST OF CHINA, AND MOVE INTO THE YELLOW SEA JUST PRIOR TO TAU
96, WITH WEAK TROPICAL STORM FORCE WINDS. THE INTENSITY IS EXPECTED
TO WEAKEN SLIGHTLY DUE TO LAND INTERACTION AS TD 06W BRUSHES THE
CHINESE COAST AND MOVES INTO THE YELLOW SEA AS A WEAK TROPICAL STORM.
THE MODEL TRACK GUIDANCE HAS SIGNIFICANT SPREAD, LARGELY DUE TO THE
EASTERN OUTLIER (GFS). THE JTWC TRACK FORECAST IS PLACED WEST OF THE
CONSENSUS TRACK TO OFFSET THE INFLUENCE OF GFS. CONFIDENCE IN THE
TRACK REMAINS LOW FOR THIS PORTION OF THE FORECAST DUE TO HIGH
UNCERTAINTY IN THE EXTENDED MODEL GUIDANCE.//
NNNN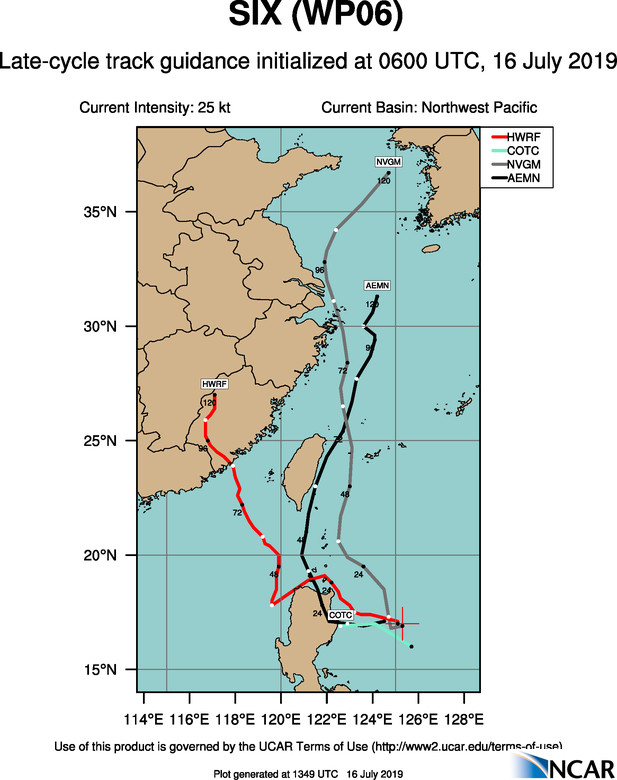 TRACK GUIDANCE