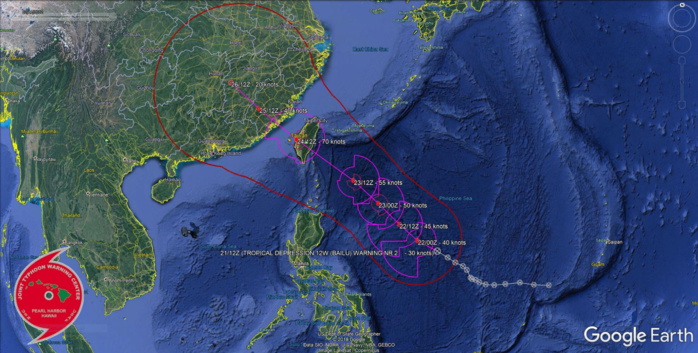 Météo974
WESTERN NORTH PACIFIC
TD BAILU(12W)
Location: 15.7°N 131.1°E
Maximum Winds: 30 kt ( 55km/h)
Gusts: 40 kt ( 75km/h)
Minimum Central Pressure: 1002 mb
WDPN31 PGTW 211500
MSGID/GENADMIN/JOINT TYPHOON WRNCEN PEARL HARBOR HI//
SUBJ/PROGNOSTIC REASONING FOR TROPICAL DEPRESSION 12W (BAILU) WARNING
NR 02//
RMKS/
1. FOR METEOROLOGISTS.
2. 6 HOUR SUMMARY AND ANALYSIS.
TROPICAL DEPRESSION (TD) 12W (BAILU), LOCATED APPROXIMATELY 674 NM
SOUTH-SOUTHEAST OF KADENA AB, HAS TRACKED NORTHWESTWARD AT 09 KNOTS
OVER THE PAST SIX HOURS. ANIMATED ENHANCED INFRARED SATELLITE IMAGERY
SHOWS CONVECTION CONTINUES TO CONSOLIDATE AROUND THE LOW LEVEL
CIRCULATION CENTER (LLCC) WITH MOST OF THE DEEP CONVECTION LOCATED TO
THE WEST. OVERALL, CONVECTION HAS BECOME MORE ROBUST OVER THE PAST
SIX HOURS. THE INITIAL POSITION IS PLACED WITH LOW CONFIDENCE BASED
ON THE BROAD NATURE OF THE SYSTEM. THE POSITION IS BASED ON A PARTIAL
211159Z METOP-B ASCAT IMAGE WHICH SHOWS THE EASTERN PORTION OF THE
LLCC. THE INITIAL INTENSITY OF 30 KNOTS IS BASED ON A DVORAK CURRENT
INTENSITY (CI) ESTIMATE OF T2.0 (30 KNOTS) FROM RJTD AND ADT. THE
INTENSITY IS HEDGED SLIGHTLY ABOVE THE CI OF T1.5 (25 KNOTS) FROM
PGTW. ENVIRONMENTAL ANALYSIS SHOWS TD 12W IS EXPERIENCING FAVORABLE
VERTICAL WIND SHEAR (5 TO 15 KNOTS). TD 12W HAS A STRONG EQUATORWARD
OUTFLOW CHANNEL. THE POLEWARD OUTFLOW CHANNEL CONTINUES TO DEVELOP
WITH A TROPICAL UPPER TROPOSPHERIC TROUGH (TUTT) CELL BEGINNING TO
ENHANCE THE OUTFLOW. SEA SURFACE TEMPERATURES REMAIN FAVORABLE FOR
DEVELOPMENT, NEAR 30 DEGREES CELSIUS. TD 12W IS TRACKING
NORTHWESTWARD WHILE UNDER THE INFLUENCE OF A SUBTROPICAL RIDGE (STR)
LOCATED TO THE NORTHEAST.
3. FORECAST REASONING.
A. THERE IS NO CHANGE TO THE OVERALL FORECAST PHILOSOPHY SINCE THE
PREVIOUS PROGNOSTIC REASONING MESSAGE.
B. IN THE SHORT TERM, TD 12W WILL CONTINUE TO EXPERIENCE FAVORABLE
VERTICAL WIND SHEAR AND REMAIN OVER WARM SEA SURFACE TEMPERATURES.
THESE CONDITIONS WILL ALLOW FOR A STEADY INCREASE IN INTENSITY,
REACHING 55 KNOTS BY TAU 48. THE AFOREMENTIONED TUTT CELL WILL
CONTINUE TO ENHANCE UPPER LEVEL OUTFLOW IN THE SHORT TERM AND ALSO
ALLOW FOR INTENSIFICATION. THE STR TO THE NORTHEAST WILL REMAIN IN
PLACE THROUGH TAU 72 AND ALLOW TD 12W TO TRACK NORTHWESTWARD. TD 12W
WILL MAKE LANDFALL IN TAIWAN AFTER TAU 60. DYNAMIC MODEL GUIDANCE IS
IN GOOD AGREEMENT, HOWEVER, DUE TO THE HIGH UNCERTAINTY IN THE
INITIAL POSITION THERE IS LOW CONFIDENCE IN THIS PORTION OF THE JTWC
FORECAST TRACK.
C. AFTER TAU 72, TD 12W WILL CONTINUE TO TRACK NORTHWESTWARD WHILE
UNDER THE INFLUENCE OF THE STR. BY TAU 72, TD 12W WILL EMERGE INTO
THE TAIWAN STRAIT AND THEN MAKE LANDFALL IN CENTRAL CHINA. LAND
INTERACTION WITH CHINA WILL CAUSE TD 12W TO QUICKLY WEAKEN AFTER TAU
96 AND DISSIPATE BY TAU 120. DYNAMIC MODEL GUIDANCE IS IN POOR
AGREEMENT DURING THIS PORTION OF THE TRACK. HOWEVER, MODEL GUIDANCE
HAS COME INTO SLIGHTLY BETTER AGREEMENT WITH A SPREAD OF 725NM BY TAU
120. DUE TO THE MODEL SPREAD AND THE HIGH UNCERTAINTY IN THE INITIAL
POSITION THERE IS LOW CONFIDENCE IN THIS PORTION OF THE JTWC FORECAST
TRACK.//
NNNN