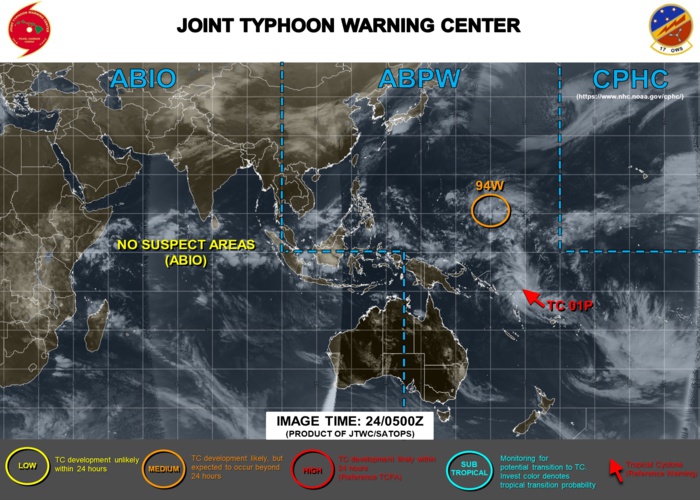 Météo974
WESTERN NORTH PACIFIC
INVEST 94W
Location: 8.7°N 154.5°E
Maximum Winds: 20 kt
Minimum Central Pressure: 1003 mb
ABPW10 PGTW 250600
1. WESTERN NORTH PACIFIC AREA (180 TO MALAY PENINSULA):
A. TROPICAL CYCLONE SUMMARY: NONE.
B. TROPICAL DISTURBANCE SUMMARY:
(1) THE AREA OF CONVECTION (INVEST 94W) PREVIOUSLY LOCATED
NEAR 5.0N 158.6E IS NOW LOCATED NEAR 8.7N 154.5E, APPROXIMATELY 640
NM EAST-SOUTHEAST OF GUAM. ANIMATED MULTISPECTRAL SATELLITE IMAGERY
DEPICTS A BROAD, WEAK LOW LEVEL CIRCULATION (LLC) WITH FLARING
CONVECTION ON THE NORTHERN SIDE AND NEAR LACK OF CONVECTION TO THE
SOUTH. A 250323Z AMSR2 89GHZ COMPOSITE MICROWAVE IMAGE SHOWS A
LARGELY DISORGANIZED LOW LEVEL STRUCTURE. 94W IS CURRENTLY IN A
FAVORABLE ENVIRONMENT WITH GOOD UPPER LEVEL OUTFLOW, LOW (5 TO 15
KNOT) VERTICAL WIND SHEAR, AND WARM (29 TO 30 CELSIUS) SEA SURFACE
TEMPERATURES; HOWEVER, ENVIRONMENTAL SUPPORT IS HEAVILY DEPENDANT ON
THE CURRENT EVALUATED POSITION. GLOBAL MODELS ARE IN GOOD AGREEMENT
THAT THE SYSTEM WILL TRACK GENERALLY WEST-NORTHWESTWARD WHILE SLOWLY
INTENSIFYING, WITH THE LLC TIGHTENING AND REACHING WARNING CRITERIA
WITHIN THE NEXT SEVERAL DAYS. MAXIMUM SUSTAINED SURFACE WINDS ARE
ESTIMATED AT 15 TO 20 KNOTS. MINIMUM SEA LEVEL PRESSURE IS ESTIMATED
TO BE NEAR 1003 MB. THE POTENTIAL FOR THE DEVELOPMENT OF A
SIGNIFICANT TROPICAL CYCLONE WITHIN THE NEXT 24 HOURS REMAINS MEDIUM.
(2) NO OTHER SUSPECT AREAS.
C. SUBTROPICAL SYSTEM SUMMARY: NONE.
-----------------------------------------------------------------------------------------------
SOUTHERN HEMISPHERE SOUTH PACIFIC
Location: 12.3°S 170.3°E
Maximum Winds: 65 kt ( 120km/h)
Gusts: 80 kt ( 150km/h)
Minimum Central Pressure: 984 mb
CATEGORY US: 1
REMARKS:
250900Z POSITION NEAR 12.5S 170.3E.
25NOV19. TROPICAL CYCLONE (TC) 01P (RITA), LOCATED APPROXIMATELY 344
NM NORTH-NORTHEAST OF PORT VILA, VANUATU, HAS TRACKED SOUTHEASTWARD
AT 08 KNOTS OVER THE PAST SIX HOURS. ANIMATED ENHANCED INFRARED
SATELLITE IMAGERY AND A 250541Z GMI 89GHZ MICROWAVE IMAGE DEPICT A
COMPACT SYSTEM WITH SPIRAL BANDING AND A RAGGED 15-NM EYE, WHICH
SUPPORTS THE INITIAL POSITION WITH GOOD CONFIDENCE. THE ENVIRONMENT
REMAINS FAVORABLE WITH ROBUST POLEWARD OUTFLOW, LOW VERTICAL WIND
SHEAR (VWS) AND WARM SST VALUES (28-29C). THE INITIAL INTENSITY
REMAINS ASSESSED AT 65 KNOTS BASED ON A PGTW DVORAK INTENSITY
ESTIMATE OF T4.0 (65 KNOTS). TC 01P IS TRACKING ALONG THE WESTERN
PERIPHERY OF A DEEP-LAYERED SUBTROPICAL RIDGE POSITIONED TO THE EAST
AND IS FORECAST TO CONTINUE TRACKING GENERALLY SOUTHWARD THROUGH TAU
36. HOWEVER, THE SYSTEM IS EXPECTED TO SLOW AND TURN WESTWARD AS A
STRONG LOW-LEVEL HIGH BUILDS TO THE SOUTH. AFTER A SLIGHT
INTENSIFICATION TREND, THE SYSTEM SHOULD GRADUALLY WEAKEN AS IT
ENCOUNTERS WESTERLY UPPER-LEVEL FLOW AND INCREASING VWS. AFTER TAU
48, TC 01P SHOULD WEAKEN SIGNIFICANTLY DUE TO STRONG VWS AND DRY AIR
ENTRAINMENT ASSOCIATED WITH THE AFOREMENTIONED LOW-LEVEL HIGH
PRESSURE SYSTEM WITH DISSIPATION ANTICIPATED BY TAU 96. NUMERICAL
MODEL GUIDANCE REMAINS IN FAIR AGREEMENT EXCEPT NAVGEM, WHICH
ERRONEOUSLY TRACKS THE SYSTEM EASTWARD DIRECTLY INTO THE LOW-LEVEL
HIGH. OVERALL, THERE IS LOW CONFIDENCE IN THE JTWC FORECAST TRACK
DUE TO THE LARGE SPREAD IN MODEL SOLUTIONS. MAXIMUM SIGNIFICANT WAVE
HEIGHT AT 250600Z IS 18 FEET. NEXT WARNINGS AT 251500Z, 252100Z,
260300Z AND 260900Z.//
NNNN
CLICK TO ANIMATE