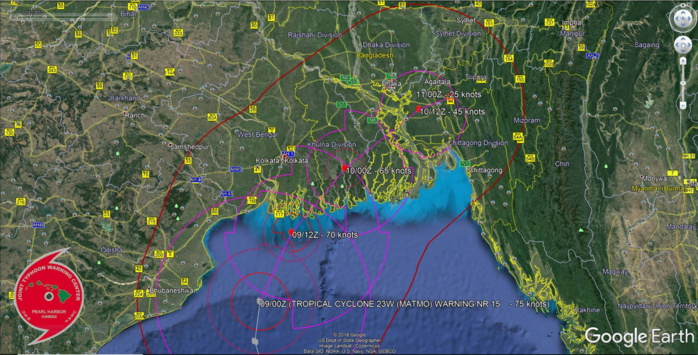 FORECAST TO TRACK APPRX 100KM TO THE EAST OF KOLKATA SHORTLY BEFORE 24H
Météo974
NORTH INDIAN
Location: 20.1°N 87.9°E
Maximum Winds: 75 kt ( 140km/h)
Gusts: 90 kt ( 170km/h)
Minimum Central Pressure: 979 mb
CATEGORY US: 1
REMARKS:
090300Z POSITION NEAR 20.4N 88.0E.
09NOV19. TROPICAL CYCLONE 23W (MATMO), LOCATED APPROXIMATELY 153 NM
SOUTH OF KOLKATA, INDIA, HAS TRACKED NORTHWARD AT 07 KNOTS OVER THE
PAST SIX HOURS. ANIMATED ENHANCED INFRARED (EIR) SATELLITE IMAGERY
SHOWS A BROAD CENTRAL DENSE OVERCAST (CDO) WITH WELL ORGANIZED BANDING
STILL WRAPPING INTO THE CENTER. THE INITIAL POSITION IS PLACED WITH
LOW CONFIDENCE ON A TILTED MICROWAVE EYE FEATURE IN A 082311Z SSMIS
91GHZ COLORPCT AND COLOR37 IMAGE, WHICH LINES UP WITH AN INFLOW NOTCH
IN THE ANIMATED EIR LOOP. THE INITIAL INTENSITY IS SET AT 75 KTS,
ABOVE DVORAK CURRENT INTENSITY ESTIMATES OF T3.5 (55 KTS) AND T4.0 (65
KTS) FROM KNES AND PGTW, RESPECTIVELY, AS IT HAS CONTINUED TO MAINTAIN
A WELL-ORGANIZED STRUCTURE DESPITE MODERATE TO HIGH (20-25 KT)
VERTICAL WIND SHEAR. THE IMPACTS OF THE HIGH VWS ARE MITIGATED
SOMEWHAT BECAUSE STORM MOTION IS ALIGNED WITH THE SHEAR VECTOR.
ADDITIONALLY, STRONG POLEWARD OUTFLOW ALOFT AND VERY WARM WATER (29-
30C) HAVE ENABLED TC 23W TO RESIST THE VWS THUS FAR. THE CYCLONE IS
TRACKING POLEWARD ALONG THE WESTERN PERIPHERY OF A SUBTROPICAL
STEERING RIDGE SITUATED OVER MAINLAND SOUTHEAST ASIA. TC 23W HAS
ROUNDED THE STR RIDGE AXIS AND IS EXPECTED TO MOVE NORTHEASTWARD AND
MAKE LANDFALL AROUND TAU 18. THE SYSTEM WILL RAPIDLY WEAKEN AFTER TAU
24 DUE TO PASSAGE OVER LAND AND STRONG VERTICAL WIND SHEAR AS TC 23W
MOVES UNDER UPPER-LEVEL WESTERLIES. THE PRIMARY STEERING MECHANISM IS
EXPECTED TO SHIFT TO THE LOWER-LEVEL FLOW AS THE SYSTEM DISSIPATES
BETWEEN TAU 36 AND TAU 48, CAUSING THE LOW LEVEL CIRCULATION TO DRIFT
EASTWARD AND POSSIBLY EQUATORWARD OVER LAND AFTER THE END OF THE
FORECAST PERIOD WHILE REMAINING CONVECTION IS ADVECTED EASTWARD BY THE
UPPER-LEVEL WESTERLIES. SLIGHT WEAKENING IS ANTICIPATED PRIOR TO
LANDFALL AS INCREASING VERTICAL WIND SHEAR OFFSETS THE IMPACTS OF A
SUPPORTIVE OUTFLOW PATTERN ALOFT AND PASSAGE OVER WARM WATER.
NUMERICAL MODEL GUIDANCE IS IN GOOD OVERALL AGREEMENT THROUGH THE
FORECAST PERIOD, THOUGH THERE ARE DIFFERENCES IN ALONG-TRACK SPEED.
OVERALL, THERE IS HIGH CONFIDENCE IN THE CURRENT JTWC TRACK FORECAST.
MAXIMUM SIGNIFICANT WAVE HEIGHT AT 090000Z IS 24 FEET. NEXT
WARNINGS AT 090900Z, 091500Z, 092100Z AND 100300Z.
//
NNNN