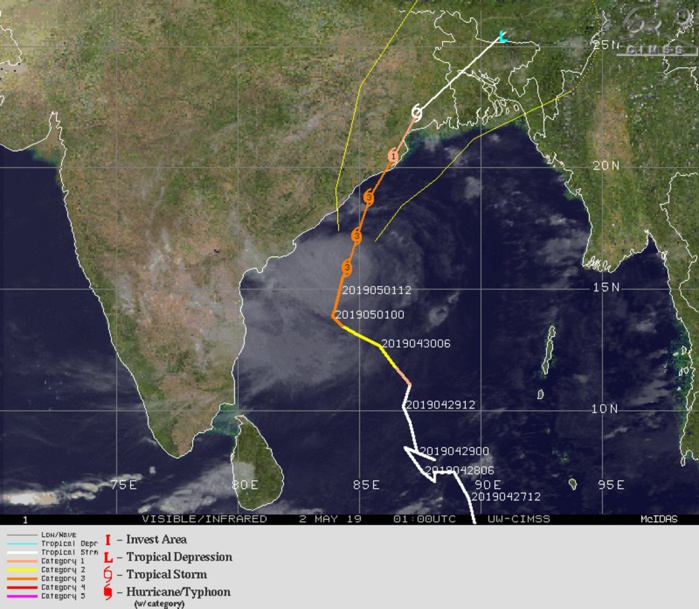 https://www.meteo974.re/M974World_r7.html
https://www.meteo974.re/
SHORT VIDEO WITH ZOOM ON THE FORECAST TRACK AND SATELLITE ANIMATIONS JUST BELOW
Location: 15.9°N 84.5°E
Maximum Winds: 110 kt ( 205km/h)
Gusts: 135 kt ( 250km/h)
Minimum Central Pressure: 948 mb
CATEGORY 3 US
REMARKS:
020300Z POSITION NEAR 16.2N 84.6E.
TROPICAL CYCLONE (TC) 01B (FANI), LOCATED APPROXIMATELY 279 NM SOUTH-
SOUTHWEST OF BHUBANESWAR, INDIA, HAS TRACKED NORTH-NORTHEASTWARD AT
05 KNOTS OVER THE PAST SIX HOURS. ANIMATED ENHANCED INFRARED
SATELLITE IMAGERY SHOWS THE SYSTEM HAS SLIGHTLY IMPROVED WITH
DEEPENED CENTRAL CONVECTION AND A MORE SYMMETRIC 12-NM PINHOLE EYE.
THE INITIAL POSITION IS BASED ON THE PINHOLE EYE, SLIGHTLY ADJUSTED
FOR WESTWARD TILT, WITH HIGH CONFIDENCE. THE INITIAL INTENSITY IS
HELD SLIGHTLY HIGHER THAN DVORAK ESTIMATES OF T5.5/105KTS FROM PGTW,
KNES, AND SATCON TO REFLECT THE SLIGHT INTENSIFICATION. ENVIRONMENTAL
ANALYSIS INDICATES TC 01B IS IN AN AREA OF MODERATE (15-20 KNOT)
VERTICAL WIND SHEAR (VWS); HOWEVER, A ROBUST WESTWARD AND POLEWARD
OUTFLOW AND VERY WARM (32C) SEA SURFACE TEMPERATURE ARE TEMPORARILY
OFFSETTING THE VWS. TC FANI IS EXPECTED TO CONTINUE ON A
NORTH-NORTHEASTWARD TRACK, MAKING LANDFALL NEAR BHUBANESWAR AROUND
TAU 30. AFTERWARD, IT WILL ACCELERATE NORTHEASTWARD, PASSING WEST OF
KOLKATA AND INTO BANGLADESH. THE OVERALL FAVORABLE, ALBEIT MOMENTARY,
ENVIRONMENT CONDITIONS WILL MAINTAIN THE CURRENT INTENSITY UP TO TAU
12. AFTERWARD, INCREASING VWS, THEN LAND INTERACTION WILL RAPIDLY
ERODE THE CYCLONE, LEADING TO DISSIPATION BY TAU 72. THE NUMERICAL
MODELS ARE IN TIGHT AGREEMENT, LEADING TO HIGH CONFIDENCE IN THE JTWC
TRACK FORECAST. MAXIMUM SIGNIFICANT WAVE HEIGHT AT 020000Z IS 34
FEET. NEXT WARNINGS AT 020900Z, 021500Z, 022100Z AND 030300Z.//
NNNN