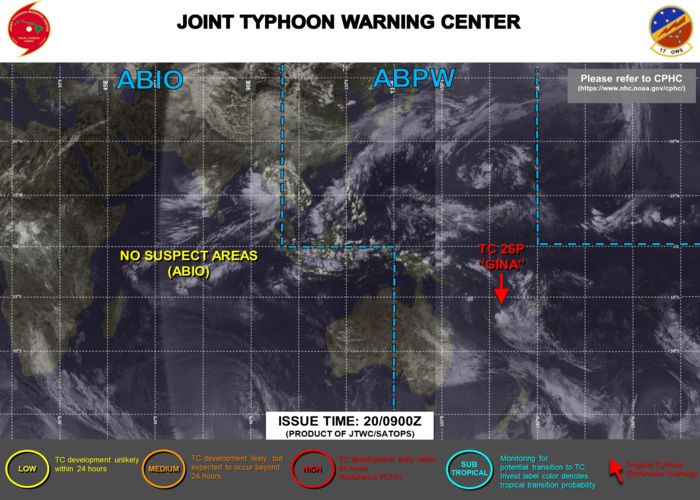 JTWC IS ISSUING 6HOURLY WARNINGS AND 3HOURLY SATELLITE BULLETINS ON TC 26P(GINA) AND 3HOURLY SATELLITE BULLETINS ON INVEST 93B.
SOUTH PACIFIC OCEAN: TC 26P(GINA). WARNING 8 ISSUED AT 20/09UTC. CLICK ON THE IMAGERIES BELOW TO GET THEM ENLARGED.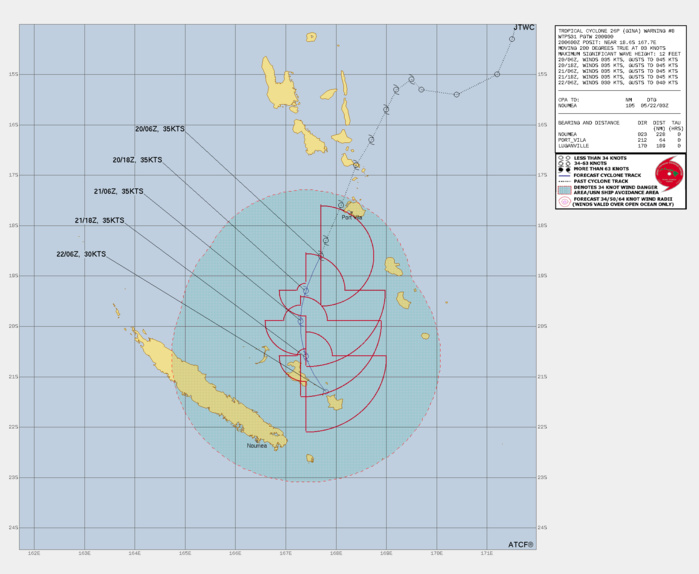 FORECAST REASONING. SIGNIFICANT FORECAST CHANGES: THERE ARE NO SIGNIFICANT CHANGES TO THE FORECAST FROM THE PREVIOUS WARNING. FORECAST DISCUSSION: THE STRUCTURE OF TROPICAL CYCLONE 26P (GINA) IS BEING SIGNIFICANTLY DISRUPTED BY MODERATE VERTICAL WIND SHEAR OF 20 TO 25 KNOTS, WHICH IS FORECAST TO INCREASE THROUGH 48H. DRY AIR HAS BEGUN TO WRAP AROUND THE CIRCULATION, WHICH IS SUPPRESSING CONVECTION IN ALL BUT THE SOUTHEAST QUADRANT. THE CURRENT INTENSITY OF 35 KNOTS IS FORECAST TO CONTINUE, SUSTAINED BY PERIODIC CONVECTIVE BURSTS. HOWEVER, GRADUAL WEAKENING SHOULD COMMENCE WITH DISSIPATION EXPECTED BY 36H AND 48H. GINA IS TRACKING SOUTHWESTWARD AROUND THE SUBTROPICAL RIDGE TO ITS EAST. A TURN TOWARD THE SOUTH AND THEN SOUTHEAST IS EXPECTED BY 48H AS IT ROUNDS THE RIDGE. NUMERICAL MODEL GUIDANCE GENERALLY AGREES WITH THIS SCENARIO. HOWEVER, THERE IS SOME UNCERTAINTY ASSOCIATED WITH THE TIMING OF VORTEX DECOUPLING AND THE DEGREE TO WHICH CONVECTIVE BURSTS WILL CONTRIBUTE TO SLIGHT DEVIATIONS IN TRACK. THUS, THE CONFIDENCE IN BOTH THE TRACK AND INTENSITY FORECASTS IS ASSESSED AT MEDIUM.
SH, 26, 2022051906,163S, 1687E, 35
SH, 26, 2022051912,168S, 1684E, 35
SH, 26, 2022051918,176S, 1681E, 35
SH, 26, 2022052000,183S, 1678E, 35
SH, 26, 2022052006,186S, 1677E, 35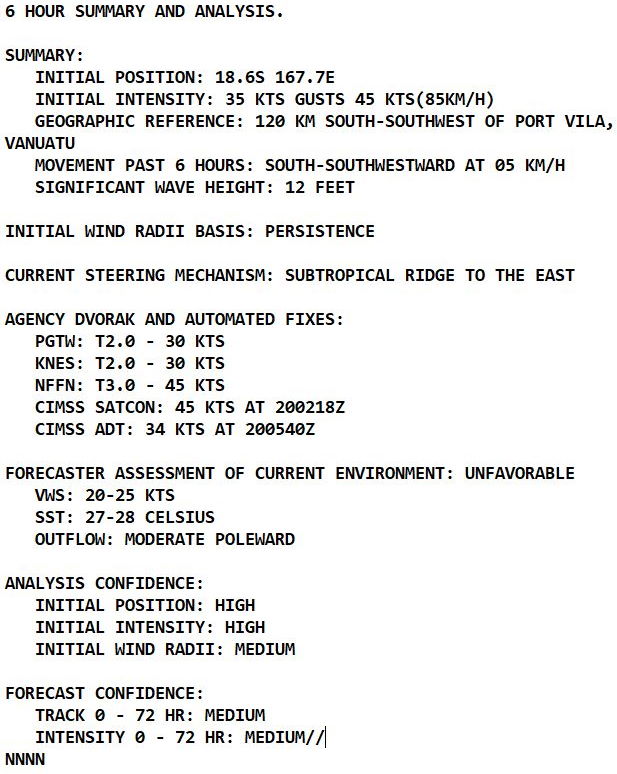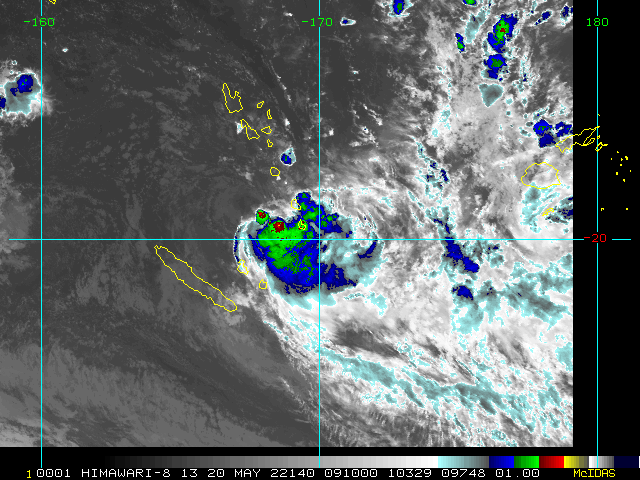 SATELLITE ANALYSIS, INITIAL POSITION AND INTENSITY DISCUSSION: ANIMATED MULTISPECTRAL SATELLITE IMAGERY (MSI) DEPICTS FLARING CONVECTION ASSOCIATED WITH A PARTIALLY EXPOSED LOW-LEVEL CIRCULATION CENTER (LLCC). THE LLCC HAS ALTERNATED BETWEEN FULLY EXPOSED AND PARTIALLY OBSCURED BY THE CIRRUS SHIELD OF THE FLARING CONVECTION THAT CONTINUES TO BE SHEARED TO THE SOUTHEAST. THE STRUCTURE OF TROPICAL CYCLONE 26P (GINA) REMAINS COMPACT, AND THE INITIAL POSITION IS PLACED WITH HIGH CONFIDENCE. THE INITIAL INTENSITY REMAINS 35 KNOTS BASED ON THE STEADY STATE STRUCTURE OF THE SYSTEM SINCE THE 192227Z ASCAT-B SCATTEROMETER PASS. ALTHOUGH POLEWARD OUTFLOW CONTINUES TO BE GOOD, NORTHWESTERLY VERTICAL WIND SHEAR HAS INCREASED TO 20 TO 25 KNOTS OVER THE SYSTEM.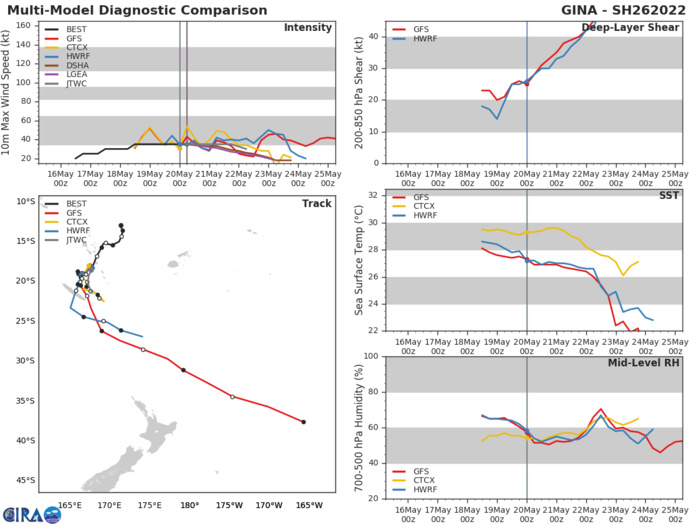 MODEL DISCUSSION: THE JTWC TRACK FORECAST IS PLACED NEAR THE MULTI-MODEL CONSENSUS. THE JTWC INTENSITY FORECAST IS SLIGHTLY BELOW THE MULTI-MODEL CONSENSUS DUE TO THE EXPECTATION THAT ANY INTENSIFICATION OF 26P IS UNLIKELY IN THE CURRENTLY UNFAVORABLE ENVIRONMENT.
NORTH INDIAN OCEAN/BAY OF BENGAL: INVEST 93B. TROPICAL CYCLONE FORMATION ALERT ISSUED AT 20/0030UTC AND CANCELLED AT 20/0830UTC. ESTIMATED CENTER/LOCATION AT 20/06UTC INDICATED ON THE MAP. CLICK ON THE IMAGERIES BELOW TO GET THEM ENLARGED.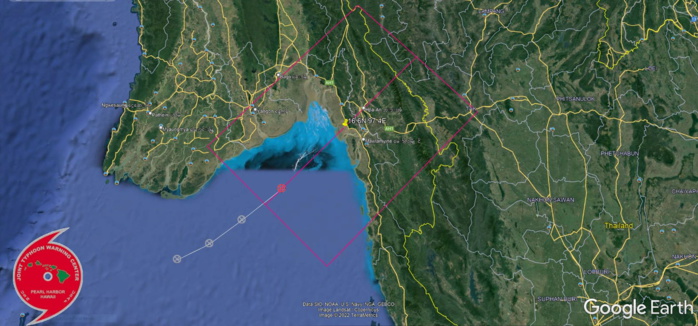 REMARKS: THIS CANCELS REF A (WTIO PGTW 200030). THE AREA OF CONVECTION (INVEST 93B) PREVIOUSLY LOCATED NEAR 16.0N 96.6E IS NOW LOCATED NEAR 16.6N 97.4E, APPROXIMATELY 135 KM EAST OF YANGON, MYANMAR. ANIMATED ENHANCED INFRARED (EIR) SATELLITE IMAGERY DEPICTS CONVECTIVE BANDS WRAPPING INTO A LOW LEVEL CIRCULATION CENTER (LLCC) WITH PERSISTENT CONVECTION IN THE SOUTHERN AND WESTERN PERIPHERIES. SATELLITE IMAGERY AND THAI RADAR INDICATE THAT THE LLCC CROSSED OVER LAND NEAR MAWLAMYINE, MYANMAR, OFFSETTING THE SUPPORT GIVEN BY THE SURROUNDING WARM (30-31C) SEA SURFACE TEMPERATURES (SST), LOW (BELOW 15 KT) VERTICAL WIND SHEAR (VWS), AND CONSIDERABLE EQUATORWARD OUTFLOW. GLOBAL MODELS ARE IN AGREEMENT THAT INVEST 93B WILL DISSIPATE AS IT TRACKS OVER LAND. MAXIMUM SUSTAINED SURFACE WINDS ARE ESTIMATED AT 28 TO 33 KNOTS. MINIMUM SEA LEVEL PRESSURE IS ESTIMATED TO BE NEAR 999 MB. GIVEN THAT INVEST 93B IS FORECAST TO REMAIN INLAND, IT IS NO LONGER SUSPECT FOR THE DEVELOPMENT OF A TROPICAL CYCLONE WITHIN THE NEXT 24 HOURS.
IO, 93, 2022051900,149N, 953E, 15
IO, 93, 2022051906,151N, 957E, 15
IO, 93, 2022051912,154N, 961E, 20
IO, 93, 2022051918,157N, 965E, 20
IO, 93, 2022052000,161N, 970E, 30
IO, 93, 2022052006,166N, 974E, 30
WESTERN NORTH PACIFIC: INVEST 91W.CLICK ON THE IMAGERIES BELOW TO GET THEM ENLARGED.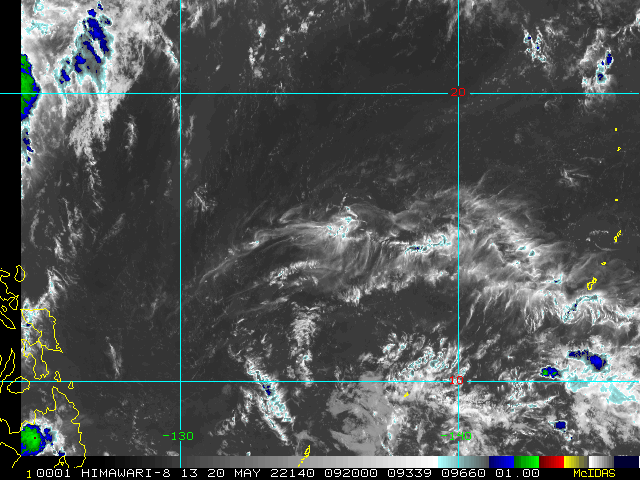 WP, 91, 2022051812,150N, 1451E, 10
WP, 91, 2022051818,150N, 1440E, 10
WP, 91, 2022051900,150N, 1428E, 10
WP, 91, 2022051906,149N, 1414E, 10
WP, 91, 2022051912,150N, 1402E, 10
WP, 91, 2022051918,150N, 1388E, 10
WP, 91, 2022052000,152N, 1377E, 10
WP, 91, 2022052006,156N, 1366E, 10
ECMWF ENSEMBLE AT 20/00UTC UP TO +240H.
ECMWF ENSEMBLE AT 20/00UTC UP TO +240H.