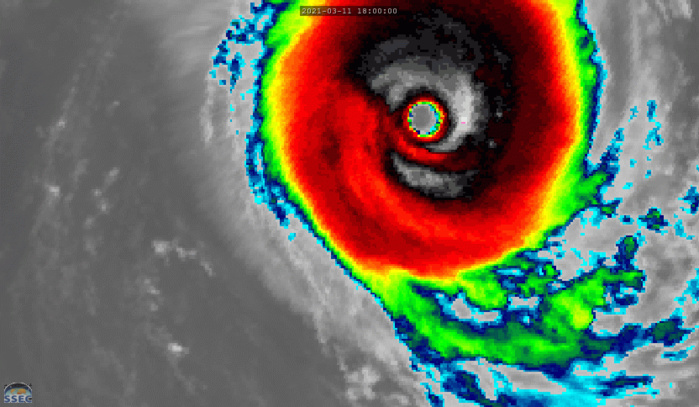 24S(HABANA). 12/09UTC. 15H ANIMATION. ANIMATED ENHANCED INFRARED SATELLITE IMAGERY SHOWS THE SYSTEM HAS MAINTAINED A COMPACT AND HIGHLY SYMMETRICAL STRUCTURE AND A 45-KM RAGGED BUT WELL-DEFINED EYE. RMSC/LA RÉUNION POINTS OUT THAT SMAP AT 12/0111UTC READ MAXIMUM SUSTAINED WINDS WELL ABOVE 125KNOTS. SATCON AT 11/2019UTC YIELDED A 135KNOT ESTIMATE. MICROWAVE SIGNATURES-SEE DOWN BELOW- AT 11/2314UTC, 11/2317UTC, AND 12/0134UTC WERE VERY IMPRESSIVE.
As of 09:00 UTC Mar 12, 2021:
Maximum Winds( AT 12/06UTC): 125 kt (230km/h)
Minimum Central Pressure: 938 mb
LOCATED AT 12/09UTC APPROXIMATELY 850KM EAST-NORTHEAST OF RODRIGUES ISLAND, MAURITIUS, HAS TRACKED WEST-SOUTHWESTWARD AT 10KM/H OVER THE PAST SIX HOURS.
Satellite bulletins are to be found in the comments of this post on
JTWC BIS
Cheers,
Patrick Hoareau
M974World
ILES SOEURS
Cyclone Class 4
Cheers,PH.
Joint Typhoon Warning Center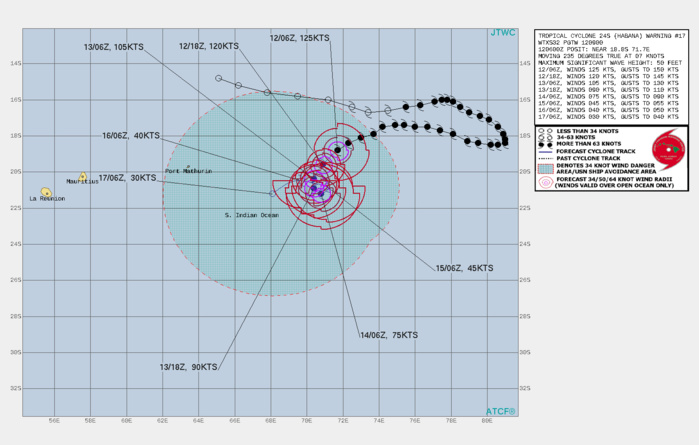 24S(HABANA). WARNING 17 ISSUED AT 12/09UTC. TC 24S IS IN AN OVERALL FAVORABLE ENVIRONMENT WITH LOW (05-10KT) VERTICAL WIND SHEAR AND WARM (28-29C) ALONG-TRACK SEA SURFACE TEMPERATURES (SSTS) THAT ARE PARTLY OFFSET BY LIMITED RADIAL OUTFLOW. ANALYSIS ALSO INDICATES COLD DRY AIR INTRUSION INTO THE CENTER, AS EVIDENCED IN THE MOST RECENT TOTAL PRECIPITABLE WATER ANIMATION. THIS ADDITIONAL NEGATIVE FACTOR WILL AID IN GRADUAL WEAKENING TO 105KNOTS/CATEGORY 3 IN THE NEXT 24HRS AS THE CYCLONE CONTINUES TO TRACK SOUTHWESTWARD ALONG THE NORTHWEST PERIPHERY OF A WEAK SUBTROPICAL RIDGE (STR) TO THE SOUTHEAST. AFTER 24H, AS THE STR RECEDES EASTWARD AND REORIENTS, TC 24S WILL SIGNIFICANTLY SLOW DOWN AND TRACK SOUTHWARD INTO A COL BETWEEN THE STEERING STR AND A SECONDARY STR APPROACHING FROM THE SOUTHWEST. THE SYSTEM WILL BECOME QUASI-STATIONARY (QS) IN A COUNTER-CLOCKWISE LOOPING MOTION UNTIL AT LEAST 72H. AFTERWARD, THE SECONDARY STR WILL ASSUME STEERING AND SLOWLY DRIVE THE SYSTEM IN A GENERALLY WESTWARD DIRECTION. THE QS STORM MOTION WILL INDUCE LOCALIZED UPWELLING AND FURTHER COOL THE SSTS, RESULTING IN A RAPID WEAKENING TO 45KNOTS BY 72H. AFTER 72H, AS THE CYCLONE EJECTS FROM THE COL AND TRACKS WESTWARD, IT WILL ENCOUNTER INCREASING VERTICAL WIND SHEAR, LEADING TO INTENSITY FALLING BELOW 35KNOTS BY 120H.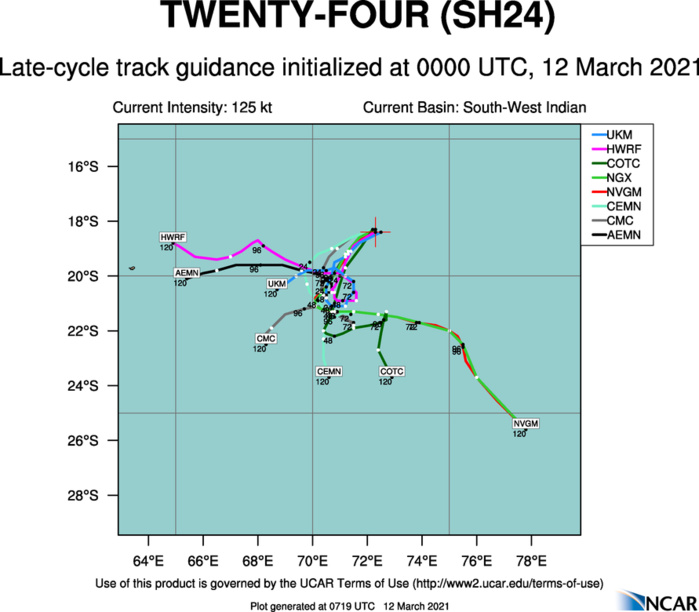 24S(HABANA). THE MAJORITY OF THE NUMERICAL MODELS ARE IN GENERAL AGREEMENT WITH THIS FORECAST TRACK PHILOSOPHY, ALBEIT WITH SIGNIFICANT ALONG- AND ACROSS- TRACK DIFFERENCES. NAVGEM IS THE SOLE OUTLIER OFFERING A CONTINUOUS SOUTHEASTWARD TRACK WITH NO QS DELAY IN THE COL. IN VIEW OF THESE, THERE IS HIGH CONFIDENCE IN THE JTWC TRACK FORECAST, LAID SLIGHTLY NORTH OF THE MODEL CONSENSUS TO OFFSET NAVGEM, UP TO 24H ONLY; AFTERWARD, THE CONFIDENCE IS LOW.