ANIMATION. 02UTC. TC 18P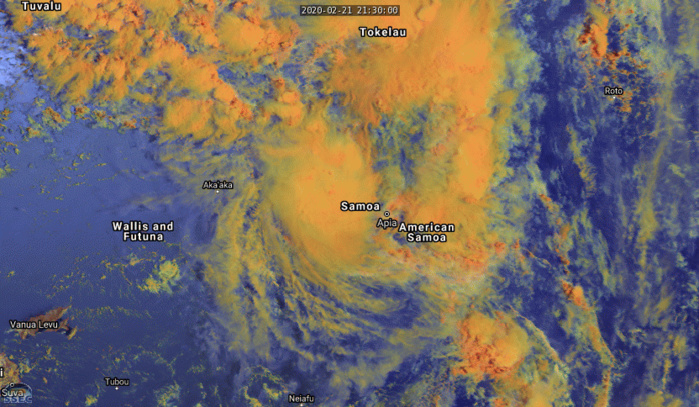 Location: 13.4°S 173.3°W
Maximum Winds: 45 kt ( 85km/h)
Gusts: 55 kt ( 100km/h)
Minimum Central Pressure: 1001 mb
TPPS12 PGTW 220321
A. TROPICAL CYCLONE 18P (WASI)
B. 22/0230Z
C. 13.60S
D. 173.12W
E. FIVE/GOES17
F. T3.0/3.0/D2.0/24HRS STT: D0.5/03HRS
G. IR/EIR/VIS/MSI
H. REMARKS: 40A/PBO SBC/ANMTN. DEFINED CDO OF 76NM YIELDS A DT
OF 3.0. MET AND PT AGREE. DBO DT.
I. ADDITIONAL POSITIONS: NONE
RHOADES
REMARKS:
220300Z POSITION NEAR 13.6S 172.9W.
22FEB20. TROPICAL CYCLONE 18P (WASI), LOCATED APPROXIMATELY
161 NM WEST-NORTHWEST OF PAGO PAGO, HAS TRACKED SOUTHEASTWARD AT
09 KNOTS OVER THE PAST SIX HOURS. ANIMATED MULTISPECTRAL SATELLITE
IMAGERY SHOWS DEEP CONVECTION WRAPPING INTO A LOW-LEVEL CIRCULATION
CENTER (LLCC) THAT WAS COINCIDENT WITH AN EYE-LIKE FEATURE IN AN
EARLIER 211752Z WINDSAT 37GHZ MICROWAVE IMAGE. DUE TO DATA LATENCY,
MICROWAVE IMAGES RECEIVED SEVERAL HOURS LATE INDICATED THAT TROPICAL
CYCLONE WASI WAS A SIGNIFICANTLY MORE INTENSE CYCLONE APPROXIMATELY
12 HOURS AGO, SO THE CURRENT INTENSITY OF 45 KNOTS ACTUALLY REFLECTS
A BRIEF WEAKENING TREND. MICROWAVE IMAGERY FROM 6 TO 12 HOURS AGO
INDICATED A MUCH MORE ORGANIZED SYSTEM, DESPITE THE RELATIVELY
DISORGANIZED APPEARANCE ON INFRARED AND VISIBLE SATELLITE IMAGERY.
THE INITIAL POSITION IS PLACED WITH FAIR CONFIDENCE. CURRENT DVORAK
ESTIMATES OF T2.5 TO T3.0 ARE LIKELY AN UNDERESTIMATE, GIVEN THE
SMALL SIZE OF THIS CYCLONE, BUT THE CURRENT INTENSITY IS SUPPORTED BY
A 211954Z METOP-A ASCAT IMAGE DEPICTING A SMALL REGION OF 40-KNOT
WINDS IN THE NORTHEASTERN QUADRANT. VERTICAL WIND SHEAR REMAINS LOW
(5-10 KNOTS) WITH FAIR OUTFLOW AND WARM (28-29 CELSIUS) SEA SURFACE
TEMPERATURES. A BRIEF PERIOD OF RE-INTENSIFICATION IS LIKELY UNTIL
VERTICAL WIND SHEAR GRADUALLY INCREASES THROUGH TAU 72. TC 18P IS
TRACKING ALONG THE SOUTHERN PERIPHERY OF A NEAR EQUATORIAL RIDGE,
FOLLOWING THE SOUTH PACIFIC CONVERGENCE ZONE. BY TAU 24 TO 36, A
SUBTROPICAL RIDGE TO THE EAST WILL SHIFT THE TRACK POLEWARD. HIGH
VERTICAL WIND SHEAR BEYOND TAU 48 WILL CAUSE THE SYSTEM TO WEAKEN AND
BEGIN AN EXTRATROPICAL TRANSITION, WHICH WILL BE COMPLETED BY AROUND
TAU 72. NUMERICAL MODEL GUIDANCE IS IN GOOD OVERALL AGREEMENT WITH
THE JTWC TRACK FORECAST, RESULTING IN GOOD CONFIDENCE IN THE JTWC
TRACK FORECAST. MAXIMUM SIGNIFICANT WAVE HEIGHT AT 220000Z IS 15
FEET. NEXTWARNINGS AT 221500Z AND 230300Z. REFER TO TROPICAL CYCLONE
17P (VICKY) WARNINGS (WTPS31 PGTW) FOR SIX-HOURLY UPDATES.//
NNNN
Location: 13.6°S 138.2°E
Maximum Winds: 25 kt
Minimum Central Pressure: 1004 mb
TPPS13 PGTW 220310
A. TROPICAL DISTURBANCE 99P (SEA OF CARPENTARIA)
B. 22/0230Z
C. 13.89S
D. 138.59E
E. FIVE/HMWRI8
F. T1.5/1.5 STT: S0.0/03HRS
G. IR/EIR/VIS/MSI
H. REMARKS: 49A/PBO PTLY XPSD LLCC/ANMTN. CNVCTN WRAPS .30 ON
LOG10 SPIRAL YIELDING A DT OF 1.5. MET AND PT AGREE. DBO DT.
I. ADDITIONAL POSITIONS: NONE
RHOADES
WTPS21 PGTW 220330
1. FORMATION OF A SIGNIFICANT TROPICAL CYCLONE IS POSSIBLE WITHIN
A 130 NM RADIUS OF 13.6S 138.2E WITHIN THE NEXT 12 TO 24 HOURS.
AVAILABLE DATA DOES NOT JUSTIFY ISSUANCE OF NUMBERED TROPICAL
CYCLONE WARNINGS AT THIS TIME. WINDS IN THE AREA ARE ESTIMATED TO
BE 20 TO 25 KNOTS. METSAT IMAGERY AT 220000Z INDICATES THAT A
CIRCULATION CENTER IS LOCATED NEAR 13.6S 138.2E. THE SYSTEM IS
MOVING NORTH-NORTHWESTWARD AT 04 KNOTS.
2. REMARKS:
THE AREA OF CONVECTION (INVEST 99P) PREVIOUSLY LOCATED NEAR 13.5S
139.1E IS NOW LOCATED NEAR 13.6S 138.2E, APPROXIMATELY 184 NM NORTH
OF MORNINGTON ISLAND, AUSTRALIA. A 02220140Z ENHANCED INFRARED (IR)
IMAGE SHOWS DEEP FLARING CONVECTION OVER A CONSOLIDATING LOW LEVEL
CIRCULATION (LLC). INVEST 99P IS CURRENTLY IN A FAVORABLE
ENVIRONMENT FOR DEVELOPMENT, WITH GOOD EQUATORWARD AND POLEWARD
OUTFLOW, LOW (<15KTS) VERTICAL WIND SHEAR, AND WARM (30-31 CELSIUS)
SEA SURFACE TEMPERATURES. GLOBAL MODELS AGREE THAT 99P WILL CONTINUE
TO CONSOLIDATE AND INTENSIFY AS IT TRACKS SOUTH-SOUTHWESTWARD AND
MAKES LANDFALL OVER NORTHERN AUSTRALIA. MAXIMUM SUSTAINED SURFACE
WINDS ARE ESTIMATED AT 20 TO 25 KNOTS.MINIMUM SEA LEVEL PRESSURE IS
ESTIMATED TO BE NEAR 1004 MB. THE POTENTIAL FOR THE DEVELOPMENT OF A
SIGNIFICANT TROPICAL CYCLONE WITHIN THE NEXT 24 HOURS IS HIGH.
3. THIS ALERT WILL BE REISSUED, UPGRADED TO WARNING OR CANCELLED BY
230330Z.
Location: 19.5°S 168.7°W
Maximum Winds: 35 kt ( 65km/h)
Gusts: 45 kt ( 85km/h)
TPPS11 PGTW 220318
A. TROPICAL CYCLONE 17P (VICKY)
B. 22/0230Z
C. 19.82S
D. 168.77W
E. THREE/GOES17
F. N/A
G. IR/EIR/VIS/MSI
H. REMARKS: 19A/PBO XPSD LLCC/ANMTN. THIS SYSTEM IS TOO WEAK TO
CLASSIFY.
I. ADDITIONAL POSITIONS: NONE
RHOADES
INVEST 96P SOUTH PACIFIC
Location: 20.8°S 171.3°W
Maximum Winds: 25 kt
Minimum Central Pressure: 1004 mb
TPPS10 PGTW 220317
A. TROPICAL DISTURBANCE 96P (S OF SAMOA)
B. 22/0240Z
C. 20.45S
D. 171.65W
E. THREE/GOES17
F. ST1.5/1.5
G. IR/EIR/VIS/MSI
H. REMARKS: 19A/PBO XPSD LLCC/ANMTN. ST SYSTEM WITH 20-35KTS
YIELDS AN FT OF 1.5.
I. ADDITIONAL POSITIONS: NONE
RHOADES
Location: 14.1°S 119.1°E
Maximum Winds: 15 kt
Minimum Central Pressure: 1010 mb
TC 18P. WARNING 3. FORECAST TO INTENSIFY NEXT 24H.
TC 18P: TRACK AND INTENSITY GUIDANCE
TC 17P: TRACK AND INTENSITY GUIDANCE
INVEST 96P: TRACK AND INTENSITY GUIDANCE
INVEST 99P: TRACK AND INTENSITY GUIDANCE
INVEST 90S: TRACK AND INTENSITY GUIDANCE
02/22 03UTC
TC 18P: 21/1954UTC