ANIMATION: 03UTC. TC 14S ON THE RIGHT END AND TC 13S ON THE LEFT END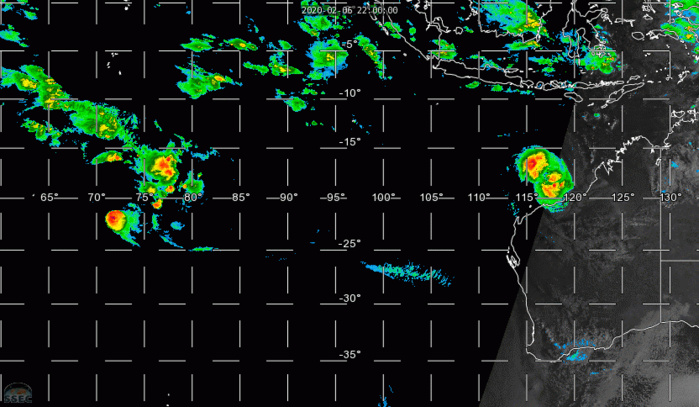 Location: 17.9°S 117.4°E
Maximum Winds: 60 kt ( 110km/h)
Gusts: 75 kt ( 140km/h)
Minimum Central Pressure: 986 mb
TPXS11 PGTW 070242
A. TROPICAL CYCLONE 14S (DAMIEN)
B. 07/0230Z
C. 18.20S
D. 117.25E
E. FIVE/HMWRI8
F. T3.5/3.5/D1.0/24HRS STT: S0.0/03HRS
G. IR/EIR/VIS/MSI
H. REMARKS: 40A/PBO SBC/ANMTN. CNVCTN WRAPS .85 ON LOG10 SPIRAL
YIELDING A DT OF 3.5.MET AND PT AGREE. DBO DT.
I. ADDITIONAL POSITIONS: NONE
DARLOW
REMARKS:
070300Z POSITION NEAR 18.1S 117.2E.
07FEB20. TROPICAL CYCLONE 14S (DAMIEN), LOCATED APPROXIMATELY 159
NM NORTH-NORTHWEST OF PORT HEDLAND, AUSTRALIA, HAS TRACKED
SOUTHWESTWARD AT 06 KNOTS OVER THE PAST SIX HOURS. ANIMATED
MULTISPECTRAL SATELLITE IMAGERY SHOWS THE SYSTEM HAS SLOWED DOWN AND
BEGUN TO TURN MORE POLEWARD. IT ALSO MAINTAINED A COMPACT AND
SYMMETRIC PROFILE AS IT STRENGTHENED FURTHER, AS EVIDENCED BY
EXPANDING OVERSHOOTING TOPS AND THE IMMINENT FORMATION OF AN EYE.
THE INITIAL POSITION IS PLACED WITH HIGH CONFIDENCE BASED ON THE
MICROWAVE EYES IN THE 062221Z GPM AND 062231Z CORIOLIS PASSES. THE
INITIAL INTENSITY IS BASED ON OBJECTIVE AND AGENCY DVORAK ESTIMATES
RANGING FROM T3.5/55KTS TO T4.2/62KTS. UPPER LEVEL ANALYSIS
INDICATES A VERY FAVORABLE ENVIRONMENT WITH LOW 10-15KT VERTICAL
WIND SHEAR (VWS), RADIAL OUTFLOW, AND WARM 29-30C SEA SURFACE
TEMPERATURE. TC 14S IS EXPECTED TO TRACK SOUTHWARD AFTER TAU 12 AS
IT ROUNDS THE STEERING SUBTROPICAL RIDGE TO THE EAST, MAKING
LANDFALL AROUND TAU 30 APPROXIMATELY 180NM EAST-NORTHEAST OF
LEARMONTH. TC DAMIEN WILL RAPIDLY INTENSIFY IN THE NEAR TERM,
PEAKING AT 95KTS AROUND TAU 24 BEFORE WEAKENING AS IT APPROACHES
LAND. AFTER LANDFALL, THE SYSTEM WILL RAPIDLY ERODE MOSTLY DUE TO
FRICTIONAL EFFECTS AND INCREASING VWS. THE INTENSITY WILL DROP TO
BELOW WARNING CRITERIA BY TAU 72. NUMERICAL MODELS ARE IN OVERALL
GOOD AGREEMENT, LENDING HIGH CONFIDENCE IN THE JTWC TRACK FORECAST.
MAXIMUM SIGNIFICANT WAVE HEIGHT AT 070000Z IS 21 FEET. NEXT WARNINGS
AT 070900Z, 071500Z, 072100Z AND 080300Z.//
NNNN
TC 13S(FRANCISCO) SOUTH INDIAN
Location: 20.8°S 71.7°E
Maximum Winds: 30 kt ( 55km/h)
Gusts: 40 kt ( 75km/h)
Minimum Central Pressure: 1001 mb
TPXS10 PGTW 070338
A. TROPICAL CYCLONE 13S (FRANCISCO)
B. 07/0230Z
C. XX.XX
D. XXX.XX
E. N/A/MET8
F. N/A
G. IR/EIR/VIS/MSI
H. REMARKS: POSITION OF LOW LEVEL CIRCULATION CENTER COULD NOT BE
FOUND.
I. ADDITIONAL POSITIONS: NONE
DARLOW
JMV FILE:
1320020312 137S 643E 25
1320020318 140S 646E 25
1320020400 143S 649E 25
1320020406 146S 651E 25
1320020412 152S 657E 30
1320020418 158S 664E 35
1320020500 164S 672E 35
1320020506 169S 683E 40
1320020512 173S 694E 45
1320020518 176S 703E 40
1320020600 182S 710E 40
1320020606 191S 717E 35
1320020612 198S 718E 30
1320020618 208S 717E 30
1320020700 208S 717E 30
Location: 13.1°S 165.0°E
Maximum Winds: 20 kt
Minimum Central Pressure: 1007 mb
TC 14S: WARNING 5: FORECAST TO REACH 95KNOTS(TOP CAT 2 US) IN 24H
TC 14S: TRACK AND INTENSITY GUIDANCE
TC 13S: TRACK AND INTENSITY GUIDANCE
TC 14S: 02/07 00UTC
TC 13S: 02/07 04UTC
02/06 17UTC